7 Best Places to Sell Dropshipping Products in 2023 (Top Sites)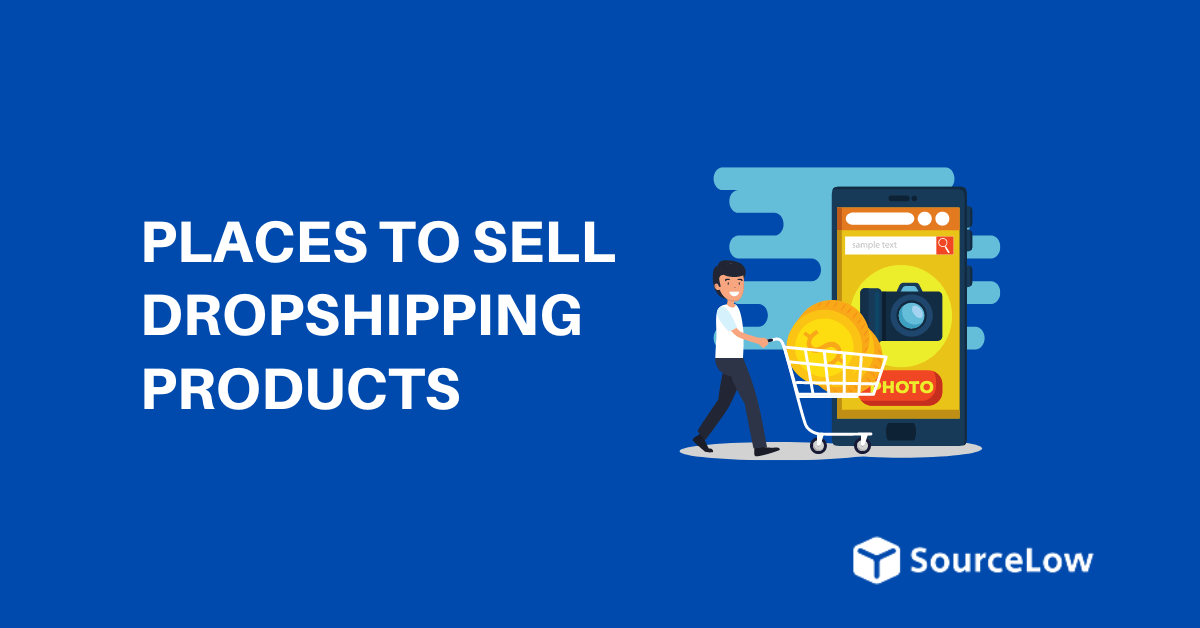 Disclosure: We may earn a commission or fee from some of the links in our content. However, this does not affect our recommendations. Learn more.
Generating consistent sales is the key to achieving long-term success with dropshipping. That's why it's important to choose the right ecommerce platform for selling dropshipping products.
In this article, I will list the 7 best places to sell dropshipping products. Whether you're new to dropshipping or simply looking for additional selling channels, the following options are the most popular sites for dropshipping direct to customers.
---
1. eBay
eBay is one of the best places to sell dropshipping products as it has more than 150 million buyers in over 30 different countries. In fact, it's the second most popular ecommerce marketplace in the world and generates in excess of $10 billion in annual revenue.
Literally anyone can start dropshipping on eBay in just a few simple steps. All you need is access to a reliable supplier and high-quality products to source. Once you have a supplier, you can join eBay as a seller and list products for sale in minutes.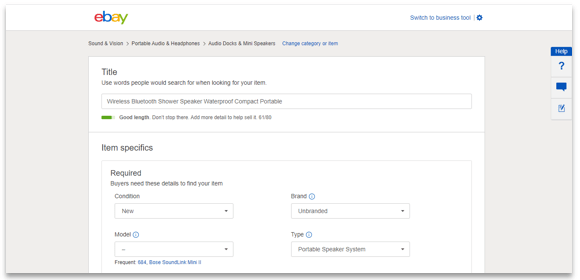 Plus, dropshipping on eBay is allowed if you're sourcing the goods from a real wholesale or trade-only supplier. You won't need to worry about your account being restricted or removed. The eBay dropshipping policy makes it clear that product sourcing is not against it's terms.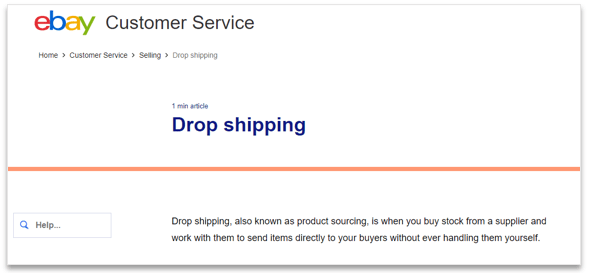 Thousands of eBay sellers use the dropshipping model with great success. It's estimated that millions of eBay products are sourced directly from wholesalers every year.
One of the biggest benefits with selling dropshipping products on eBay is that you can launch your business almost immediately. You won't need to build your own website and you won't need to spend a huge amount of time and money on marketing.
You also won't have a lot of start-up costs. In general, eBay has listing fees and selling fees. The fees will vary depending on the eBay site you're selling on. However, it's generally very inexpensive to list products on eBay. You can even open your own eBay store to reduce listing fees.
When it comes to creating listings, most sellers use dropshipping software to effortlessly find and import products to eBay in bulk. With software, you can also set up automated stock and price updates. This will minimise cancellations and refunds to maintain a healthy seller rating.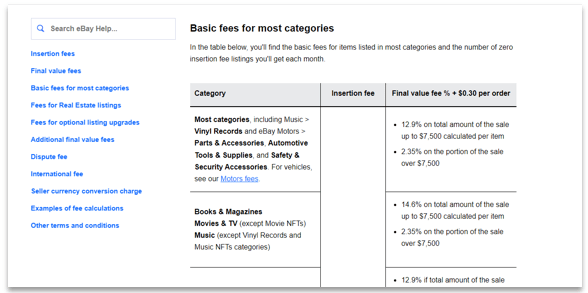 Pros
Millions of customers from more than 30 countries
Easy to list products with no experience needed
Low start-up costs with option to open a store
Dropshipping or product sourcing is allowed
Wide variety of eBay dropshipping suppliers
Cons
Lots of sellers and dropshippers to compete with
New sellers have listing limits and restrictions
eBay has strict selling standards and policies
Limited options for building your own brand
---
2. Amazon
Amazon is another great place to sell dropshipping products. It's also widely considered a better alternative to dropshipping on eBay as it has more buyers and less sellers.
In fact, Amazon has hundreds of millions of customers in the US alone. More than 60,000 orders are placed on the Amazon website every hour, generating over $400 billion in annual revenue. The company is bigger than the other 14 largest US-based retailers combined.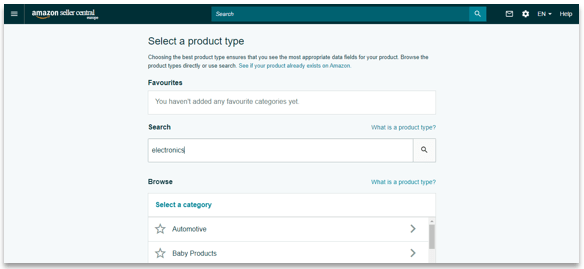 Like eBay, dropshipping on Amazon is allowed. However, you must follow the terms of the Amazon dropshipping policy. This includes sourcing products from genuine wholesalers or manufacturers and taking responsibility for managing order issues and returns.
Although Amazon is similar to eBay, it works very differently when it comes to selling. There is a learning curve to overcome, but it's definitely worth the extra investment of time. Thankfully, Amazon has tons of free guides and resources that will help you to learn the ropes.

Plus, you have a wide choice of dropshipping automation solutions that are fully compatible with Amazon. Using software will allow you to quickly list dropshipping products on Amazon, as well as automate inventory management and repricing.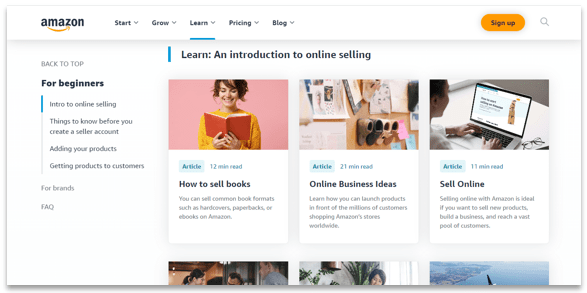 Pros
The largest online ecommerce marketplace in the world
Millions of global buyers and billions in annual revenue
Less sellers than other online platforms such as eBay
Dropshipping is allowed when sourcing from wholesalers
No need to build your own website or spend on marketing
Cons
Strict verification process and rules for third party sellers
The Amazon selling fees are often considered to be high
Sellers must share the same product description page
Mostly for selling products from recognised brands
---
3. Shopify
Shopify is a popular ecommerce platform that allows you to sell dropshipping products through your own online store. The company was founded in 2006 and has more than 1 million users including some of the most successful ecommerce brands in the industry.
While dropshipping on marketplaces such as eBay and Amazon can be great to get the ball rolling, building your own store is the superior option. It will allow you to reduce expenses, earn bigger profits and build a truly scalable online business.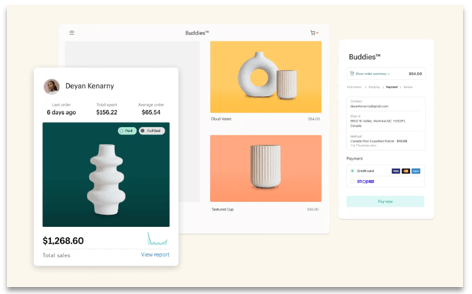 You will also be able to implement proven dropshipping marketing strategies such as running Facebook ads to drive sales. Moreover, you won't need to worry about the strict selling policies of third party marketplaces. Quite simply, having a store provides you with more control and opportunity.
Shopify is the number one-choice for building a dropshipping store as it's low-cost and includes everything you need to start selling online. Shopify is also compatible with dozens of dropshipping apps that allow you to import products and streamline inventory updates.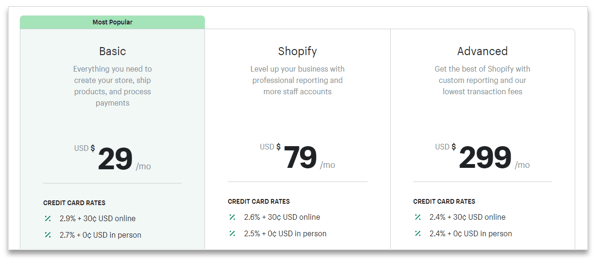 Pros
Create and sell products through your own unique store
Reduce expenses and pay no marketplace selling fees
Easy to build a unique store with no web design skills
Low-cost with everything you need including hosting
Compatible with dozens of top-rated dropshipping apps
Cons
Takes more time and effort to start you business
Need to advertise and drive traffic to your store
---
4. WooCommerce
With more than 5 million active installs and thousands of 5-star ratings, WooCommerce is the most popular ecommerce plugin for WordPress. It's also the number #1 plugin for building a professional and fully functional dropshipping store.

Unlike Shopify, WooCommerce is completely free to use. You only need to purchase a domain name and hosting which typically costs around $5-$10/month. There are even some companies that offer dedicated WordPress hosting with a free domain name.
Once you have a domain name and hosting, you can install WordPress and add the WooCommerce plugin. It's a little more complicated to get started with WooCommerce than Shopify. You may even find it confusing if you don't have any previous experience with web design or WordPress.
However, when it comes to flexibility and customisation options, WooCommerce is unmatched. It's compatible with thousands of themes and plugins for boosting it's core functionality. This includes dozens of dropshipping plugins that provide an all-in-one solution for finding, listing and repricing products on your WooCommerce store.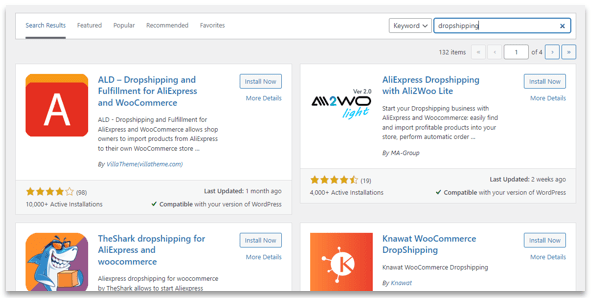 Whether you want to add an image zoom to product pages, optimise load speeds or enhance security, you can be sure to find a suitable plugin to install.
That's why WooCommerce is trusted by many major ecommerce brands including a number of well-established dropshipping stores with millions in revenue.
Pros
Free to use with only a domain and hosting required
Very flexible with thousands of themes and plugins
Includes huge database of dropshipping plugins
Well-maintained and updated on a regular basis
Multiple payment processors including PayPal
Cons
More complicated than other platforms such as Shopify
Plugins are required to enable a lot of additional features
Limited support for general questions about the plugin
---
5. Facebook
Facebook Marketplace is another leading place to sell dropshipping products. Since it's launch in 2016, the marketplace has rapidly grown in popularity, attracting over 2.5 billion monthly users. That's around 25% of the world's population using the platform every month.

Facebook Marketplace is mostly for buying and selling second-hand goods such as furniture, toys and tools. However, selling brand-new products is also allowed. In fact, the company eventually added the option to accept payments and offer direct shipping to customers through the marketplace.
That being said, not every Facebook user is eligible to accept payments and offer direct shipping on the marketplace. You will need to meet a number of requirements. This includes being based in the US and having an established Facebook account.
If you're a new seller or don't meet the requirements, you can still offer direct shipping. However, you will need to arrange shipping and payments outside of Facebook. It's recommended to use a service such as PayPal.Me which enables you to quickly share a link for customers to pay.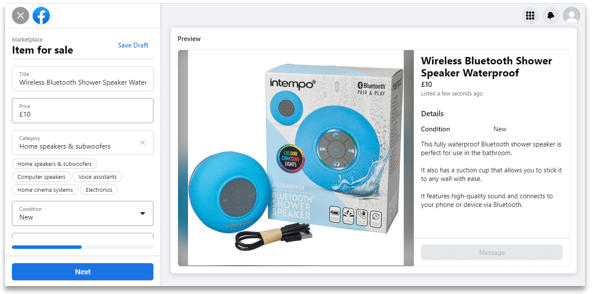 When it comes to generating sales on Facebook Marketplace, it's essential to build trust with potential customers. You need to prove you're a reliable seller with a good reputation and real products.
To do this, you should use an established Facebook account to sell on the marketplace. One of the biggest red flags for buyer is sellers with a brand new or inactive account. You should also make sure you are responding to questions from buyers as quickly as possible.
Pros
No listing fees or membership fees for dropshippers
User-friendly dashboard with simple listing process
Communicate with buyers through Facebook chat
Option to enable direct payments and shipping
Works with multiple dropship automation tools
Cons
Lack of seller protection policy or verification process
Requirements to unlock payment and shipping options
Mostly used for buying or selling second-hand goods
---
6. eBid
Founded in 1998, eBid is widely considered the best alternative to eBay and another powerful place to sell dropshipping products. eBid has millions of global buyers and more than 1 million listings in thousands of different categories.
Although eBid is not as popular as eBay, it's still one of the most used ecommerce marketplaces in the world. It's very easy to navigate and you can create listings in just a few simple steps. You can even import existing listings from your eBay account to eBid with ease.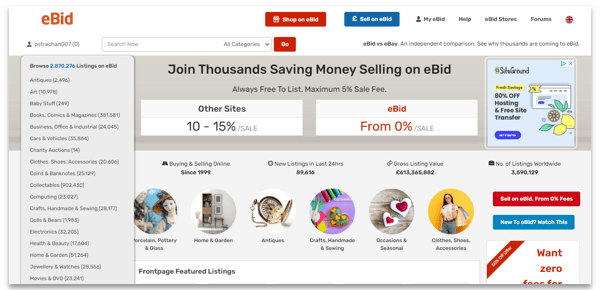 It's completely free to join eBid and free to add products to the marketplace. There are no listing fees or membership fees for standard accounts. The selling fees on sold items are also significantly lower than eBay with optional premium plans to reduce fees even further.
You literally have nothing to loose by listing your dropshipping products for sale on eBid. You're unlikely to generate as many sales as you would on platforms like eBay, but you can certainly boost them and reach more customers.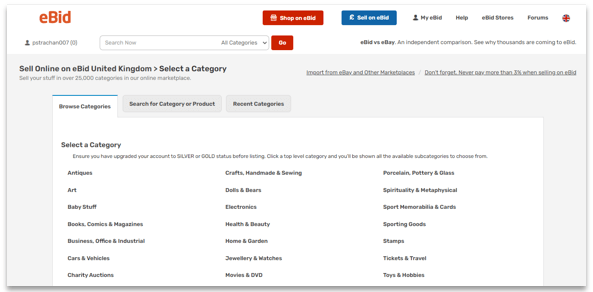 Pros
One of the most used marketplaces on the internet
Free to join as a seller and free to list your products
Millions of active buyers from dozens of countries
Suitable for dropshipping directly to customers
Quickly import your existing listings from eBay
Cons
Not as much traffic or buyers as eBay and Amazon
Lack of advanced selling tools and sales reports
---
7. Bonanza
Featured on dozens of major websites including Entrepreneur Magazine and Mashable, Bonanza is a top-rated online marketplace and the ideal place to sell dropshipping products. In fact, more than 50,000 sellers voted Bonanza as the 'best overall marketplace' over eBay and Amazon.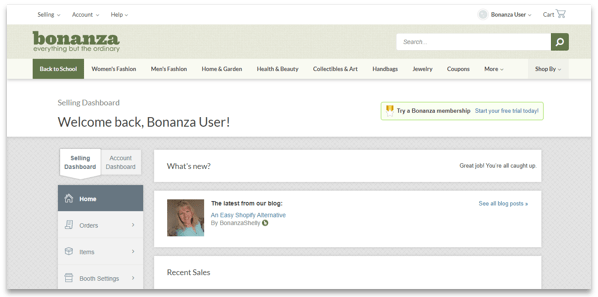 Becoming a seller on Bonanza is as easy as signing up and creating listings. It's free to join and there are no fees to add your products to the marketplace. Bonanza only charges a small transaction fee and final value fee on sales. Therefore, you will only pay a fee when you generate a sale.
One of the awesome features with Bonanza is the ability to import products from eBay, Amazon, Etsy or Shopify. Alternatively, you can upload products using inventory files. It's very easy to add products and you don't need any special skills or technical know-how.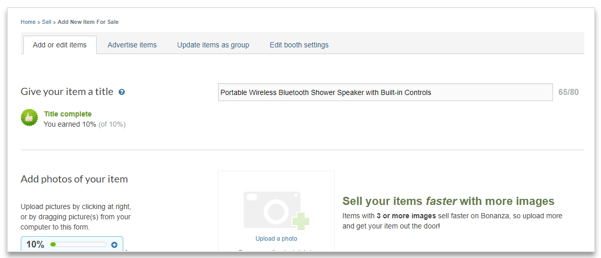 More than just another marketplace, Bonanza is also a provider of professional and highly customisable webstores. With this service, you can create your own dropshipping website for a low monthly fee. The benefits include no transactions fees, final value fees and complete flexibility to build your own brand.
Pros
Fast-growing marketplace and provider of online stores
Voted the best place to sell online by thousand of users
Free to join and list products for sale on the marketplace
Perfect for dropshipping or selling low-cost merchandise
Quickly import products from eBay, Amazon or Shopify
Cons
Less popular than eBay with not as many customers
Limited options for customising product pages
---
More Places to Sell Dropshipping Products
The websites and marketplaces listed above are the best places to sell dropshipping products as they are the most popular and lucrative. However, you have many additional platforms to choose from when it comes to selling dropshipping products. Here are some more sites to consider:
eBuyGumm
eBuyGumm is a fast-growing ecommerce marketplace that was specifically designed for buying and selling products in the UK. It's become very popular in recent years as it has absolutely no membership fees, listing fees or selling fees. You can list unlimited dropshipping products, without paying anything.
Craigslist
Craigslist is the largest classified ads website in the world. It allows people to buy and sell virtually any type of product or service. You can sell dropshipping products in most categories on Craigslist for free. However, it's important to note that payments and shipping must be arranged outside the site.
Gumtree
Gumtree is the most popular classified ads website in the United Kingdom. It's similar to Craigslist but exclusively for UK-based buyers and sellers. You can dropship products on Gumtree, but you need to arrange payment and shipping separately.
---
Frequently Asked Questions (FAQs)
Where is the best place to sell dropship products for newbies?
eBay is the best place to sell dropshipping products for newbies as it's very easy to sign up and list products. Dropshipping is also allowed on the platform, there are no rules that prevent you from selling goods and sourcing the directly from trade supplier.
Another reason why eBay is the best place to sell dropshipping products for newbies is because it's very low cost. You won't need to spend any money on advertising and marketing. You will only pay a small fee to list products for sale.
Amazon is another great website to sell dropshipping products if have you have no previous experience with ecommerce or online selling. Although it's a bit more complicated than dropshipping on eBay, Amazon is a much bigger company with more buyers and less sellers.
Where is the best place to sell dropship products for maximum profit?
Selling dropshipping products through your own website is the best way to earn maximum profit. With your own store, you won't need to pay any selling fees and you won't be directly competing with hundreds or even thousands of other sellers.
You will also have the freedom to advertise on third party platforms such as Facebook and Google. This gives you the opportunity to set higher selling prices and aim for bigger profits. Moreover, you will have a better chance of breaking into the market and building your own brand for long-term income.
---
Final Word
There are many great places to sell dropshipping products and generate sales. The marketplaces and websites listed in this guide are the best options as they are used by some of the world's most successful dropshippers.
However, the most suitable option for you will depend on your experience level, as well as your budget and business goals.
If you're new to dropshipping and looking to get started with minimal investment, selling dropshipping products on eBay or Amazon would be recommended. If you have a larger budget and more time to spare, creating your own dropshipping store with Shopify or WooCommerce is the better solution.