eBay Dropshipping: A Beginner's Guide (2022)
When it comes to starting a dropshipping business, eBay is the platform of choice for most newbies. It's no surprise either, eBay has millions of global buyers and visitors.
In this guide, you will learn everything there is to know about dropshipping on eBay.
From finding suppliers to choosing products and creating listings, I'll take you through the entire process, as well as provide some real-life examples of profitable dropshipping products on eBay.
---
What is Dropshipping?
Dropshipping is an order fulfilment technique in which retailers sell products, usually through online channels such as eBay, and then source them directly from suppliers.
Unlike the traditional ecommerce business model, dropshipping doesn't involve buying inventory upfront. Instead, products are only purchased after they've been sold to a consumer.
It's the perfect business opportunity for newbies to ecommerce, as well as those looking to start an eBay business without spending a ton of cash on inventory, storage and distribution.
---
Is Dropshipping Allowed on eBay?
According to eBay's policy, dropshipping is allowed on the platform. However, when using a dropshipping model, sellers are still responsible for the delivery of products and satisfaction of customers, regardless of where the item came from.
It's also the seller's responsibility to manage returns and ensure products are available at the time of purchase, something which will be covered more in this guide.
---
eBay Dropshipping Policy Update (Important)
Back when eBay dropshipping was in its infancy, sourcing products from another retailer, a process known as retail arbitrage, was common practice.
However, at some point in 2019, eBay updated their dropshipping policy to state that selling a product on eBay and then purchasing it from another retailer was not allowed.
To confirm, dropshipping on eBay is still allowed, but only when sourcing products from a genuine wholesaler or trade-only dropshipping supplier, more of which will be discussed later in the guide.
---
Is eBay Dropshipping Dead?
eBay dropshipping is very much alive and kicking. In fact, thousands of people are earning full time income dropshipping products on eBay.
The business model will always be a big part of the platform as it generates millions of dollars in revenue for eBay and attracts thousands of new sellers each year.
Building a long-lasting eBay dropshipping business is very much possible, it's simply a case of learning the policies and implementing the correct way of doing things.
Keep in mind, dropshipping is a business model, not a get-rich-quick scheme. It's going to take time and effort to start generating significant sales.
---
The Pros & Cons of Dropshipping on eBay
Dropshipping on eBay can be extremely profitable. However, it has a fair share of disadvantages which need to be considered, particularly when compared to alternative options such as dropshipping products through your own ecommerce website.
To help you determine whether it's the right business opportunity for you, here's a side-by-side breakdown of both the pros and cons of dropshipping on eBay.
Pros of eBay Dropshipping
More than 100 million buyers and over 1.5 billion live listings
Start selling products in minutes with no tech skills needed
No need to spend money on external advertising or marketing
Reasonable selling fees with simple billing system for sellers
Get your own customisable eBay store with exclusive benefits
Well-established marketplace with seller protection policies
Innovative 'promoted listings' service to increase exposure
Cons of eBay Dropshipping
Constantly changing selling policies with little warning or notice
Significant competition from other sellers in most major categories
Strict copyright and trademark policies on images and descriptions
Sourcing products from another retailer (arbitrage) is not allowed
Often biased towards buyers with lack of fair resolution system
Increasing number of mandatory policies and listing requirements
Unwanted returns automatically accepted by eBay without notice
---
How to Build an eBay Dropshipping Business
Now that you have a better understanding of how eBay dropshipping works, it's time for the exciting stuff – how to build a successful business with it.
Follow these simple steps and you'll be on your way to running a booming eBay dropship business in no time.
1. Choose Products to Sell
Choosing the type of products you want to sell is the first step towards building a dropshipping business on eBay. Although it's not necessary, focusing on one particular category, preferably a category which interests you, is recommended.
However, don't limit yourself by choosing a very small and specific niche. One of the biggest advantages with dropshipping is being able to sell anything you want without risking upfront cash, so why limit yourself to a very small niche?
You have the flexibility to create as many listings as you want, regardless of cash flow.
Find a starting category to focus on, but leave the door open for expansion later. For example, if you're a fitness fanatic, selling gym equipment may be your calling.
If you have a passion for the outdoors, camping gear could be your starting point.
Either way, selling products which you have knowledge on will give you a competitive advantage when it comes to creating listings, setting prices and answering customer enquiries.
Choose a category which interests you but is not a small, limited niche
Avoid products which are more likely to develop faults e.g. electronics
Stick with low priced items to maximise use of your eBay selling limits
Check the best-selling items on eBay to spark ideas on popular items
Use a keyword tool such as Keyword Planner to find out market size
Try a dropshipping product research tool to quickly find winning items
Search eBay for products which generate a lot of sales and interest
Study the competition on eBay and other marketplaces such as Amazon
---
2. Establish a Brand Name
Once you've decided on what to sell, it's time to come up with a name for your business. Having a good brand name is particularly important when you have an eBay store, as it needs to be memorable so that customers can easily return.
Here's a few tips to help you come up with the perfect name for your business:
Keep it short and sweet, as well as easy to remember
Use relevant, descriptive and self-explanatory keywords
Try an online business name generator such as NameMesh
Use keyword suggestion tools like Google Keyword Planner
Try domain name generators such as LeanDomainSearch
Research similar companies to spark some unique ideas
Important Note: Before you decide to use any name for your business, make sure it's not already taken by doing a trademark search and domain availability check using popular registrars.
---
3. Find a Supplier
The next step towards building a successful dropshipping business on eBay is to find a reputable supplier to source products from.
From searching on Google to using a wholesale directory or attending local trade shows, there are multiple ways to find leading dropshipping suppliers.
Here's a quick list of the most common and effective ways to quickly locate top suppliers in any category, niche or country.
Searching on Google using long-tail keywords
Using a supplier directory or business directory
Attending local trade shows or trade exhibitions
Studying online dropship forums, blogs and articles
Using Q&A websites like Quora or Yahoo Answers
Contacting wholesalers and manufacturers directly
Joining relevant Facebook groups or pages
Searching on YouTube for videos on dropshipping
While each method has it's own benefits, using a supplier directory is often the best choice as it eliminates the time-consuming process of manually searching for suppliers.
Essentially, the directory complies a list of the best dropshipping suppliers in one easy to browse database. Think of it like Google, but specifically for finding dropshipping suppliers. A quick search on Google will return a list of free dropshipping directories.
You may also want to read our guide on the best eBay dropshipping suppliers. Here you will find a handpicked list of eBay-friendly dropshipping companies. Furthermore, the following articles will come in useful for finding trusted dropshippers for eBay.
---
4. Join eBay
If you don't have an account, the next step is to join eBay. The eBay site you should join will depend on where your supplier is located.
For example, if your supplier is located in the UK, you should open an account on the UK version of eBay. Alternatively, if your supplier is in the US, you should join the US version at ebay.com.
Setting up an account is fairly straight-forward. Simply head to the eBay site, click the Register link and follow the instructions. A business account is recommended.
Important Note: Before you start listing dropship products on a new eBay account, we recommend selling some items from around the house to gain feedback and sales history. Doing so will build trust with eBay and simultaneously increase your selling limits.
---
5. Start Listing
By this stage, you should have a name for your business, a supplier to source products from and an eBay seller account. The next step is to start creating listings.
Simply navigate to eBay and login to your account. Once inside, click the Listings tab in the Menu.
On the following page, click the Create Listing button and select Single Listing. Once you're on the listing page, you can start inputting the details of the product on offer.
Tip: If the product already exists on eBay, simply click the Sell it Yourself link on the existing eBay listing. You'll be redirected to the listing page where some item specifics may already be added.
a) Create a Title
When it comes to titles, most dropshippers go down the route of copying their suppliers. However, titles are the most important part of an eBay listing.
Not only are they used to determine what searches your listing will appear for, but they're also the first thing buyers see when browsing eBay.
Therefore, it's important to create unique and keyword-rich titles. Think about the phrases customers will use when searching on eBay, or try using a keyword suggestion tool such as Google Keyword Planner or WordStream to spark some ideas.
The more keywords in the title, the more chance the  listing will appear in search results. In the above example, my listing will appear for multiple variations including ultrasonic pest repeller, plugin pest repeller, ultrasonic insect repeller and so forth.
I've also included some descriptive keywords such rat and mouse. If these keywords were not in my title, it's unlikely the listing would appear in searches for them.
Tip: Another effective way to find relevant keywords for your titles is by using eBay search. Head over to the eBay website and input some keywords in the search bar. While typing, a drop-down list of the most popular search phrases will appear for your review.
b) Upload Images
Uploading images is easy. You don't need to take your own photos as you can simply use the suppliers images.
Just right-click your mouse when hovering over the image, then click Save Image in the drop-down menu. Repeat the process until all images are saved to your PC, then upload  them to eBay.
Try not to use the same main image as your supplier (if possible) to further stand out from the crowd.
Tip: When saving product images, name them with descriptive keywords to further optimise your listing. For example, save the first image as Wireless Headphones and the second image as Bluetooth Headphones.
c) Add Item Specifics
Item specifics are simply the characteristics, details and specifications of a particular item, such as size, weight and colour. Don't underestimate the power of item specifics, eBay uses them when customers filter search results.
For example, if a user searches for a mens tshirt, the results can be filter by size. If you haven't input a size item specific, your listing won't appear in the results.
Therefore, you should add as many item specifics as possible, but double-check to make sure they're accurate. Thankfully, eBay does a good job of automatically adding certain item specifics for you.
Note: In some cases, you may be required to add certain product identifiers such as brand name, EAN or manufacturers part number. Contact your supplier to get this information, or simply select 'unbranded' or 'not applicable' if possible.
d) Write a Description
Descriptions are just as important as titles. Although it's tempting to use your suppliers description, you should take the time to write your own description, or at least rewrite the original description.
Using unique descriptions will give you a huge advantage over your competitors, as they will be unable to duplicate or copy your listing.
Doing so would be a copyright violation which can be reported to eBay. You'll also be able to further increase your chances of being discovered in search results by sprinkling relevant keywords throughout the description.
Tip: Keep your descriptions short and include some key feature bullet points, as well as a list of specifications. Try to sprinkle a few relevant keywords within the description but avoid keyword stuffing.
e) Set a Price
It's no surprise that price is the most important factor in a consumers buying decision. Therefore, keeping your prices as low as possible is essential.
After taking eBay and PayPal fees into consideration, you should aim for a healthy but moderate profit margin. Don't make the mistake of overpricing.
It's better to sell an item 10 times with a £2 profit rather than just once with a £5 profit. Low prices will attract more customers and ultimately generate more sales.
While not essential, try to undercut your competition where possible, even by a few cents. If you're running promoted listings (more on that later), you'll have more flexibility to aim for a higher profit margin.
Note: Selling fees will vary depending on which eBay site you're selling on. The quickest way to calculate your selling fees and profit margin is by using a free eBay fee calculator.
f) Create Essential Policies
If you're a new seller, you'll have to create a few essential listing policies. Don't panic though, it's very simple to do and a one time job. Once set up, you can use the same policies for all future listings.
The 3 policies you need to create include a postage policy, returns policy and payment policy.
Simply click the Create link next to the relevant policy on the eBay listing page, then complete the details within the pop-up window.
Tip: Mirror your suppliers return policy and add a few extra days to the shipping time. If your supplier delivers in 3-5 days, set your policy as 5-7 days to compensate for the time between receiving an order and placing it with your supplier.
g) Create Multi-Buy Offer
Multi-Buy is a relatively new eBay feature which allows you to offer customers a discount when they purchase one or more of the same item.
It's an extremely effective way to encourage buyers to purchase a higher quantity and increase sales by up to 10%, as it clearly displays the savings to be made when doing so.
There are 2 ways to create a multi-buy offer, either individually while creating a new listing or in bulk via your eBay seller back-office.
If you want to offer different tiered discounts for each of your items, it's best to create a multi-buy offer while creating listings.
If you would like to have the same multi-buy offer for all listings, you can do this in bulk, after creating your listings. Learn more about multi-buy offers and how to create them here.
Final Listing Tips
Taking the time to create unique, professional and keyword-rich listings is the key to success when selling on eBay.
While other sellers tend to use the same standard descriptions, images and item specifics as their supplier, creating your own unique content will enable you to significantly stand out from the crowd.
Use the full allocated space to create keyword rich titles
Write unique product descriptions and include relevant keywords within
If possible, use a different main image than your supplier
If no brand name exists, use your own company or brand name
Set a low but reasonable price and undercut the competition if possible
Offer a 30 day return policy to give buyers piece of mind
Offer a warranty period to further encourage users to purchase
---
6. Promote Your Listings
Promoting your listings is a sure fire way to instantly boost traffic and increase sales. While promoted, your listings will appear in prominent locations throughout the eBay site, including at the top of search results and on the listing pages of similar item.
You'll only pay an additional fee, calculated as a percentage of the final selling price, after the item has sold. Therefore, you can try out promoted listing without having to risk any upfront cash.
Promoted Listings can be created in 1 of either 2 ways, either individually while creating a new listing or in bulk for all existing listings.
You'll have full control over which listings to promote, as well as the fixed percentage you're willing to pay if a sale is generated. Lean more about promoted listings here.
Tip: Start your ad rate at around 5% for maximum visibility, then adjust individual listings by decreasing or increasing the ad rate depending on performance. Once a listing starts to generate sales, you can gradually decrease the rate.
---
7. Manage Stock & Prices Effectively
One of the biggest challenges with dropshipping on eBay is managing stock and price changes. Selling a product which has ran out of stock or raised in price means you'll need to cancel the order and risk negative feedback or account defects.
Therefore, it's important to have an effective stock and price management system in place. Your plan should involve manually checking your suppliers inventory on a frequent basis. In some cases, your supplier will be able to provide you with data feeds or frequent stock/price updates.
Talk with your supplier to work the best way to manage stock and price changes.
Manually checking stock and prices is easy when you have a small number of listings. However, as you began to scale and grow your business, using automation software is by far the better solution.
With multiple dropshipping software programs to choose from, many of which are compatible with eBay, finding one which is compatible with your supplier shouldn't be a difficult task.
Furthermore, most software programs are able to add compatibility with certain suppliers upon request. For more information, please see our comprehensive list of the best eBay dropshipping software solutions and how they work.
---
8. Process Orders Quickly
When a customer buys an item, you need to forward or place that order with your supplier. As a dropshipper, you lack control over the order processing and dispatch times.
Therefore, it's absolutely vital to process orders as quickly as possible to ensure the items arrive on time. As a general rule, you should aim to process orders the very same day.
Remember, your supplier will prep and dispatch the items. If a customer places an order on Monday, but you don't process it until Tuesday or Wednesday, it could result in the item being delayed.
While the primary purpose of using dropshipping software is to monitor prices and stock, many have the additional capability to automatically process orders on your behalf.
As you being to scale your business and generate sales, using software to place orders can save you a huge amount of time. Refer to our list of the best eBay dropshipping software for more information.
Tip: Avoid matching your suppliers shipping policy exactly. If your supplier delivers in 3-5 days, set your shipping policy to 5-7 days. Those few extra days will give you extra time to place the order with your supplier.
---
9. Provide Great Customer Support
Customers are the lifeblood of any business. Go that extra mile by informing your customers when items have been dispatched and follow-up with them after delivery to ensure they're satisfied.
If they're happy with the product, kindly request feedback. If they're not, make the effort to resolve the issue quickly. Never forget, the customer is always right, even when they're wrong.
Go above and beyond to resolve any issues or complaints. You'll quickly discover that good customer service can turn even the most frustrated customer into a repeat buyer.
Tip: Providing excellent customer service is the key to building a loyal, repeat customer base. Every customer is important, as many have the potential to buy several items from you over a sustained period of time.
---
10. Keep Listing
One of the biggest reasons newbies fail with eBay dropshipping is because they give up too quickly. It's important to understand that while some items may fail to generate sales, others will become hot sellers.
The key is to find those hot sellers and weave out the under-performing listings until you eventually have a range of winning items.
If you don't seen an instant avalanche of sales, don't give up. Keep listing products and expanding your range. As you start to gain positive feedbacks, sales history and seller stats, your listings will start to naturally appear more in the search results.
Stick with it and over time you'll start to generate consistent daily sales.
---
Case Study: Finding Profitable Dropship Products on eBay
In this over the shoulder case study, we're going to find profitable dropship products on eBay. Let's imagine I've decided to start selling giftware on eBay UK.
I've found a suitable UK based dropshipping supplier after searching on Google. That supplier is Puckator Dropship, one of the UK's leading dropshippers of giftware.
After spending some time cross-checking a collection of their products on eBay, it didn't take long to discover a profitable item. It's a Gothic skull dragon figurine.
After searching on eBay, I discovered a seller who has sold the very same item over 30 times for the price of £8.87:
The total price to purchase this item from the supplier (Puckator) including shipping is £6.42.
By undercutting the competition and selling this product for £8.85, I'd pocket a profit of £1.10 on every sale. If I can achieve similar sales as my competition, I'd earn over £30.00 profit from this one single item.
Keep in mind, I have full control over pricing and the option to aim for a higher profit per sale, particularly when running promoted listings.
As I continued to browse Puckator and eBay, I found many more profitable dropship items, including the following examples: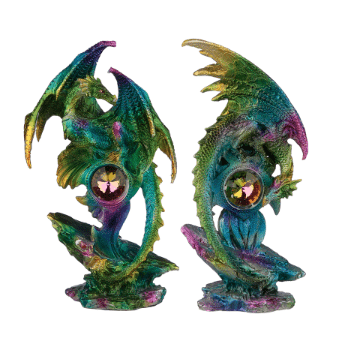 Crystal Geode Metallic Rainbow Dragon Figurine
Cost to Buy: £10.44
eBay Selling Price: £14.34
Profit: £1.85
Sales Volume: 10
Total Profit: £18.50
Gothic Skull in Medieval Helmet Ornament
Cost to Buy: £5.81
eBay Selling Price: £7.91
Profit: £0.88
Sales Volume: 22
Total Profit: £19.36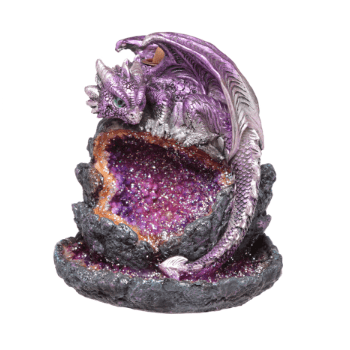 Fantasy LED Backflow Incense Burner
Cost to Buy: £16.50
eBay Selling Price: £22.27
Profit: £3.05
Sales Volume: 9
Total Profit: £27.45
These are just a few examples of items which people are successfully dropshipping on eBay. Keep in mind, there's literally millions of items and thousands of dropshipping suppliers to choose from.
Take the time to find those hot-selling products which generate consistent sales and you'll be on you're way to becoming a power seller in no time.
---
Demo: Finding & Listing a Dropship Product on eBay
In this short demo, I'm going to take you through the process of finding a dropship product and listing it for sale on eBay UK.
I've decided to use the supplier Banggood, a leading China based dropshipper with over 100k products and multiple distribution warehouses across the globe including in the UK.
After spending some time browsing the Banggood website and cross-checking several products with eBay, I've stumbled across a potentially profitable item.
It's an automatic fish food dispenser, available to purchase for £10.75 with free 3-5 day shipping from the UK warehouse.
As an active member of the Banggood dropship program, I'm also subject to a 5% discount, meaning my total cost price for this item would be (£10.75 – £0.53) £10.22.
After a quick search on eBay, I discovered this very same fish feeder selling for £14.99 with a total sales volume of 7 units.
Many other similar items were being sold for between £15 and £20 with a healthy sales history of 10 or more, indicating that automatic fish feeders are a fairly popular item to sell on eBay.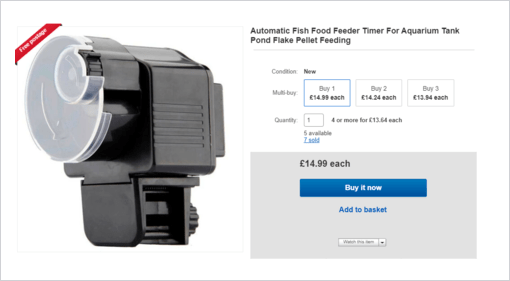 After using a free eBay fee calculator, I've concluded that my total profit would be £2.62 ( 17% margin) if I was to undercut the competition and list the fish feeder for £14.97.
The figures outlined in this example are based on UK eBay and PayPal fees. The actual fees will vary depending on your country and the eBay site you're selling on.
Although £.2.62 may not sound like a lot of profit, if I was to sell 10 of these every month, this one product would earn me £26.20 per month.
Now image if I had 100 or more products which generated similar profit margins each month. That equals a very comfortable, lucrative and reliable income.
Undercutting the competition is not absolutely essential when selling on eBay, particularly if you're running promoted listings.
Selling this product for 15.99 would generate a £3.51 (22%) profit, while a price of £16.99 would earn a £4.38 (25%) profit.
Trying and testing to achieve the most lucrative selling price for maximum sales is recommended. It's better to generate more sales with a small profit than only a few sales with a large profit.
Now that I've found a profitable product, it's time to create a new listing on eBay. The quickest way to do this is by clicking the Sell It Yourself link on the existing eBay listing:

To get that edge over the competition, I'm going to create a unique and keyword rich title for my listing. After using a free keyword suggestion tool, as well as eBay search, I've came up with the following title: Automatic Timed Fish Food Dispenser Feeder for Aquarium Tank Pond
The title contains relevant and descriptive keywords which users are likely to search for when browsing eBay. I've also included multiple keywords to cover the potential use of the item for aquariums, standard tanks or ponds.
Therefore, whether the user is searching for 'pond fish feeder' or 'aquarium fish feeder' my listing should appear for both.
Tip: Create your own unique title and avoid copying the title of another seller. Even if the seller has a good title, you should add your own keywords to make it unique. Nobody likes a copy-cat.
Next, I'm going to upload the product images. To do this, I need to download them from the suppliers website. In most cases, you can simply right-click on the images and save them to your PC.
However, if the right-click function is not enabled, you'll need to contact your supplier to request the images. I've taken the extra time to save each image to my PC using relevant keywords before uploading them to eBay. I've also decided to use a different main image.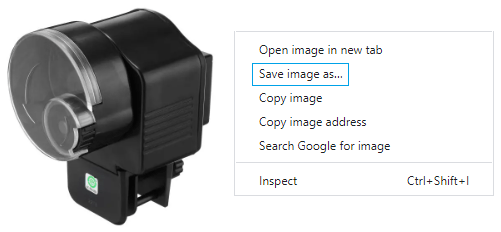 While not mandatory, the next step is to write my own description. Unique description will give you a competitive advantage over other sellers.
In this case, I'm going to keep it short with a brief introduction paragraph and a list of key features. You may also want to include a short overview of what's included in the package.
The next step is to input as many item specifics as possible. In most cases, particularly when using the Sell it Yourself link to create a new listing, eBay will automatically add the item specifics for you.
Be sure to add as many as possible and double-check any that eBay may have automatically included.
Now that I've input the required information, I can go ahead and click List and my product will be available to buy on eBay.
To further increase my chances of generating sales, I'm going to set-up a multi-buy offer and promoted listing separately.
More details on multi-buy and promoted listing can be found in the Start Listing section of this guide.
---
eBay Dropshipping Alternatives
We've established that eBay dropshipping can be highly profitable when done correctly. However, that doesn't mean it's the best option, particularly in the long-term.
Dropshipping through your own website a sure-fire way to establish full control over your business and secure it's longevity. eBay will bring in quick sales, but building your own website should be your ultimate goal.
Thankfully, simple software programs make it easy to anyone to create a low-cost ecommerce website. Please see our list of the best online store builders for more information.
Other alternatives to eBay including dropshipping on Amazon, through Facebook or on other popular marketplaces.
To learn more, please refer to our guide on 5 easy ways to sell dropship products.
To generate maximum sales and profit, you should be selling on multiple channels including eBay, Amazon and your own website.
---
eBay Dropshipping FAQ's
The following FAQs provide instant answers to common questions related to dropshipping on eBay. If you have any additional question which is not covered here, please refer to our other guides on dropshipping and ecommerce.
Also, be sure to check back regularly as we continue to add more useful content and information.
Is eBay against Dropshipping?
Absolutely not. The problem is with retail arbitrage only. The process of sourcing products from other retailers, particularly Amazon is flawed. At first, it wasn't much of an issue for eBay.
However, as the popularity of retail arbitrage increased, problems became apparent. eBay became overloaded with thousands of duplicate, overpriced and poor-quality listings, most of which were being sourced directly from their biggest competitor – Amazon.
It caused much confusion for eBay buyers, who would purchase products on eBay but receive them in an Amazon package. Naturally, this resulted in many customers complaining to eBay, leaving negative feedback or opening disputes.
Let me make it clear, eBay has nothing against dropshipping. Sourcing products from a genuine wholesaler or trade-only dropship supplier means you can offer competitive, true retail prices. You also won't need to worry about complaints.
Reputable dropshippers will use unbranded packaging without including paperwork, a process known as blind dropshipping. Your customers will never know where the item came from. As far as the customer is concerned, the item came directly from you.
Some dropshippers can even include your own logo or branding the packaging. For more information, please see our article on why you should avoid dropshipping from Amazon to eBay.
Can anyone dropship on eBay?
Absolutely. That's the beauty of dropshipping. It doesn't matter where you're physically located, you can sell to customers in any part of the world.
For example, if you want to sell on eBay UK, simply find a UK-based supplier. If you'd rather sell in the US, find a US-based supplier.
You could be in the Bahamas and still sell products on eBay, your supplier handles the entire order fulfilment process including shipping and delivery, rendering your location irrelevant.
How much does it cost to start dropshipping on eBay?
It depends on which eBay site you wish to sell on. The cost to list a product for sale on eBay varies depending on which country you sell in, however it's generally very low.
You also have the option to open an eBay shop for a fixed monthly fee which comes with exclusive benefits including a set number of free listings.
Aside from that, the only other fee you pay is a final value fee after a product has sold, currently around 10% plus PayPal fees.
Is dropshipping on eBay legal?
Absolutely. Dropshipping is a completely legal and legitimate business model which is allowed on eBay as per their policy.
Reputable companies have been using the dropship model for decades, long before it became a common practice. Now considered an established and proven business model, dropshipping will only increase in popularity.
Will eBay ever ban dropshipping?
It's highly unlikely that eBay would ever outright ban dropshipping. I'd say impossible, but I'm a big believer in that nothing is impossible.
It would make no logical sense for eBay to ban dropshipping, particularly when they generate tens of millions of dollars in revenue from it.
Is it better to dropship on my own website?
Building your own ecommerce website takes a lot of time, money and effort. eBay on the other hand gives you a platform to instantly start accepting orders.
It also has millions of eager buyers. Cutting yourself off from this massive pool of buyers would not make sense. While having your own e-commerce website is certainly something to consider for the future, eBay is by far the best starting point for newbie sellers.
Can I dropship from Amazon to eBay?
Unfortunately, dropshipping from Amazon, or any other retailer for that matter, is no longer allowed on eBay. Doing so could result in your account being suspended or heavily restricted.
Therefore, it's highly recommended to only dropship from genuine wholesalers or trade-only dropship suppliers.
By working with genuine trade-only suppliers, you will not only avoid being flagged by eBay, but you'll also be able to offer much more competitive prices.
How do I manage eBay returns when dropshipping?
Managing returns when dropshipping on eBay is actually very simple. Instead of having customers return items to you, simply forward the customer a return label or instructions on how to return the item directly to the supplier.
When the return has been received, the supplier will refund you, and you then refund the customer. If a customer opens a return request on eBay, make sure you contact the customer asap to avoid them sending the item back to you.
---
Final Word
Building a successful dropshipping business on eBay is more than possible, it just takes time and effort. Choose the right products to sell, find a reliable supplier and create unique listings, you won't go far wrong.
When the time feels right, invest in automation software to streamline and scale the business more rapidly. Once you've fine-tuned your product range and started to generate consistent sales, consider creating your own website using a low-cost online store builder.
Alternatively, branch out by selling on a second platform such as Amazon or Facebook.
Your eventual goal should be to sell on multiple platforms, rather than on eBay, or any one channel exclusively.