17 Tips to Increase Your Dropshipping Conversion Rate (2023)
Disclosure: We may earn a commission or fee from some of the links in our content. However, this does not affect our recommendations. Learn more.
To succeed with dropshipping, your store must have a good conversion rate. The higher the conversion rate, the less you spend on marketing efforts.
Here you will find 17 easy ways to increase the conversion rate of your dropshipping store. Even using just a few of these methods will help you to quickly boost sales and orders.
---
1. Use high-quality images
High-quality product images are the key to driving conversions to your dropshipping store. By using professional and compelling photos, you can make your products stand out from the competition and essentially drive more traffic and sales.
Always try to use the best available images provided by your supplier. You may also want to add your own watermark or logo to the pictures. There are a number of free tools that allow you to do this for free including Watermarkly and Img2Go.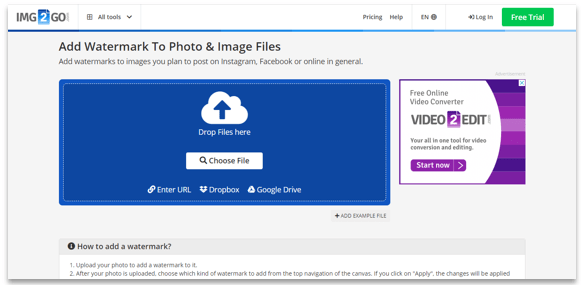 Alternatively, you can take your own product images or enlist the help of an ecommerce photography service. It will require more time and effort, but creating your own original images can be very powerful when dropshipping.
---
2. Write unique descriptions
Unique product descriptions are important for two reasons. First, they give the customer a better idea of what they're buying. Second, they help your search engine optimisation efforts by providing keyword-rich content for Google to crawl and index.
Make sure you include features, benefits, and specifications in your product descriptions. You should also try to include relevant long-tail keywords throughout the description. You can find popular keywords using a free research tool such as Google Keyword Planner or Wordtracker.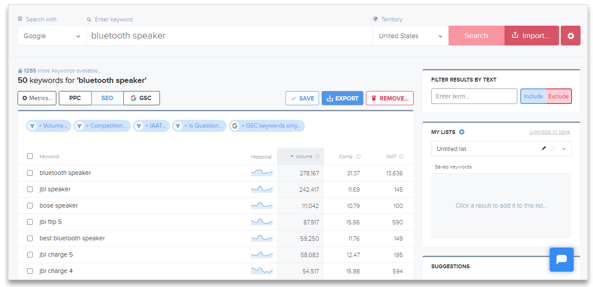 Although it may be tempting to use the descriptions provided by your dropshipping supplier, writing your own keyword optimised descriptions will drastically boost conversions. Plus, other sellers will be unable to copy your listings as you will own the content.
---
3. Offer free shipping
Free shipping is the best way to improve your dropshipping store conversion rate. By offering free shipping, you are essentially giving your customers a discount on their purchases, which can entice them to buy from you instead of your competitors.
Plus, free shipping can also increase your average order value, leading to more revenue and profits. If your dropshipping supplier doesn't provide free shipping, you can simply include the cost of shipping in your total selling price for each item.
One of the other benefits to offering free shipping is gaining an advantage over other sellers. Amazon has quickly become the biggest ecommerce company in the world, it's much bigger than eBay because it offers free shipping on most products.
---
4. Highlight returns policy
Your customers need to know they can return items if they're unhappy with their order. It gives them a sense of security and builds trust between you and the customer. Make sure your returns policy is prominently displayed on your website and easy to find. 
You should also make sure it's clear and concise so there are no misunderstandings. You might even want to offer a free return label to make it even easier for customers to send back goods.

It's recommended to have a 30-day returns policy when dropshipping, even if you're supplier doesn't accept returns. It's your responsibility as the retailer to process returns. In fact, it's the law in some countries. Keep in mind, only a small percentage of consumers typically return items.
---
5. Improve website speed
The speed of your online store has a huge impact on your conversion rate. In fact, ecommerce websites with a load speed of around 0-2 seconds have the highest conversion rates. In other words, the quicker your website loads, the more sales you will generate. Here are 5 essential tips for improving the speed of your dropshipping store to achieve-blazing fast loading times.
Choose a good hosting provider
The best way to ensure your dropshipping store loads fast is by choosing a good hosting company. In fact, you should find a hosting provider that offers services designed specifically for ecommerce. There are a number of hosting companies that provide dedicated solutions for platforms like WordPress.
Use a speed optimisation plugin or app
Whether you're selling on Shopify or WooCommerce, there are tons of free apps and plugins that will allow you to quickly improve the speed of your website. This includes tools for caching your website, compressing images and enabling the use of a content delivery network.
Reduce the total number of plugins or apps
Using too many apps or plugins can drastically slow down your dropshipping store. That's why you should only use essential plugins that are necessary for your store. Try to stick with a maximum of 3 or 4 plugins for security, speed and search engine optimisation.
Remove unnecessary widgets
Having too many widgets in your sidebar can also cause a slow load speed. You should remove any unnecessary widgets such as advertisements, images or videos. Keep your sidebar to a minimum with only a list of categories and links to important pages such as your shipping policy.
Display less advertisements
If you're running ads on your dropshipping store such as banners or AdSense, they could slow down the load speed. Therefore, it's important to display only a few ads in the most prominent spots of your website. Less is definitely more when it comes to ads on ecommerce sites.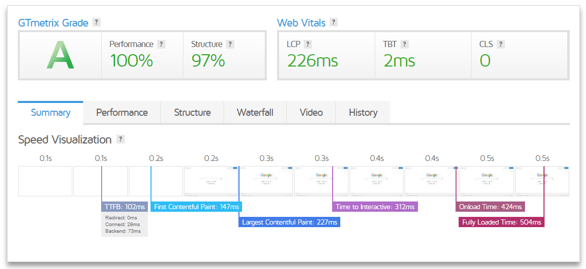 ---
6. Add customer reviews
Ratings and reviews are a superb way to improve the conversion rate of your dropshipping store. They show potential customers that your products are high-quality and encourage more orders. In fact, more than 90% of customers read reviews before buying a product.
Make sure you add customer reviews and ratings to product pages and encourage customers to leave feedback on their purchases. You can offer discounts, deals, or other incentives for customers to leave reviews. This will help to quickly get the ball rolling.
The process of enabling reviews on your store will vary depending on the platform you use. However, most online store builders have built-in features or extensions for allowing customer reviews. For example, there are dozens of apps for adding customer reviews to your Shopify store, whereas WooCommerce also has tons of review plugins that are free to install.
---
7. Use multiple payment options
Offering multiple payment methods is another effective way to increase the conversion rate of your dropshipping store. You should provide users with a choice of various payment options in addition to credit cards such as PayPal, Amazon Pay, Google Pay, Stripe and more.
The likelihood of a customer placing an order will increase if they can checkout using their preferred payment method. Keep in mind, most popular ecommerce platforms including WooCommerce allow you to quickly and easily set up different payment options.

eBay is a great example of an ecommerce company that introduced more payment methods to boost conversions and sales. After exclusively using PayPal for many years, eBay later switched direction and allowed customers to use Apple Pay, Google Pay and bank transfers.
---
8. Enable guest checkout
Most shoppers prefer to checkout without having to create an account. By enabling guest checkout, you will make the purchase process much simpler and more streamlined for potential customers. In turn, this will lead to a higher conversion rate.
Moreover, allowing guests to checkout is a powerful way to attract new customers. This is because new visitors won't immediately trust your brand with their personal data. Giving them the option to place an order without storing their information is the best way to provide piece of mind.
---
9. Create a simple design
Having a complicated website that is hard to navigate is one of the main reasons for a low conversion rate. It's particularly damaging for ecommerce websites as customers usually want to find products and checkout as quickly as possible.
Make sure you keep the design of your dropshipping store simple and professional, as well as easy to browse. To do this, use a light and welcoming colour scheme with attractive and clear fonts. You should also keep your menu simple with well-organised categories and sub-categories.
If you have a lot of products, add a search bar to your store. This will allow customers to quickly find products, without having to browse endless results. Filters are also essential if you have a lot of products in different size or style variations.
---
10. Simplify checkout process
According to Baymard Institute, around 70% of online shopping carts are abandoned. That means the majority of potential customers give up and leave a website before placing an order.
There can be a number of reasons why this happens, but the most common is a complicated or lengthy checkout process. To reduce shopping cart abandonment rates, you should simplify the checkout process and make it easier for customers to complete their purchase.
Try testing single-page and multi-page checkout flows to determine what works best for your store. Many studies have found that switching from a multi-page checkout to a single-page checkout yielded significant results.
Also make sure you checkout has an SSL certificate to reassure customers the website is secure and safe. SSL certificates protect the customer's data including credit card and billing details.
---
11. Run sales and promotions
Running sales and promotions is another proven way to quickly increase your conversion rate and generate more revenue. Every successful dropshipping store runs sales on a regular basis. Let's take a look at some of the most popular types of sales and promotions you can run on your store.
Flash Sales
Flash sales are discounts offered to customers for a shot period of time. You can run a site-wide flash sale and provide a discount on all orders, or you can run a flash sale on invdidual items. The key is to offer greatly reduced prices for only a few hours or days.
Multi-buy offers
Multi-buy offers are promotions that provide customers with a discount when they buy one or more items. You can offer multi-buy offers on all products or invdidual products. They have become extremely popular on marketplaces such as eBay.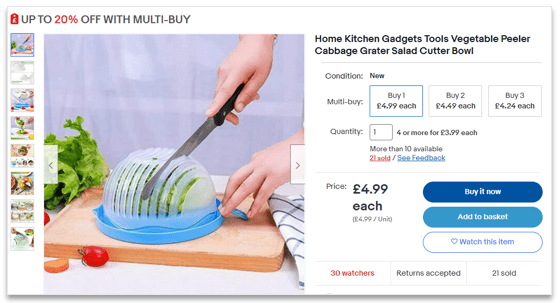 Free gifts
Offering a free gift on purchases is a great way to attract more orders. In fact, offering a mystery gift when a certain order minimum is reached will also boost your average order value. When dropshipping, you can simply source low-cost gift items from your supplier to be dispatched with the goods.
---
12. Display trust badges
Building trust with your potential customers is essential when dropshipping. The best way to do this is by displaying various trust badges on the homepage or checkout pages of your site.
Many dropshippers add trust badges to their stores. This includes badges that highlight security checks, payment options, free shipping, money-back guarantees or third-party endorsements, as well as ratings on TrustPilot or other similar review websites.
The TrustedSite certification is one of the best badges to place on your ecommerce website. It was previously known as the McAfee Security seal. By placing the badge on your website, you will show visitors that you're a legitimate and reliable company with a secure store.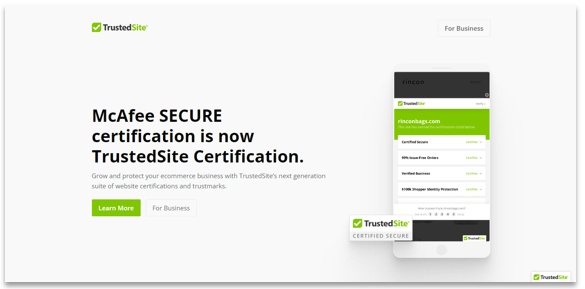 ---
13. Reduce your prices
Reducing your prices is a guaranteed way to increase your conversion rate and instantly boost sales. Although it may seem counterproductive to generating as much profit as possible, reducing your prices can result in more overall sales and revenue, thus more profit.
The great thing about dropshipping is that you have the flexibility to reduce your prices, without having to worry about the costs associated with storage, shipping and labour. Keep in mind, you could always lower your prices to attract new customers and raise them at a later date.
Discounting your prices even by a small amount can make a big different. It will also help you to remain competitive and stay ahead of other dropshippers who may have undercut your prices.
---
14. Add videos to descriptions
Videos can sky-rocket the conversion rate of your dropshipping store. In fact, using videos in product descriptions has a number of benefits. It will allow potential customers to get a better view of the product, as well as learn about it's main features and selling points.
There are a number of low-cost services for purchasing dropshipping video ads that can be used in product descriptions. Many of them provide a complete end-to-end solution which includes script writing, editing and producing. In some cases, they even include a professional voiceover.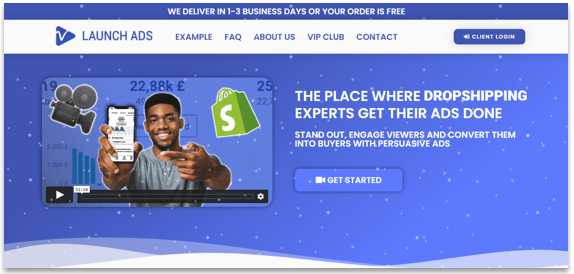 Alternatively, you can create your own videos by using editing software. These days, most video editing solutions are very easy to use and beginner-friendly. Moreover, some of the biggest video editors such as Animoto and FlexClip offer professional templates specifically for ecommerce.
---
15. Try live chat software
If you want to see a quick improvement in conversions, install live chat software on your store. It will allow you to talk to visitors in real-time and answer any questions. This gives you the opportunity to promote sales and reassure customers if they have any concerns about your products or company.
Make sure your live chat software is prominently displayed on your store. Visitors should be able to see it as soon as they land on your site. The best option is to use a floating widget for initiating a conversation. Just make sure you are available as much as possible to chat with visitors.
Freshdesk and Zendesk are a couple of the most popular live chat solutions. However, make sure you search around to find a software that best suits your needs as there are plenty of options.
---
16. Use exit popups
Exit popups are website overlays that appear on the screen when a user attempts to close the page. They can be very powerful for increasing the conversion rate of your dropshipping store as you can offer exclusive discounts to customers who are trying to leave your site.
Unlike generic popup ads, exit popups are not annoying or distracting for customers. In fact, they have been shown to not only increase conversions but reduce the bounce rate of your website.
Most ecommerce platforms such as WooCommerce and Shopify don't have built-in features for creating an exit popup. However, there are many free to use third party apps and plugins that will allow you to add this feature to your dropshipping store.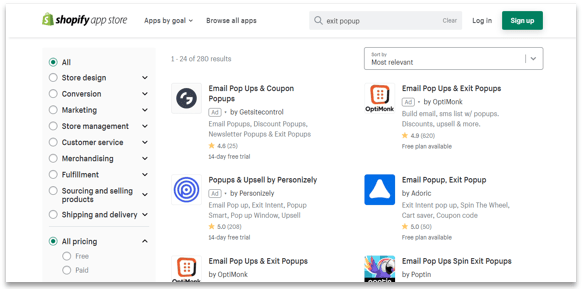 ---
17. Add live sales notifications
Live sales notifications are a modern and innovative way to boost the conversion rate of your dropshipping store. Essentially, live sales notifications alert your visitors every time someone places an order on your store. This is usually done with a popup notification or scroll bar on the website.
When it comes to ecommerce and dropshipping, live sales notifications are very effective as they build trust with visitors and show that your products are popular. They also promote a sense of urgency which can encourage visitors to place an order as soon as possible.
Most ecommerce platforms have plugins or apps that allow you to add live sales notifications to your dropshipping store. You will often be able to customise and style them to suit your brand.
---
Frequently Asked Questions (FAQs)
What is a conversion rate?
A conversion rate is the percentage of visitors that take a desired action on your website such as purchasing a product or subscribing to a mailing list. A conversion rate is calculated by taking the total number of conversions, dividing it by the number of visitors and multiplying it by 100.
For example, if a website receives 1000 visitors and generates 50 sales in a month, the conversion rate of that site would be 5%. Naturally, a higher conversion rate is better as it means more visitors are turning into paying customers or subscribers.
What is a good conversion rate for a dropshipping store?
In general, a conversion rate of around 2-3% is considered good for a dropshipping store, whereas anything above 3% is seen as excellent. That being said, a well-optimised and professionally designed dropshipping store can see a conversion rate of 10% or more.
However, it's important to keep in mind that every dropshipping store is different. Your conversion rate will depend on a variety of factors including your pricing, niche and selected products. In competitive markets such as electronics, your conversion rate could be lower than in a small niche market.
What are some other ways to boost the conversion rate of my dropshipping store?
There are tons of additional ways to boost the conversion rate of your dropshipping store. Even if you're an established store with thousands in monthly sales, there are always new ways to improve your conversion rate. Here's a list of some more tricks and strategies to consider:
Create an about page. If you don't already have an 'about' page on your dropshipping store, you should create one as soon as possible. Your 'about' page is your opportunity to tell your store and convince customers to trust your brand.
Provide a warranty. In addition to offering a good returns policy, you should consider offering your customers a warranty for faulty or defective items.
Use a product zoom. Did you know that a product zoom can greatly boost your conversion rate? That's because it gives your visitors a better look at the products on offer.
Enable a wishlist. By enabling a wishlist, customers will be able to save and track products on your store for later viewing. You can even send email notifications about products that have been on a customers wishlist for a long period of time.
Capture email address. Capturing the email addresses of your visitors is essential if you want to be able to follow-up and encourage them to visit your website again.
Do I need to optimise the conversion rate of my dropshipping store?
It's essential to optimise the conversion rate of your dropshipping store if you want to generate maximum sales and profits. There is no point in driving traffic to your store if the visitors are not converting into paying customers. You could actually generate big loses if your spending money on advertising when your store is not converting.
Every major ecommerce store constantly tweaks and tests their website to increase the conversion rate. It's one of the most important parts of running a dropshipping business. Put it this way, the most successful dropshippers have the best conversion rates because they optimise their stores.
How do I increase my conversion rate on marketplaces?
If you're dropshipping on eBay or Amazon, you can increase your conversion rate by making sure you use keyword optimised titles and high-quality descriptions. You can also tweak your prices to find the best selling points with the highest conversion rate.
On marketplaces, it really all comes down to creating eye-grabbing titles with engaging descriptions. Keep your descriptions short and sweet, making sure you highlight the main features of the products. Also be sure to add as many item specifics as possible, particularly on eBay.
---
Final Word
Although it takes time and effort, you should always keep optimising and improving your dropshipping store to maximise the conversion rate. Many dropshippers make the mistake of focusing on increasing traffic when they can boost profits by learning how to better convert existing visitors.
Hopefully this list of tips has provided you with some practical ways to quickly increase the conversion rate of our dropshipping store.
Make sure you try at least a few of the strategies listed in this guide. You will be surprised as to how quickly you can see results, even by just making a few tweaks to your store.