In 2018, China accounted for almost 30% of the global manufacturing output, making it the world's largest exporting nation. With an estimated 60,000 factories in Guangdong province alone, China is an undisputed manufacturing powerhouse. When it comes to sourcing products for your business, purchasing directly from China wholesalers or manufacturers is the most effective way to reduce costs and maximise resale profits. In this guide, I'm going to reveal the 10+ best China wholesale suppliers for sourcing low-cost products.
---
Quick View
---
1. Sunsky Online (Electronics)
Founded in 2005, Sunsky Online is a leading wholesale supplier of consumer electronics and tech accessories, with a specialisation in mobile accessories, smart gadgets and household electronics. With no minimum order requirements and large discounts on bulk quantities, Sunsky is the perfect supplier for online traders, as well as physical retail store owners. Aside from electronics, Sunsky Online also has a massive range of homeware, kids toys, clothing, sports accessories, car accessories and beauty supplies. Furthermore, with multiple international warehouses in the US, UK, EU and beyond, Sunsky Online is able to guarantee fast shipping to almost anywhere in the world.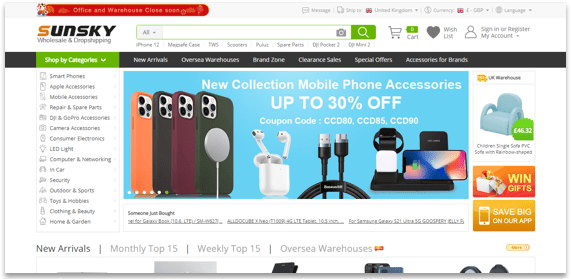 ---
2. TVC-Mall (Mobile Accessories)
TVC Mall is one of China's largest wholesale suppliers of mobile phone accessories, consumer electronics and smart gadgets, as well as DIY Tools, household products and pet supplies. Founded in 2008, TVC Mall quickly gained attraction and reached more than $10 million in sales by 2013. Today, with more than 1.5 million global users and over 100,000 low-cost products, TVC Mall is the go-to wholesale sourcing platform for businesses of all sizes including eBay sellers, market traders and retail store owners. TVC Mall is also the proud supplier of many top brands including Baseus, CaseMe, Amorus and Benks.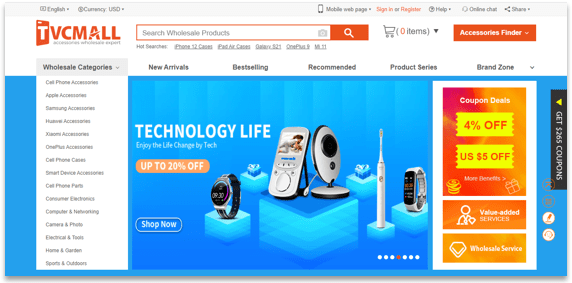 ---
3. PandaHall (Jewellery/Watches)
With more than 600,000 items, PandaHall is a leading online supplier of wholesale fashion jewellery, fine jewellery and unique jewellery making supplies, as well as watches, charms, bag accessories and hair accessories. From beading and findings including clasps, links, pins and bails to finished necklaces, rings, pendants and bracelets, PandaHall has an extensive range of quality products to choose from. Whether you want to create your own unique designs or purchase finished jewellery, PandaHall is the perfect supplier, offering low minimum order requirements, mixed job lots, bulk lots and single piece purchases for businesses of all sizes including eBay/Amazon sellers and jewellery retailers.
---
4. Chinavasion (Electronics/Gadgets)
Founded in 2004, Chinavasion is one of the original wholesale suppliers of consumer electronics and smart gadgets, offering thousands of branded products for low trade prices including smartphones, tablets, cameras, drones, PC accessories and smart watches from major brands such as Xiaomi, Huawei, Lenovo and Samsung. Chinavasion is also a leading dropshipping supplier, providing fast shipping and reliable delivery across the globe from local US and EU based warehouses.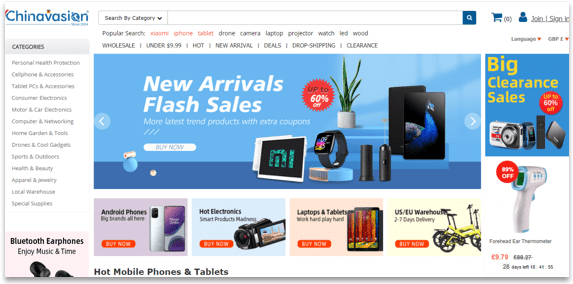 ---
5. BelleWholesale (Clothing/Fashion)
BelleWholesale is a premier China based wholesaler of women's clothing, shoes and fashion accessories, as well as handbags, purses and costume jewellery. From stylish dresses to trendy tops and sexy lingerie sets, BelleWholesale has an extensive range of low-cost clothing items which are perfect for marketplace sellers, boutique store owners and fashion brands. Express worldwide shipping, exclusive wholesale discounts and a dropshipping service are just a few reasons why BelleWholesale has been a leader in the women's wholesale clothing industry for over 8 years. Most recently, BelleWholesale launched a range of modern and original men's clothing including tops, hoodies, joggers and tracksuits.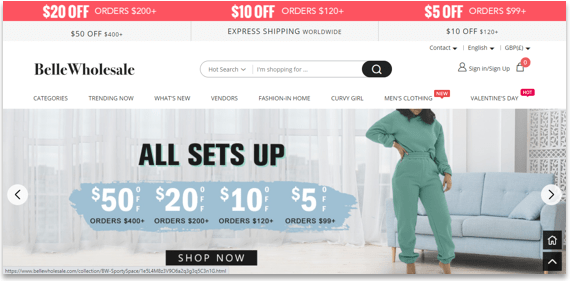 ---
6. 8Seasons (Jewellery/Beauty)
With more than 800 employees and over 10,000 products, 8Seaons is one of China's largest wholesalers of fashion jewellery, fine jewellery and unique jewellery making supplies. From stylish necklaces to unique pendants, rings, bracelets and lockets, as well as watches, hair accessories and beauty supplies, 8Seasons is a one-stop shop for global online sellers and boutique store owners. Aside from finished jewellery, 8Seasons is also a leader in the supply of low-cost jewellery making supplies for creating your own unique designs, as well as personalised and customisable jewellery items. No minimum order requirements, bulk discounts and fast shipping from a US-based warehouse are just some of the key benefits to choosing 8Seasons as your Chinese wholesale sourcing partner.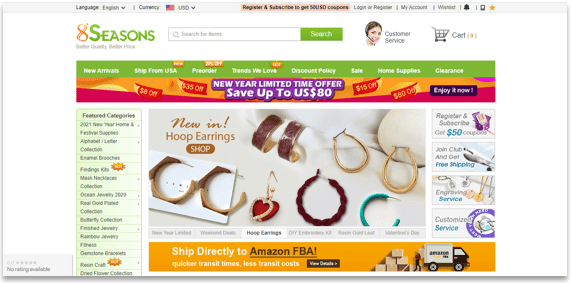 ---
7. Silverbene (Fine Jewellery)
Founded in 1994, Silverbene is a well-established and trusted China based wholesaler and manufacturer of genuine 925 sterling silver jewellery for men and women including necklaces, rings, bracelets, pendants, earrings and brooches. With over 25 years of experience, Silverbene is the primary supplier to thousands of wholesalers, distributors and retailers across the globe, with many items becoming best-sellers on popular marketplaces including eBay and Amazon. Made from solid sterling silver and eco-friendly materials which are compliant with EU regulations, Silverbene products are manufactured to the highest possible standard, making them a highly reliable and trusted source.
---
8. Aulola (Electronics/Mobile Accessories)
Aulola is a leading China based electronics and mobile phone accessories wholesaler with local UK and Germany based warehouses. With over 10,000 products, low trade prices and small 10-20 minimum order requirements, Aulola is the perfect supplier for small businesses, marketplace sellers and start-up retailers, as well as large retail chain stores. Additional benefits of sourcing goods from Aulola include fast UK/EU shipping, dedicated customer service and professional OEM/ODM services including private labelling options. Aulola also offers a unique and streamlined dropshipping service on a growing range of single-piece purchase items through their partner website Aulola Dropship.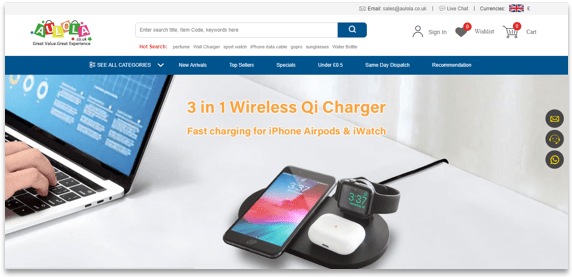 ---
9. Dhgate (Mixed)
With more than 31 million buyers and over 2 million trade suppliers, Dhgate is one of the largest China wholesale marketplaces in the world, offering direct access to more than 22 million factory-direct products in 15 major categories including electronics, mobile accessories, jewellery, clothing, household products, beauty suppliers, kids toys, shoes and more. As a cross-border wholesale marketplace, Dhgate allows you to search through millions of suppliers to find the lowest prices on the best products, while also providing buyer protection and a money-back guarantee on purchases. Strict trust and safety policies including a supplier verification process ensures that buyers are connected with the most trusted and reliable sources.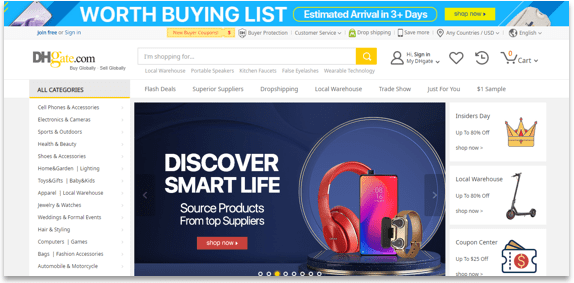 ---
10. Kbeads (Jewellery/Beauty)
Kbeads is a well-established China based wholesale supplier of fashion jewellery, silver jewellery and costume jewellery, as well as low-cost jewellery making supplies for creating your own original designs. Whether you sell on eBay, Etsy or an online store, Kbeads is the perfect trading partner, offering thousands of high-quality products which are available to purchase in small quantities, bulk lots, batches or mixed lots. Factory-direct pricing, reliable worldwide shipping and multiple bulk and loyalty discount policies are just some of the benefits attached to sourcing jewellery goods from Kbeads.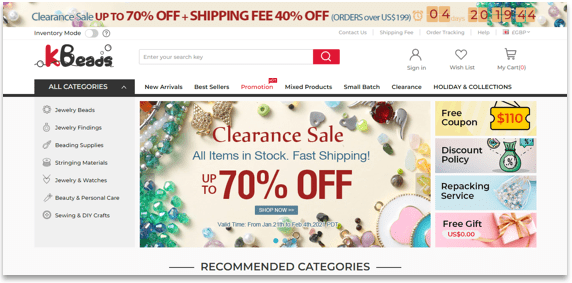 ---
More China Wholesale Suppliers
Kiskissing – With over 30 years of experience in the garment production industry, Kiskissing is a professional online wholesaler and experienced OEM/ODM supplier of high-quality kids and baby clothing. From tops and t-shirts to hoodies, coats, jackets and dresses, Kiskissing has an extensive range of trendy and stylish kids clothing, as well as baby accessories.
Alibaba – Founded in 1999, Alibaba is one of the original and most popular China wholesale marketplaces. With more than 8 million suppliers and 12.7 billion annual orders, Alibaba is packed full of high-quality products in any category or niche for lowest trade prices. Browse millions of suppliers and options to find the best possible China wholesale partner.
Riolio Wholesale – Riolio is a well-established China based wholesaler and experienced OEM supplier of unique, trendy and customisable kids and baby clothing, as well as baby accessories and maternity clothing. From tops and t-shirts to bodysuits, pajamas, trousers, rompers, footwear and swimwear, Riolio has a huge range of luxury and original items to choose from.
Global Sources – Established in 1971 as an offline trade magazine, Global Sources has grown to become one of the most popular B2B marketplaces for sourcing quality products from China wholesalers and manufacturers. With millions of products in every major category including electronics and clothing, you can be sure to find a reliable supplier with prices that suit your budget.
Showfay Jewelry – With more than 20 years of experience, Showfay is one of China's largest manufacturers of fashion jewelry and fine jewelry with a specialisation in OEM/ODM customisation services. From sterling silver jewelry to stainless steel jewelry and costume jewelry, Showfay has an extensive range of unique and exclusive items to choose from.
---
Why buy from China wholesale suppliers?
One of the biggest benefits to buying from China wholesale suppliers is the extremely low prices. Unlike most countries, China has the unprecedented ability to mass produce items quickly and effectively. With literally hundreds of thousands of China wholesalers and manufacturers to choose from, you can be sure to find a viable sourcing partner based on your budget and product requirements. China is also renowned for it's highly flexible and low-cost customisation and OEM/ODM solutions. In fact, thousands of sellers have had incredible success selling private label products sourced from China on Amazon and eBay.
Is buying from China wholesalers safe?
In general, buying wholesale from China is extremely safe if you choose the right supplier. Therefore, it's important to conduct your own research and due diligence before making the decision to place an order with any particular company. Key essentials to look for in a supplier include a rich company history, positive customer reviews and a secure website, as well as competitive prices and reasonable business policies.
Will I have to pay import duty and tax?
In most cases, you will be required to pay some form of import duty or taxes when importing wholesale products from China. For example, in the United Kingdom, you are required to pay 2.5% import duty on goods with a value of more than £135, as well as 20% VAT and any potential courier fees. Please refer to your local governments website or search Google for more specific rates based on your country of residence.
How long does shipping take from China?
Naturally, one of the disadvantages to sourcing wholesale products from China is the long and often slow shipping times. In general, it can take anywhere between 4-12 weeks for your order to arrive depending on the shipping method and courier. Thankfully, many China wholesalers including several of the companies outlined in this guide have international warehouses based in the US, UK, EU and beyond to allow for much quicker shipping times.
---
Final Word
It's no surprise that China is the world's manufacturing powerhouse with a massive 28% share of the global manufacturing market. If you want to secure the lowest possible trade prices, sourcing directly from China wholesalers and manufacturers is a must. The suppliers outlined in this guide are amongst the best due to their low prices, extensive background history and solid reputations. Whether you want to sell electronics, jewellery or women's clothing, hopefully this guide has provided you with some viable options. To find more china wholesale suppliers, be sure to browse our free to use directory.