11+ Best China Wholesale Suppliers (Top Websites 2023)
In 2018, China accounted for almost 30% of the global manufacturing output, making it the world's largest exporting nation.
When it comes to your business, purchasing directly from China is the best way to secure the lowest prices. Here you will find a list of the best wholesale suppliers in China for sourcing products in any category.
---
Alibaba
With more than 1.2 billion customers, Alibaba is the world's largest online marketplace for sourcing goods from China-based wholesalers and manufacturers.
In fact, the Alibaba website features millions of wholesale products in every category including electronics, clothing, pet supplies, homeware, tools, and more.
Simply search for a product or browse the dozens of categories to instantly locate trusted Chinese suppliers. Once you find a suitable supplier, you can purchase from them directly for the lowest factory-direct prices.
Alibaba is unmatched when it comes to the number of products and suppliers you can source from. It's widely considered the best platform for sourcing from China, even if you're completely new to importing from overseas.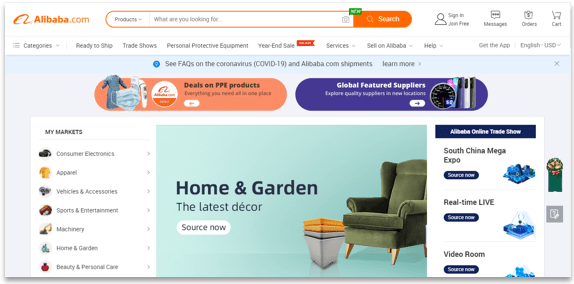 Features
Most popular website for sourcing from China
Quickly find wholesalers and manufacturers
Millions of products for factory-direct prices
Thousands of excellent reviews on Trustpilot
---
Made-in-China
Made-in-China is another leading B2B ecommerce platform that allows you to source products from major wholesalers and manufacturers in China.
Like Alibaba, Made-in-China has millions of products in thousands of top categories. You can search for any item and quickly find relevant wholesalers and manufacturers to trade with. You can also contact them directly to negotiate the best prices.
Whether you're looking to buy 10 pieces or 10,000 pieces, Made-in-China is the perfect website for businesses of all sizes, even start-ups or small stores.
The company has more than 20 years of experience and hundreds of excellent reviews from customers on Trustpilot.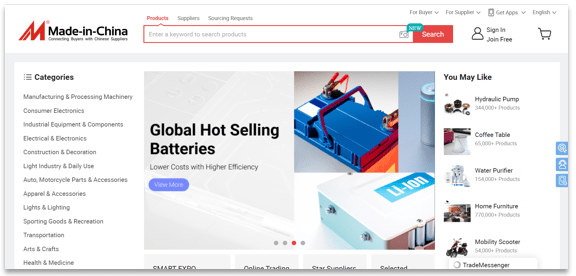 Features
Leading platform for finding wholesalers in China
Millions of products in thousands of categories
Perfect for small sellers and established stores
More than 20 years of experience and expertise
---
Shewin
Operating from multiple warehouses in China, Shewin is a professional wholesaler and manufacturer of women's clothing, shoes, and fashion accessories. The company has thousands of products for unbeatable wholesale prices including dresses, skirts, jeans, shorts, tops, and more.
Plus, Shewin offers extra discounts on bulk orders, as well as various custom clothing services such as logo printing and embroidery. If you're selling on Amazon, Shewin also provides direct shipping to Amazon FBA warehouses.
With hundreds of positive reviews on Trustpilot, you can be sure that Shewin is a reliable and dedicated company that provides high-quality products suitable for small retailers, online sellers, and marketplace traders.
Features
Trusted wholesaler of women's clothing in China
Multiple factories with a professional design team
Thousands of products including dresses and tops
Hundreds of excellent ratings from Trustpilot users
---
eWorldTrade
eWorldTrade is a fast-growing wholesale website that provides businesses with a platform to find reliable suppliers.
With over 5 million products from over 100 countries including China, eWorldTrade offers buyers and sellers the opportunity to connect and grow their businesses.
The platform features a searchable directory of verified suppliers, so buyers can easily find what they need without having to worry about quality or reliability.
It also provides easy-to-use tools for managing orders and payments, as well as resources for marketing and promotion. Plus, eWorldTrade has customer representatives available 24/7 who are ready to help with questions or concerns.
With its user-friendly interface, comprehensive selection of products, and helpful customer support team, eWorldTrade is one of the best wholesale websites for finding reliable suppliers in China and beyond.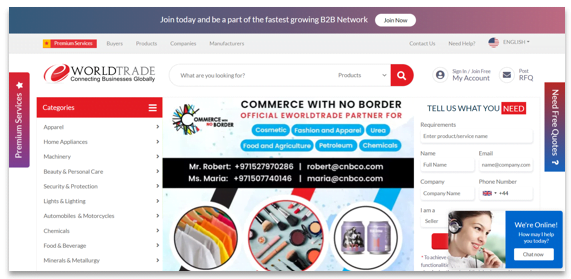 Features
Global B2B marketplace for wholesale trading
Directory of over 5 million low-cost products
Supports multiple languages and currencies
Tools for easy transactions and communication
---
Sunsky Online
Founded in 2005, Sunsky Online is an established China-based wholesaler of consumer electronics and tech gadgets including phone accessories.
With no minimum order value and significant discounts on bulk purchases, Sunsky Online is the ideal supplier for online traders, as well as retail store owners.
Aside from electronics, Sunsky Online also has a massive range of homeware, toys, clothing, sports accessories, car accessories, beauty supplies, and more. You can literally find products in any category.
Furthermore, with multiple international warehouses in the US, UK, and Europe, Sunsky Online is able to provide fast shipping to almost anywhere in the world.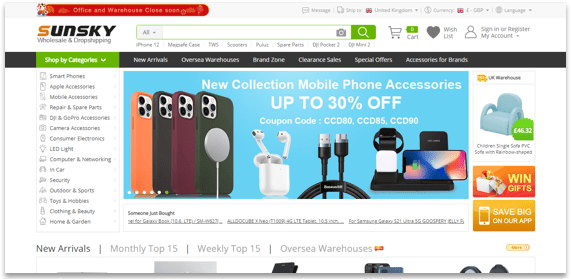 Features
Best wholesale supplier of electronics in China
Thousands of trendy and best-selling products
No minimum order quantity with bulk discounts
Multiple warehouses in the US, UK, and Europe
---
Worldwide Brands
Worldwide Brands is the internet's largest premium wholesale directory. The company features thousands of wholesalers in multiple locations including China. It's widely considered the gold standard of online trade directories.
In fact, Worldwide Brands is one of the only directories to provide you with direct access to 100% certified and legitimate wholesale suppliers. All of the companies are established and reliable businesses with genuine trade prices.
In just a few clicks, you can use Worldwide Brands to find wholesalers in any category including clothing, electronics, homeware, and toys. You can also enlist the help of the research team to find a wholesaler for a specific type of product.
When it comes to reputation, Worldwide Brands is a BBB-accredited business with more than 20 years of experience and hundreds of positive reviews on Trustpilot.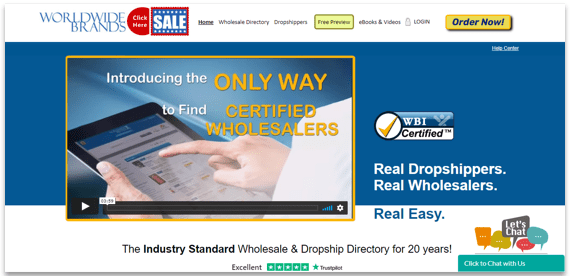 Features
Largest directory of certified wholesale suppliers
Includes thousands of China-based wholesalers
Millions of products with the lowest trade prices
BBB-accredited company with a great reputation
---
DHgate
Trusted by more than 31 million buyers and over 2 million trade suppliers, DHgate is one of the largest China wholesale marketplaces in the world.
DHgate provides direct access to more than 22 million factory-direct products in 15 primary categories including electronics, toys, clothing, pet supplies, and more.
As a cross-border wholesale marketplace, DHgate allows you to search through millions of suppliers to find the lowest prices on the best products, while also providing buyer protection and a money-back guarantee on all purchases.
The trust and safety policies include a strict supplier verification process. This ensures that buyers are connected with only trusted and reliable sources.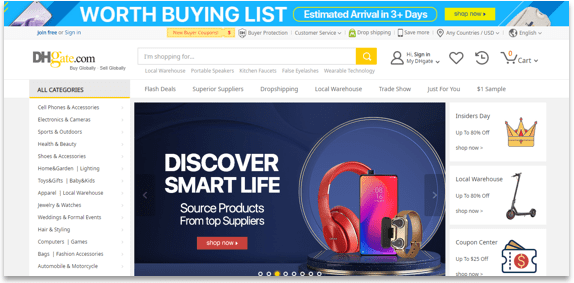 Features
Ultimate ecommerce marketplace for B2B trade
Source directly from China-based wholesalers
Best for small and medium-sized retail stores
Secure purchases with a buyer protection policy
---
SaleHoo
SaleHoo is another leading online wholesale directory that connects B2B buyers with global manufacturers and trade suppliers. SaleHoo has more than 8000 top-tier companies listed in their directory, around 30% of which are based in China.
This includes a mixture of manufacturers, wholesalers, and dropshippers with high-quality products and the lowest trade prices guaranteed.
You will be provided with everything you need to start sourcing from them directly including contact details and website links. You will also have access to a powerful market research lab for finding trending products with outstanding profit margins.
SaleHoo is very easy to use and widely viewed as the best wholesale directory in the industry. The company has been featured on prominent websites including Forbes Magazine and MSN. It also has hundreds of excellent ratings from users on Trustpilot.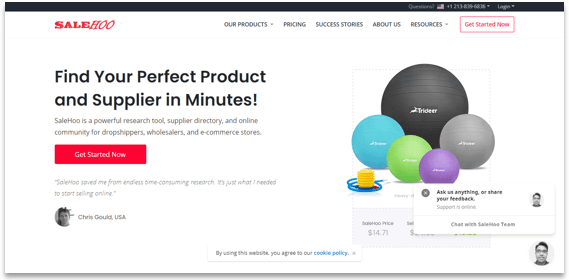 Features
The internet's most popular wholesale directory
More than 8000 suppliers and millions of items
Includes thousands of China-based wholesalers
Featured in Forbes Magazine with top reviews
---
TVC Mall
TVC Mall is one of China's largest wholesalers of phone accessories, consumer electronics, and smart gadgets, as well as tools, household products, and pet supplies.
Founded in 2008, TVC Mall quickly gained attraction and reached more than $10 million in sales and hundreds of thousands of customers by 2013.
Today, with more than 1.5 million global users and over 100,000 low-cost products in most top categories, TVC Mall is the go-to wholesale sourcing platform for businesses of all sizes including eBay sellers, market traders, and retail store owners.
TVC Mall is also the proud supplier of many high-quality products from leading Chinese brands including Baseus, CaseMe, Amorus, and Benks.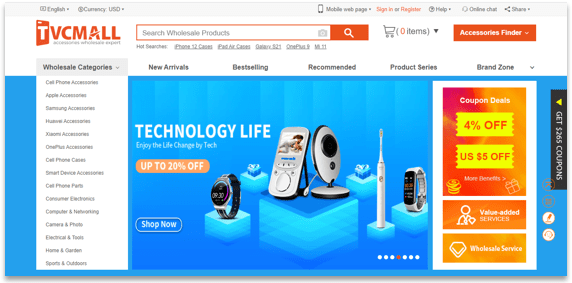 Features
Best wholesaler of phone accessories in China
Trusted by more than 100,000 global retailers
Bulk discounts available with no minimum order
Includes a huge range of items in other categories
---
Global Sources
Global Sources is another well-established B2B marketplace for sourcing wholesale goods from China-based suppliers. The company is used by thousands of global buyers to find wholesale suppliers for just about anything.
With a streamlined user interface and a number of cutting-edge features, Global Sources is a truly unique sourcing platform. Some of its most innovative features include a virtual showroom, tailored recommendations, and a sourcing knowledge center.
Basically, everything you need to find, trade, and communicate with the best Chinese wholesalers and manufacturers is at your fingertips.
It doesn't matter if you're tech-savvy or a complete newbie to international trade, Global Sources makes it easy for anyone to find their ideal Chinese trading partner.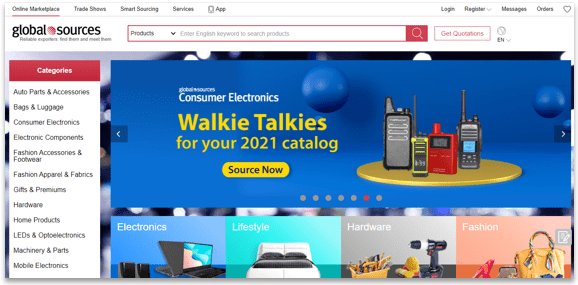 Features
Popular website for finding Chinese wholesalers
Millions of products from thousands of suppliers
Dozens of filters to find suitable trade companies
Many unique tools including a virtual showroom
---
Aulola
Aulola is a leading China-based electronics and phone accessories wholesaler with multiple warehouses in the UK and Europe.
With over 10,000 products for the lowest trade prices, as well as small minimum order quantities and fast shipping options, Aulola is the perfect wholesale supplier for small businesses, start-ups, and established retailers.
Additional benefits of sourcing goods from Aulola include dedicated customer service professional custom manufacturing and private label services.
Plus, Aulola offers a free and streamlined dropshipping service on a growing range of products through their partner website Go Dropship.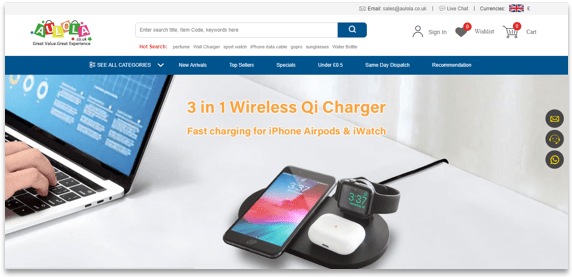 Features
Top-rated wholesaler of electronics and gadgets
Fast shipping from warehouses in the UK & EU
Low minimum order with bulk order discounts
Thousands of products in additional categories
---
PapaChina
PapaChina is the largest wholesaler and exporter of custom gifts and promotional products in China. The company has worked with some of the world's most established brands including PayPal, Red Bull, and Intel.
From hats and bags to pens, speakers, and t-shirts, PapaChina has thousands of products in hundreds of categories. You can add your own custom logo or company branding to any of the products with ease.
In fact, PapaChina is an expert in creating custom products for resale or promotion. It's very easy to request a quote through their website. Simply choose a product and input your requirements including the quantity you need.
Since its launch in 2007, PapaChina has processed more than 60,000 orders for all types of businesses including online sellers, ecommerce stores, and market traders.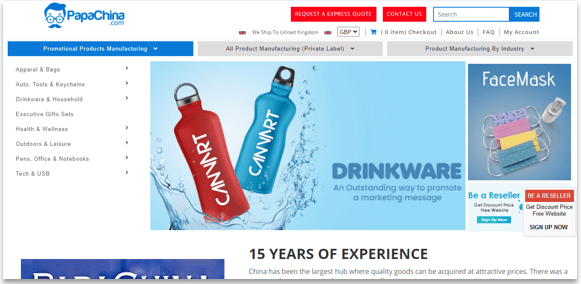 Features
Best wholesaler of gifts and promotional items
Thousands of products in dozens of categories
Add your own logo or branding to any product
More than 60,000 happy customers since 2006
---
BelleWholesale (Clothing)
BelleWholesale is an experienced China-based wholesaler of women's clothing, shoes, and fashion accessories, as well as handbags and purses.
From stylish dresses to trendy tops and modern lingerie sets, BelleWholesale has an extensive range of low-cost clothing items that are perfect for marketplace sellers, eBayers, boutique store owners, ecommerce retailers, and fashion brands.
Express worldwide shipping, exclusive wholesale discounts, and a dropshipping service are just a few reasons why BelleWholesale has been a leader in the women's wholesale clothing industry for over 8 years.
All of the products are available to purchase for factory-direct prices. Plus, you don't need to meet a minimum order requirement.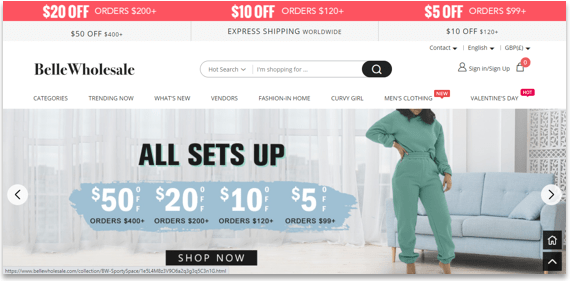 Features
Trusted Chinese wholesaler of women's clothing
Includes dresses, skirts, tops, shoes, and jackets
Factory-direct prices with amazing profit margins
Volume-based discounts with no minimum order
---
Frequently Asked Questions (FAQs)
Why buy from China-based wholesale suppliers?
One of the main benefits of buying from China-based wholesale suppliers is the extremely low prices. Unlike most countries, China has the unprecedented ability to mass-produce products very quickly and cheaply.
With literally hundreds of thousands of China wholesalers and manufacturers to choose from, you can be sure to find a suitable partner to source from based on your budget and product requirements.
China is also renowned for its highly flexible and low-cost custom manufacturing and ODM/OEM solutions. In fact, thousands of online sellers have had incredible success selling private-label products sourced from China on Amazon and eBay.
Is buying from China-based wholesalers safe?
Generally speaking, buying products from China-based wholesalers is very safe if you choose the right supplier. Therefore, it's important to do research and due diligence before placing an order with any particular Chinese wholesale company.
The most important things to look for in a wholesale supplier include a good company history, positive customer reviews, and a professional website, as well as competitive trade prices and reasonable business policies.
Will I have to pay import duty and tax?
In most cases, you will be required to pay some form of import duty, taxes, or additional courier fees when importing wholesale products from China.
For example, you are required to pay customs duty, as well as VAT and local courier fees when importing goods to the UK. Similar fees and import duties will apply when importing goods to most countries in the world.
Please refer to the website of your local government or search on Google for more specific rates and calculations based on your country of residence.
How long does shipping take from China?
The biggest disadvantage of sourcing wholesale products from China is the long shipping times. Typically, it can take anywhere between 4-12 weeks for your order to arrive depending on the shipping method.
That being said, many China-based wholesalers have local warehouses in the US, UK, Europe, and more. This allows them to provide fast shipping, while also avoiding the headaches of importing goods from another country.
What is the best website to buy wholesale from China?
Alibaba is the best website to buy wholesale from China as it's an online marketplace that connects you directly with millions of leading Chinese wholesalers, manufacturers, and exporters. Alibaba is also one of the most visited websites in the world.
That being said, there are many other useful websites for buying wholesale goods from China including Made-in-China, DHgate, eWorldTrade, and more. As most of these sites are free to use, it's recommended to try a few of them to find the best wholesale partner for the needs and goals of your business.
---
Final Word
It's no surprise that China is the world's manufacturing powerhouse with a massive share of the global manufacturing market.
If you want to access the lowest trade prices on virtually any type of product, sourcing directly from China-based wholesalers and manufacturers is a must.
The suppliers listed in this guide are the best on the market due to their low prices, extensive background history, and solid reputations.
Whether you want to sell electronics or clothing, this guide has provided you with some great options to consider. To find more wholesale suppliers that are located in China, be sure to browse our blog posts and articles.