Whether you run an eBay business or a physical retail store, finding trusted wholesale suppliers is the key to maximizing your profit margins and minimising order issues. 
However, with millions of global wholesale companies and a market value of more than $400 billion, finding a suitable supplier can be a challenging task.
Here you will find a list of the 22 best wholesale websites for finding trusted suppliers. From homeware and garden accessories to clothing, jewellery and pet supplies, the following websites will allow you to find top wholesalers in any niche.
---
Quick View
---
1. SourceLow
Needless to say, we have to mention our own platform in this list of the best wholesale websites. SourceLow is a free to use global supplier directory that connects B2B buyers with top manufacturers, wholesalers and dropshipping suppliers.
We have a fast-growing network of more than 1000 leading wholesale companies from multiple locations across the globe including the UK, US and EU, as well as China and beyond.
Finding a suitable supplier is as easy as doing a quick search and filtering the results based on supplier type and location. We also have a ton of free ecommerce guides and resources designed to help you to make the most out of online selling and product sourcing.
1000+ leading wholesalers in the UK, US, China and beyond

Trade with suppliers directly to secure the lowest prices

Quick search feature with advanced filtering options

Simple to use website with user-friendly interface

Free ecommerce training guides and resources
---
2. Alibaba
With more than 8M active suppliers and an estimated 16 billion monthly users, Alibaba is one of the largest online directories of leading China based manufacturers, wholesalers and distributors. Founded in 1999, Alibaba is also one of the original B2B trading websites, often considered the grandfather of wholesale directories.
Whether you're looking to source the latest tech gadgets, trendy clothing or novelty crazes, Alibaba has millions of trusted suppliers and a vast range of products to choose from, many of which can be customized or personalized to suit your business.
Available in over 190 countries with more than 100,000 messages exchanged between buyers and suppliers each day, Alibaba is a true industry giant.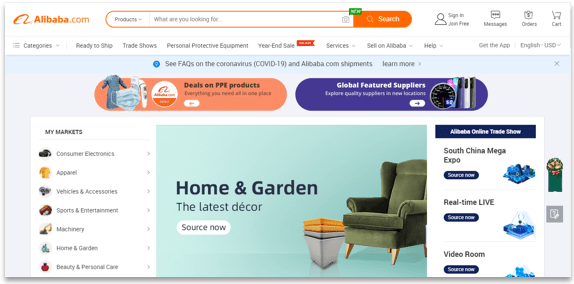 Over 8M leading China wholesalers and manufacturers

Huge range of quality products for factory-direct prices

Customisation options including private labelling

Trusted by millions of global buyers and retailers

Over 20 years of experience in the wholesale market

Available in more than 190 countries across the world

40+ major categories from electronics to apparel
---
3. The Wholesaler UK
Founded in 1999, The Wholesaler is one of the UK's most trusted and reliable online wholesale directories, featuring a small but carefully crafted network of UK based wholesalers in every major category. From jewellery to fashion accessories, homeware, electronics and giftware, The Wholesaler has a trusted and reliable supplier to suit.
One of the biggest benefits to using The Wholesale is it's simple and easy to use interface which makes browsing the various categories seamless and easy.
Furthermore, with complete supplier profiles that include a built-in contact form, you can quickly establish direct contact with the suppliers.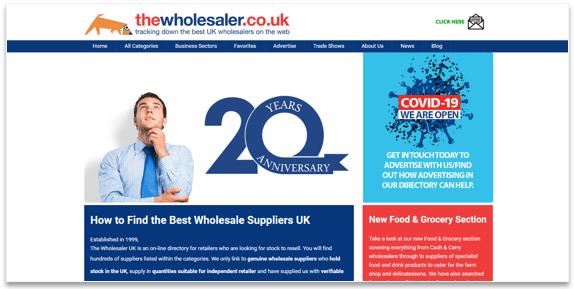 UK's most trusted online wholesale directory since 1999

Large network of fully vetted and reliable suppliers

More than 50 main categories to browse

Full supplier details and company policies

Direct contact form and phone numbers

Simply and easy to use website

List of upcoming trade shows
---
4. DHgate
Founded in 2004, DHgate is a one of the largest online wholesale marketplaces in China. Featuring more than 32 million products from over 2 million leading Chinese wholesalers, DHgate is the perfect platform for those looking to source low-cost products in bulk.
Factory-direct prices and a unique buyer protection program are just some of the reasons why over 31 million global buyers trust DHgate as their primary sourcing platform.
Additional features of DHgate include a list of best-sellers, information on upcoming trade shows and regular flash deals or offers. DHgate also has a growing collection of China wholesalers with local US/UK or EU based warehouses for fast shipping.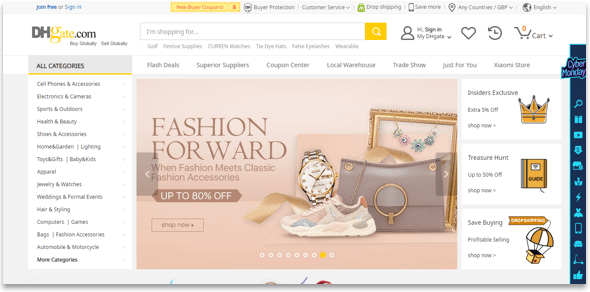 Over 32M low-cost wholesale products with tiered bulk discounts

2M leading China based wholesalers and manufacturers

Local suppliers with US/UK/EU warehouses

List of best-selling and most popular items

Buyer protection program with guaranteed refunds

Frequent flash deals or offers with huge discounts
---
5. Wholesale Central
Wholesale Central is a free to use online trade directory for finding US-based manufacturers, wholesalers and dropshipping suppliers.
With a simplistic and user-friendly interface that provides quick access to an extensive range of categories, exclusive deals and one-time closeout offers, Wholesale Central is ideal for traders looking to locate trusted wholesalers in the US.
The addition of a curated list of the most popular suppliers allows for quick access to trusted sources, without being overwhelmed by options. Recommended by Forbes Magazine, Wholesale Central has established itself as a leader in the wholesale sourcing market.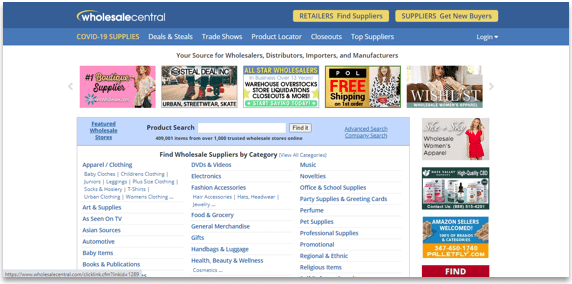 1000+ trusted US based wholesalers and manufacturers

Full supplier contact information and website links

Exclusive wholesale deals and closeout offers

List of most popular and reliable suppliers

Post custom wholesale buying requests

Recommended by Forbes magazine

Simple and easy to use website
---
6. Wholesale Clearance
Wholesale Clearance is an innovative online wholesale marketplace and auction website specialising in the supply of liquidated, bankrupt and surplus stock from UK based suppliers.
Featuring hundreds of exclusive wholesale deals in the form of bulk lots, small lots and one-off job lots, Wholesale Clearance is ideally suited to small retailers, eBay sellers and market traders, as well as car booters and local independent stores.
With an annual turnover exceeding 2.5M in 2011 and more than 15 staff members, Wholesale Clearance has firmly established itself as a leading UK wholesale sourcing platform, proudly featured on renowned UK websites including Digital Spy, BBC and ITV, as well as winner of the Best Website Award by UK wholesale forums.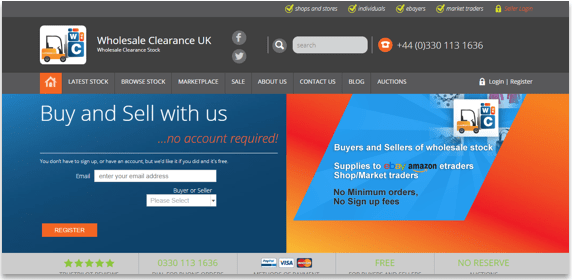 Trusted UK wholesale marketplace and auction website

Exclusive bulk lot, small lot and one-off job lot offers

Perfect for small retailers and eBay/Amazon sellers

Huge range of high-quality brand name products

No minimum order requirements or sign up fees

Featured on BBC, ITV, Yahoo and Daily Mail

Winner of Wholesale Forums best website award
---
7. Global Sources
Global Sources is a leading B2B marketplace and product sourcing website that connects global buyers with reliable and low-cost suppliers in Asia.
With more than 1.5M buyers including some of the world's largest retailers and top Amazon sellers, Global Sources has firmly established itself as a trusted and reliable sourcing platform.
Aside from providing a platform for buyers to connect with suppliers, Global Sources is also the host of multiple trade shows in Hong Kong, including the world's largest electronics and mobile electronics export sourcing shows. Originally starting as a trade magazine called Asian Sources in 1971, Global Sources has more than 49 years of experience in the wholesale trade industry.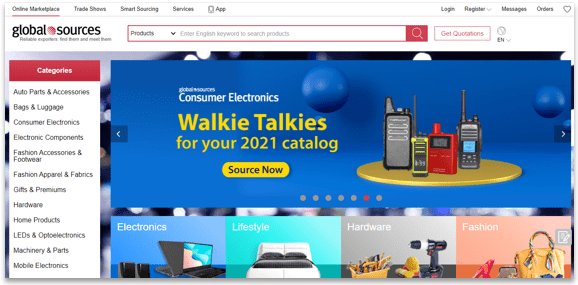 Huge network of low-cost suppliers in Asia and beyond

Trusted by leading global retailers and Amazon sellers

Millions of high-quality products to choose from

Post buying requests for custom quotations or offers

Host of some of the world's largest trade shows

49 years of experience in the wholesale industry

List of upcoming and popular trade shows
---
8. Tundra
Featuring over 175,000 products at the lowest direct prices and more than 2500 brands, Tundra is a highly popular online wholesale marketplace which connects trade buyers with US wholesale suppliers. With no membership fees or platform commissions, buyers can access a vast range of high-quality products for the lowest, often below wholesale prices.
From jewelry to clothing, homeware, kids toys and pet supplies, Tundra has a huge database of products to choose from with free direct shipping within the US.
Trusted by more than 25,000 buyers in over 180 countries, Tundra has quickly become the leading wholesale marketplace since its inception in 2017.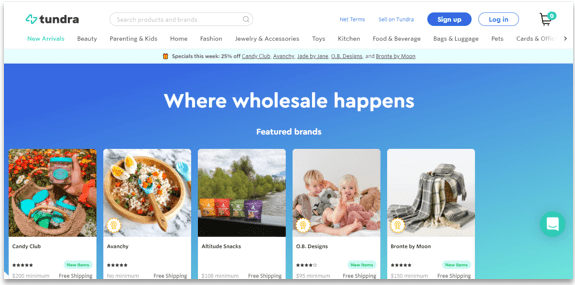 Fast-growing and innovative wholesale marketplace

More than 175k products with direct trade prices

No membership fees or commissions for sellers

Used by over 25k buyers in 180+ countries

Shipped more than 175,000 wholesale orders

Product samples with reimbursement credits

Net Payment Terms for more flexibility
---
9. TopTenWholesale
Founded in 2011, TopTenWholesale is an innovative B2B marketplace that connects trade buyers with vetted US based wholesalers. Owned by JP Communications Inc, which is also the owner of manufacturer.com, TopTenWholesale is trusted by millions of retailers, chain stores and dropshippers, as well as countless eBay and Amazon sellers globally.
Additional features include free video tutorials, product requests and product alerts, as well as a community forum and trade show directory.
Aside from connecting retailers with US-based wholesalers, TopTenWholesale also provides custom sourcing, warehouse fulfillment and broker services to name a few.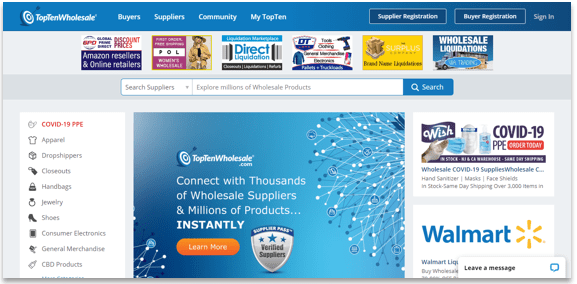 Fast-growing database of vetted US based wholesalers

Huge range of brand-name and high-quality products

Used by millions of retailers and online sellers globally

Post unique buying requests and offers to suppliers

Custom sourcing, warehousing and broker services

List of upcoming and popular US trade shows 

Unique supplier verification and pass program
---
10. 4WholesaleUSA
Founded in 2002, 4WholesaleUSA is a simplistic and user-friendly B2B directory featuring hundreds of US based wholesalers, manufacturers and closeout suppliers in more than 50 main categories including electronics, apparel, jewelry, giftware, housewares and more.
Whether you're a small online retail or a large big-box store, 4WholesaleUSA has an extensive network of suppliers to suit. With no membership fees and full contact information, buyers can quickly locate top US suppliers and start sourcing from them directly.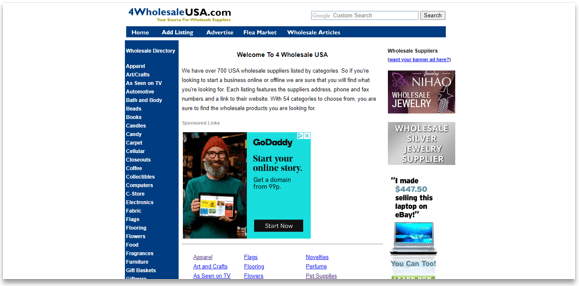 Large network of highly-rated US wholesale suppliers

Full company contact information including address

Ideal for big box stores as well as small retailers

Unique closeout, surplus and liquidation sources

Extensive directory of local US held flea markets
---
11. Faire
Founded in 2017, Faire is a fast-growing online wholesale marketplace which connects small business owners and retailers with independent brands to buy and sell wholesale online.
With more than 100,000 members and thousands of established brands, Faire is quickly revolutionising the wholesale trading market. From home decor to food, drinks, jewelry, toys and pet supplies, Faire has an extensive range of categories to browse and products to source, many of which have no minimum order requirements.
Full product details including order values and MRSPs (suggested retail prices), as well as professional product images make finding suitable products quick and easy.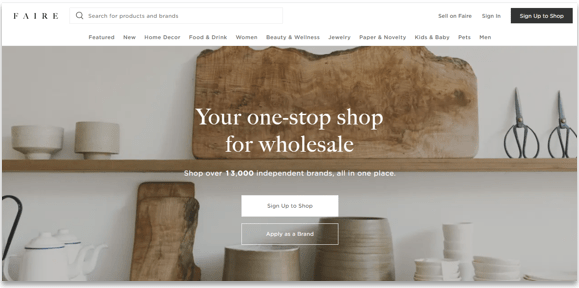 Established wholesale marketplace with 100k+ members

Thousands of leading brands and low-cost products

Intuitive interface and easy to navigate website

Straight-forward free shipping and net 60 terms

Full product details including min order values

Featured on Forbes, Fast Company and WWD
---
12. Tradeeasy
Tradeeasy is a fast-growing online directory of leading China-based wholesalers and manufacturers. With thousands of products in over 10 categories, as well as the ability to post buying requests, finding a suitable wholesale company using Tradeeasy is simple.
Furthermore, with exclusive selling offers and a curated list of best selling products complete with full company contact info, buyers can immediately start communicating with suppliers directly to work out the best possible deals.
More than 500,000 business-to-business buyers and over 10,000 suppliers trust Tradeeasy as their go-to wholesale trading platform.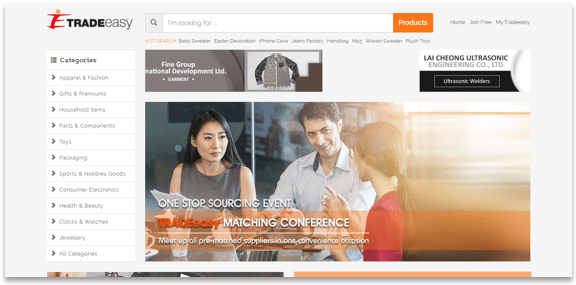 Thousands of products in more than 10 main categories

Huge network of leading Chinese wholesale suppliers

Exclusive selling offers and best-selling products list

Full company information including contact details

Post custom buying requests to suppliers
---
13. Wholesalers4u
With over 10 years of experience and more than 50,000 clients, Wholesalers4u is a top online wholesale directory featuring hundreds of trusted suppliers from all over the globe. Designed for speed and stability, the Wholesalers4u website is simplistic and very easy to navigate with over 70 popular categories including jewelry, gifts, toys, tools, pet suppliers and more.
Direct trade prices and full supplier information, as well as a handy contact form allows buyers to quickly establish connections with reputable wholesale companies, without paying any fees or commissions to the platform.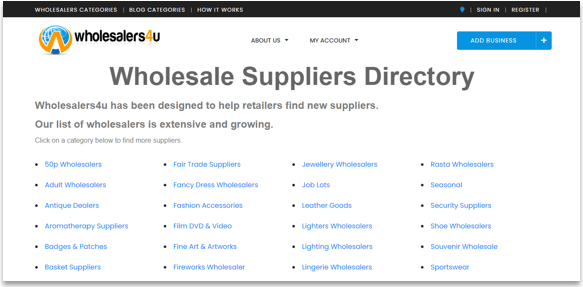 Over 50,000 users and more than 10 years of experience

Hundreds of global suppliers with direct trade prices

Easy to use website with over 70 top categories

Build-in contact forms for direct communication

Full supplier details including physical address
---
14. SaleHoo
With more than 8000 suppliers, SaleHoo is one of the largest premium wholesale directories on the market A huge network of 8000+ pre-vetted suppliers in almost every major category provides ample choice for buyers, while an extensive collection of free guides and tutorials allows for newbies to brush up on their online selling skills. Aside from a wholesale directory, SaleHoo also provides full access to an innovative market research and niche finder lab.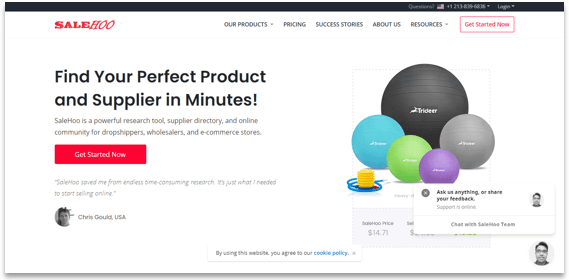 More than 8000 wholesale and dropshipping suppliers
Powerful market research lab to find niche opportunities
Award-winning customer support via phone and email
Low-cost with yearly discounts and refund guarantee
---
15. Worldwide Brands
Worldwide Brands is a premium database of more than 16M certified wholesale products and thousands of verified suppliers. For a one-time membership fee, buyers gain full access to the directory, allowing for direct trading and communication with top B2B companies to negotiate prices and trade deals. Worldwide Brands has over 2 decades of experience in the wholesale industry, connecting buyers with suppliers since its inception in 1999 …visit website.
---
16. eSources
eSources is one of the UK's largest online directories of wholesalers, manufacturers and dropshipping suppliers with more than 300,000 UK based companies, as well as a growing collection of over 200k international sources. eSources is very simple to use and has ample choice of quality suppliers, providing free access to a select few with premium membership options granting full access for a low, fixed monthly fee (starting at £20.00 per month) …visit website.
---
17. TradeGala
Leading online B2B fashion marketplace that connects wholesale vendors and online retailers from across the globe. Features thousands of high-quality clothing items including t-shirts, dresses, trousers, skirts and underwear, as well as shoes and fashion accessories for men, women, babies, toddlers and kids …visit website.
---
18. Liquidation.com
Largest business-to-business liquidation marketplace is North America featuring hundreds of bulk lot, small lot and one-off job lot auctions in more than 50 categories. Lock in massive discounts of between 70-70% below retail prices on branded, high-quality goods including electronics, clothing, jewellery, housewares and tools …visit website.
---
19. Abound
Modern online wholesale marketplace and B2B trading platform for sourcing unique products for your online store or retail shop. Features thousands of quality products in multiple major categories including jewelry, homeware, pet supplies and beauty accessories, as well as free shipping and NET 60 payment terms …visit website.
---
20. Merkandi
International wholesale trading platform specialising in bankrupt, surplus and liquidation stock, as well as general wholesale products including bulk lot and one-off job lot electronics, clothing, toys, jewellery, furniture, food and more. Trusted by over 30,000 users in more than 150 countries worldwide …visit website.
---
21. Boutsy
Well-established wholesale marketplace with over 250,000 unique wholesale items including homeware, jewelry, kitchenware, beauty accessories, pet supplies, clothing and more. Perfect supplier for small retail stores as well as boutiques, spas, salons, pet shops, gift stores and market traders. Features include flexible 6 month financing and NET 90 payment terms …visit website.
---
22. Direct Liquidation
Specialist liquidation auction marketplace with an extensive range of bankrupt, surplus and liquidated stock from major national retailers and manufacturers including Amazon, Walmart and Target. Features hundreds of live auctions for small lots, bulk lots, pallets and truckloads of electronics, furniture, homeware, toys and more …visit website.
---
Final Word
Finding a trusted wholesaler can be a challenge, particularly with so many websites, platforms and blogs flooding the internet with tips and guides on how to find suppliers.
Hopefully, the websites outlined in this guide will point you in the right direction and help you to fast-track your way to finding the ideal wholesale partner.
The long-term success of your business depends on the reliability of your supplier. Therefore, it's important to take your time and carefully research the options to find the best solution.