10 Tips for Creating Epic Dropshipping Product Descriptions
When building a dropshipping business, creating unique product descriptions is essential to increase sales and conversions.
In this article, I'm going to share 10 tips for creating epic dropshipping product descriptions. The following techniques will help you to write descriptions that will build trust with buyers and encourage more orders.
---
1. Write a short introduction
Writing a good introduction is the first step in creating an epic dropshipping product description. Make sure you keep it short and try to immediately highlight the problem that the product solves.
For example, if you're selling a dog bed, you can start by talking about the issue of dogs sleeping on furniture. Present your product as the solution and give a brief explanation as to why it's better than any other options on the market.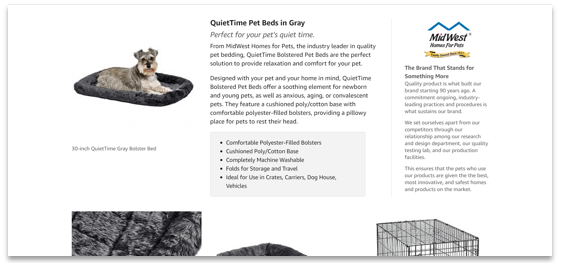 To get some ideas, you can check the description of your supplier or search for the product on eBay or Amazon. Another option is to search for the product on Google and find other sellers of the same item.
That being said, make sure you don't copy existing product descriptions and only use them as inspiration. Creating your own unique descriptions has many benefits when it comes to dropshipping. This includes more search engine visibility and better conversion rates.
---
2. Include key features
Adding key features to your descriptions is a great way to quickly outline the benefits of the products. Plus, it allows buyers to quickly scan the content and find relevant facts and information.
That's why product descriptions on Amazon start with a list of bullet points and key features. Buyers have a short attention span and they prefer bullet points to multiple paragraphs of text.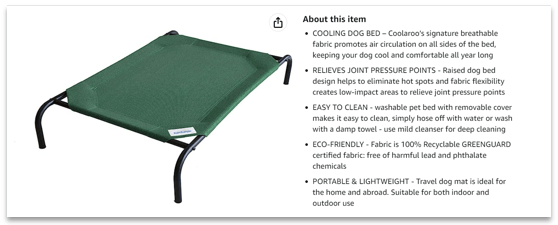 Therefore, you should add 4 or 5 bullet points after your short introduction. Take the time to really consider the main features of the product. Some examples of the benefits your product might have include:
Great as a gift or novelty item
Easy to install or use
Solves a real problem
Again, you can search for similar products on Amazon for motivation. You may also want to use a dictionary or thesaurus to really fine-tune the key features.
---
3. Add item specifics
Not including essential item specifics in product descriptions is one of the most common ways to lose sales. Item specifics include things like measurements, sizes, styles, brands, and more.
It's particularly important to add item specifics to your descriptions when selling products like furniture, clothing, and shoes. Naturally, buyers need to know the size of these products before placing an order.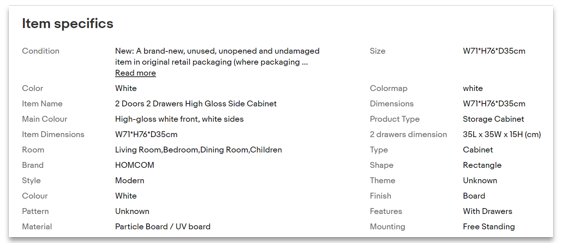 For example, if you're selling a kitchen cabinet, you need to include the exact measurements of the item, as well as the weight. If you don't share these details, the buyer could end up searching elsewhere for the product.
It's recommended to list item specifics in bullet points. This will make it easy for buyers to quickly find and review them. You can also use item specifics as another opportunity to add targeted keywords to your descriptions.
---
4. Use targeted keywords
Whether you're selling on eBay or through an online store, using targeted keywords in your dropshipping product descriptions is a must.
Keywords or keyphrases will help search engines to better understand your content. In return, you will rank higher in search results and drive free traffic to your product listings.
Make a list of keywords that are most relevant to the product and sprinkle them throughout the description. If you need help, you can use a free keyword research tool such as the Google Keyword Planner.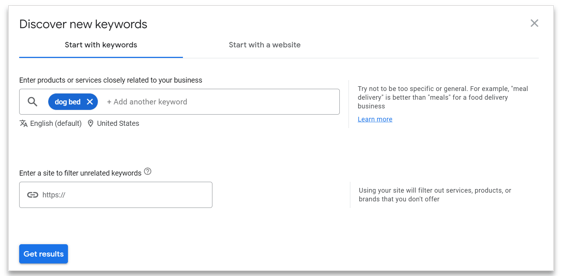 As an example, if you're selling a Bluetooth speaker, you should include keywords like wireless, portable, compact, and lightweight within the description. This is essential if you want your product to appear for these phrases in search results.
However, it's important to avoid keyword stuffing and only use relevant phrases that complement the description of the item. You should also avoid adding keywords in sentences that make the text grammatically incorrect.
---
5. Choose a large font
Using a large and clear font for your dropshipping product descriptions will allow buyers to comfortably read the text.
If you run an ecommerce website, make sure your font is a good size with plenty of line spacing. If you're selling on a marketplace such as eBay, you can easily increase the font size or use a listing template.

When selecting a font size for your website or descriptions on eBay, consider smartphone and tablet devices. Text that seems large on a desktop computer is usually less clear on smaller screens.
---
6. Use simple language
If you want to keep buyers interested and engaged, you should avoid using complicated words or unnatural language in your descriptions. It's also a good idea to match the tone of the buyer you're targeting.
For example, when selling baby toys, you should use language and expressions that will relate to parents. On the other hand, language that will relate to the elderly if you're selling mobility aids is best.
To keep things simple, try to write product descriptions as though you're speaking to the buyer directly. Read them to yourself before publishing and make sure they don't sound computer-generated. The best descriptions typically use simple language that is jargon-free and quick to the point.
---
7. Upload product images
According to research, around 75% of online shoppers rely on product images when deciding on a potential purchase.
That's why it's important to include multiple images in your dropshipping product descriptions. Add them throughout the content to make the description more engaging and appealing.
Even if the description is short, upload at least a few images. If necessary, use an image resizing tool to make the pictures blend in with your description. This is also a good way to reduce the size of the image file.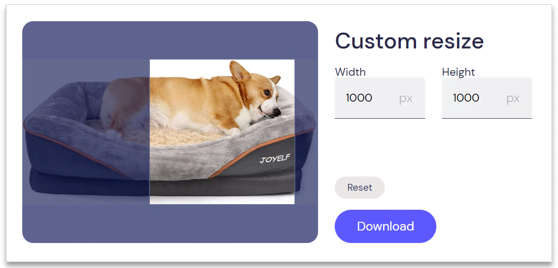 One of the disadvantages of dropshipping is having no control over product images. If your supplier is unable to provide you with professional images, make your own pictures or use an ecommerce photography service.
---
8. Explain your policies
Explaining your business policies in your product descriptions is a great way to stand out from the competition. It also makes your descriptions look more professional and less generic, particularly on marketplaces like eBay.
Make sure you add details about your shipping policy and returns policy. It's recommended to do this at the end of your description just to give the buyer peace of mind when placing an order.
As a quick tip, it's suggested to have at least a 30-day returns policy when dropshipping. If you really want to build trust with buyers and encourage them to place an order, you can also offer a warranty.
---
9. Highlight your company
Including some information about your company is another effective way to build trust with buyers. You should write a short paragraph explaining a bit about the background and mission of your company. This should be placed directly before or after the details of your business policies.
You can also highlight any achievements of your company. For example, how many orders you have completed, the number of years you have been in business, or your excellent ratings on websites like eBay, Amazon, or Trustpilot.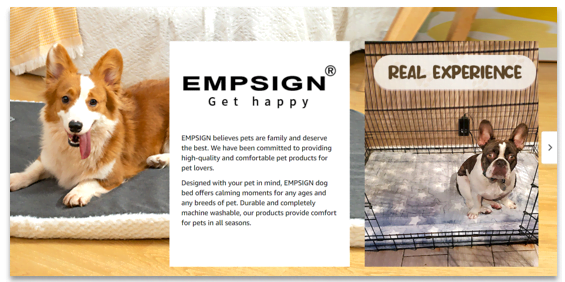 You can even add some testimonials or reviews from customers to provide social proof. Better still, add some testimonials with pictures of your customers or a screenshot of your Trustpilot ratings.
If you're a new company, you can simply explain a bit about your passion for your products, as well as your dedication and commitment to providing excellent customer service. It's simply a case of adding that personal touch to your descriptions that will inspire confidence in buyers.
---
10. Consider using videos
Using videos is the best way to instantly highlight the features of your products. It's also a powerful way to keep buyers engaged with your descriptions.
In fact, 71% of consumers prefer video over any other type of marketing content. This means you're almost guaranteed to increase sales by adding a video to your dropshipping product descriptions.
To do this, you can either create your own videos or use one of the many providers of dropshipping video ads. If necessary, ask your supplier to provide a sample of the product so you can use it for videos.
One of the biggest benefits of using product videos is that you will gain a massive advantage over your competitors. Plus, you can use the videos for advertising on platforms like Facebook and TikTok.
---
Frequently Asked Questions (FAQs)
If you have any questions, please review the frequently asked questions below. We have attempted to provide short answers to typical questions about writing dropshipping product descriptions.
Why are dropshipping product descriptions important?
Dropshipping product descriptions are important for a number of reasons. First, professional and unique descriptions can drastically boost your sales and conversion rates. They can also help you to drive free traffic to your website through search engines.
What makes a good dropshipping product description?
A good dropshipping product description typically has a few introductory sentences, a list of key features, and a collection of item specifics, as well as multiple images and a section about the company or seller.
If you want to go further, you can also add a demo video and social proof such as reviews from customers on sites like Facebook. In most cases, good dropshipping product descriptions also include targeted keywords to increase search engine visibility.
How should I structure dropshipping product descriptions?
It's recommended to start with a few sentences to introduce your product followed by some key features and specifications. You should then add some details about your company and business policies, along with customer reviews.
Introduction. A few sentences that describe the problem for the buyer and how the product solves the issue.
Key Features. A list of around 4-5 bullet points that highlight the main features and benefits of the product.
Item specifics. A collection of essential item specifics for the product such as size, weight, style, compatibility, and brand.
Company information. A brief sentence or paragraph about your company and its achievements, goals, or vision.
Customer reviews. A selection of 2-3 product reviews from real customers, preferably with pictures and names.
As previously mentioned, you can add videos to your descriptions to significantly increase sales. It's very easy to create a short demonstration of the product using your smartphone or an app like TikTok.
What is a good dropshipping product description example?
To get a better idea of a good dropshipping product description, we have created an example below. Keep in mind, this is just to give you inspiration for creating your own unique descriptions.
Portable Waterproof Bluetooth Shower Speaker w/ Microphone
Are you always singing in the shower and looking for inspiration? Introducing this stylish and modern Bluetooth shower speaker. It features a powerful built-in speaker that is fully waterproof with a suction cup that easily attaches to any smooth surface including tiles and glass.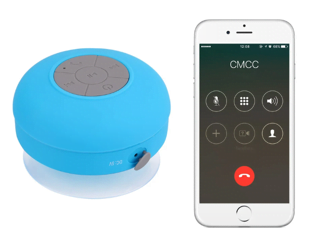 The speaker uses the latest Bluetooth technology to provide an uninterrupted wireless connection to your smartphone. The built-in speaker is high-quality and produces exceptional sound quality, even when in loud showers. It's also small and lightweight, allowing you to take it anywhere you go.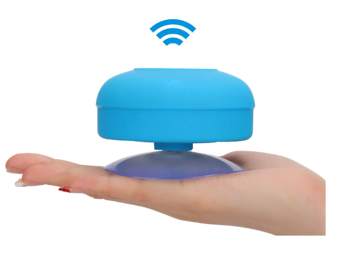 Features
Powerful Bluetooth shower speaker with a built-in microphone
Suction cup that quickly attaches to almost any smooth surface
Fully waterproof and suitable for the shower, bath, or outside
Small and portable, easily fits into your sports bag or backpack
Rechargeable, takes less than 3 hours for 5 hours of playback
Specifications
Brand: Diamond Deals
Size: 8 x 5 x 5 cm
Weight: 150 grams
Style: Round, suction cup
Microphone: Yes (Built-in)
Wireless: Yes
Bluetooth: Yes (5.3)
About
Diamond Deals is your number-one stop for all the latest tech gadgets and accessories. We have been in business for more than 5 years and have over 10,000 satisfied customers. It's our mission to make technology affordable to all. But don't take our word for it, check out our incredible feedback and reviews from thousands of satisfied customers.
---
Final Word
Creating unique dropshipping product descriptions can be time-consuming work. However, it's worth the extra effort as it can drastically increase your sales and conversions. This is especially true when selling on third-party marketplaces like eBay and Amazon.
The tips shared in this guide should provide you with a better idea of how to structure your descriptions. You should also have a good understanding of the information you need to include in the content.
That's it for this article but make sure you visit our blog for more useful guides and tips on all things related to ecommerce and dropshipping.