One of the biggest challenges with dropshipping is having no control over stock levels or prices. Selling an item which has ran out of stock or raised in price could result in a disgruntled customer, negative feedback or performance defect.
Using automation software is a sure-fire way to eliminate the issue of selling out of stock products, allowing you to scale your business at a rapid rate. From creating listings to monitoring stock and repricing, most software solutions manage it all.
But with so many different options to choose from, how do you know which is best? Well, having been involved with dropshipping for many years, I've gained extensive experience with using various dropship software programs.
In this comprehensive guide, I'll reveal a collection of the very best dropshipping software solutions for selling on popular online channels such as eBay, Amazon, WooCommerce and Shopify, while also explaining a bit more about how they work and why they're so essential for success with dropshipping.
1. Hustle Got Real
---
Compatible with hundreds of suppliers and multiple selling channels including eBay, Amazon and Shopify, Hustle Got Real is one of the best dropshipping automation solutions on the net. Featuring an innovative Chrome lister extension, automated price/stock management and a non-API version, Hustle Got Real is a must have tool for serious dropshippers. From creating listing to setting pricing rules and managing inventory levels, the user-friendly interface makes it easy for anyone to build a streamlined dropship business, even those with limited tech skills.
2. SkuGrid
---
SkuGrid is one of the original and most reliable dropshipping automation solutions, featuring over 800 trusted suppliers and more than 10 integrated selling channels including eBay, Amazon, Shopify and WooCommerce. From automated repricing to bulk listing, seamless importing and real-time stock notifications, SkuGrid has everything you need to build a fully automated and scalable dropship business. With the newbie plan starting at less than $15 per month for 200 items, SkuGrid is also a cost-effective and affordable software, perfect for those looking to get started with dropshipping on a budget,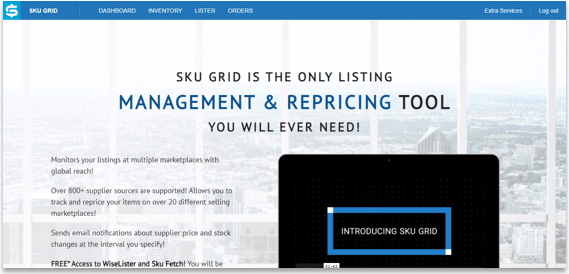 3. ShopMaster
---
With more than 30 trusted suppliers and multiple compatible selling channels, ShopMaster is a reliable, low-cost and flexible dropshipping automation software, particularly suited to those looking to source from China dropship suppliers with US/UK and EU based warehouses. From one-click product importing to automated repricing, bulk listing and auto ordering, ShopMaster is packed full of cutting-edge features. One of the biggest attractions to ShopMaster is the free starter plan which includes 2 integrated sales channels and up to 800 monitored listings.
4. Wholesale2b
---
Wholesale2b is a powerful dropshipping automation software and product sourcing platform featuring over 1M best-selling items from more than 100 popular dropship suppliers. Direct integration with multiple top online selling channels including eBay, Amazon, Shopify and WooCommerce, as well as seamless inventory updating are just some of the reasons why Wholesale2b is trusted by over 10,000 global users.
5. AliDropship Plugin
---
Specifically designed for dropshipping AliExpress products through a WooCommerce and WordPress powered store, the AliDropship plugin is a powerful and low-cost extension which features everything from pricing automation to one-click importing and auto ordering, as well as an exclusive database of more than 50,000 handpicked, best-selling AliExpress dropship products. Aside from the flagship WordPress plugin, AliDropship also provide a growing range of unique services including custom store building and dedicated hosting solutions.
6. Spocket
---
Spocket is an innovative, all-in-one dropshipping marketplace and automation software featuring thousands of best-selling US/EU shipped products and direct integration with the most popular ecommerce store builders including Shopify, WooCommerce, Wix, BigCommerce and more. Simply browse the massive database of winning dropship products and push them to your online store in just a few clicks. Manage sales, orders and customer returns from one central location, while Spocket automatically monitors and updates inventory in real-time.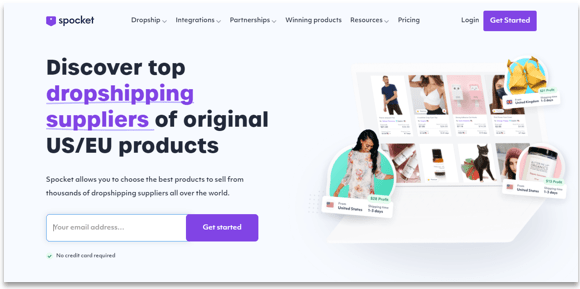 7. Inventory Source
---
Inventory Source is an innovative dropship automation software and integrated supplier network featuring over 230+ leading dropship companies and more than 25 compatible selling channels. From one-click product listing to real-time inventory syncing and automated ordering, Inventory Source is packed full of powerful features for building a truly automated dropship business. With more than 1.6 billion monitored listings and over $3M+ dropship orders processed every month, Inventory Source has solidified itself as a reliable and well-established platform.
8. Avasam
---
Avasam is a modern, low-cost and fully automated dropshipping platform and product sourcing marketplace with thousands of best-selling items from a growing network of verified UK and EU based suppliers. Featuring one-click product importing, automated inventory management and 40+ sales channel integrations, as well as auto ordering and advanced built-in performance analytics, Avasam has everything you need to build and manage your dropship business from one central location.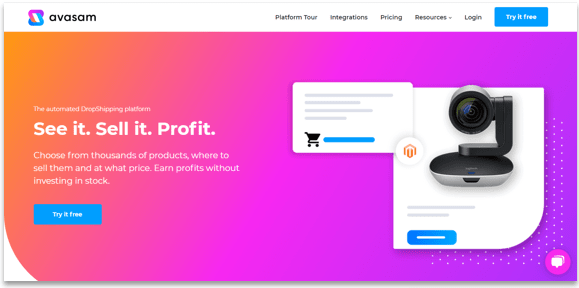 9. Dropified
---
Dropified is a powerful, reliable and innovative dropshipping automation software designed specifically for selling dropship products through an online web store. Compatible with the 5 top ecommerce website builders including Shopify and WooCommerce, as well as more than 80 trusted US/UK based dropship suppliers, Dropified is a highly scalable and flexible solution with millions of quality products to choose from.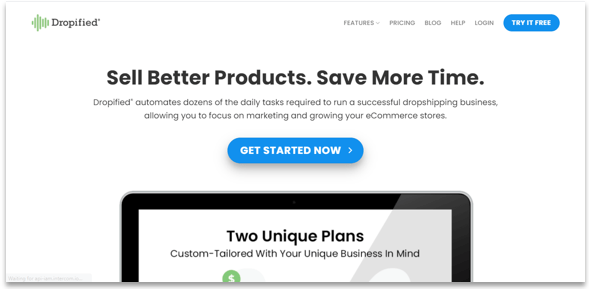 10. Easync
---
Featuring an innovative Chrome lister, 15-minute inventory updates and automatic product ordering, as well as a hot-selling product finder tool and advanced sales analytics, Easync is quickly becoming one of the most popular solutions for building a fully automated dropship business. Direct integration with more than 3 top selling channels including eBay, Shopify and Amazon, as well as seamless compatibility with leading US based suppliers is why Easync has established itself as a leading dropship software, responsible for monitoring, managing and repricing more than 9M listings and 25k+ stores at any given time.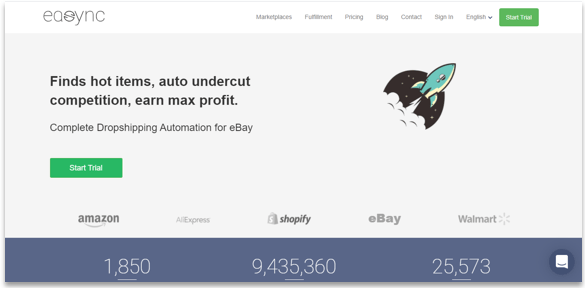 More Dropshipping Software Programs
---
---
---
---
---
---
---
The Ultimate Solution to Automate Price & Stock Management
---
Using dropshipping software is considered essential, particularly if you want to scale your business and maximise sales. However, using software to directly monitor and change marketplace listings is not always the best option. Building your own website and using one primary software to make central changes to your website listings, which are then synced with your eBay or Amazon listings is by far the better solution.
Not only does this method allow you to sell on multiple platforms without having to use many different software programs, but it's also much less risky. When using a software which makes changes to your own website, you won't need to worry about breaking the ever-changing terms and conditions of marketplaces such as Amazon and eBay.
But how is it possible? Well it's rather simple. First you find software which is compatible with the platform powering your website, then you find software which allows you to sync your website with your marketplace listings. Many of the software solutions outlined in this guide are compatible with leading website building platforms such as Shopify and Woocommerce. The following multi-channel selling solutions allow you to sync your store with your eBay or Amazon account.
Dropshipping Software FAQ's
---
The following FAQs provide instant answers to the most commonly asked question about dropshipping automation software. For more information, please refer to our lists of the best dropship software solutions above.
How does dropshipping software work?
As the popularity of dropshipping rapidly grew, so did the rise of dropshipping software programs. Although the workings of each software will vary, the purpose of them remains the same – to monitor products and sync any changes with your own listings. For example, if your supplier runs out of stock, the software will detect the change and put your subsequent listing out of stock. If the price of an item increases, the software will update your listing with a new price based on set profit formulas.
Why use dropshipping software?
Quite simply, if you want to scale your dropshipping business and earn full-time income, software is essential. Unless you plan on having a very small number of listings, it will become increasing difficult to maintain accurate stock levels and up-to-date prices as your product range grows. Inevitably, you'll get to a point where manually checking stock becomes impossible.
It's particularly important to efficiently manage your inventory when selling on platforms like eBay and Amazon where strict selling policies apply. Failure to fulfil orders will result in high cancellation rates which could damage your business. Not to mention the upset it will cause customers who may resort to leaving negative feedback. Therefore, using software is not only beneficial to earning maximum profit, but also a way to protect your business and guarantee its longevity.
Aside from being a solution for inventory management, most dropshipping software programs are also handy listing tools which allow you to quickly create professional listings on popular selling channels such as eBay, Shopify and Amazon, thus allowing you to grow your business at a much faster rate.
Do I really need dropshipping software?
It depends on how many listings you have and how often your supplier changes prices. If you have a small number of listings, it might be better to do manual stock and price checks. However, if you have a lot of listings or sell on multiple platforms, using software is by far the most efficient way to keep stock levels and prices updated.
When should I get dropshipping software?
If you're just starting out with dropshipping, using software isn't necessary. It's better to focus your efforts on getting the business up and running first. However, as you being to make sales and grow your product range, using software is highly recommended. Not only will it save you time, but you'll also ensure you're always making a profit on sales.
Is it safe to use dropshipping software?
Yes, it's safe to use software for dropshipping. However, when using software to sell on eBay, it's important to find one that doesn't use the eBay API. In 2019, eBay made changes to their dropshipping policy which resulted in dropshipping products from other retailers such as Amazon being no longer allowed. Part of the crack down on retail dropshippers involved targeting those using automated software to list products from such retailers. Therefore, to stay safe, you should avoid using software which harnesses the eBay API, more details can be found in the 'Dropshipping Software for eBay' below.
eBay Dropshipping Software (Important Update)
---
At some point in 2019, eBay made changes to their dropshipping policy. Although dropshipping is still allowed on the platform, sourcing items from other retailers or marketplaces is forbidden. After making the policy change, eBay began to crack down on dropshippers who were sourcing products from retailers such as Amazon.
As part of this process, those using software to source products from retailers, specifically software which uses eBay's API, found their eBay accounts being penalised or restricted. Therefore, when using a software for dropshipping on eBay, it's important to find one that doesn't use the eBay API.
To be clear, dropshipping on eBay is still allowed. The use of software in general is also still allowed. Thousands of businesses, even those who don't dropship use software to manage their eBay listings. However, to stay on the safe side, it's best to use software which doesn't need eBay's API to update your listings. Thankfully, most software providers, including the ones listed in this guide have implemented non-API versions to accommodate the changing eBay policies.
Final Word
---
Investing in dropshipping software a smart move as it will allow you to fully scale and grow your business without having to worry about price changes or stock counts. You'll also be free to expand your product range at a rapid rate, without any limitations or restrictions. Most of the software programs mentioned in this guide are all-in-one solutions, featuring everything you need to build a sustainable dropship business.