19 Easy Ways to Boost Your Dropshipping Sales (Top Methods)
Dropshipping is a very lucrative business model. However, learning how to grow your sales is essential if you're a beginner.
In this post, I will share 19 easy ways to boost your dropshipping sales. The following techniques will increase traffic, sales, and conversions to help you earn more with dropshipping.
---
1. Optimise product listings
Optimising your product listings to increase search engine visibility is the most effective way to boost your dropshipping sales. In fact, you can generate a huge amount of free traffic by simply tweaking your listings to make them search engine friendly.
To do this, make sure you include targeted keywords within your product titles and descriptions. Try to select keywords with high monthly searches and low competition.
You can use a free a keyword research tool such as Google Keyword Planner to quickly find profitable keywords to target. Once you have found suitable keywords, simply include them in your product titles and sprinkle them naturally throughout the descriptions.
For example, if you're selling a portable speaker, make sure you include keywords like 'wireless speaker' and 'Bluetooth speaker' within the description. It's important to do this when dropshipping on marketplaces like eBay, as well as through an online store.

---
2. Use unique images
Another proven way to increase your sales when dropshipping is to use custom product images. This is particularly effective when selling on marketplaces such as eBay and Amazon as it will help you to stand out from the competition.
You can use a free online photo editor such as Adobe Express, LunaPic or ImageResizer to quickly change the size of product images or add a unique logo or watermark to them. Even the slightest tweak to an image can make a big difference.
Alternatively, you can take your own product images. Most dropshipping suppliers would be happy to send you product samples to create images. If you're not any good with a camera, you can use an ecommerce photography service or hire a low-cost freelancer on websites like Fiverr.
---
3. Lower your selling prices
Lowering your selling prices may seem like a drastic measure, but it's a guaranteed way to increase your sales and boost conversions. Many newbie dropshippers make the mistake of setting their prices too high which results in low sales.
Make sure you use a free profit calculator to work out your exact fees and expenses. In most cases, you will need to pay selling fees and payment processing fees.
Instead of aiming for a high profit on each sale, set your prices as low as possible and focus on selling more products to earn a bigger overall profit. Put it this way, would you rather sell a product a few times with a $10 profit or dozens of times with a $5 profit?
Lowering your prices is also a great way to attract customers and generate some buzz for a new brand or store. Once you have started to gain regular traffic, sales and customers, you can raise your prices and aim for higher profit margins at a later date.
---
4. Increase your product range
The more listings you have on your store or marketplace, the more sales you will make. That's why it's important to keep growing your range by creating new listings as often as possible.
It's highly recommended to use dropshipping automation software to bulk list products to your online selling platform. In addition, most dropshipping automation tools allow you to automate inventory management, as well as order fulfillment.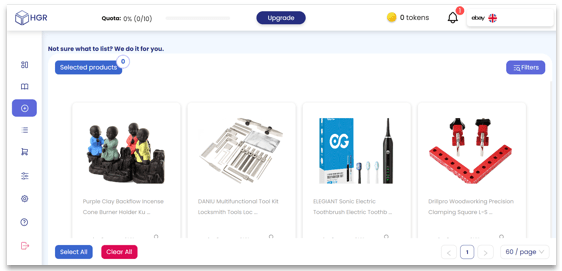 When it comes to choosing products to sell, using a dropshipping research tool is the quickest way to locate best-selling items that are already generating huge sales for other dropshippers. This will save you a lot of time as you won't need to manually research hundreds of different items.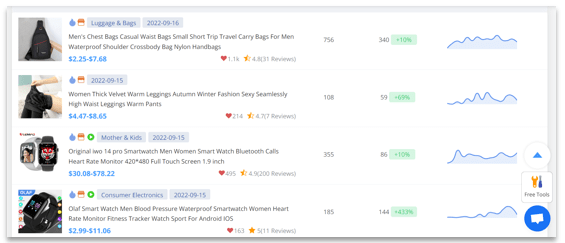 ---
5. Offer free shipping
Offering free shipping has a number of benefits for your dropshipping business. Not only will it increase sales, but you will be able to calculate your profit margins more efficiently. Having a complicated or varied shipping policy has been shown to deter customers from placing an order.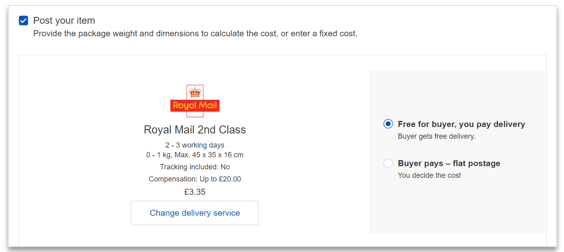 You should always offer your customers free shipping, particularly if you're dropshipping on eBay or Amazon. Simply include any shipping costs in your final selling price, rather than charging shipping separately. Alternatively, you can offer free shipping when a certain order volume is reached.
---
6. Provide a money-back guarantee
Providing a money-back guarantee is the best way to build trust with your customers. It shows that you're confident in your products and not afraid to back up your claims of quality. It's also another great way to distance yourself from competitors.
In most cases, you will be required to accept returns within 14 days. However, you should go that one step further by offering a money-back guarantee for 30-60 days or more. You can highlight this policy as a main selling point in your product descriptions or use a money-back guarantee badge.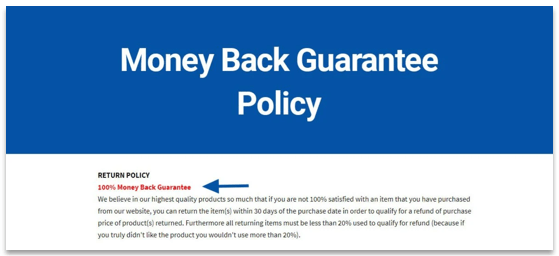 When dropshipping, you will have limited control over the products and fulfillment process. Therefore, it's important to find a trusted supplier with high-quality products, before offering a money-back guarantee. To do this, you should ask for samples or place test orders, as well as ensure the company has good reviews.
---
7. Run sales and promotions
Running promotions and offers is another sure-fire way to increase your dropshipping sales and conversions. From volume discounts to coupon codes and flash sales, there a number of different promotions you can run to attract more customers.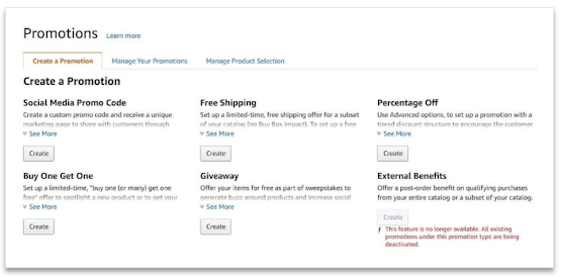 If you're dropshipping on eBay, you can create multi-buy offers, whereas Amazon allows you to enable a variety of promotions including money-off deals.
You're limited only by your own imagination when it comes to sales and promotions. You can try offering free shipping, discount codes or giveaways. You can provide them to new customers, existing customers or exclusively with marketing campaigns.
---
8. Get customer reviews
According to a survey by BrightLocal, 77% of consumers read online reviews. In fact, more people are reading reviews than ever before thanks to platforms like TrustPilot and Facebook.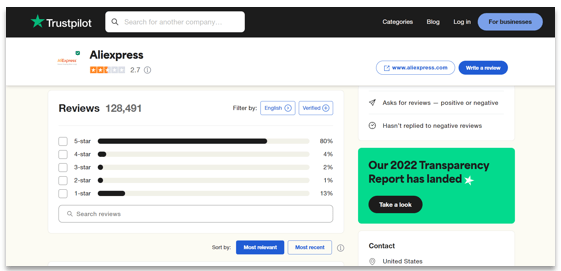 When it comes to dropshipping, getting customer reviews is essential if you want to increase your sales. Reviews will inspire confidence in other buyers, as well as improve your search rankings on marketplaces. It's no secret that getting reviews on eBay and Amazon can dramatically boost your rankings.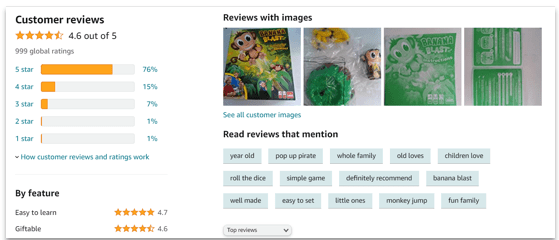 That's why it's important to encourage your customers to leave product reviews. You can do this by sending a follow-up email a few days after the order has been delivered. Ask your customer if they're happy with the product and kindly request a review.
If you're dropshipping through an online store, most ecommerce platforms have built-in features to enable customer reviews. If not, there are dozens of plugins and apps that allow you to add customer reviews to Shopify, WooCommerce and other popular ecommerce solutions.
---
9. Use product videos
Did you know that consumers are 85% more likely to buy an item after watching a product video? Moreover, 58% of consumers think that ecommerce companies with videos can be trusted. That's why using product videos is another sure-fire way to increase your dropshipping sales.
There are many low-cost providers of dropshipping video ads for using in your product descriptions or marketing campaigns. You can use these services to harness the power of product videos, without having to spend a lot of time learning how to create and edit videos.
That being said, if you do have the extra time and experience needed to make your own videos, you can use an online video editor such as InVideo, Animoto or FlexClip. These tools are very simple to use and allow you to design professional and unique product videos from scratch.
---
10. Sell on multiple channels
Selling on multiple channels is the easiest way to quickly increase your dropshipping sales. Ideally, you should be selling on your own website, as well as eBay and Amazon. Other platforms such as Facebook Marketplace are also quickly growing in popularity for dropshipping.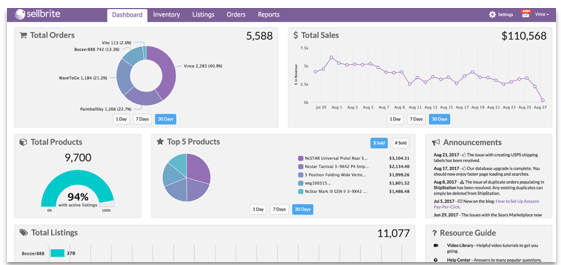 You can use multi-channel selling software to effortlessly list your products on many different ecommerce platforms, as well as manage sales and orders using a single dashboard. By using multi-channel selling software, you will also be able to sync inventory and prices across all platforms.
---
11. Add more payment options
The more payment options you offer, the more sales you will make. This is because customers like to use their preferred payment method when placing an order. If possible, you should enable various payment solutions such as PayPal, Stripe, Apple Pay and Google Pay.
---
12. Enable guest checkout
Many dropshipping stores lose sales because they don't have guest checkout enabled. Guest checkout allows customers to place an order, without having to create an account. It's particularly useful for new customers who may not trust or recognise your brand.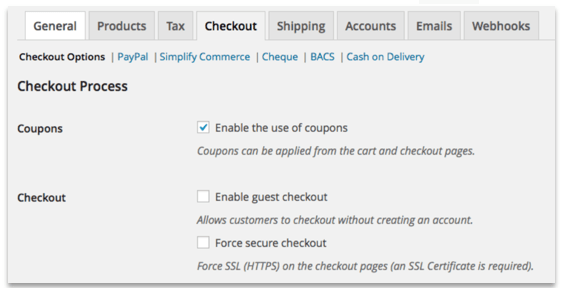 The most popular ecommerce platforms including WooCommerce and Shopify allow you to quickly enable guest checkout in a few clicks. It's highly recommended to try guest checkout when dropshipping through a store. Even a few extra sales each month would be a positive result.
---
13. Use live chat software
With live chat software, you can communicate with website visitors in real-time. This allows you to answer any questions about your products or business policies. It's also an opportunity to encourage more orders by making recommendations and suggestions.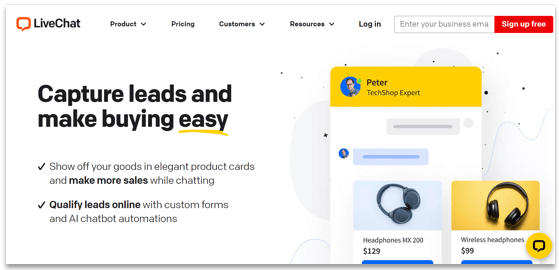 LiveChat is the gold standard of live chat solutions for ecommerce stores. However, there are a variety of other live chat programs to choose from. Plus, most ecommerce platforms including Shopify and WooCommerce have tons of third party apps and plugins to enable live chat.
---
14. Reduce cart abandonment
On average, a massive 69% of shopping carts are abandoned by users. That means almost 7 out of 10 users leave a website before completing their purchase. Taking steps to reduce your abandoned cart rate is a must if you want to increase your dropshipping sales.
The best way to do this is by simplifying your checkout flow. If buyers need to navigate through a lot of pages to place an order, they are more likely to leave your store. There are plenty of free plugins and apps you can use to streamline your checkout process and make it more user-friendly.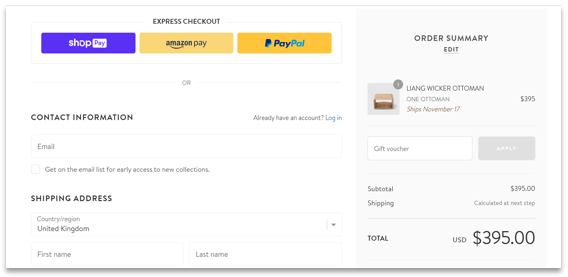 Keep in mind, many of the other techniques shared in this guide will help you to naturally reduce abandoned cart rates. For example, enabling guest checkout and adding more payment options will combat the issue of shopping cart abandonment.
---
15. Increase website speed
According to a study of more than 20 websites and 27,000 landing pages, a site that loads in 1 second has a 2.5x higher conversion rate than a site that loads in 5 seconds. In other words, the faster your dropshipping store loads, the more sales you will make.
From choosing a good hosting provider to removing unnecessary plugins and apps, there are a number of simple ways to drastically speed up your website. You can also use a speed optimisation plugin or app, as well as a content delivery network and browser caching.
Online tools such as GTmetrix and Pingdom allow you to quickly test the speed of your website for free. Simply input your website address and get an instant breakdown of loading times and performance, as well as suggestions on how to improve speed.

---
16. Create an affiliate program
Creating an affiliate program is another proven way to increase sales if you're dropshipping through an online store. There are a number of free affiliate marketing solutions that allow you to quickly launch an affiliate program for your online store, even if you have no tech skills.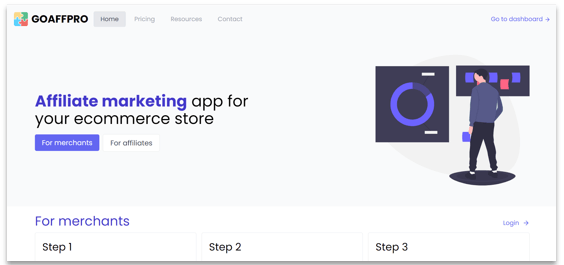 For example, GoAffPro is completely free to use and seamlessly integrates with almost every major ecommerce solution including Shopify, WooCommerce and BigCommerce. You can use the software to manage affiliates and pay them rewards for advertising and marketing your store.
Another option is to use a rewards plugin or app. This will allow you to offer your customers a reward such as free shipping for referring family members or friends. Simply search for 'rewards' in the app store of your ecommerce platform, many are free to use.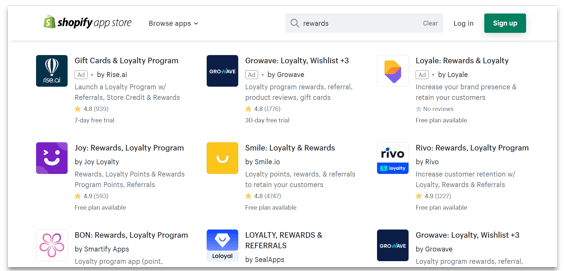 ---
17. Learn email marketing
Email marketing is one of the most powerful forms of digital marketing in the modern world. Quite simply, if you're not using email marketing for your dropshipping business, you're missing out on sales.
There are dozens of free and low-cost email marketing tools that allow you to create fully automated marketing campaigns that drive sales. For example, MailerLite is a top-rated email marketing software that allows you to build a list of up to 1000 subscribers and send automated emails for free.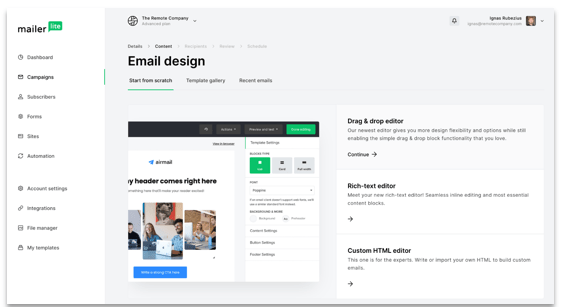 It's very easy to create a sign up form and add it to your dropshipping store using MailerLite. When a user inputs their name and email address, they will be added to your subscriber list. You can then send automated emails to your subscribers and promote your products.
Plus, you can use email marketing to manage and communicate with existing customers. When a customer places an order on your store, they will be automatically added to your email list. This is a great opportunity to encourage repeat purchases by offering them exclusive deals and discounts.
---
18. Try paid advertising
If you want to build a serious income with dropshipping, using paid advertising is essential. Some of the biggest dropshippers generate huge profits by advertising on various websites and platforms. Here's a breakdown of the most popular paid advertising techniques for dropshippers:
Advertise on social media
Advertising on social media websites such as Facebook and Instagram can be highly effective for dropshipping stores. Typically, you can boost or promote individual posts. You can also run independent ads to drive visitors directly to your product pages.
Run ads on Google
Running ads on Google is another powerful way to drive traffic to your dropshipping store and increase sales. With Google ads, you have full control over your target keywords, audience and daily budget. Plus, you will only pay a fee when your ad is clicked. 
Promote eBay listings
If you're dropshipping on eBay, you can promote your listings. You will pay a higher selling fee, but your listings will be displayed at the top of search results and categories. This will drastically increase your exposure on eBay and drive laser-targeted traffic.
Advertise on Amazon
When dropshipping on Amazon, you can quickly increase sales and drive additional traffic by running pay-per-click ads. You will be able to select your target keywords and daily budget, as well as choose the individual products you want to promote.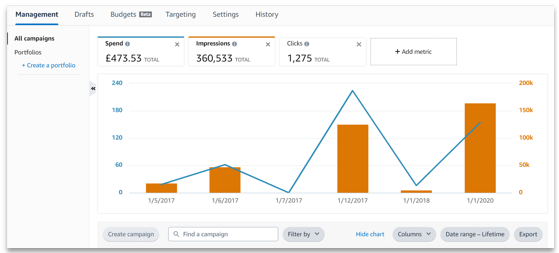 Quick Tip: The best place to learn the latest dropshipping marketing strategies and paid advertising techniques is YouTube. Here you will find an almost endless selection of step-by-step tutorials on everything from Facebook Ads to eBay promoted listings.
---
19. Build a blog
Building a blog is a great way to drive traffic to your dropshipping store and ultimately boost sales. Whatever your niche, you can write informative blog posts to attract readers and promote your products. For example, if you sell gym equipment, you can write articles about fitness tips and ticks.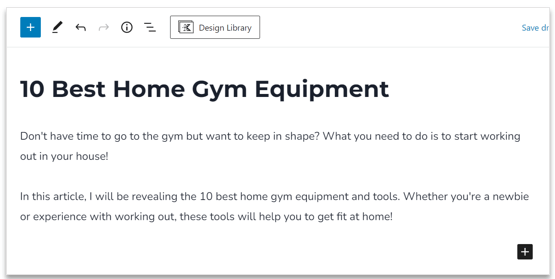 You should study the latest search engine optimisation strategies to learn how to create high-quality articles that will gain top rankings on Google. This will generate laser-targeted traffic to your dropshipping website for free.
---
Frequently Asked Questions (FAQs)
The frequently asked question below provide more tips and tricks on how to increase your dropshipping sales. You should also visit our blog where you will find a collection of guides on everything related to dropshipping and ecommerce.
What are more ways to increase dropshipping sales?
There are a variety of additional ways to increase your dropshipping sales. It's important to try as many techniques as possible to find out what works best for your particular business model. Here's a quick overview of some more ways to increase your dropshipping sales:
Improve website design
Improving the design of your website should be a priority when dropshipping through a store. Try to make your website clean and easy to navigate with a well-structured menu. Keep categories to a minimum and use a bright and inviting colour scheme.
Use exit popups
An exit popup is a website overlay that appears when a user attempts to leave your website. You can use them to encourage customers to stay on your website and place an order. The best way to do this is by offering them an exclusive discount.
Create social pages
Creating pages on social media websites such as Facebook and Instagram is a proven way to drive more sales for your dropshipping business. You can post pictures of your products, as well as created limited-time deals for your followers.
Offer wholesale pricing
Wholesale pricing is when you provide customers with discounts based on the number of items they purchase. For example, you can enable a discount of 5% when the customer buys a quantity of 10. By offering wholesale pricing, you're essentially targeting a new market of business-to-business buyers.
Add trust badges
Adding trust badges to your dropshipping store can also improve sales. You can add badges that highlight your money-back guarantee or returns policy. You can also add badges to show the payment methods you accept or even your ratings on sites like TrustPilot.
How do I increase my dropshipping sales on eBay?
When dropshipping on eBay, the best way to increase your dropshipping sales is by optimising your listings. To do this, make sure you use targeted keywords in your titles and descriptions, as well as high-quality product images. You should also make sure you have competitive selling prices.
If you really want to boost sales, you should consider promoting your listings on eBay. You will pay higher selling fees for promoted listings, but your products will be displayed at the top of search results, drastically increasing views and traffic.
How do I increase my dropshipping sales on Amazon?
To increase your dropshipping sales on Amazon, make sure you optimise your listings by including relevant keywords in your titles and descriptions. You should also focus on getting product reviews as they will significantly improve your rankings and exposure on Amazon.
Setting up promotions is another great way to increase your dropshipping sales on Amazon. You can create a number of different promotions including 'percentage off' and 'free shipping' offers. Moreover, running paid ads on Amazon is guaranteed to drive more sales almost instantly.
What is the quickest way to increase dropshipping sales?
Expanding your product range, lowering prices and running sales or promotions is the quickest way to increase your dropshipping sales. Offering free shipping and providing a money-back guarantee can also rapidly boost orders, without having to invest a lot of time and effort.
That being said, the long-term methods of increasing your dropshipping sales are often the most effective. These including optimising your listings for search engines and getting customer reviews, as well as learning email marketing and running paid advertising campaigns.
If you want to achieve success with dropshipping, use every possible technique to maximise your traffic, sales and profits. It may take some trial and error, but the results will be worth it.
---
Final Word
There are many powerful ways to increase your dropshipping sales and build a successful online ecommerce business. These 19 techniques are the best methods for quickly boosting sales and maximising your profits.
However, make sure you keep searching and testing new ways to improve your sales, more so if you're dropshipping on marketplaces such as eBay or Amazon. You should always try to think outside of the box and come up with unique ways to reach buyers and get that edge over competitors.
That's it for this post. Feel free to read our other guides and articles for more useful tips on all things dropshipping and ecommerce.