13 Best Online Store Builders for Ecommerce Sellers in 2023
With an estimated 24 million online stores around the globe and thousands more being created daily, the ecommerce industry is thriving.
It's no secret that building an online store is the single most effective way to establish an online presence and create a trusted brand. It's also the best way to minimise overhead costs, reduce selling fees and maximise profit margins.
Here you will find a curated list the 13 best online store builders for creating a professional ecommerce website, even if you have zero web design experience.
---
Top Picks
---
1. Shopify
With over 1 million global users and more than $40 billion in annual sales, Shopify is one of the most popular online store builders in the world, widely praised for being user-friendly and highly customisable, as well as cost-effective and secure.
Shopify features over 70 professional themes, thousands of third party apps and direct integration with 100+ payment gateways, as well as a free SSL certificate, abandoned cart recovery notifications and flexible shipping options.
Starting at only $29/month for unlimited products and unlimited orders, the basic plan provides you with everything you need to launch an online store including web hosting.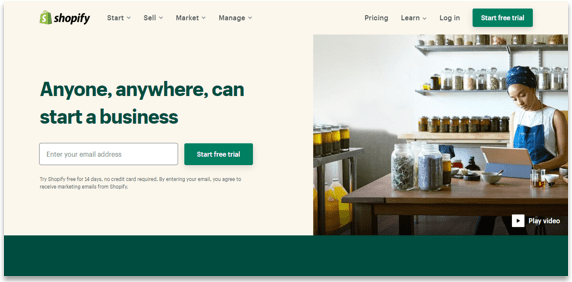 Features
Over 70 mobile-responsive themes and 100 compatible payment processors

Thousands of performance-enhancing extensions including dropshipping apps

Unlimited products and sales with free SSL certificate and advertising voucher

Built-in search engine optimisation (SEO) and abandoned cart recovery features

All-in-one dashboard to track sales, manage orders and view traffic analytics
---
2. WooCommerce
Designed for use with the highly flexible WordPress platform, WooCommerce is one of the most popular ecommerce plugins in the world, powering over 28% of all online stores including 22% of the top 1M most well-established ecommerce websites.
Renowned for its thousands of professional themes and virtually endless collection of performance-boosting plugins, WooCommerce is the perfect solution for both newbies to web design and those already experienced with WordPress.
WooCommerce is also completely free. The only costs attached to building a WooCommerce store are for a domain name and hosting, typically around $5-$10/month.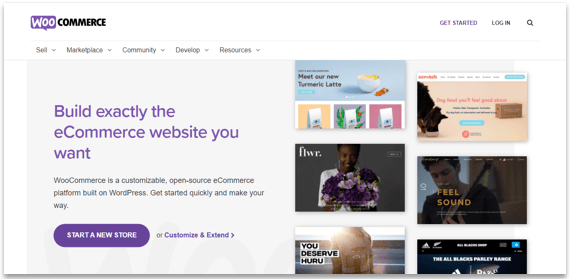 Features
Highly customisable and secure with more than 5 million global users

Completely free to use with only a domain name and hosting required

Thousands of professional themes and performance-boosting plugins

Unlimited product listings with multiple built-in payment processors

User-friendly step-by-step wizard to get your store online in minutes
---
3. Shift4Shop
Founded over 20 years ago, Shift4Shop is a powerful and low-cost website building platform with more than 20,000 global customers.
From an intuitive website builder to integrated marketing tools and dozens of highly-customisable themes, Shift4Shop is packed full of features.
Recently acquiring 3dcart, a leading ecommerce software known for pioneering the mobile commerce movement, Shift4Shop has firmly established itself as a leader in the industry.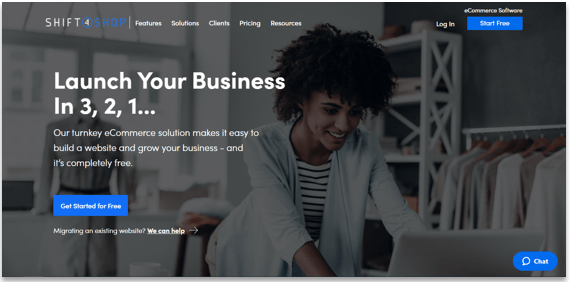 Features
Turnkey online store builder with intuitive and simple user-interface

Huge selection of professional and mobile-responsive templates

Includes a domain name, secure web hosting and SSL certificate

Built-in marketing, search engine optimisation and security features

Low-cost plans with unlimited products and unlimited bandwidth
---
4. BigCommerce
BigCommerce is a well-established ecommerce website builder known for its extreme scalability and unique features including built-in marketing tools.
From start-ups to globally recognised companies including Toyota, BigCommerce powers over 90,000 online stores, making it one of the most popular ecommerce solutions on the market.
BigCommerce excels in cutting-edge features with a drag-and-drop page builder, highly customisable themes and super-fast loading speeds,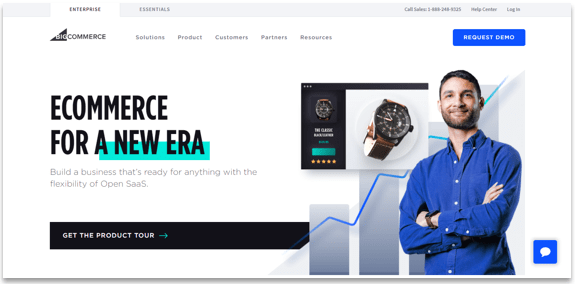 Features
Simple drag-and-drop page builder to create a stunning store in minutes

Wide selection of fully customisable and mobile-responsive themes

User-friendly dashboard to manage listings, orders and customers

Real-time performance analytics including sale and traffic reports

Highly reliable and secure with lightning-fast loading speeds
---
5. AmeriCommerce
AmeriCommerce is a powerful ecommerce store building solution known for its advanced features, extreme flexibility and unique customisation options, as well as it's innovative built-in marketing tools and professional themes.
From SEO and email marketing to payment gateways and recurring subscriptions, everything you need to build a professional online store is right at your fingertips, without having to install any third party plugins, extensions or apps.
However, more than 100 (optional) apps are available including payment gateways, accounting software, security addons and integration with online marketplaces.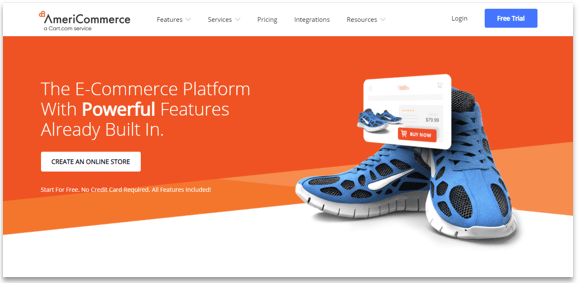 Features
All-in-one ecommerce solution with built-in features and marketing tools

No transaction fees and more than 40 integrated payment processors

Huge selection of fully-responsive and stylish themes and templates

Over 100 integrations with 3rd party apps including accounting software

Ultra-fast and highly reliable with thousands of users across the globe
---
6. Ecwid
Founded in 2009, Ecwid is a professional online store builder and multi-channel selling software trusted by over 100,000 global users.
Featuring a free plan which includes 10 product listings and unlimited bandwidth, as well as premium plans for unlimited listings and selling on multiple channels including eBay and Amazon, Ecwid is perfect for businesses of all sizes.
With a simple drag-and-drop interface and single user dashboard for managing everything from one location, Ecwid is a true all-in-one ecommerce solution.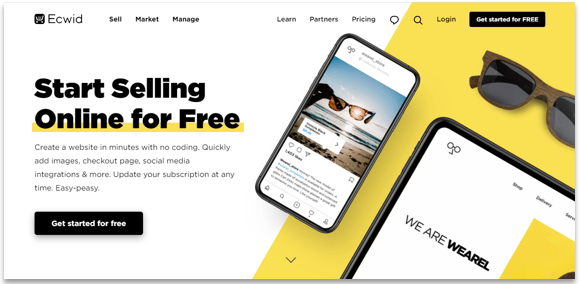 Features
Trusted ecommerce store solution with over $4 billion in merchant revenue

Sell across multiple platforms including eBay and sync prices and inventory

Manage listings, customer orders and inventory from one user-dashboard

Compatible with over 100 payment gateways including PayPal and Stripe

Free plan for up to 10 product listings with unlimited bandwidth
---
7. Wix Ecommerce
Trusted by more than 140 million users, Wix is one of the most popular website building platforms in the world. From small blogs to fully-functioning ecommerce stores, Wix provides a range of low-cost monthly solutions for all types of businesses.
Starting at only $14 per month, the ecommerce package includes a custom domain, unlimited bandwidth and 20GB of storage, as well as unlimited products, unlimited orders and powerful built-in marketing and cross-platform selling tools.
With a modern drag-and-drop editor and over 500 professional themes to choose from, you can quickly create a unique store for your brand or business.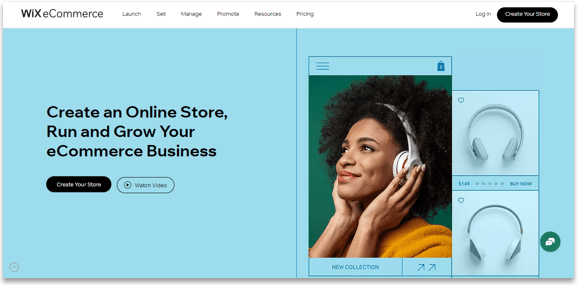 Features
Over 500 professional and customisable online store templates

Seamless integration with over 30 leading payment gateways

Free domain name, company logo and $75 advertising voucher

All-in-one dashboard for managing orders, shipping and returns

Detailed business analytics including sales and traffic statistics
---
8. Mozello
Considered a low-cost alternative to other online store builders, Mozello excels in ease of use, simplicity and fast results, offering a free plan for small stores with up to 5 products or an unlimited plan for fully-scalable, mobile-responsive stores starting at just £6 / month.
Features include customizable delivery options, built-in marketing tools and a rich selection of professional themes, as well as compatibility with multiple leading payment gateways.
The premium plans further include a domain name and hosting, along with exclusive features such as unlimited product variants, customisable checkout forms and API access.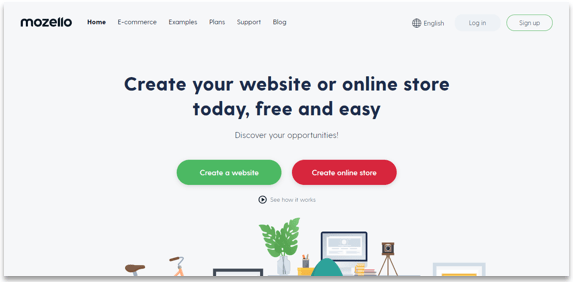 Features
Create a store in minutes with simple drag-and-drop website builder

Fully customisable with millions of possible (mobile-friendly) designs

Low-cost with free plan for 5 products and 0.5 GB storage

Free domain name and built-in marketing features
---
9. EKM
Established in 2002, EKM is the UK's leading online store building platform, featuring everything you need to create a stunning ecommerce website including over 70 customisable themes, a simple user interface and a free logo maker.
With transparent pricing plans that include a domain, hosting and SSL certificate, EKM is a complete all-in-one solution. Going that one step further than other ecommerce solutions, EKM also provides it's members with a dedicated account manager for the first 6 months.
If you're in the UK and looking for an ecommerce platform with a UK-based support team, EKM is the ideal solution, currently boasting a 4.8 rating from over 2000 users on TrustPilot.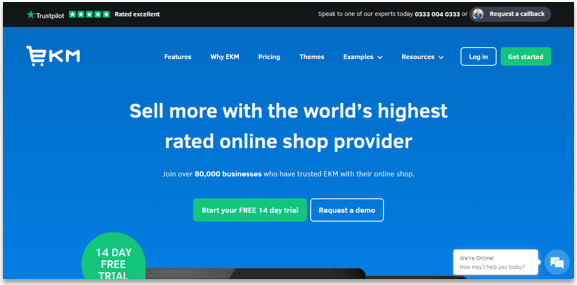 Features
UK's leading online store builder trusted by over 80k users since 2002

Over 70 fully customisable themes designed for a wide range of industries

Fully mobile response and configured to work perfectly on all devices

Professional logo maker and built-in EKM banner and graphics image builder

Low-cost packages with web hosting, domain name and SSL certificate
---
10. Duda
Founded in 2009, Duda is an award-winning website building platform with more than 450,000 members and over 150 million monthly visitors.
From ecommerce stores to blogs, forums and marketplaces, a new website is created on Duda every 14 seconds, making it to the go-to platform for businesses of all shapes and sizes.
Starting at $22 per month, the ecommerce plan includes a range of exclusive features including no transaction fees, unlimited bandwidth, unlimited orders and unlimited storage, as well as built-in marketing and multi-channel selling tools.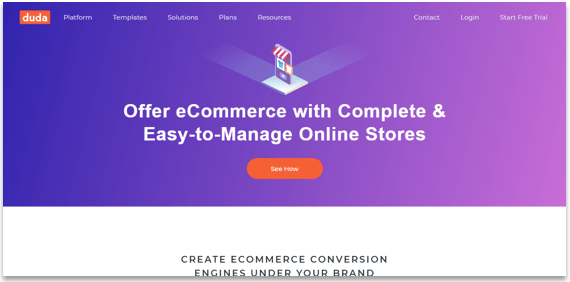 Features
Well-established and reliable website builder with more than 450K users

All-in-one ecommerce store solutions starting at less than $25 per month

Professional and mobile-responsive design with 40+ payment gateways

Built-in marketing and SEO tools with multi-channel selling features

No transaction fees with unlimited bandwidth and unlimited storage
---
11. Webador
Webador is a cost-effective and simple to use website builder with over 50 mobile responsive themes, a user-friendly interface and fully-customisable editing options, as well as traffic analytics, integrated social media and over 100,000 free stock photos.
Ideal for individualists or hobbyists, the free plan includes hosting, unlimited storage and unlimited orders, while the paid plans include a domain, SSL certificate and business email address, as well as 0% commission and ad free websites.
Additional features with premium plans include Google analytics integration, a professional blog and customisable contact forms, along with a powerful search bar,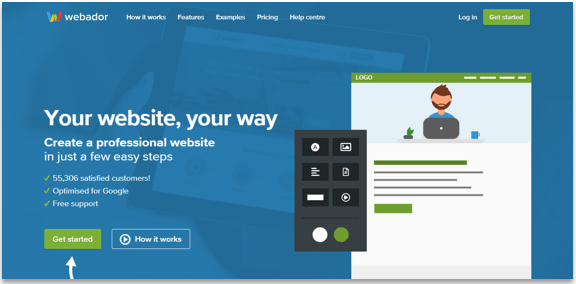 Features
Simple drag-and-drop interface with no coding or design skills needed

Over 50 professional, fully responsive and highly customisable themes

Detailed traffic statistics to analyse performance and referral sources

Free plan with unlimited pages, unlimited storage and web hosting

Low-cost premium packages with free domain, SSL and email
---
12. Squarespace
Launched in 2004, Squarespace is a leading website building platform for creating a professional online store or small business site.
Featuring an extensive range of award-winning templates and an innovative page builder, creating a unique store is simple and easy.
Built-in digital marketing and SEO tools, as well as the ability to install third party party apps makes Squarespace a highly flexible platform for building any type of website from digital stores to event booking platforms and fully functional ecommerce stores.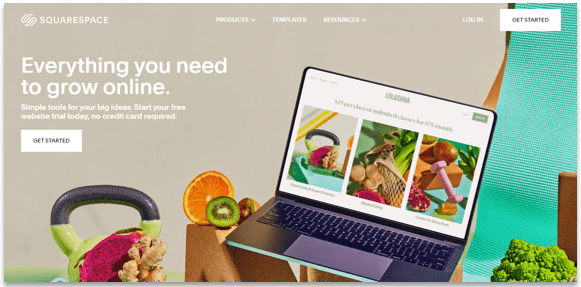 Features
Leading all-in-one platform for building an online store or business website

Huge collection of award-winning and highly customisable premium themes

Free SSL certificate, unlimited bandwidth and storage with all packages

Fully responsive and mobile optimised designs with built-in SEO features

14-day free trial with low-cost monthly packages and yearly discounts
---
13. Volusion
Founded in 1999, Volusion is a powerful and intuitive ecommerce website building software trusted by more than 180,000 global customers.
Featuring a drag-and-drop builder, responsive themes and multiple payment integrations, Volusion is the perfect all-in-one solution for newbies with limited design skills.
Furthermore, with low-cost monthly plans starting at only $29/month and discounts of up to 10% or more when paying yearly, as well as a 14-day free trial, Volusion is a cost-effective platform for businesses of all sizes including start-ups.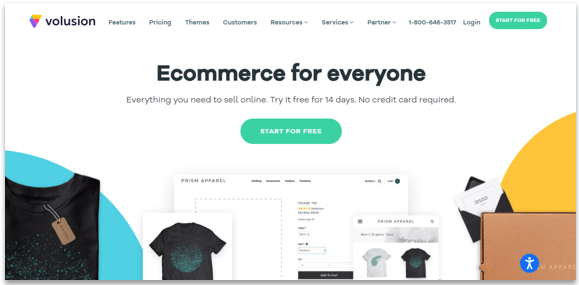 Features
Simplistic and powerful drag-and-drop site builder trusted by over 180k users

Built-in SEO marketing features to naturally increase search engine visibility

Direct integration with more than 30 payment gateways including PayPal

Secure checkout with powerful site editing tools and social media integrations

14-day free trial with low-cost monthly plans and discounted yearly options
---
Why build an online store?
With more than 4 billion global internet users in 2021, there has never been a better time to start selling products online through your own ecommerce store.
From less competition to bigger profit margins and retaining more control over the business, building an online store has endless benefits when compared to selling on a marketplace.
In fact, when selling products through your own store, you won't need to worry about selling fees, performance defects or negative feedback.
Furthermore, you won't find yourself competing with thousands of other sellers. In turn, you will be able to aim for higher profits while setting your own business policies and rules.
Why use an online store builder?
An online store builder allows you to quickly create a professional ecommerce website without having to learn complicated coding or web design skills.
Furthermore, most online store builders provide you with everything you need to start selling online including a domain name, hosting and storage space, as well as an SSL certificate, integrated payment processors and marketing tools.
Quite simply, using an online store builder is the quickest and most cost effective way to launch a professional ecommerce website on a budget.
How long does it take to build a store?
The amount of time it will take to build an online store will vary depending on the ecommerce platform and your level of experience with using software.
However, most online store builders provide a simple drag-and-drop solution which anyone can use to quickly create a stunning online store in a matter of hours.
It shouldn't take longer than a few days to get your store up and running with any of the ecommerce platforms listed in this guide, even if you're completely new to web design.
What is the best online store builder?
The best online store builder will depend on your budget, experience and own personal preferences, as well as the number of products you plan on selling,
While some people choose to build a store using WooCommerce because of their familiarity with the WordPress platform, others prefer an all-in-one solution with a domain name, hosting and built-in marketing tools such as Shopify or Shift4Shop.
Alternatively, those with only a small number of products are better suited to online store builders with free versions for a fixed number of products such as Mozello or Ecwid.
It's important to study each platform and it's features to determine which would be best for your needs and budget. The online store builders listed in his guide are a mixture of both free and paid solutions, each offering a widely different range of features.
What is the cheapest online store builder?
With prices starting at less than $15/month for unlimited products and hosting included, Wix Ecommerce, Mozello and Webador are the cheapest all-in-one online store builders, whereas WooCommerce is the only free to use website builder with no limitations.
However, WooCommerce requires users to purchase a domain name and hosting separately which typically costs around $5-$10/month depending on the provider.
Are there any free online store builders?
While most online store builders charge a monthly fee, many offer free versions which usually allow a fixed number of listings or monthly orders.
For example, Mozello has a free plan which includes 5 product listings and 0.5GB of storage space, whereas Ecwid's free plan includes 10 listings and unlimited orders.
Alternatively, WooCommerce is a free to use and has no restrictions or limitations, the only requirement is to purchase a domain and hosting separately. WooCommerce also comes complete with a shopping cart and built-in payment processors.
What is the best online store builder for small stores?
When it comes to small stores with only a few products, using a store builder with a free version is the best solution. Mozello and Ecwid both offer free plans for up to 10 products, whereas Wix Ecommerce and Webador offer low-cost plans of less than $15/month for unlimited products.
Furthermore, WooCommerce is a fantastic free to use option with the only expense being web hosting which typically costs around $5-$10/month or less. With WooCommerce, you can sell an unlimited number of products with unlimited orders for free.
Do I need coding skills to build an online store?
As most online store builders feature a simple drag-and-drop page builder or content management dashboard, no web design or coding skills are required.
In fact, most average people are able to create and launch a fully-functional ecommerce store within a few hours, even with zero web design experience. From shipping policies to payment processors and returns, everything can be managed using a single platform.
Should I build my own store or hire a web designer?
While hiring a professional designer to build your ecommerce website has its advantages, using an online store builder is a quicker and cheaper alternative.
In fact, most online store builders provide an all-in-one solution which includes a domain name and hosting, whereas web designers typically charge for the website only.
Furthermore, fast advancements in technology has made it easier than ever for anyone to create a unique and original ecommerce store without breaking the bank.
---
Final Word
Building an online store has a number of benefits when compared to selling on third party marketplaces such as eBay, Amazon or Etsy.
With an online store, you will have less competition and more opportunity to earn bigger profit margins, while also retaining full control over your business. You will also be able to avoid the high selling fees attached to third party platforms, as well as the strict selling policies.
The online store builders listed in this guide are the most popular solutions for creating a stunning and professional ecommerce website, without having to learn coding or web design.
Make sure you research each platform and their features to find the best option for your needs and goals. You may also want to try multiple free trials to test drive the software.