10 Dropshipping Secrets for Ecommerce Beginners in 2023
Dropshipping is a popular ecommerce business model used by thousands of online sellers, primarily because of its low start-up costs.
If you run a dropshipping business, learning how to increase your sales is a must. Here you will find a list of 10 powerful dropshipping secrets that will help you boost traffic and reach more customers.
---
1. Write high-quality descriptions
Writing your own high-quality descriptions is one of the best ways to stand out from the competition when dropshipping.
In fact, most online sellers use the descriptions provided by their suppliers. However, these can often be generic and lacking details. That's why it's important to create your own unique content.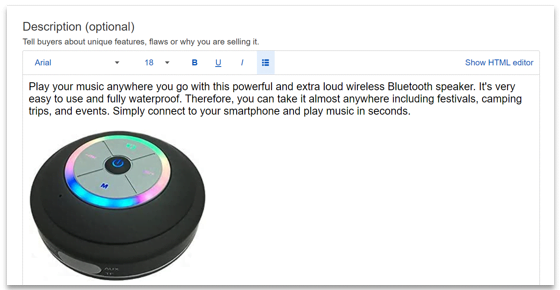 Your descriptions should include a short introduction followed by some bullet points to highlight key features. You should also include essential item specifics such as size, material, compatibility, brand, etc.
To make your descriptions more attractive, you can also add images to them. If you're dropshipping on eBay or another third-party platform, you may want to consider using a listing template.
Here are a few more tips to consider when creating descriptions:
Use relevant keywords throughout your descriptions
Keep your descriptions short, simple, and informative
Add bullet points to highlight the product features
Input important specifics such as size and brand
Include some details about your brand and policies
Consider adding images throughout the description
---
2. Use unique product images
Creating unique product images is another excellent way to stand out from the crowd when dropshipping.
To do this, you can order product samples from your supplier and use a smartphone or camera to take pictures. You may also want to invest in a lightbox or light tent to create professional images that drive sales.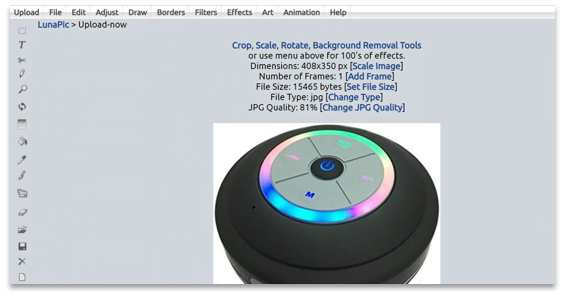 There are tons of free image editors that allow you to adjust photos to make them perfect. This is particularly handy when dropshipping on a site like eBay as you can make the images the correct size with a white background.
If you don't have skills with a camera, you can use an ecommerce photography service or hire a freelance graphic designer. It's simply a case of sending a sample of the product for the images to be created.
The main benefit of using your own product images is that other sellers will be unable to copy them. This means you will have more chance of standing out, especially in search results on eBay and Amazon.
---
3. List on multiple platforms
One of the best ways you can quickly increase your dropshipping sales is by listing your products on multiple selling channels.
You need to be selling through your own website, as well as on third-party marketplaces like eBay and Amazon. You should also be using the power of social media platforms such as Facebook and Instagram to drive sales.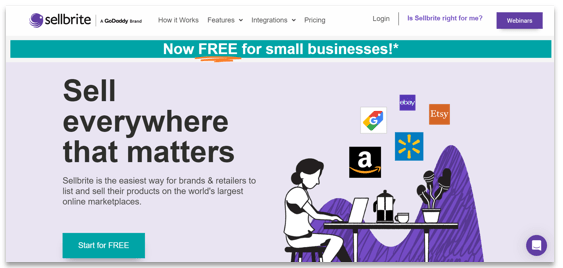 The best way to do this is by using multi-channel selling software. This will allow you to effortlessly push products to a number of top ecommerce channels in minutes. It also means you can keep stock and prices updated across all platforms with ease.
Alternatively, you can manually list your products on different platforms. However, it's important to have an effective inventory management system when selling products on a number of websites.
Here are the most important selling channels for dropshipping:
Your own ecommerce or dropship website
Marketplaces like eBay and Amazon
Social media websites like Facebook
Other platforms such as Bonanza and Etsy
Classified ad websites including Craigslist
---
4. Find winning products
When it comes to dropshipping secrets, finding winning products is one of the best. Winning products are items that are already popular, fast-selling, and profitable. Basically, they are trending and getting a lot of attention.
From using a dropshipping research tool to studying websites like Alibaba and AliExpress, there are a number of ways to find winning dropshipping products to sell online. You can also use platforms like eBay and Amazon to quickly locate items that are generating a lot of sales and attention.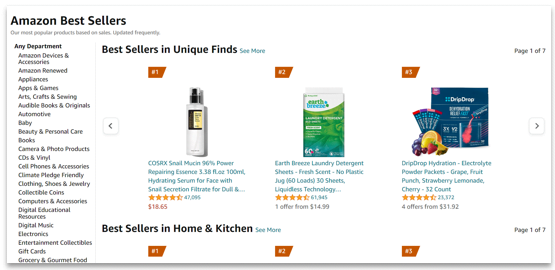 Furthermore, social media sites like Facebook and TikTok are excellent tools for finding winning products to start dropshipping. Simply search for a product and filter the results to find videos or ads with millions of views and engagements.
Here are the best ways to find winning dropshipping products:
Use a dropshipping research tool or database
Study the best-sellers on Amazon and eBay
Search on social media for product videos
Research your competitors and their top items
Find products that are popular in the media
---
5. Work with reliable suppliers
Working with reliable and honest suppliers is crucial when running any type of business. However, it's particularly important when dropshipping as you need to trust your supplier to dispatch items and deal with problems swiftly. This includes processing returns and issuing refunds without delays.
The best way to make sure your dropshipping supplier is reliable and trustworthy is by placing a test order. This will allow you to find out how long shipping takes and if acceptable packaging is used. You can also use this opportunity to review the quality of the product and customer service.
Naturally, it's important to do your research and due diligence before choosing a dropshipping supplier. This process should include checking online reviews, asking questions, and researching the policies of the company.
Here are some essentials to look for in a dropshipping supplier:
Excellent reputation with good reviews from buyers
Large range of items with competitive trade prices
Fair business policies including returns and refunds
Responsive support with multiple contact options
High-quality product images and descriptions
Secure website with encrypted checkout pages
Option to add custom notes and invoices to orders
---
6. Automate essential tasks
The main disadvantage to running a dropshipping business is having no control over inventory and prices. If a product runs out of stock, you need to remove it from your selling channels to prevent over-selling.
It's the same if an item changes in price. You need to update the price across all selling channels to ensure you earn a profit. Otherwise, you could end up selling the item that generates a loss.
That's why it's essential to use software to automate dropshipping and streamline the most time-consuming tasks. In fact, dropshipping software can help you simplify stock and price monitoring, as well as other tasks such as order processing, tracking info uploads, and listing management.
Another benefit to using dropshipping software is that most allow you to quickly import products to your selling channel.
This can save you a huge amount of time as you won't need to copy and paste descriptions, content, and images. You can quickly scale your business and list hundreds or even thousands of products in record time.
Most dropshipping solutions can automate the following tasks:
Importing products to your selling platform
Updating inventory levels and prices
Processing customer orders
Uploading tracking information
Removing underperforming listings
---
7. Revise existing listings
When building a dropshipping business, you will notice that some products generate more sales than others. You will also notice that some products suddenly stop generating sales, more so if you sell on eBay or Amazon. This is mostly due to market changes or increased competition.
That's why it's important to revise your existing listings and keep the content and prices updated. This means checking your old listings on a regular basis and making a few edits to refresh them and boost visibility.
Whether it's changing the title or reducing your price by a few dollars, even the smallest of changes can breathe new life into old products.
Here are some easy ways to quickly revise your listings:
Change the title and add more keywords
Lower your selling price by a few dollars
Upload more images or a product video
Rewrite parts of the product description
Extend the description with more details
---
8. Maintain a good reputation
Whether you sell on eBay or through your own website, maintaining a good reputation is the best way to keep attracting new customers. It's also an excellent way to retain existing customers and build a loyal following.
To do this, it's important to provide excellent customer service and deal with any issues such as returns quickly. If you come across an unhappy customer, make it your mission to resolve the issue to their satisfaction. Good customer service can win over even the most difficult customers.
When possible, you should also request feedback and reviews from your buyers. This can be feedback on a platform like eBay or a product review on your Shopify store. Either way, positive reviews and feedback can drastically increase sales.
---
9. Keep listing more products
If you're new to dropshipping, it's important to stay motivated and keep listing more products on your selling platform, even if you are struggling to generate consistent sales and profits.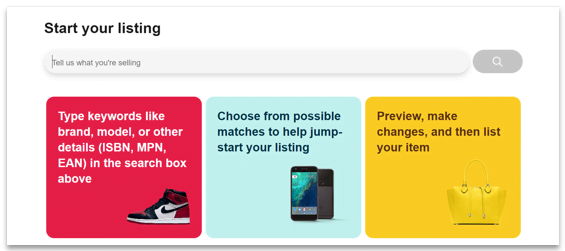 Dropshipping is not a get-rich-quick scheme or an easy way to make money. It's a real business that requires time and effort. You won't find success overnight and you need to be willing to put in the hours.
Even if you're not getting the results you expected, keep listing new products. The more listings you have, the more sales you will make. This is mostly true when selling on marketplaces like eBay and Amazon.
---
10. Run paid ads on social media
If you want to quickly scale your dropshipping business and drive an avalanche of sales, learning how to run ads on social media is recommended. In fact, some of the most successful dropshippers generate millions of dollars by running ads on social media sites like Facebook and Instagram.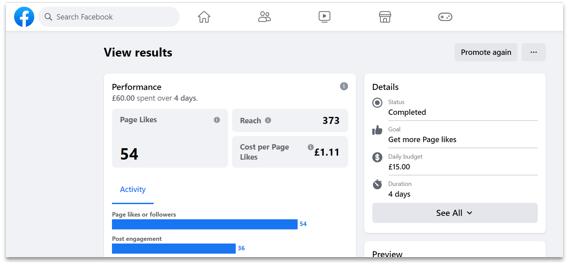 The best way to learn how to drive sales using social media is by browsing YouTube. Here you will find tons of videos on social media marketing strategies and techniques for dropshipping and ecommerce.
---
Frequently Asked Questions (FAQs)
What are some more dropshipping secrets?
To find more dropshipping secrets and tips, make sure you browse our blog. Here you will find a ton of guides and articles on everything ecommerce and dropshipping. This includes tips and strategies to improve your conversion rates, grow sales, and increase profits.
What is the best dropshipping secret to increase sales?
The best dropshipping secret for increasing sales is to run paid ads on social media platforms. This is a guaranteed way to instantly drive more traffic to your listings and store. It's also a technique that some of the most successful dropshippers use to generate massive sales.
However, it's important to learn the latest techniques and strategies before investing in paid ads on social sites. You need to learn how to create campaigns that will return the most profit and results. The best place to do this is YouTube as it has tons of videos on running social media ads for dropshipping.
What is the best dropshipping secret to improve conversions?
The best dropshipping secret to improve your conversions is to write high-quality descriptions. Adding your own unique product images is also a great way to boost your conversion rates.
You can even go a step further by adding a video to your description. Videos have been proven to drastically increase conversion rates with ecommerce. This is because potential buyers get a better look at the product for sale.
Can anyone find success with dropshipping?
Yes, it's possible for anyone to find success with dropshipping, even complete newbies or those with no ecommerce experience. This is mostly because dropshipping does not require you to spend a large amount of money on products to resell. You also don't need to worry about storage, postage, and delivery.
That being said, dropshipping is not a guaranteed way to build a successful online business. In fact, it takes a lot of time and effort to earn a good income with dropshipping, particularly as it grows more competitive.
The key is to stay consistent and motivated, even when things are not going to plan. This means creating more listings, updating existing listings, managing inventory levels, and dealing with customers and problem orders swiftly.
How much can I earn with dropshipping?
You can earn anything from a few hundred dollars to thousands of dollars per month with dropshipping. In fact, some of the most successful dropshippers generate millions of dollars in revenue.
However, it's important to understand that your results depend on your supplier, products, selling channel, and marketing efforts, as well as the amount of time and effort you invest into the business.
---
Final Word
If you want to find success with dropshipping, you need to think outside of the box when it comes to driving traffic and sales.
Hopefully, these dropshipping secrets have provided you with some great techniques to put into action. If you try just a few of the suggestions, you should start to see an increase in orders and sales fairly quickly.