13 eBay Dropshipping Tips & Tricks to Increase Sales in 2023
With hundreds of millions of monthly users, eBay is one of the largest online marketplaces in the world. That's why it's the perfect selling platform for dropshipping and ecommerce beginners.
In this article, I'm going to share 13 powerful eBay dropshipping tips that will help you to increase traffic and sales.
---
1. Write engaging titles
Titles are the most important part of your eBay listings. They are the first thing buyers read when browsing on eBay. They also hold the key to your visibility and positioning in the search results.
Therefore, it's important to write engaging and attractive titles that contain relevant keywords. You should use the full space provided and include as many keywords as possible.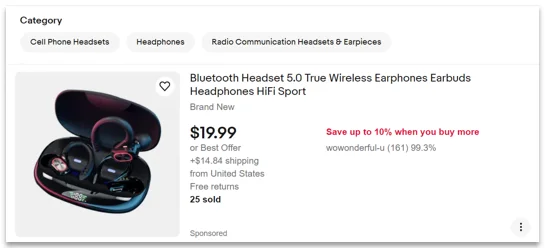 For example, if you're selling a wireless headset, you should use keywords like portable, lightweight, headphones, earphones, earbuds, and any other phrases that buyers might use when searching.
To help you with this, it's recommended to use a free keyword research tool like Google Keyword Planner. This will allow you to quickly find common phrases that buyers input when searching for products online.
If possible, you should also include important item specifics in your titles such as brand, size, style, and compatibility options.
Good product title – Portable Wireless Bluetooth Headphones Earphones Earbuds w/ Microphone for Smartphones
Bad product title – Wireless Earphones Brand New Free Shipping Model P600/N
As seen in the example above, you must avoid including unnecessary information in your titles. You don't need to add things like model numbers, shipping details, or the condition of the item as it will only waste space.
---
2. Create unique descriptions
When dropshipping on eBay, most sellers use the descriptions provided by their supplier. However, creating your own unique descriptions is the best way to increase visibility and stand out from the competition.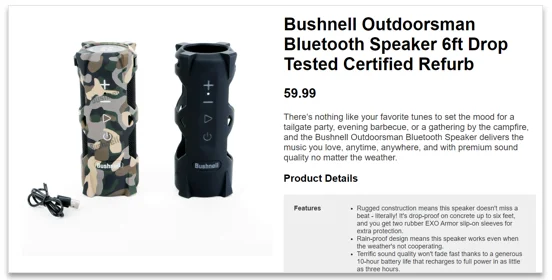 Take your time to write high-quality dropshipping product descriptions that include relevant keywords, item specifics, and key features, as well as details about your company or business.
For inspiration, you can search on eBay for similar products. This will give you some ideas on how to structure your descriptions. Typically, a good description includes a short introduction with a few bullet points.
If you don't have time to write your own descriptions, you can hire a freelance writer or use a content creation service. These days, it's relatively inexpensive to purchase a product description with a few hundred words.
---
3. Add targeted keywords
Adding targeted keywords to your product descriptions is the best way to attract more sales and customers on eBay.
Keywords help eBay to better understand your content. The result is higher rankings in search pages and more exposure. It also means your listings will have a greater chance of being discovered on sites like Google.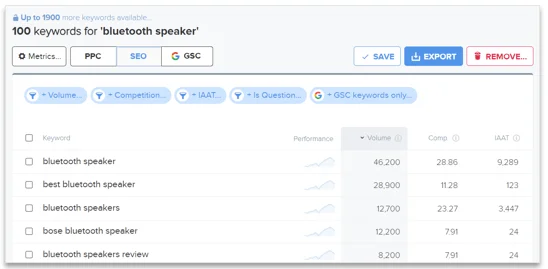 Again, you can use a free keyword suggestion tool to find popular phrases to include in your product descriptions. However, make sure you naturally sprinkle the keywords throughout the product description.
---
4. Use professional images
According to studies, posts that include images produce 650% higher engagement than content with no images. By adding multiple images to your eBay listings, you can drastically increase sales.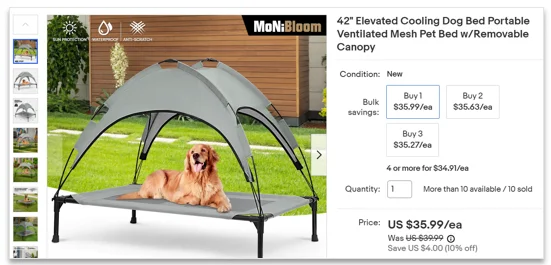 That's why it's important to work with dropshipping suppliers that are able to provide you with professional images. The pictures should be high-resolution and comply with the picture policy outlined by eBay.
If that's not possible, you should consider making your own images. Most suppliers can provide you with product samples to take pictures. Alternatively, you can use an ecommerce photography service or hire a freelance photographer.
One of the biggest benefits of using your own images is that other sellers can't copy them. This gives you a huge advantage as you won't be sharing the same main photo as other sellers. Your listing will stand out in the search results and attract more clicks.
---
5. Include item specifics
Item specifics are product identifiers such as brand, size, style, weight, and measurements. They are used by eBay to help buyers filter the search results and find the right items quickly.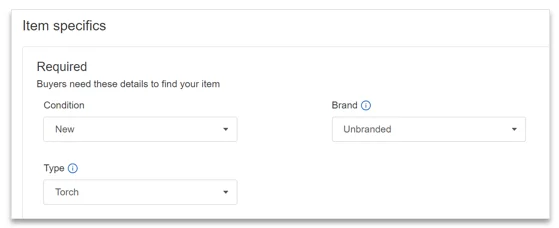 It's mandatory to include certain item specifics in your eBay listings. However, you should try to add as many as possible, even those that are not required. This will make it easier for buyers to quickly scan the features of your products. It's also a good opportunity to add additional keywords to your listings.
The number of item specifics you can add will depend on the type of product you're listing. For example, when listing a torch on eBay, there are more than 20 optional item specifics that you can input.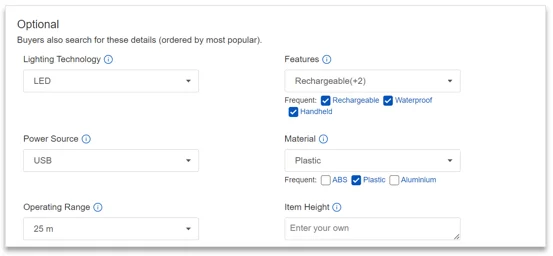 You can add things like lighting technology, features, power source, material, height, and operating range.
Although it takes extra time and effort, adding these details is a must. In fact, every successful eBay dropshipper includes multiple item specifics in their listings. Plus, it makes your listings look more professional.
---
6. Highlight your brand
The best way to build trust with buyers is by adding some details about your business in product descriptions. Even if you're a new seller, you can inspire confidence in buyers by adding an About section.
To get some ideas, study the listings of other sellers on eBay. Most include a few sentences about their company such as background information and details about their shipping or return policies.
You can also outline some of your achievements such as the total number of orders you have processed or the number of years you have been in business.
---
7. Provide fast shipping
For most buyers, shipping times are very important. If you offer slow shipping, it's likely that customers will search for other sellers with faster delivery.
In general, you should offer standard shipping of around 3-5 working days. You may also want to offer express shipping such as next-day delivery or 48-hour delivery for an extra fee.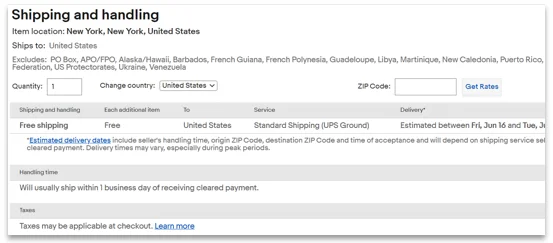 Of course, your shipping times will depend on your dropshipping supplier. That's why it's crucial to choose a company that uses a reliable courier. Alternatively, you can work with an ecommerce warehousing service such as Ship Network. This will provide you with more flexibility and control over shipping times.
---
8. List more products
If you're not generating a lot of sales on eBay, it's important to keep listing new products. In fact, listing new products on a regular basis is essential to growing your eBay dropshipping business.
Remember, you don't need to hold any inventory when dropshipping. This gives you a huge advantage over traditional ecommerce sellers. You can list as many products as you want, without having to purchase additional stock.
If you have selling limits, make sure you use the maximum allowed. You should also request for your limits to be increased whenever possible.
Many dropshippers make the mistake of listing only a few items and expecting immediate sales. However, it takes a lot of time to start earning a good income with eBay dropshipping. If you want to reach this stage, you must stay motivated and consistent with creating new listings.
Make it your goal to list new products every day. Also, branch out into other areas and try not to get stuck in one category or small niche.
---
9. Revise existing listings
When it comes to eBay dropshipping tips, revising existing listings is not something other guides cover. However, it's the most effective way to keep your listings fresh and up-to-date.
At the very least, you should revise the listings that are not getting a lot of views or sales. Making a few changes will refresh the product and show eBay that you're actively maintaining your listings. This can give you a boost in search results and lead to new customers discovering your products.
Whether it's changing the title, switching the main image, or adding some extra text, even small tweaks can breathe new life into stale listings. Better still, you can lower the price, extend the returns policy, or offer faster shipping options.
Editing the title or lowering your price also puts you one step ahead of the competition. It's hard for other sellers to copy your titles or undercut your prices when you are constantly changing them.
---
10. Maintain good feedback
Maintaining a good feedback score on eBay is essential as many buyers only purchase from sellers with a positive rating. A reasonable feedback score can also help you to get more exposure in search results.
The best way to maintain a good feedback score is by providing excellent service and support.  This means processing orders as quickly as possible, keeping your buyers updated, and dealing with issues promptly.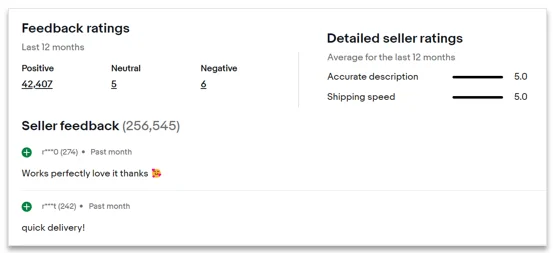 If you receive negative feedback, there are a few things you can do to get it removed. First, contact the buyer and try to resolve the complaint. Once you have worked things out with the buyer, you can send a feedback revision request.
Alternatively, you can report negative feedback to eBay and ask them to remove it. However, eBay will only remove feedback that violates their policies such as comments that include abusive or threatening language.
---
11. Follow-up with buyers
Following up with buyers is a proven way to encourage more sales on eBay. In fact, email marketing can be very powerful for ecommerce, mostly because email is still a leading marketing strategy for businesses.
When an order has been delivered, send a message to the buyer a few days later. Ask them if they were satisfied with the product and service they received. You can do this manually or use eBay messaging software.
You can also use this opportunity to kindly request feedback. Better still, you can tell the buyer about any offers, promotions, or other products you have available.
---
12. Promote your listings
Any guide on eBay dropshipping tips would not be complete without discussing promoted listings. Using promoted listings is an almost guaranteed way to quickly grow your sales on eBay.
Basically, you can promote any of your listings on eBay and they will be placed higher in the search results. It's recommended to promote listings that are not generating a lot of views or sales.
It's very easy to promote your listings on eBay and there are multiple options when it comes to pricing. This includes paying an extra selling fee only after a sale has been generated by the promoted listing.
---
13. Use product videos
It's no surprise that videos are the most popular form of online content. In fact, more than 690,000 hours of video are watched on YouTube every minute.
If you want to improve your conversion rates on eBay, you should consider using videos. They will instantly capture the attention of buyers, encourage more orders, and increase your rankings in search results.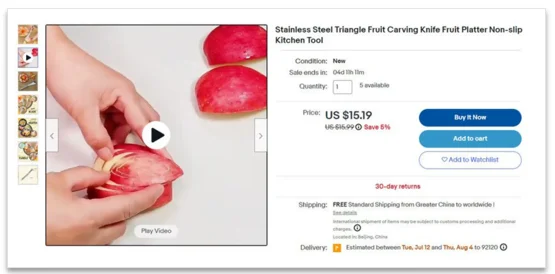 You can ask your supplier for a sample product so you can record your own unique videos. This can be done using a smartphone or an app like TikTok. Alternatively, you can use a dropshipping video ads service or hire a professional video production company.
---
More eBay Dropshipping Tips
The eBay dropshipping tips discussed above are our best recommendations for increasing sales. However, there are a number of other things you can do to grow your business and reach more customers.
Offer free shipping. Offering free shipping is the standard on eBay as most buyers like to view a quick total price. The best way to do this is by adding the price of shipping to your selling price.
Open an eBay store. To save on listing fees and unlock exclusive benefits, you should open an eBay store as soon as possible. Typically, eBay stores can be opened for a fixed monthly fee.
Select a large font. Using a large font for your descriptions has been shown to improve conversions on eBay. It's very easy to increase the font size when adding a description to a listing on eBay.
Use basic language. If you want to keep the attention of buyers, you should use basic language in your descriptions. You should also try to match the tone of the buyer you're targeting.
---
Final Word
Dropshipping on eBay is one of the best ways to make money online. However, if you want to find success with it, you need to think outside of the box and learn the strategies that work.
The tips shared in this guide have provided you with some valuable insights into how to grow your eBay dropshipping business. However, the next step is to take action to start getting results.
That's the end of this article. For more eBay dropshipping tips and free ecommerce guides, make sure you visit our blog.