13 Best WooCommerce Themes for Dropshipping Stores (2023)
Powering millions of online stores, WooCommerce is the most popular plugin for building an ecommerce website using WordPress. WooCommerce is also an excellent choice for launching a dropshipping business.
Here you will find a list of the 13 best WooCommerce themes for building a professional and unique dropshipping store.
---
1. Kadence (Free)
With more than 200,000 users and hundreds of excellent reviews, Kadence is one of the best free WooCommerce themes for building a dropshipping store.
The Kadence theme allows you to effortlessly build a lightning-fast and modern online store using WordPress and WooCommerce. It's highly flexible and packed with a number of cutting-edge features and tools.
In fact, you can easily design and change virtually any part of your store including the header, layout, fonts, sidebar, and more. It works seamlessly with WooCommerce and most dropshipping plugins and software.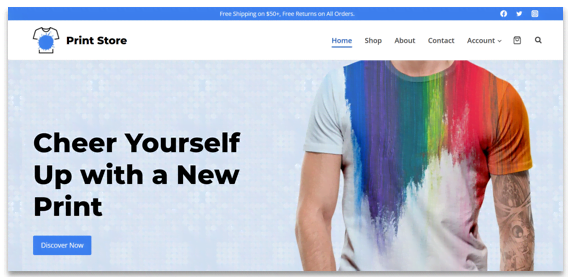 Features
Ultra-modern WooCommerce dropshipping theme
Trusted by over 200,000 users with great reviews
Easy-to-use with number of cutting-edge features
Integrates with WooCommerce and other plugins
Build a truly unique dropshipping store and brand
---
2. Astra (Free)
Astra is an ultra-fast and lightweight WordPress theme that is perfect for building a professional WooCommerce dropshipping store. It's completely free to use with more than 1 million installations and thousands of 5-star reviews.
Everything you need to launch a stunning dropshipping store is at your fingertips. This includes multiple design and layout settings, as well as styling options.
Astra also has a number of unique features for WooCommerce such as dedicated sidebars, product filters, sales badges, and a dropdown shopping cart.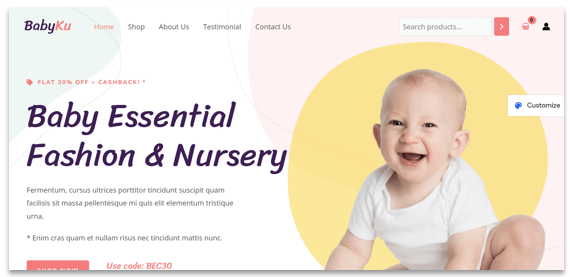 Features
One of the most popular themes for WooCommerce
More than 1 million active WordPress installations
Ultra-fast and lightweight with unmatched speeds
Simple to use with an intuitive drag-and-drop editor
Unique features for using with WooCommerce stores
---
3. Shoppe (Free)
Shoppe is a multi-purpose WooCommerce theme that allows anyone to build a high-quality dropshipping store in minutes.
The theme comes with a drag-and-drop builder, as well as many powerful features for ecommerce stores including a product search, quick view, Ajax cart, and wishlist.
You can build almost any layout imaginable or choose from more than 60 pre-designed options. The simple editor makes it easy for even beginners to create a professional store for dropshipping products to customers around the globe.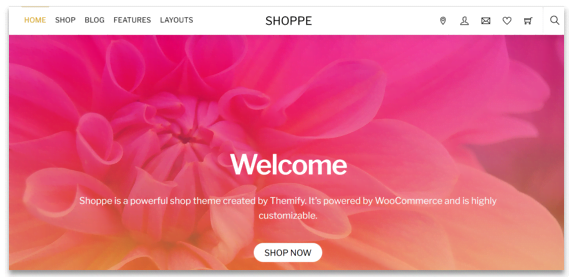 Features
Leading WooCommerce theme made for beginners
Includes everything you need to start dropshipping
Simple drag-and-drop builder to create any layout
More than 60 pre-designed options to choose from
Features ajax cart, wishlist, quick view, and zoom
---
4. Superb eCommerce (Free)
Superb eCommerce is a simple and easy-to-use WordPress theme that was specifically designed for building an online store.
It's fully compatible with WooCommerce and very flexible, allowing you to create the design you want. If you don't feel like making your own design, you can automatically generate a complete layout in just one-click.
The free version has everything you need to build a WooCommerce dropshipping store, whereas the premium version has more advanced features such as refined templates, custom fonts, demo content, multiple blog layouts, header widgets, and more.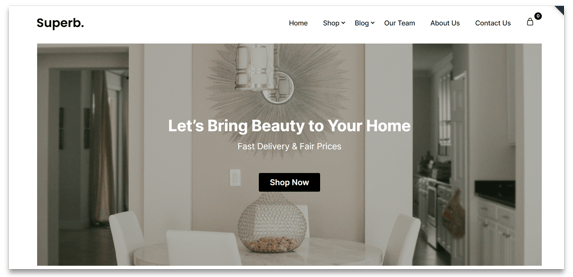 Features
Simple and beautiful WordPress theme for ecommerce
Quickly integrates with WooCommerce and all plugins
Custom logo, header, menu, and navigation options
Perfect for building a dropshipping site from scratch
Free version with budget-friendly premium plans
---
5. Shoptimizer (Paid)
Shoptimizer is another fast and reliable WooCommerce theme that comes with a ton of features to help you convert more users into buyers.
Understanding that a slow website can frustrate customers, Shoptimizer has built-in features for superior loading times and high conversion rates. This includes options to simplify the checkout process and reduce unnecessary code.
As Shoptimizer is a premium theme, you can expect the most advanced features with exceptional customer support. In fact, Shoptimizer guarantees speedy responses and detailed documentation that's easy to follow.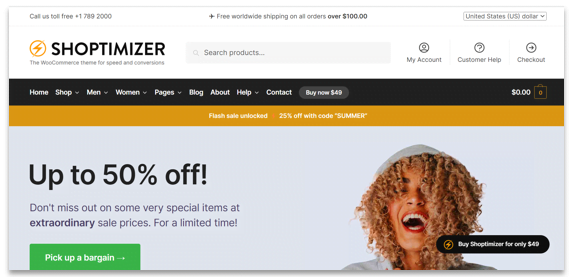 Features
One of the best premium WooCommerce themes
More than 10,000 customers with great reviews
Designed for speed and high conversion rates
Perfect for building an online dropshipping store
Tons of features including simplified checkout
---
6. OceanWP (Free)
Trusted by major sites including Hubspot and Cloudways, OceanWP is a well-established WordPress theme. It's suitable for building an ecommerce website including a dropshipping store with WooCommerce.
With the OceanWP theme, you can create custom headers, footers, and page sections. You can also control the layout of your homepage and enable or disable sections with just a few clicks. Plus, it comes with powerful features for WooCommerce including flexible page styling options and multiple checkout layouts.
Better still, it's completely free to download and install the OceanWP theme on your blog. The premium version is optional and includes many exclusive benefits.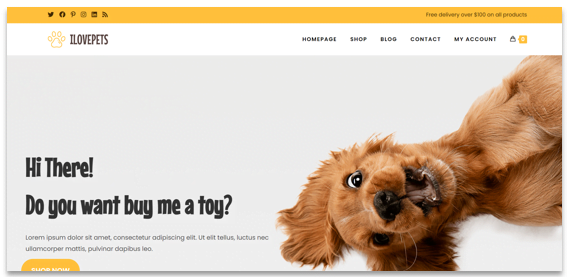 Features
Established and popular theme for WooCommerce
Suitable for building dropshipping stores and more
Trusted by major companies including Cloudways
More than 5 million downloads and great ratings
Packed with innovative features and premium tools
---
7. Storesy (Paid)
Storesy is an elegant WordPress and WooCommerce theme with a modern design to make your store stand out from the crowd.
It's very minimalistic with easy-to-use options and settings. This makes it ideal for those with no web design experience as you won't need to learn to code. You can change everything including the header, layout, menu, and fonts with ease.
Plus, the Storesy theme comes with pre-designed pages that allow you to build your store in record time. The site will be responsive and look fantastic on any device.
Features
Elegant theme for WordPress and WooCommerce
Low-cost with incredible features and fast support
No complicated settings or overwhelming options
Quickly edit the design and branding of your store
Includes pre-designed pages to create any content
---
8. GeneratePress (Free)
GeneratePress is another free WordPress theme that integrates with WooCommerce and all third-party plugins or extensions.
As with many of the themes listed in this guide, GeneratePress is very lightweight and fast. In fact, with minimal requests and zero dependencies, it's one of the quickest WordPress themes on the market.
GeneratePress also has an extensive library of professionally designed layouts that can be loaded onto your site in seconds. This includes more than 10 ecommerce designs that would make a stunning dropshipping store.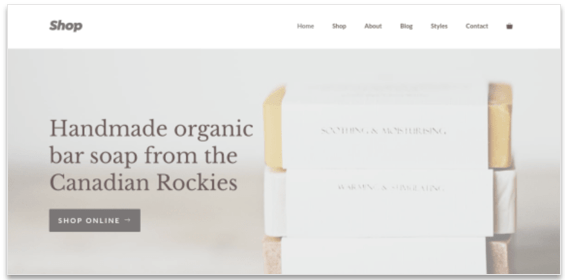 Features
Fast and lightweight theme for WordPress websites
Integrates with WooCommerce and all other plugins
Library of professionally designed ecommerce layouts
More than 4 million downloads and over 1000 reviews
Completely free theme with optional premium version
---
9. eStore (Free)
Used by more than 10,000 websites and counting, eStore is a featured-packed WordPress theme that was expertly designed for integration with WooCommerce.
The free version includes all of the basics you need to build a unique dropshipping store that matches your brand. This includes multiple global styling options, custom sidebars, and various layout settings.
What's more, the eStore theme has excellent performance with blazing-fast loading times and full compatibility with all major browsers.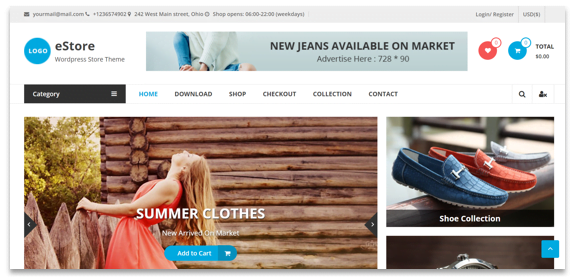 Features
Top-rated WordPress and WooCommerce theme
Fantastic option for building a dropshipping store
Exceptional performance was blazing-fast speeds
Custom header, footer, menus, layout, and more
Premium version with more advanced settings
---
10. Neve (Free)
Neve is a versatile WordPress theme that provides enhanced WooCommerce functionality with its dozens of industry-leading features.
The theme is highly extensible and simplistic with a beautiful layout and design. It's also constantly updated with new features to keep it fresh and modern.
A few of the settings you can enable for your WooCommerce dropshipping store include a product quick view, floating cart, cart notifications, store filters, and more. Many more features and possibilities are available with the low-cost premium version.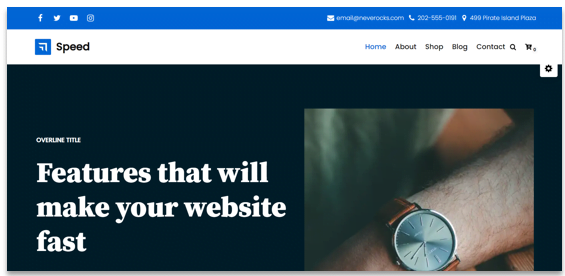 Features
Sleek and simplistic theme for WordPress sites
Popular choice for using with WooCommerce
Many features for building a dropshipping store
Includes product quick view, floating cart, etc.
Well-maintained theme and regularly updated
---
11. Storefront (Free)
Storefront is the perfect free WordPress theme for creating a steadfast and robust dropshipping store. In fact, the Storefront team was developed by core WooCommerce developers, making it an incredibly reliable choice.
It features a bespoke integration with WooCommerce and several layout options, as well as multiple widget sections and a responsive design.
Plus, the Storefront theme is compatible with all WooCommerce extensions and add-ons. This provides you with an almost unlimited number of options for adding additional features to your dropshipping store.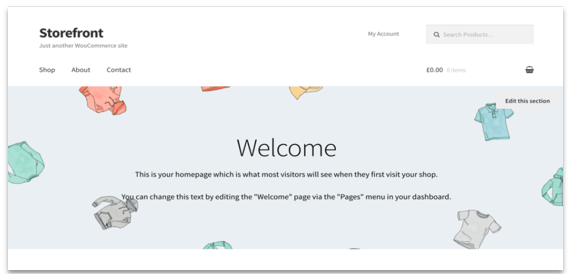 Features
Free theme created by WooCommerce developers
More than 200,000 active WordPress installations
Bespoke integration with WooCommerce websites
Responsive layout and enhanced SEO performance
Ecommerce-focused homepage with unique design
---
12. Botiga (Free)
Botiga is a creative and free WordPress dropshipping theme that is trusted by more than 10,000 websites and stores. It integrates with WooCommerce and helps to showcase your products in a clean and minimalistic design.
With Botiga, you can easily design the dropshipping store you've always wanted. It has endless options and settings, allowing you to change the look and feel of your website in just a few clicks.
It also features an intuitive header and footer builder. Simply drag-and-drop pre-defined widgets such as search, logo, and social icons to the way you want them.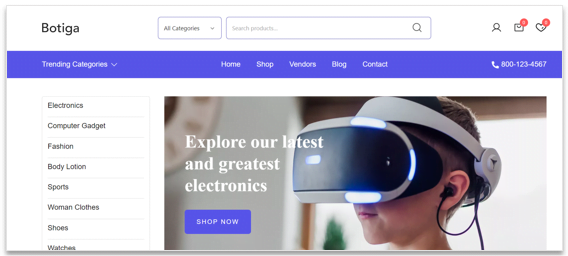 Features
Creative and free-to-use WooCommerce theme
Easily design a professional dropshipping store
Drag-and-drop widgets to create a great header
Multiple gallery styles to showcase your items
Different checkout styles to boost conversion
---
13. WebShop (Paid)
WebShop is a clean and stylish WooCommerce theme that allows you to create a dropshipping store to sell any type of product.
The theme is available to purchase directly from the WooCommerce website and features a beautiful design with practical navigation and minimal distractions. It's also set on a background of open white space, making it look neat and trendy.
On top of the sharp design, WebShop is well-coded following the most up-to-date standards. This makes it very fast and reliable, as well as SEO-friendly.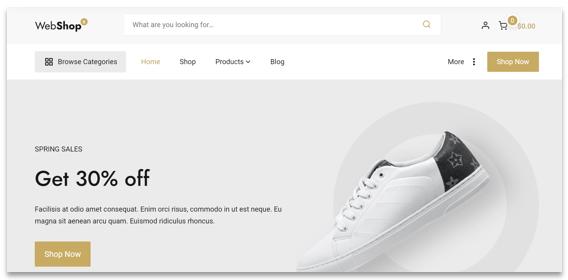 Features
Clean and trendy theme for WooCommerce sites
Modern design on a background of white space
Suitable for dropshipping gifts, toys, and more
Well-coded to the latest standards for speed
Premium theme with fast and helpful support
---
Frequently Asked Questions (FAQs)
What is a WooCommerce dropshipping theme?
A WooCommerce dropshipping theme is a WordPress theme that allows you to build a fully-functional online store using WooCommerce. You can then use the store to start dropshipping products directly to customers.
Essentially a collection of files, a WooCommerce dropshipping theme creates the foundation of your website and allows you to change the appearance of your store. This includes the page layouts, fonts, header, footer, sidebars, and more.
How do I choose a WooCommerce dropshipping theme?
When it comes to choosing a WooCommerce dropshipping theme, it really just depends on your own personal preferences. However, there are some essentials that you need to look for in a WooCommerce dropshipping theme.
Lightweight and fast. Having a fast store is essential to boost your dropshipping conversion rate and increase search engine visibility.
WooCommerce integration. Naturally, your dropshipping theme must be fully compatible with the WooCommerce plugin.
Plugin compatibility. Before installing any theme, make sure it's compatible with essential plugins for security, speed, and SEO.
Responsive design. It's no secret that mobile commerce is rapidly growing. that's why your theme must be responsive and work great on any device.
Easy to use. If you're new to WordPress or don't have experience with coding, it's essential that your theme is easy-to-use.
Regularly updated. It's always important to choose a theme that is well-maintained and routinely updated to keep it secure and stable.
Good customer support. Having access to customer support to help you solve technical issues or bugs with your theme is a must.
What is the best free WooCommerce dropshipping theme?
Kadence is the best free WooCommerce dropshipping theme as it's featured-packed, easy-to-use, and very lightweight. The Kadence theme is also constantly updated and well-maintained with an exceptional customer support team.
That being said, many of the WooCommerce dropshipping themes listed in this guide are excellent candidates for building a dropshipping store. It's recommended to install a few different themes to find one that suits your needs. Most of them are free to use, so you won't need to pay any fees to test them out.
How do I install a WooCommerce dropshipping theme?
The easiest way to install a WooCommerce dropshipping theme is through the WordPress dashboard. Simply navigate to the Appearance > Themes section.
Here you will be able to search for a theme and install it directly on your website. Alternatively, you can upload a theme from your computer. To upload a theme, you will need to download it from the website of the provider.
What is the best alternative to WooCommerce dropshipping?
Shopify is the best alternative to dropshipping on WooCommerce as it's very inexpensive and offers an all-in-one solution including hosting.
That being said, there are many other ecommerce platforms you can use to build a dropshipping store. This includes companies such as Ecwid and Shift4Shop. Please read our guide on the best dropshipping website builders to learn more.
---
Final Word
When it comes to choosing a WooCommerce theme for your dropshipping store, it's important to find a reliable and knowledgeable provider.
Your theme can directly affect the success of your dropshipping business. It should be lightweight, fast, and robust with all of the essential features you need.
The WooCommerce themes shared in this guide are the most popular for building a dropshipping store. By using one of the options, you can be sure that you're store will be modern, flexible, reliable, and high-quality.