Best AliExpress Dropshipping Tools in 2023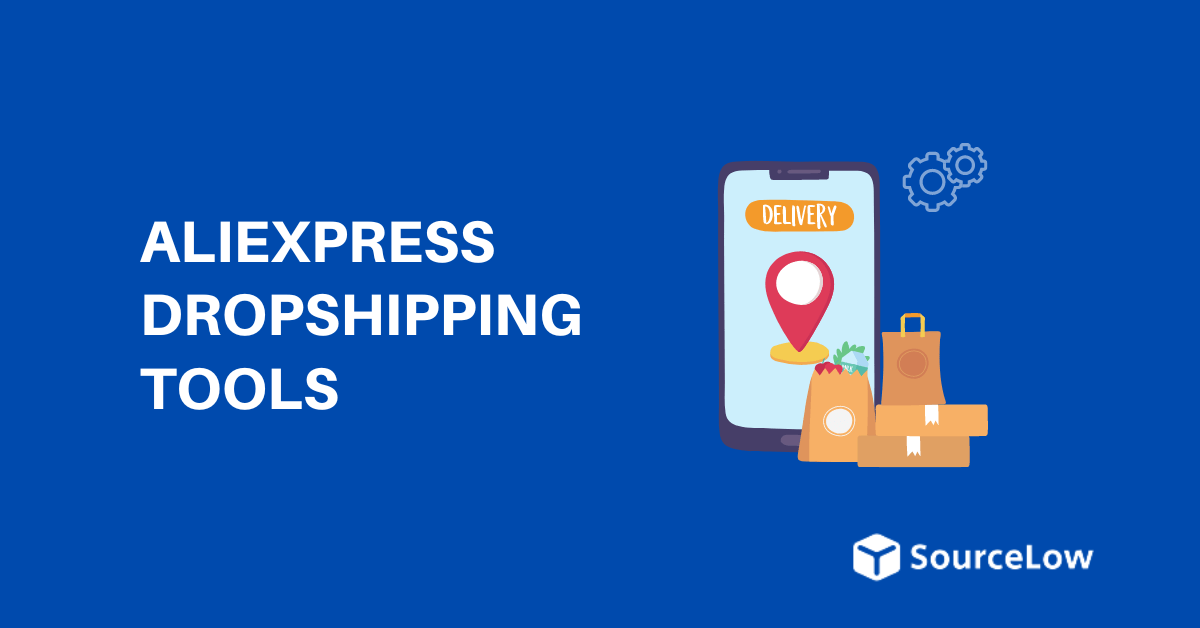 Disclosure: We may earn a commission or fee from some of the links in our content. However, this does not affect our recommendations. Learn more.
With millions of products and multiple warehouses, AliExpress is one of the most popular platforms for dropshipping.
Here you will find a list of the best AliExpress dropshipping tools for creating listings and automating inventory management on multiple ecommerce selling channels including eBay, Shopify, WooCommerce, and BigCommerce.
---
1. AutoDS
AutoDS is a powerful dropshipping tool that is fully compatible with AliExpress and includes a number of cutting-edge features including one-click product importing, real-time inventory monitoring, and automated order processing.
With pricing starting at less than $10/month, AutoDS is also one of the most budget-friendly AliExpress dropshipping tools on the market.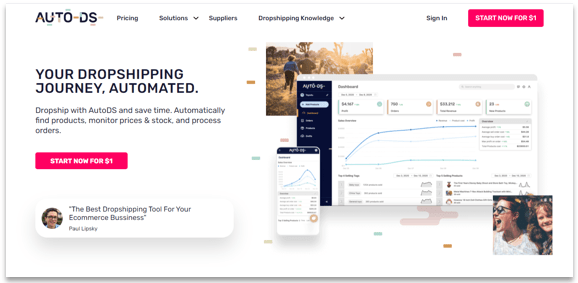 Features
Powerful dropshipping automation and sourcing platform
Compatible with multiple suppliers including AliExpress
Directly integrates with eBay, Shopify, and Facebook
Rated 4.7 from more than 500 users on Trustpilot
---
2. DSers
With a free plan for 3000 listings and unlimited monthly orders, DSers is the most suitable AliExpress dropshipping tool for those on a budget.
Packed full of innovative features including a Chrome browser extension, bulk order processing, and automated order synching, as well as auto repricing and tracking uploads, DSers is quickly becoming the most affordable alternative to other AliExpress dropshipping tools.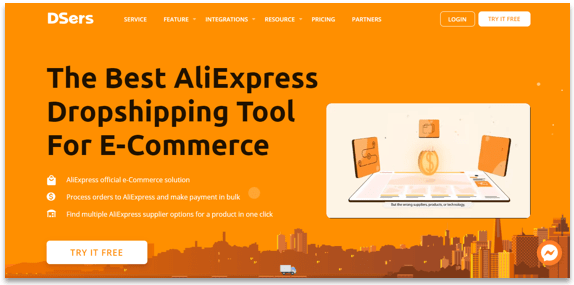 Features
Most competitively priced AliExpress dropshipping tool
Free plan for importing up to 3000 winning products
Includes Chrome extension and bulk order processing
Fully compatible with Shopify and WooCommerce
---
3. Dropified
Dropified is a reliable and efficient dropshipping software for selling AliExpress products on popular ecommerce channels including Shopify, WooCommerce, and BigCommerce.
With Dropified, you can quickly research and import best-selling AliExpress products to your online store using an innovative Chrome browse extension. Dropified also features automated repricing, product ordering, and tracking info uploads.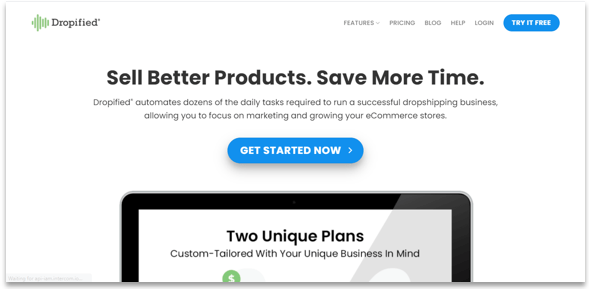 Features
Powerful AliExpress dropshipping automation tool
Integrates directly with Shopify and WooCommerce
Chrome browser extension for importing products
Automatically process customer orders on AliExpress
---
4. AliDropship
AliDropship is the most popular plugin for dropshipping AliExpress products through a WooCommerce or WordPress-powered store.
AliDropship provides an all-in-one solution for finding and listing winning AliExpress products, as well as auto-updating product data and placing orders on AliExpress. The plugin costs only $89 and includes lifetime updates and expert technical support.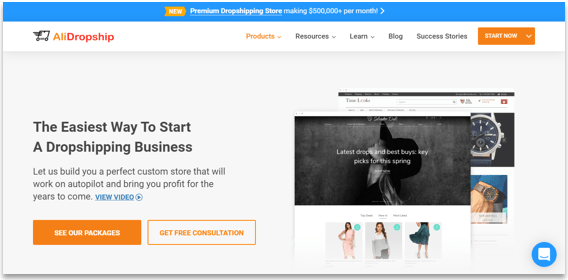 Features
Most popular AliExpress plugin for WordPress
Import unlimited winning AliExpress products
Auto updating of product data including prices
One-time fee with lifetime updates and support
---
5. Hustle Got Real
Hustle Got Real is an advanced automation solution for dropshipping low-cost products from multiple suppliers including AliExpress on eBay, Amazon, Shopify, WooCommerce, and more.
In fact, Hustle Got Real allows you to build a completely automated and fully scalable AliExpress dropshipping business. The software even has a non-API version for eBay. Using non-API eBay dropshipping software has been proven to drastically increase sales and traffic.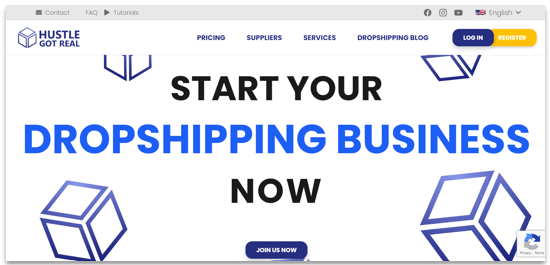 Features
Advanced dropshipping solution for eBay and more
Source from multiple suppliers including AliExpress
List thousands of top-selling products in a few clicks
Fully automated repricing and order processing
---
6. Ali2Woo
Ali2Woo is an ultra-modern WordPress plugin designed specifically for dropshipping AliExpress products through a WooCommerce website.

Simply install the plugin for free and instantly start importing products from the AliExpress marketplace. The premium version includes additional features such as automated inventory updating, stock notifications, and priority customer support.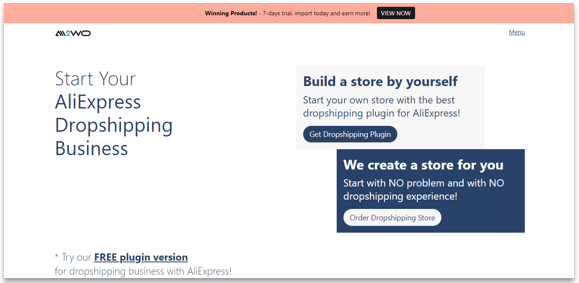 Features
Popular AliExpress dropshipping plugin for WooCommerce
Free version for importing unlimited AliExpress products
Premium version with full stock and price automation
Custom AliExpress dropship store building service
---
7. KalDrop
With thousands of users and millions of imported products, KalDrop has earned its reputation as the most reliable non-API tool for dropshipping AliExpress products on eBay.
KalDrop uses the most advanced technology to seamlessly dropship on eBay and allow for direct importing of best-selling products from trusted AliExpress suppliers. KalDrop is also a very inexpensive dropshipping tool costing less than $20/month for unlimited imports.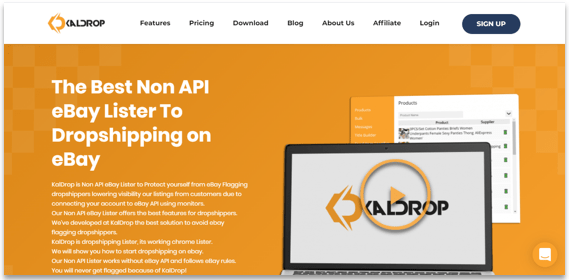 Features
Popular tool for dropshipping from AliExpress to eBay
Thousands of users and millions of imported products
$1 trial with access to all features for a full 7 days
Unlimited product imports for less than $20/month
---
8. Easync
Easync is a featured-packed AliExpress dropshipping tool that allows you to quickly find and list AliExpress products on eBay or Shopify.
From a powerful Chrome lister extension to automated repricing, order processing, and tracking info uploads, Easync has everything you need to build a successful dropshipping business. The free trial allows you to try the platform for a full 10 days, without paying a cent.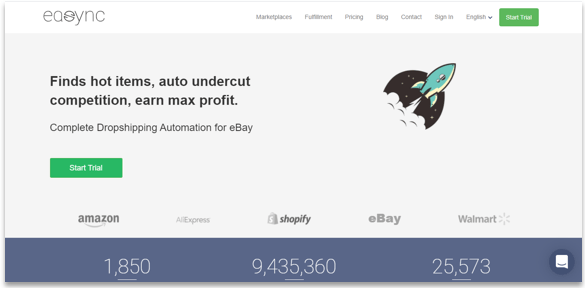 Features
Reliable AliExpress research and dropshipping tool
Over 10 million monitored eBay/Shopify listings
Fully automated repricing and order processing
10-day free trial to test out all of the features
---
9. PriceYak (Free)
PriceYak is a completely free dropshipping solution that allows you to list an unlimited number of products from AliExpress to eBay, Amazon, or Shopify.
Unlike most dropshipping automation platforms, PriceYak only charges a small $0.10 fee per listing for repricing. You can literally import thousands of AliExpress products to your selling channel without paying a single cent.
Features
One of the best free dropshipping software solutions
Import unlimited products without paying anything
Compatible with eBay, Amazon and Shopify stores
Low $0.10 fee per listing for automated repricing
---
Frequently Asked Questions (FAQs)
The following FAQs cover the most common questions related to using an AliExpress dropshipping tool. If you have any questions regarding the individual tools mentioned in this guide, be sure to visit the website of the provider for more dedicated support.
Why dropship from AliExpress?
AliExpress is one of the best platforms for dropshipping as it has millions of low-cost products, thousands of trusted suppliers, and over a decade of experience. Whether you want to sell electronics, clothing, or pet supplies, AliExpress has products in every top category.
AliExpress also has a growing network of suppliers with international warehouses in the US, UK, and EU. Therefore, you can start dropshipping the goods on platforms such as eBay or Amazon and offer fast local shipping to your customers.
Another benefit of dropshipping from AliExpress is having access to the Dropship Center, an exclusive area of the AliExpress dashboard where you can study any AliExpress product, as well as browse a database of best-selling items.
Is dropshipping from AliExpress allowed?
Yes, dropshipping from AliExpress is allowed. In fact, AliExpress makes it easy for business-to-business sellers to quickly find products using the Dropship Center. AliExpress also provides exclusive dropshipping discounts of up to 6% or more on B2B orders.

Dropshipping is a completely legal and legitimate business model that is accepted on most ecommerce selling channels including eBay, Amazon, WooCommerce, and Shopify. Millions of sellers including some renowned global retailers use the dropshipping model.
Why use an AliExpress dropshipping tool?
Using a dropshipping tool is essential if you want to build a fully scalable AliExpress dropshipping business. Most AliExpress dropshipping tools allow you to automate a number of essential tasks including inventory updating, order processing, and tracking info uploads.
Therefore, you can quickly start listing thousands of AliExpress products on your store or marketplace, and the dropshipping tool will automatically monitor, reprice, and update your listings. You won't need to worry about items changing in price or running out of stock.
AliExpress dropshipping tools also typically include some form of product lister such as a web app or Chrome browser extension. Instead of manually creating listings, you can instantly import AliExpress products and all data including images to your selling channel.
Quite simply, if you're looking to streamline your AliExpress dropshipping business and avoid selling products that have changed in price or gone out of stock, using a tool is a must.
How do AliExpress dropshipping tools work?
In most cases, the AliExpress dropshipping tool will connect or integrate directly with your selling channel through the use of a plugin, app, or browser extension. Once connected, the tool will be able to create listings on your behalf, as well as edit inventory and prices.
Most AliExpress dropshipping tools will allow you to set pricing rules or formulas for calculating selling prices and profit margins. You will also be able to set 'out of stock' rules to prevent over-selling and ensure you always earn a profit on sales.
When it comes to repricing listings, the AliExpress dropshipping tool will either sync your listings with AliExpress in real time or regularly monitor the products for changes in price or stock. If changes are detected, the software will automatically update your listings.
What to look for in an AliExpress dropshipping tool?
With so many options to choose from when it comes to AliExpress dropshipping tools, it's important to get a grasp on what to look for. Here's a short list of the most essential features any AliExpress dropshipping research tool should have.
Bulk or fast listing. Creating professional listings is the first step towards building a successful AliExpress dropshipping business. Your tool should have an efficient way to quickly create bulk or individual listings on your selling channel using a modern format.
Automated inventory updates. It's essential for your AliExpress dropshipping tool to regularly monitor and automatically update stock and prices to prevent over-selling. In general, the tool should reprice products at least once per day.
Automated order processing. As you begin to scale your business by creating thousands of listings, processing customer orders will require a significant amount of time and manual input. Your tool should have an option to enable automated product ordering.
Can I dropship from AliExpress without a tool?
Absolutely. You can start dropshipping from AliExpress without using a tool by simply finding products and listing them on your selling channel for a higher selling price. If you have a small number of listings, you can do regular stock checks manually.
However, if you want to list a large number of AliExpress products or if you want to automate processes such as placing orders on AliExpress, using a tool is recommended. It's the most efficient way to manage inventory and prices.
Many of the AliExpress dropshipping tools listed in this guide have some form of free version or trial period. Perfect for newbies or online sellers with a small budget, you can start listing AliExpress products without having to invest a single cent.
How do I choose AliExpress products to dropship?
When it comes to choosing AliExpress products to start dropshipping, research is key. It's better to have 10 hot-selling items than 1000 random products that could either be a hit or a miss. In fact, just one fast-moving product could generate thousands of dollars in profit.
Thankfully, there are a number of free AliExpress research tools that allow you to quickly find winning dropshipping products. FindNiche, AliInsider, and Product Mafia are just a few examples of trusted AliExpress research tools with free versions or plans.
The Dropship Center provided by AliExpress is also a powerful resource for finding top-selling products. It's completely free to use and includes a curated database of best-sellers, as well as a tool for instantly researching the sales and performance of any AliExpress product.
What are some AliExpress dropshipping alternatives?
There are a number of alternatives to AliExpress for dropshipping. Banggood, CJ Dropshipping, and SaleYee are just a few examples of AliExpress dropshipping alternatives with local US, UK, and EU-based warehouses for faster global shipping.
Although AliExpress has an unmatched range of low-cost products, most of them are shipped from China. Therefore, shipping can take weeks and larger items are often subject to import duty and taxes that could negatively impact your business and profit margins.
That's why so many dropshippers are turning to alternative China dropshipping suppliers with local warehouses and faster shipping. In saying that, AliExpress has recently experienced a growing number of sellers with shipping directly from international warehouses.
---
Final Word
Hopefully, this guide has helped you find a reliable AliExpress dropshipping tool for your ecommerce selling platform. Be sure to research each provider to determine which would be the most suitable option based on your budget and needs.
Many of the tools provide a free trial or free version. Therefore, you can try multiple solutions to find the best solution for your business, without paying any fees.
If you're looking for more options, please view our other blog posts and guides. We have many detailed articles on the best dropshipping tools, suppliers, and strategies.