Banggood Dropshipping: A Step-By-Step Guide in 2023
With 37 global warehouses and more than 200,000 products, Banggood is one of China's largest ecommerce companies. From tech gadgets to homeware and kids toys, Banggood has a massive range of high-quality products with ultra-fast shipping from local warehouses.
However, even with it's massive buying power and exclusive dropshipping program, Banggood is still a relatively unknown supplier in the product sourcing industry. Most people dropship from popular online marketplaces such as AliExpress or Alibaba.
With Banggood, you can offer your customers a superior service which includes fast and free global shipping. You can also take advantage of true wholesale prices, exclusive tiered discounts and powerful dropshipping tools such as direct integration with eBay and Shopify.
In this step-by-step guide, I'm going to show you how to build a successful dropshipping business using Banggood as your supplier. From choosing products to creating listings, optimising titles and maximising profit margins, I'll take you through the entire process.
---
Step 1. Join Banggood
While Banggood is a traditional retailer, it has a specialist dropshipping program for trade-only buyers. The program includes many exclusive benefits such as discounted trade pricing, free automation tools and custom shipping invoices.
The first step towards launching your business is to join the Banggood dropshipping program.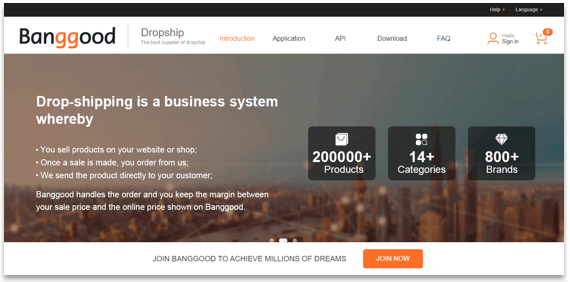 Simply head over to the Banggood dropshipping program page, create a new account and complete the short application form. Once approved, you'll be able to login and access the private Banggood Dropship Center from within your user dashboard.
In most cases, your application will be reviewed and approved within a few days.
From within the Dropship Center, you can download product information, browse top selling products and manage orders, as well as take advantage of the free automation tools including direct integration with eBay, more of which will be discussed later in the guide.
Additional features of the Dropship Center include a regularly updated list of sold out products, one-click bulk exporting of product data and the innovative Banggood API Center.
---
Important: Understanding Dropship Levels
The Banggood dropship program has 4 different membership levels, each of which include varying discounts. For example, the Pre-VIP level includes an automatic 5% discount which is applied at checkout, whereas the VIP level includes a 7% discount.
The highest level is VVIP which includes a massive 15-20% discount. New members of the dropship program will start at the basic Pre-VIP level with an automatic 5% discount at checkout.
However, if you can produce a large number of monthly orders while maintaining a low returns rate, you will naturally progress through the levels and achieve higher discount percentages. Please refer to the table above for full details.
---
Step 2. Choose a Niche
The key to success with Banggood dropshipping is to create a unique brand that focuses on a specific product type or niche. For example, a women's clothing or gaming accessories store.
Banggood has literally thousands of products in more than 14 main categories and hundreds of sub-categories. Take your time to evaluate the options and choose a category or niche on which you have some general knowledge.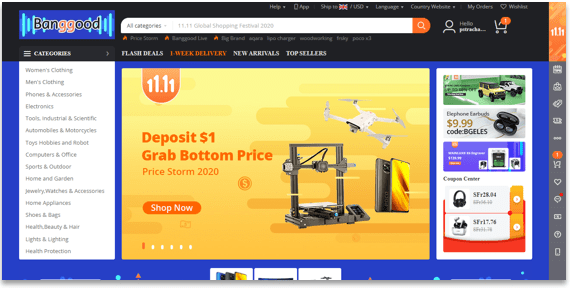 A few additional tips to consider when choosing a niche include:
Make sure Banggood has an adequate range of products in your niche
Stick with small, low-cost items which are easy to ship, stock and return
Avoid valuable, fragile or bulky items with high shipping fees and more risk
Check the local Banggood warehouses to confirm stock availability
Pick a niche that genuinely interests you e.g. golf or fitness
---
Step 3. Create a Brand
Once you've chosen a niche or category focus on, the next step is to come up with a catchy brand name. Your brand name should be relevant to the type of products you're selling, but not too specific that it limits your potential.
For example, let's say I've decided to start selling camping accessories. CampMax, UltraCamp and CampPlus are short, sweet and highly brandable names, perfect for attaching to products and making them my own.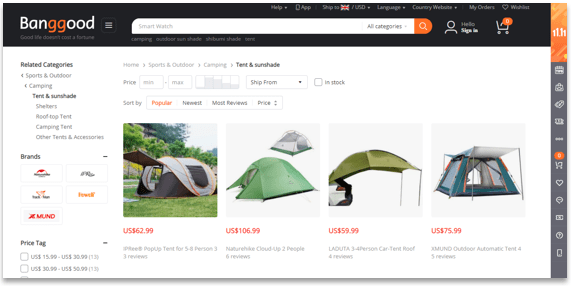 Banggood sells a vast range of both branded and unbranded products. One of the advantages to selling unbranded products is being able to attach your own brand name to them.
Known as private label dropshipping, attaching your brand to an unbranded product is a powerful way to increase sales and stand out from the competition.
Therefore, it's important to take your time when coming up with a short and catchy name. It needs to have a sense of professionalism, authority and trust.
A few additional tips to consider when choosing a brand name include:
Try a business name generator or domain name availability search tool
Research other brands or companies that sells similar products
Make sure the name is not already taken or trademarked
Keep it short, catchy and relevant to your products
Avoid keyword stuffing or generic, long-tail terms

Try not to make it too specific to one niche
---
Step 4. Pick a Selling Platform
Now that you have a great brand name and a clear understanding of the type of products you want to sell, it's time to choose a selling platform.
From third party marketplaces such as eBay and Amazon to building your own ecommerce website, there are several options when it comes to dropshipping Banggood products.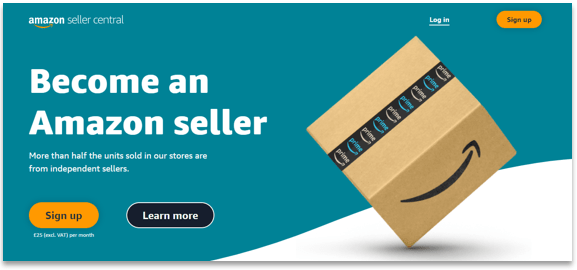 While selling on marketplaces can bring in quick and consistent sales, building your own online store is the more viable long-term strategy as it gives you much more control and flexibility.
You also won't need to worry about selling limits, payment holds or the high selling fees attached to third party marketplaces.
From Shopify and WooCommerce to 3dcart, BigCommerce and Magento, there are several low-cost online store builders which allow anyone to quickly launch an ecommerce store, without having to learn complex coding or web design skills.
You can literally have a professional and stunning online store up and and running in a matter of hours.
Tip: As a newbie, it's important to sell on multiple platforms to maximise your sales. Ultimately, your goal should be to build your own website and sell on multiple marketplaces simultaneously, possibly with the help of multi-channel selling software.
The more channels you're dropshipping Banggood products on, the more sales you will make.
---
Step 5. Consider Automation Software
While this step is optional depending on your budget and selling strategy, investing in automation software is highly recommended as soon as you can afford it.
Considered an essential tool for building an efficient, lucrative and highly scalable dropship business, automation software will allow you to streamline the most important aspects of your dropship business. From creating new listings to tracking orders and automatically managing inventory, the software will handle it all.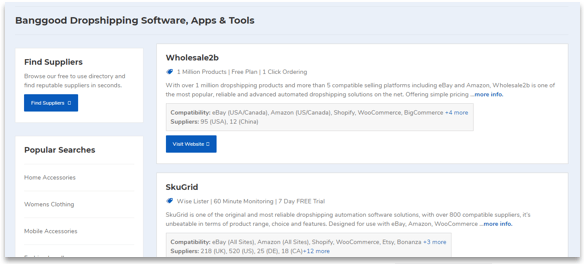 Furthermore, automation software will help you to avoid over-selling and ensure you always earn a profit on sales. You won't find yourself selling out of stock products or products which have drastically raised in price.
In most cases, the software can even automatically process orders on your behalf, as well as upload tracking information and send auto updates to customers.
Whether you're planning to sell on eBay, Amazon or your own website, there are several automation software solutions which are fully compatible with Banggood.
Please refer to our comprehensive list of the best dropshipping software solutions for more information. You can be sure to find a software which is compatible with Banggood and your chosen selling platform.
Tip: The best way to manage inventory across all channels is by using automation software to list Banggood products on your online store, and then using multi-channel selling software to seamlessly sync your listings, inventory and prices across all channels including eBay and Amazon.
---
Step 6. Research Products
Choosing the right products to sell is the quickest way to maximise your sales. Doing some basic keyword and competitor research will help you to discover popular and in-demand products which are attracting a lot of attention.
Whether it's the latest tech gadget or another trending novelty toy like fidget spinners, finding those winning products is the key to long-term success with Banggood dropshipping. A few tips to consider when researching products include: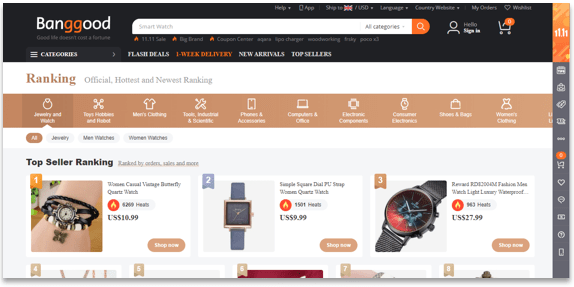 Use a keyword research tool to determine popularity and monthly search volumes
Research Banggood top sellers and eBay best-selling items to spark some ideas
Check the Banggood Top Selling Report from within the Dropship Center
Use eBay's predicted search bar to find out what's hot right now
Try a product research tool or winning dropship products database
---
Step 7. Start Listing
When it comes to creating listings, writing your own custom descriptions is essential if you want to stand out from the crowd.
Most unbranded Banggood products have very basic or poorly written descriptions which could be significantly improved with a few tweaks. Take the time to write a few sentences of unique content and add some key features or specifications.
Banggood has multiple distribution warehouses across the globe including in the US, UK and EU. Therefore, you should ideally search for items which are available for dispatch from a local warehouse in order to offer faster shipping times to your customers. When browsing the Banggood website, simply use the Ships From filter to narrow down the results.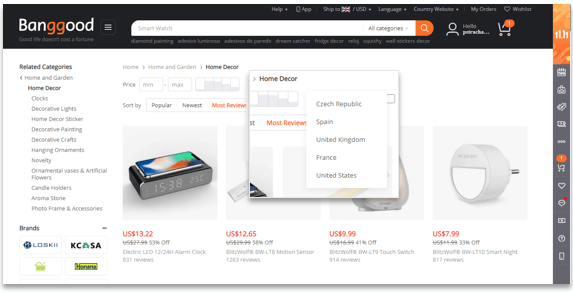 You should also spend time creating a long-tail and keyword optimised title to improve your chances of being found organically within search results, particularly when selling on marketplace. Learning ecommerce SEO techniques is the most powerful way to drive free traffic to your listings.
If you're listing an unbranded Banggood product, add your own brand name to the title and description to stand out from the competition.
In regards to pricing, try to keep them as low as possible while still aiming for a healthy and flexible profit margin. If you're planning on implementing paid advertising techniques, it's important to take the estimated costs into consideration when setting final prices, whereas selling fees need to be calculated prior to listings on 3rd party marketplaces.
---
Step 8. Process Orders
When you receive an order, it's important to purchase the product from Banggood as soon as possible to avoid any shipping delays. If you're not using automation software, you will have to process orders manually and ensure you input the customer's shipping address during checkout.
You should also select the 'remove Banggood logo from the package' to make sure no receipt, branding or invoice is included with the order.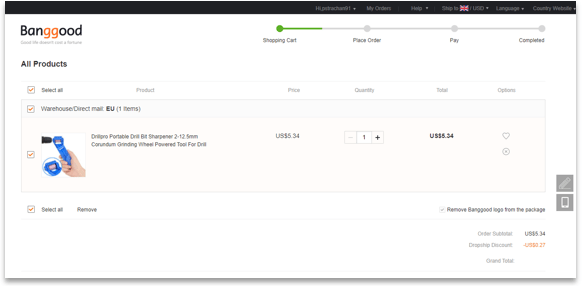 Your dropship discount will be automatically applied at checkout. As a new member, your standard discount level will start at 5% with higher discounts available when certain order volumes are met. Please refer to the Banggood Discount Levels section above for more information.
---
Step 9. Manage Returns
As it stands, Banggood provides a 30-day returns policy for unwanted goods, while damaged or defective items must be reported within 7 days of arrival. Therefore, it's important to contact Banggood as soon as possible to arrange a return.
However, keep in mind that maintaining a low returns rate is a condition for climbing the ranks of the Banggood dropship program and locking in bigger discounts. In general, you should aim to keep you return rate below 2% or less.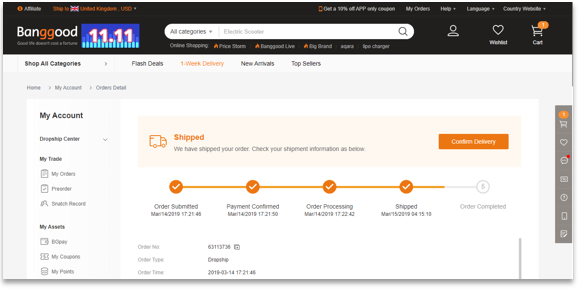 Therefore, it may be worthwhile to consider accepting unwanted returns directly back to your own personal location for resale. In this case, you won't experience any delays in arranging a return and you can maintain a low return rate.
Unfortunately, returns are an inevitable part of any ecommerce business so learning how to deal with them quickly is essential. A few additional tips to consider when dealing with returns include:
Ask the custom to include the Banggood order number as a reference code
Always contact Banggood to arrange the return prior to sending the item back
Consider issuing refunds upfront to keep your customers happy
Create a clear and simple return policy in line with the Banggood terms
---
Step 10. Track Sales
When running a Banggood dropshipping business, it's important to keep track of sales, profits and expenses, as well as returns and refunds.
Not only will this make things easier when it comes to submitting a tax return, but you'll also be able to track performance, monitor growth and ultimately run your business in a more efficient way.
Therefore, when a sale is generated, make sure you keep a record of the sold price, the cost to buy the item and the final profit margin minus any selling fees or advertising costs.
You should also maintain a separate record of returns and refunds, while making sure you keep any receipts or invoices for later viewing.
Tip: If you start to generate significant sales, you should consider enlisting the help of a qualified accountant or tax advisor. It's important to keep track of all sales and expenses, particularly as your business starts to grow.
---
Final Word
With an increasing number of people dropshipping from marketplaces such as AliExpress, there has never been a better time to harness Banggood.
With a huge range of products to choose from, exclusive discounts and specialist dropshipping tools, Banggood is quickly becoming the best alternative to AliExpress, providing superior service and often superior quality products.
You also won't find yourself dealing with multiple different sellers or slow shipping times.
Banggood is the perfect dropshipping supplier for selling on multiple platforms including third party marketplaces such as eBay and Amazon.
With a massive range of unbranded products, it's also the ideal partner for launching your own private label dropship brand.
Quite simply, dropshipping from Banggood has a virtually endless list pros and very few cons.
---
Is Banggood dropshipping allowed?
Absolutely, Banggood is a specialist dropshipping supplier with an exclusive dropshipping program. Therefore, dropshipping Banggood products is completely allowed and legal, as it does not violate any specific laws or terms and conditions.
Can I dropship any Banggood products?
Banggood has a wide selection of both branded and unbranded products. While in most cases you are able to dropship any product that is available on Banggood website, a select few brands such as BlitzWolf and DIGOO require authorisation to sell.
However, you can apply for authorisation to dropship restricted or protected brands through your Banggood Dropship Center.
Is Banggood a reliable dropshipper?
Yes, Banggood is considered an extremely reliable dropshipping supplier and reputable ecommerce company, having processed and shipped millions of orders across the globe since 2009.
Can I dropship Banggood products on eBay?
Absolutely, Banggood is a leading ecommerce platform with an exclusive, trade-only dropshipping program with genuine wholesale prices. Therefore, it complies with eBay's dropshipping policy in that products must be sourced from a genuine trade supplier and not another retailer or marketplace.
Can I use Banggood images and description?
Yes, you can use Banggood images and descriptions to dropship products directly to your customers, However, it's highly recommended to create your own custom descriptions to get that edge over the competition
Does Banggood have a US warehouse?
Yes, Banggood has 37 international warehouses including multiple warehouses in the US, as well as the UK, EU and China.
Is Banggood a Chinese company?
Yes, Banggood is a leading Chinese ecommerce company with multiple international warehouses in the US, UK, EU and China. Founded in 2006, Banggood is considered a reliable, trustworthy and well-established company, specialising in retail services, as well as B2B partnership programs including wholesale and dropshipping.
Is Banggood better than AliExpress?
While Banggood and AliExpress are similar in terms of product range and pricing, Banggood is considered a better dropshipping solution due to it's 37 international warehouses and super-fast shipping times.