7 Best Hosting Services for Dropshipping Stores in 2023
Disclosure: We may earn a commission or fee from some of the links in our content. However, this does not affect our recommendations. Learn more.
If you want to launch your own dropshipping store, finding a reliable and affordable hosting provider is the first step.
Here you will find a list of the 7 best hosting services for dropshipping stores. Whether you will be using WooCommerce or another dropshipping website builder, these are the most popular services to choose from.
---
1. Hostinger
Founded in 2004, Hostinger is one of the most reliable and popular providers of low-cost web hosting. The company has more than a decade of experience and thousands of excellent ratings on Trustpilot.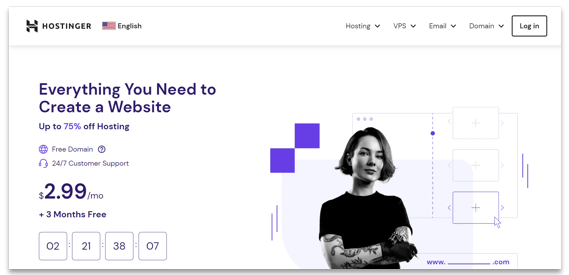 From shared hosting to cloud hosting and managed WordPress hosting, Hostinger offers a range of professional services to suit various applications. Learning about the different types of hosting will help you to decide which package is best for you.
The shared hosting starts from as little as $1.99/month and includes everything you need to launch a dropshipping store. Whether you want to use WordPress and WooCommerce or another website builder, the shared hosting package is perfect for new stores.
It features plenty of storage space, an SSL certificate, weekly backups, built-in security configurations, ultra-fast loading times, and a business email account.
And, if you want to use WordPress and WooCommerce to create your dropshipping store, Hostinger provides dedicated resources for that. This includes the powerful LiteSpeed plugin which has tons of options to boost the performance of your store.
If you don't want to use WordPress, Hostinger also has its own unique website builder. This includes ecommerce features such as a shopping cart and an order management dashboard. You can use it to create a stunning dropshipping store, even if you have no experience with web design.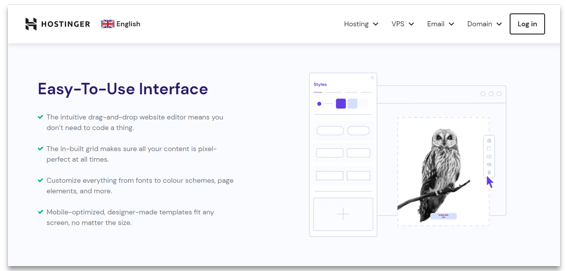 With Hostinger, you can be sure that you're dealing with a certified provider that has many years of experience and an incredible reputation. If you have any questions or concerns, the customer support team is available 24/7 to deal with urgent issues.
---
2. SiteGround
SiteGround is another trusted and reliable provider of premium web hosting services. The company has been around for more than 19 years and allows anyone to quickly launch a website including an ecommerce or dropshipping store.
SiteGround offers a number of packages for customers of all types. This includes shared hosting, WordPress hosting, WooCommerce hosting, and cloud hosting.
If you're just starting out, the basic shared hosting plan is recommended. This includes an SSL certificate, content delivery network, enhanced security, business email, staging tool, daily backups, and ecommerce solutions.
That being said, you may want to consider the managed WordPress hosting option if you prefer to use the WordPress platform. This is similar to shared hosting but with more features and benefits exclusively for WordPress sites.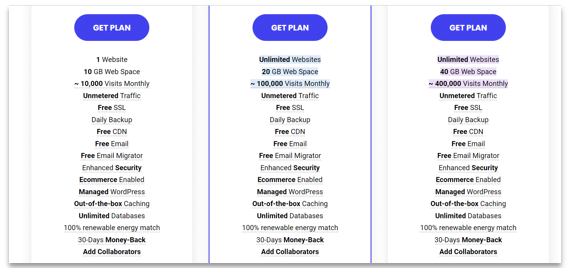 SiteGround is known for its exceptional customer support and groundbreaking features. Unlike most hosting services, SiteGround uses a number of its own technologies including a proprietary user dashboard.
When it comes to reputation, SiteGround is one of the most well-known hosting companies on the market. It has more than 10,000 positive reviews on Trustpilot and powers more than 2 million websites across the globe.
In fact, SiteGround is listed as a recommended hosting provider on the WordPress.org website. It's one of only 3 hosting providers to be included in the list.
---
3. WP Engine
If you want to build a WooCommerce dropshipping store, WP Engine is the hosting provider to consider. It was specifically designed for hosting WordPress and WooCommerce websites.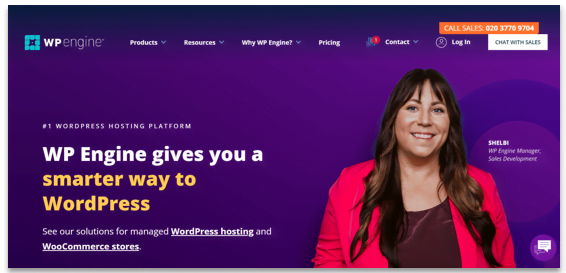 In fact, WP Engine provides fully managed WordPress and WooCommerce hosting with speed, security, and expert support. Everything you need to build a fast, secure, and reliable WooCommerce dropshipping store is at your disposal.
This includes an SSL certificate, built-in security features, one-click backups, automated updates, and premium themes. Plus, you will have direct access to a team of WordPress experts and technical support agents around the clock.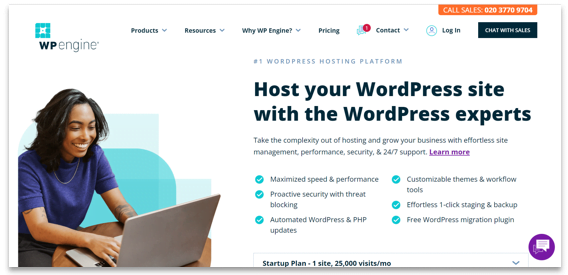 One of the main benefits of using managed WordPress hosting is that you won't need to worry about the maintenance of your dropshipping store. Everything from plugin updates to PHP upgrades and performance tweaks will be done for you.
Therefore, you can focus on growing your store, processing orders, and managing customer support. It's the ideal solution for those who are new to WordPress and want to get started with dropshipping as soon as possible.
More than 1.5 million websites trust WP Engine as their hosting provider. This includes major brands such as Yelp, Pandora, and Petco. Although it's a newer hosting provider, it still has hundreds of excellent reviews on Trustpilot.
---
4. Cloudways
Established in 2012, Cloudways is the internet's go-to provider of budget-friendly cloud hosting solutions for businesses, agencies, and ecommerce stores.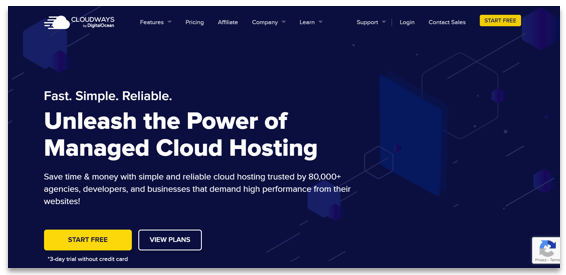 Unlike shared hosting in which multiple websites use the same physical server, cloud hosting splits a physical server into multiple virtual machines. This provides superior speed, stability, and performance, as well as more flexibility.
Therefore, if you're looking for hosting with more power and reliability, Cloudways is the best option. The plans start from less than $15/month and include a built-in cache, Cloudflare CDN, staging tools, backups, SSL certificate, and much more.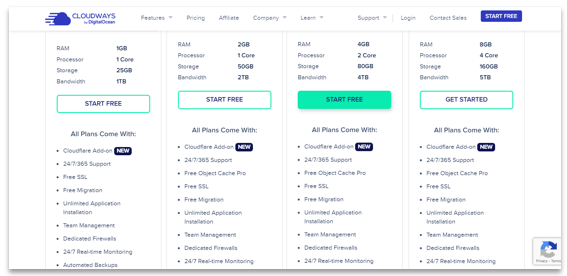 You can choose from 5 different providers including DigitalOcean and Linode to create an ultra-fast dropshipping store that can handle high traffic volumes.
Cloudways also provides 24/7 expert support for solving problems on the spot. Plus, you have the option to purchase advanced support for faster response times and more dedicated help such as theme or plugin troubleshooting.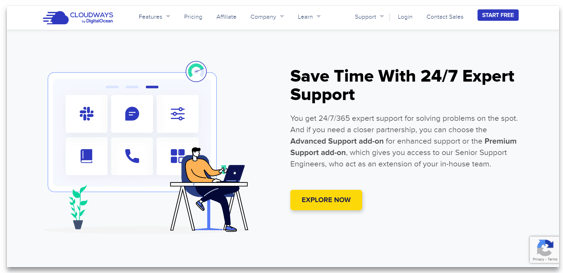 Since its launch, Cloudways has grown to become the preferred hosting provider for more than 500,000 websites. This includes sites like the University of Cambridge, Motor1, Snoop Dogg, and the University of Oxford.
---
5. HostGator
With more than 20 years of experience, HostGator is one of the original providers of shared, managed, and dedicated web hosting. The company is headquartered in Texas and hosts more than 8 million domains, making it a world-leading provider.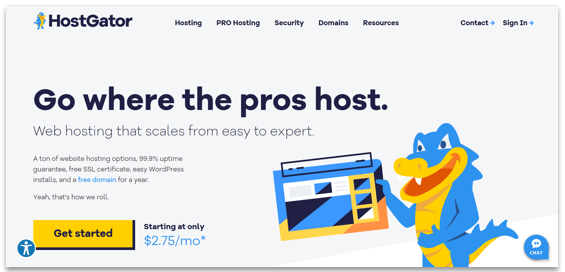 When it comes to pricing, HostGator is unmatched. The most basic shared hosting plan costs less than $3/month and includes unmetered bandwidth, one-click WordPress installs, live chat support, and a free domain name.
This makes HostGator the ideal hosting service for small dropshipping stores and beginners. You won't need to make a large upfront investment and it has everything you need to get started right away.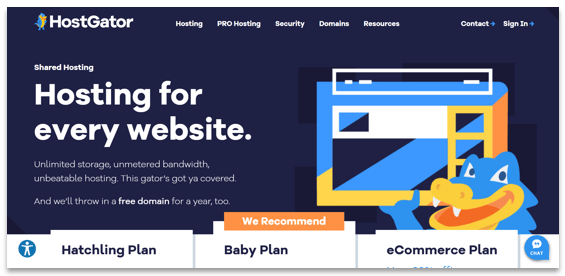 Moreover, HostGator also provides managed WordPress hosting packages. Configured specifically for the WordPress platform, you can expect improved speed and performance, as well as advanced security and a simplified control panel.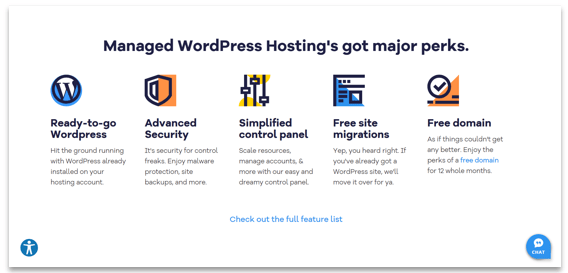 More than just a low-cost provider of shared hosting and managed WordPress solutions, HostGator further offers dedicated, VPS, and reseller hosting plans. These are great options if you have an existing dropshipping store with a lot of traffic.
---
6. DreamHost
DreamHost is another top-rated hosting provider with thousands of global customers and more than 20 years of experience.
For dropshipping store owners, DreamHost is a leading choice as it offers inexpensive shared hosting and managed WordPress hosting, as well as dedicated and cloud hosting for those who want more flexibility to scale their businesses rapidly.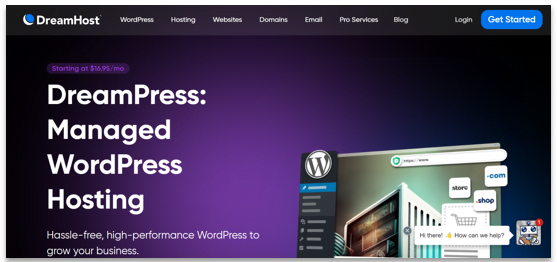 The shared hosting plans include a free domain, automated WordPress migrations, unlimited traffic, fast SSD storage, and an SSL certificate. The managed WordPress plans have the same features but with extreme speed and built-in caching, as well as other tools designed specifically to boost the performance of WordPress.
DreamHost also features a custom control panel that is easy to use, allowing you to manage the important parts of your website in just a few clicks.
As with many of the hosting services on this list, DreamHost also provides customer support 24 hours a day. However, DreamHost has the advantage of an award-winning team of experts based in the USA.
If that wasn't enough, DreamHost is an employee-owned company. This means the staff members have a significant and noteworthy stake in the business, providing them with more motivation to keep users happy.
---
7. BlueHost
Bluehost is an industry-leading hosting provider that powers more than 2 million websites including thousands of ecommerce and dropshipping stores.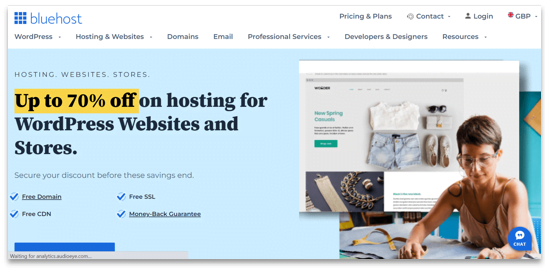 Whether you're looking for shared hosting, dedicated hosting, or VPS hosting, Bluehost offers a number of services for some of the best prices on the market. Bluehost is also known for its outstanding customer support and technical expertise.
In addition, Bluehost offers multiple managed WordPress hosting solutions including hosting for building an online store. This is the best package for launching your dropshipping website as it includes everything you need to start selling online.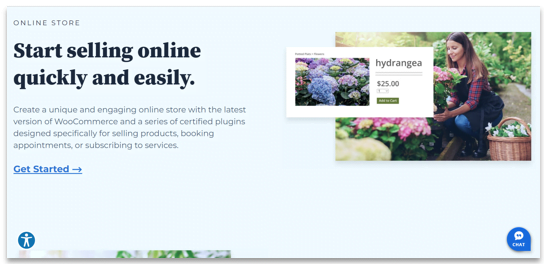 If you don't have the time or experience to build your own website, Bluehost is one of the only hosting providers to offer a custom website design service. Simply schedule a call and one of the experts will get back to you to discuss your requirements.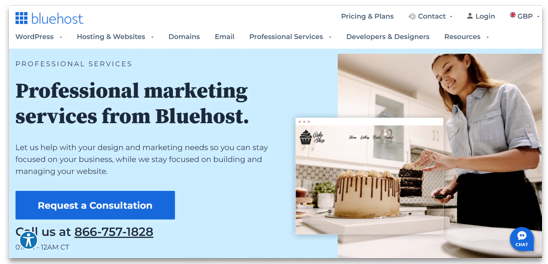 Another unique service with Bluehost is the WordPress live support add-on. With this service, you will have priority access to your very own team of on-demand WordPress professionals.
They will help you to build your brand and website, providing advice and support on all things related to WordPress including troubleshooting issues. If you're completely new to WordPress, this service can save you a huge amount of time and effort.
---
Frequently Asked Questions (FAQs)
Hosting can be a complicated and confusing business. Hopefully, the frequently asked questions below will provide you with some quick answers to common questions. You can also view our other posts for more detailed guides on setting up hosting and building a dropshipping store.
What should I look for in a hosting provider?
When choosing a hosting provider for your dropshipping store, the most important things to consider are speed, security, reliability, and customer support. You need to be sure that your website is fast and stable to increase sales and conversions.
If you run into any problems, you should be able to access the customer support team with ease, particularly for urgent issues. This is even more important if you're new to web design and hosting as some aspects of managing a site can be quite complex.
Do I need hosting for dropshipping?
If you want to build your dropshipping store using a platform like WordPress and WooCommerce, you will need web hosting. Other site builders such as Magento, Joomla, and Drupal also typically require web hosting.
However, if you're using a dropshipping website builder such as Shopify or BigCommerce, hosting will be included with the monthly plan. Therefore, it really depends on the platform you want to use to create your dropshipping website.
What type of hosting should I get for dropshipping?
If you're building a dropshipping store from scratch, shared or managed WordPress hosting is recommended. If you already have a store or expect to launch a store that will generate a lot of traffic quickly, cloud hosting is the better option.
Cloud hosting is also recommended if you plan to create multiple dropshipping stores as it will provide you with more resources and better performance.
What is the cheapest hosting for dropshipping stores?
The cheapest hosting for launching a dropshipping store will depend on the type of hosting you want. For example, shared hosting can start from as little as $2/month, whereas managed WordPress hosting is usually around $5/month.
Plus, many hosting providers offer deals and discounts to new users. Prices often change based on the market and competition. That's why it's important to research multiple providers before making a decision.
What is the best hosting for WooCommerce dropshipping?
Hostinger is the best hosting provider for building a WordPress and WooCommerce-powered dropshipping store as it has a managed WordPress hosting plan.
The managed WordPress hosting plan includes advanced SSD storage, enhanced security, speed configurations, a business email, and an SSL certificate. Keep in mind, the managed WordPress hosting plan has been specifically configured to work with WordPress. This means it provides blazing-fast loading speeds and unmatched performance.
That being said, many of the other hosting providers listed in this guide provide managed WordPress hosting services. For example, SiteGround offers managed WordPress hosting that is trusted by more than 2.5 million domains.
What is the alternative to getting hosting for dropshipping?
If you don't want to purchase hosting or use a platform like WordPress, the best alternative is Shopify. Trusted by millions of businesses, Shopify is an all-in-one platform that has everything you need to build a dropshipping store.
With Shopify, you won't need to purchase hosting separately as it's included in the low monthly fee. Shopify was also created just for building ecommerce stores. This gives you a huge number of options when it comes to themes, extensions, and layouts.
---
Final Word
Taking your time to find a reliable hosting provider for your dropshipping store is an important step in your journey to success.
Although most hosting companies provide similar services, not all of them are dependable. Speed, security, and customer support are the 3 essentials to look out for.
The options listed in this guide are trustworthy, affordable, and highly recommended. Better still, they are perfect for building a dropshipping business from scratch.