Best Wholesale Suppliers of Southern Clothing (2023)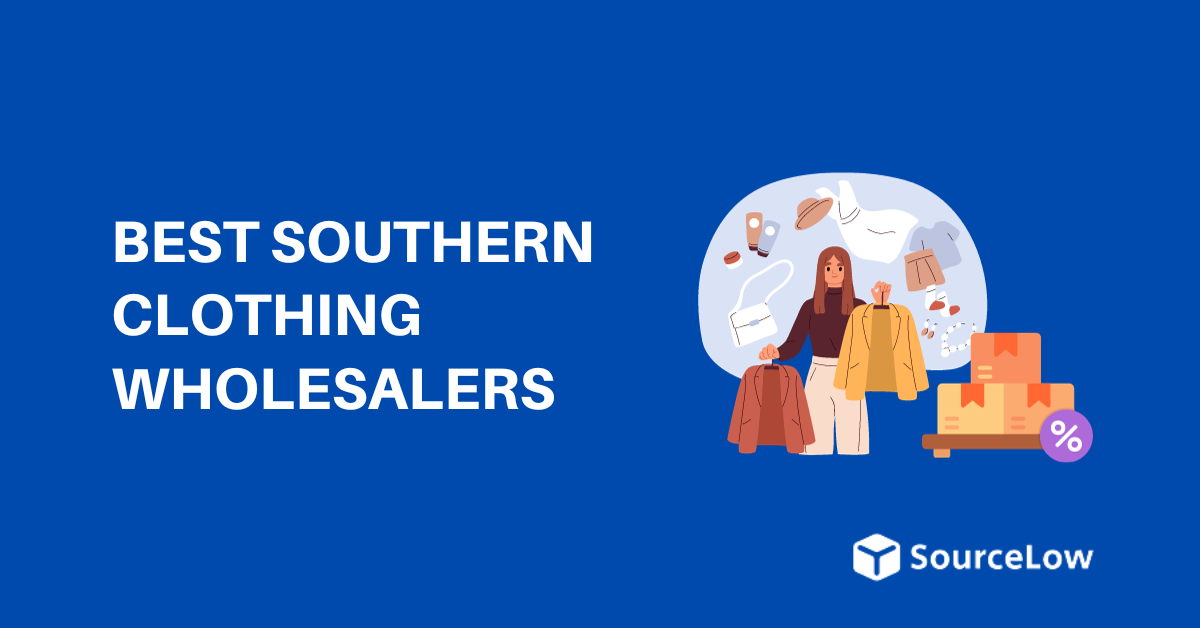 Disclosure: We may earn a commission or fee from some of the links in our content. However, this does not affect our recommendations. Learn more.
If you own an online boutique or fashion store, selling Southern-style clothing is a great way to attract new customers.
Here you will find a list of the best wholesale suppliers of Southern clothing in the US and China.
The following companies were handpicked as the top options for sourcing smart, elegant, and peppy clothing that will appeal to consumers who love Southern fashion styles.
---
Shewin (China)
Shewin is the ultimate website for sourcing Southern wholesale clothing from China. The company deals exclusively with classy, bold, and chic clothing for modern women. This includes tops, dresses, skirts, coats, bags, footwear, and accessories.
Operating from a factory of more than 5,000 square meters, Shewin provides fast and reliable shipping to all corners of the globe. Plus, with a small minimum order and no fixed pack sizes, Shewin is perfect for boutiques, small fashion stores, ecommerce websites, and start-ups.
Better still, Shewin offers a range of low-cost custom design services. Whether it's custom packaging, logo printing, or graphic printing, you can harness these services to create your own Southern clothing brand.
Features
Best wholesaler of Southern clothing in China
Includes elegant dresses, skirts, bottoms, etc.
Low minimum order with open-pack quantities
Strict quality control checks and fast shipping
Over 100,000 orders processed since 2019
---
Southern Grace Wholesale (US)
Founded by two sisters more than 10 years ago, Southern Grace Wholesale is a well-established designer and wholesaler of classic women's clothing with a contemporary twist.
From plaid dresses to feather trim blouses, and fringe skirts, Souther Grace Wholesale has hundreds of premium products, all designed in-house and supplied to retailers across the US.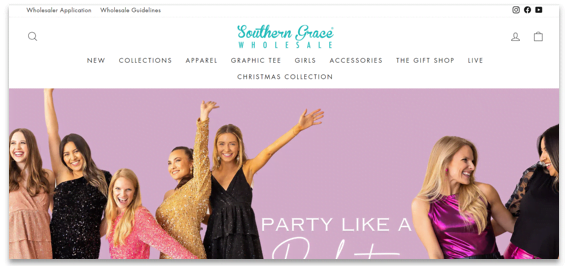 Features
Wholesaler of smart women's clothing with a twist
Hundreds of products including dresses and skirts
Created in-house with unique designs and styles
Trade-only for US retailers and ecommerce stores
Founded more than 10 years ago by two sisters
---
Alibaba (China)
With millions of global buyers, Alibaba is the largest online marketplace for sourcing wholesale products from China.
In fact, Alibaba has an unmatched selection of products from some of the most respected Chinese wholesalers and manufacturers. This includes a wide range of Southern-style clothing for women and girls. Simply search the platform for Southern clothing and filter the results by size, style, minimum order, and more.
Alibaba is also one of the best websites for sourcing custom clothing. Most of the suppliers offer a range of private-label and custom manufacturing services. That's why it's commonly used by top Amazon sellers.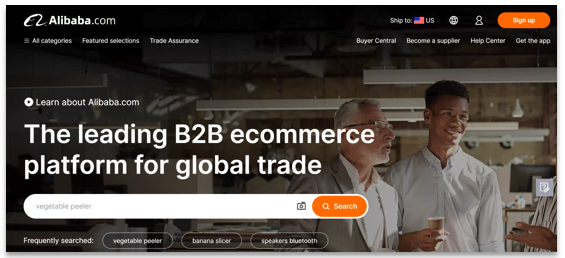 Features
Largest wholesale marketplace for B2B buyers
Thousands of suppliers and millions of products
Includes Southern-style clothing and accessories
Search and filter results by minimum order value
Factory-direct prices from top Chinese wholesalers
---
Faire (US)
Faire is an innovative wholesale marketplace for retailers to source high-quality goods from independent brands in the US and globally.
Faire has a huge range of products from more than 100,000 suppliers including Southern-style clothing and fashion accessories. You can search for Southern clothing and refine the results by location, minimum order, and more. Once you find a product, orders are placed directly through the platform.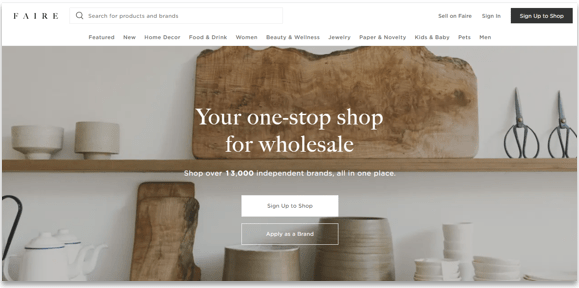 Features
Fast-growing wholesale purchasing marketplace
Source from over 100,000 independent brands
Thousands of items including Southern clothing
Modern platform with a clean and simple interface
Place and manage orders directly through the site
---
Katydid Wholesale (US)
Founded by designer and entrepreneur Katy Messersmith, Katydid Wholesale is a leading US-based wholesaler of trendy women's clothing and accessories. The unique range includes a broad selection of Southern-style tops, sweaters, hats, and t-shirts.
Most of the products are designed and made in the US, meaning you can offer your customers one-of-a-kind styles. Plus, the small minimum order makes Katydid Wholesale great for online boutiques and small stores.
Features
Leading women's clothing wholesaler in the US
Range of Southern boutique clothing, hats, etc.
Most items are designed and finished in the US
Small minimum order value with low trade prices
Orders shipped daily from the Texas warehouse
---
Made-in-China (China)
Like Alibaba, Made-in-China is a top-rated B2B trading platform connecting global retailers with Chinese wholesalers and manufacturers. The website features millions of products in thousands of categories including clothing and fashion accessories.
Therefore, if you're looking for China-based wholesalers, designers, or producers of Southern clothing, Made-in-China is worth checking out. It's easy to use and you can quickly search for Southern dresses, skirts, tops, or any other type of clothing item.
The only disadvantage to using Made-in-China is that you have to contact the suppliers to work out pricing and quantities. However, you can do this directly through the platform using the easy messaging system.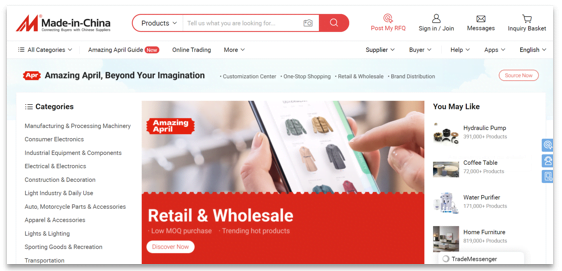 Features
Another popular B2B sourcing platform in China
Millions of items in thousands of top categories
Search and find Southern clothing in a few clicks
Buy directly from trusted Chinese wholesalers
Great reviews on Trustpilot and other websites
---
Southern Bliss Company (US)
Southern Bliss Company is a well-established designer, manufacturer, and wholesaler of unique and trendy women's clothing. From plaid tops to long-sleeve t-shirts and glitter sweatshirts, all of the products are printed in-house, allowing for faster turnaround times.
You can join the wholesale program by applying on their website. Alternatively, you can trade with Southern Bliss Company through Faire, a third-party wholesale marketplace for independent brands.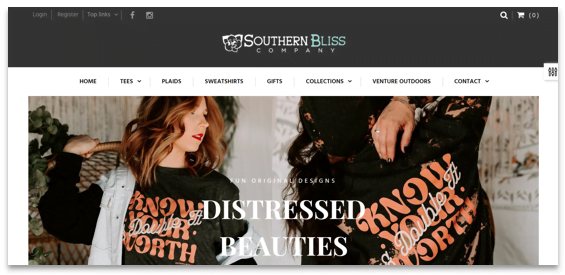 Features
Wholesaler and manufacturer of women's clothing
Unique range that is designed and printed in-house
Includes plaid tops, glitter sweatshirts, and t-shirts
Join the wholesale program through their website
Supplies to boutiques throughout the US and more
---
DHgate (China)
With more than 25 million products from over 2 million sellers, DHgate is one of the largest wholesale trading platforms in the world.
DHgate allows you to quickly find reputable China-based suppliers for virtually any type of product including clothing. Whether it's smart dresses or sleek tops, you can find thousands of Southern-style clothing lines for rock-bottom trade prices.
Plus, the more you buy, the less you pay per unit. Another great feature is the purchase protection program. This provides buyers with peace of mind when placing orders with suppliers through the DHgate website.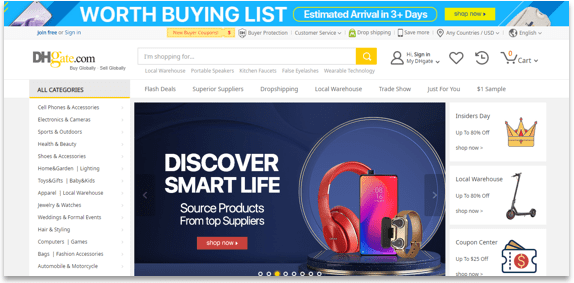 Features
One of the largest B2B marketplaces in the world
More than 20 years of experience in the industry
Over 25 million products from 2 million suppliers
Includes high-quality Southern wholesale clothing
The more you buy, the less you will pay per unit
---
BuddyLove Wholesale (US)
Based in the US, BuddyLove is a Southern clothing brand with a wholesale website for trade buyers.
Designed in-house, the products include women's dresses, tops, skirts, sweatshirts, and loungewear. BuddyLove also has a range of clothing styles for men and kids. You can apply to become a retailer through their wholesale site in just a few minutes.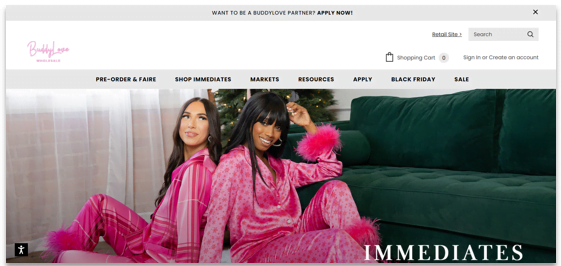 Features
Popular Southern clothing brand in the USA
Dedicated wholesale website for B2B buyers
Products include dresses, tops, and bottoms
Designed in-house to create a unique range
Apply to become a retailer through the site
---
FashionGo (US/China)
FashionGo is an online wholesale marketplace for retailers and boutiques to purchase goods from certified suppliers, most of which are located in the US with a growing number in China.
The platform is trusted by more than 1 million registered buyers and thousands of wholesale brands. It has excellent ratings on Trustpilot and is quickly becoming the go-to source for US-based businesses. The large network of suppliers includes many wholesalers of Southern-style clothing.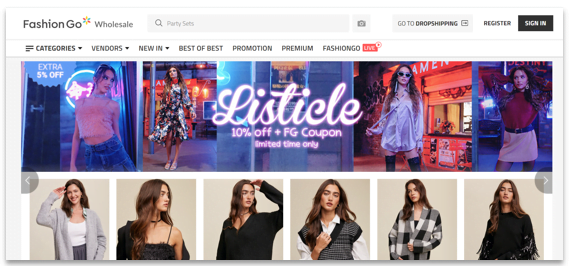 Features
Trusted online wholesale marketplace for retailers
Millions of products from thousands of suppliers
Includes Southern clothing wholesale companies
Over 1 million buyers with excellent user reviews
Competitive prices, volume discounts, and more
---
Frequently Asked Questions (FAQs)
What is Southern-style clothing?
Southern-style clothing is defined as classy, elegant, and smart fashionwear that is often bold, bubbly, and modern. Also seen as chic and peppy, Southern-style clothing is suitable for almost any occasion such as formal events, casual events, concerts, festivals, and special occasions.
Why sell Southern-style clothing?
If you own a boutique or fashion store, selling Southern-style clothing can help you reach more customers and boost sales. This is because Southern-style clothing is very popular with modern women, especially in the US. In fact, some brands have created thriving businesses catering to consumers who want to add a little Southern charm to their style.
Where can I sell Southern clothing?
You can sell Southern clothing through an online boutique or ecommerce store, as well as on third-party sites like eBay and Amazon. You can also sell Southern clothing on social media platforms like Facebook, TikTok, and Instagram, or use them to drive traffic to your website.
Alternatively, you can open your own physical retail store. However, this option requires a large upfront investment as you will need to cover overhead costs such as rent, electricity bills, and staff wages.
Can I sell Southern clothing on marketplaces?
Absolutely, you can sell Southern-style clothing on marketplaces like eBay and Amazon. You can also sell on Etsy if you're creating your own unique designs with custom prints and styles.
That being said, it's recommended to make your own website using an online store builder. This will allow you more flexibility with pricing and you won't be competing with hundreds or thousands of other sellers. Plus, you will avoid the selling fees that third-party marketplaces charge.
How much can I make selling Southern clothing?
You could make anywhere from a few hundred dollars to thousands of dollars selling Southern clothing. However, your success depends on a variety of factors such as your selling platform, sourcing prices, marketing strategies, shipping costs, and overheads to name a few.
Therefore, it's important to choose a viable selling channel and build a solid marketing plan. This could be selling Southern clothing through an online store and posting videos on TikTok to drive traffic. Alternatively, you can start by selling on Amazon or eBay and branch out with your own store when you have more funds.
Clothing is one of the best products to advertise on social media sites. This is mostly because they have a lot of young users. Running paid ads can be very effective when you know how to target the right audience.
What other type of clothing can I sell?
Southern clothing is typically smart and dressy fashion lines that are most suited for events and occasions such as concerts, festivals, and fairs. Other types of clothing you can sell include casual clothing, western clothing, minimalistic clothing, sportswear, hippie clothing, and gothic clothing.
Nevertheless, Southern clothing can also be casual and appropriate for almost anything. Whether that's a night out, a first date, or a catch-up with friends.
How do I find more wholesalers of Southern clothing?
To find more wholesalers of Southern clothing and fashion accessories, make sure you visit our blog, particularly the wholesale suppliers category. We regularly write and publish articles on the best wholesale suppliers. This includes companies that sell smart and casual clothing.
Plus, we include an easy-to-use database at the top of each article. You can filter the options by category, location, and more. It's very easy to find clothing wholesalers in your country of interest.
---
Final Word
Southern-style clothing is very popular with consumers and fashion enthusiasts. If you own a retail store or online boutique, selling Southern clothing is a great way to stand out from competitors.
The suppliers in this guide are the best options when it comes to sourcing Southern-style wholesale clothing. Whether you want to import from China or buy from a local US-based company, hopefully, you have found a suitable option from our list.
If not, make sure you visit our blog where you will find lots of articles on the best fashion and clothing wholesalers.