Building a dropshipping store requires a lot of time and effort, particularly when you're new to the world of web design and online branding. From registering a domain name to purchasing hosting and choosing a store building platform, the process can be complicated and overwhelming.
That's not to mention the complexities of creating a brand name, designing a logo and finding a supplier, as well as setting up payment processors and creating high-converting product listings. For someone with no previous experience or coding skills, there is a steep learning curve to overcome.
Thankfully, the rise of low-cost store building services has made it easier than ever for the average Joe to acquire a professional and fully-functioning dropshipping store. From custom store building providers to pre-built dropshipping websites for sale, there are several options when it comes to buying a dropship store. In this article, I'm going to reveal a comprehensive list of the most popular providers of custom-made ecommerce stores for dropshipping.
Quick View
---
1. Dropship For Sale – Custom-made Shopify dropshipping store from $199
2. Dropobo – Shopify dropshipping store with premium theme from $149
3. AliDropship – WooCommerce dropshipping store with AliDropship plugin from $299
4. Wholesale2b – Custom dropship website with hosting, domain and stock automation
5. Dropship Empire – Fully turnkey dropshipping store from only $119
6. WooDropship – WooCommerce dropship store with WooDropship plugin from $149
7. Premade Stores – Fast (24/hour) turkey Shopify dropshipping store from $180
8. Ecommerceify – Shopify dropshipping store preloaded with winning products for $149
1. Dropship For Sale (From $199)
---
Dropship For Sale is one of the original providers of turnkey dropshipping stores, offering both custom made and pre-built Shopify dropshipping websites which feature premium themes, unique designs and preconfigured dropship automation solutions. With pricing starting at just $199 for a custom made dropshipping store which includes 24-hour delivery and full ownership transfer, Dropship For Sale is an affordable and reliable solution, perfect for those who are looking to quickly get started with dropshipping, without spending months figuring out web design, graphic creation and branding.
2. Dropobo (From $149)
---
Dropobo is a low-cost provider of ready-made turnkey Shopify dropshipping stores fully loaded with hundreds of best-selling products and featuring unique branding, premium themes and preconfigured automation solutions. With pricing starting at just $149 for guaranteed delivery within 24-48 hours or less, Dropobo is perfect for those who have a limited budget and time to spare. Additional features of Dropobo include mobile friendly designs, lifetime after sales support and full control over pricing and profit margins, as well as styling and colour schemes.
3. AliDropship (From $299)
---
AliDropship is a popular dropshipping automation solution, as well as a turkey dropshipping store provider. With pricing starting at just $299 for a professional dropshipping store fully loaded with 50 best-selling products and integrated with the AliDropship plugin, as well as a professional theme, premium domain name and custom branding including a company logo, AliDropship offers a true all-in-one solution. Aside from turnkey dropshipping stores, AliDropship also provides premium dropshipping websites with high profit potential and fully optimised designs for maximum profit.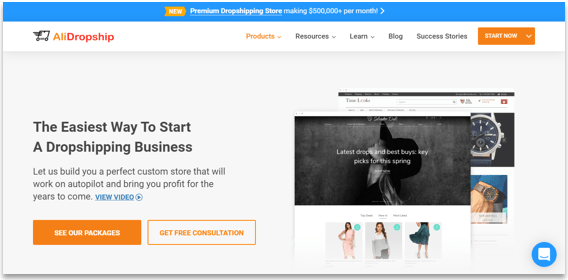 4. Wholesale2b ($49.99/month)
---
Wholesale2b is a leading dropshipping automation solution which offers a range of exclusive services including a custom-made dropshipping website plan with a domain name, hosting, integrated dropshipping suppliers and full inventory automation, as well as access to over 1M additional dropship products for only $49.99 month. Additional features of the Wholesale2b website plan include a free SSL certificate, built-in marketing tools and a professional business email address. Essentially providing you with everything you need a run a successful dropshipping store, Wholesale2b is a true all-in-one solution.
5. Dropship Empire (From $119)
---
Dropship Empire is a leading provider of turnkey, custom and prebuilt dropshipping stores, as well as established stores with existing revenue and income. Pricing for a ready-made dropship store starts at just $119 and includes a mobile response theme, custom logo, marketplace integration options and automation configuration, as well as a professional business email, preloaded dropshipping products and access to US, UK and EU direct suppliers. If you have the budget, Dropship Empire is also a provider of established stores which generate an average revenue of $25,000/year or more.
6. WooDropship ($149)
---
WooDropship is a powerful dropshipping automation plugin for WordPress & WooCommerce, as well as a custom dropshipping store provider. Simply place an order and WooDropship will build, design and create a turnkey dropshipping store in any niche or category within 48 hours or less. Featuring a professional theme, one year of hosting and a premium domain name, as well as the WooDropship plugin for importing products and automating inventory management, WooDropship is quickly becoming a fierce competitor to AliDropship.
7. Premade Stores ($180)
---
Premade Stores is a simplistic and fast-tracked (24 hour) turkey dropshipping store building service which includes a custom domain name, professional logo and 10-15 fully loaded dropship products. Whether you want to sell pet supplies or womens clothing, Premade Stores can build a professional and fully functioning Shopify dropshipping store for as little as $180 one-time. Additional features include mobile response and optimised designs with unique branding and colour schemes.
8. Ecommerceify ($149)
---
Ecommerceify is an innovative ecommerce agency and dropshipping store provider which offers a range of unique services from custom store building to product description writing, Facebook ads management and SEO optimisation solutions. For the low price of just $149, Ecommerceify provides turnkey Shopify dropshipping stores which include complete store setup, pre-loaded winning products and a custom-made logo, as well as a professional and mobile responsive design. Additional features include a free SSL certificate, multiple payment gateway integrations and access to millions of AliExpress dropshipping products with automated inventory/stock management.
Frequently Asked Questions (FAQs)
  Why buy a dropshipping store?
If you're new to dropshipping and web design, buying a turnkey dropshipping store is the quickest way to start a dropshipping business. The alternative would mean spending weeks or months learning how to use online store builders such as Shopify or WooCommerce, as well as how to create unique branding materials such as logos, banners and images. One of the other benefits to buying a turnkey dropshipping store is that many come pre-loaded with dropshipping products and fully configured with automation software for managing stock and inventory. Quite simply, it's a business-in-a-box for newbies who don't have the time to spend learning how to build a store themselves.
  Will my store come with a domain name and hosting?
In most cases, your store will come with a free domain name and hosting. However, you may need to purchase these separately depending on the provider. The good news is that a domain name and hosting are very inexpensive.
  What is the cost of running a dropshipping store?
It depends on a variety of factors including the platform which the store was built on and the provider of the store, as well as if a domain name and hosting is included. In general, a domain name costs around $10/year while hosting is around $5-$10/month. You may also have to pay a small monthly fee for automation software (optional) to manage inventory.
  Will I own the store?
Yes, once the store and domain name has been transferred, you will retain full ownership of the website and all of its assets including the brand name, logo, images and content. Therefore, you're more than entitled to sell the store for a higher price or auction it on wesbites such as Flippa if you wish.
  Will the store include a logo?
Most of the dropshipping store providers mentioned in this guide include a custom logo with your purchase. However, you also have the option of using one of the various free online logo makers or low-cost logo making services to create your own design. Freelance websites such as Fiver or PeoplePerHour are also great places for finding low-cost logo design services.
  How do I add new products?
Typically, when you purchase a dropshipping store from one of the providers outlined in this guide, it will be preloaded with a fixed number of dropshipping products, as well as preconfigured with one of the various dropshipping software solutions. Therefore, although the process of adding products will vary depending on the software being used, you will usually be able to instantly start listing new products using a Chrome Extension or URL scraper. The list of compatible suppliers and products you'll be able to list will depend on the provider of your store and which software they used for automation.
  How do I manage stock and prices?
In most cases, the provider of your store will set up inventory automation using a third party tool or software. Whether the store is built on Shopify, WooCommerce or BigCommerce, you have several options when it comes to working with suppliers, creating listings and automating stock/price management. Please refer to our list of the best dropshipping software solutions for more information. Using automated software is essential if you want to build a sustainable and long-lasting dropship business.
  How do I drive traffic to my store?
From advertising on Facebook to search engine optimization, there are several effective ways to drive traffic to your online store and generate sales. We highly recommend checking out YouTube where you will find an almost endless supply of free video training tutorials designed specifically for learning how to drive traffic to a dropshipping store using both free and paid techniques. You may also want to refer to our comprehensive ecommerce guides which include articles on traffic generation, digital marketing and SEO, as well as dropshipping on eBay and other marketplaces.
  Can I also sell on eBay and Amazon?
Absolutely. There are several third party tools and plugins which will allow you to instantly push and sync your online store listings to marketplaces such as eBay and Amazon. Therefore, you can maximise your overall sales by dropshipping on Amazon or eBay while managing orders, sales and listings from one central location. 
  What are the benefits of having a dropshipping store?
The biggest benefit to having your own dropshipping store is being able to retain full control over your business while avoiding the high fees associated with selling on third party marketplaces such as eBay. Furthermore, you won't be directly competing with hundreds or possibly thousands of other sellers of the same product. You therefore have the flexibility to set higher selling prices and aim for bigger profit margins.
Final Word
---
Buying a turkey dropshipping store is the quickest way to launch a dropshipping business, particularly for those who lack tech skills and web design experience. Most of the solutions outlined in this guide provide an all-in-one service which includes a full store setup, domain name and hosting, as well as integrated automation solutions and unique custom branding. Therefore, you can quickly launch your store and immediately start focusing on marketing, advertising and generating sales. It's by far the best way to fast-track your way to success with dropshipping.
More Guides