Amazon Dropshipping: How to Dropship on Amazon in 2023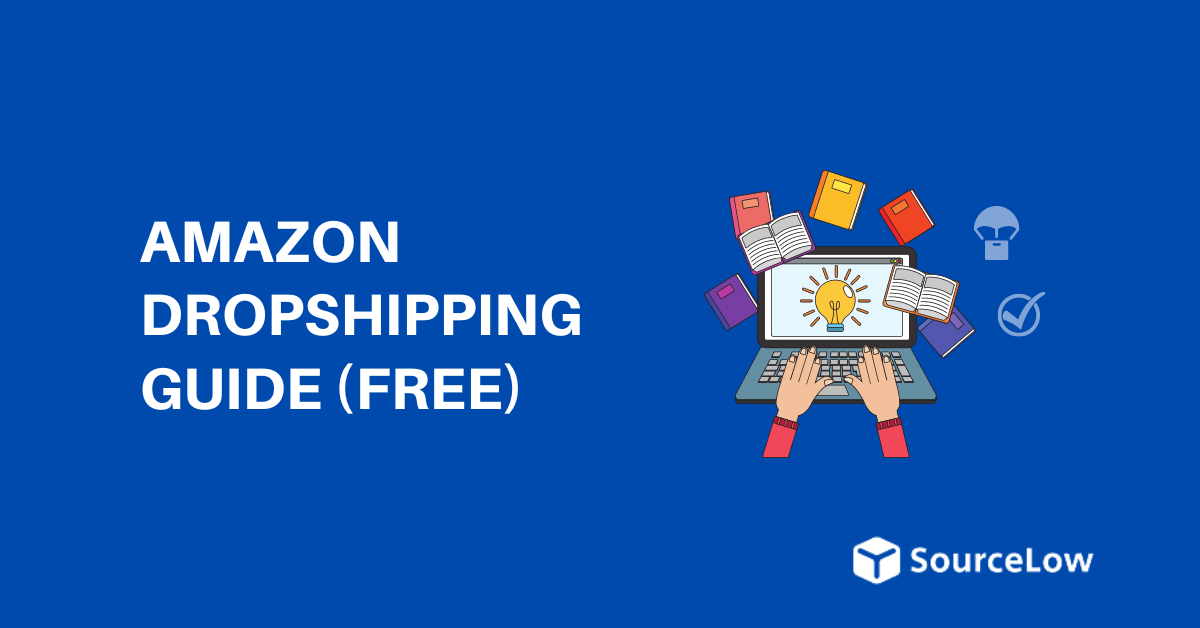 Disclosure: We may earn a commission or fee from some of the links in our content. However, this does not affect our recommendations. Learn more.
With over 190 million monthly users, Amazon is the largest marketplace in the world. That's why it's considered the best alternative to dropshipping on eBay or other online selling platforms.
In this guide, I'm going to show you how to build a successful Amazon dropshipping business from scratch. From creating offers to winning the buy box and managing inventory, I'll take you through the entire process in easy-to-follow steps.
---
1. Understand the Amazon marketplace
Establishing an understanding of how the Amazon marketplace works is essential if you want to start selling on it. Unlike eBay, Amazon has a strong focus on branded products, as well as a more structured record of products.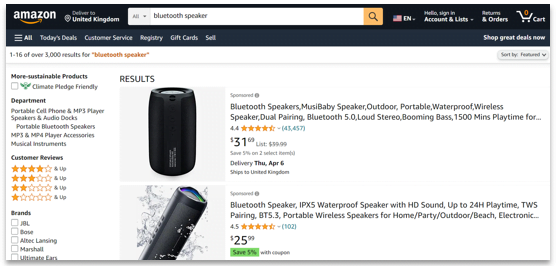 While eBay sellers typically create their own individual listings, Amazon sellers often share the same product description page, meaning there is only one description page for every unique item on Amazon.
For example, the following Electric Kettle is available to buy on Amazon for the price of $17.99 with free delivery. However, below the current offer, you will see a link to other buying options or a button.
When the link or button is clicked, it will take you to a page where you will find other sellers of the same product.
Unless you're selling your own brand products or products which are not already listed on the Amazon marketplace, sharing a product details page with other sellers is inevitable.
Creating an entirely new listing for a product that is already listed on Amazon is not allowed, as it would go against their mission of being a transparent marketplace. 
The vastly different structure of the Amazon marketplace, when compared to eBay, is both a huge advantage and an obvious disadvantage.
While sharing the same product page makes it harder to compete with other sellers, it streamlines the process of listing products. It also makes it easier for customers to quickly find specific products for the best prices, without having to study endless results.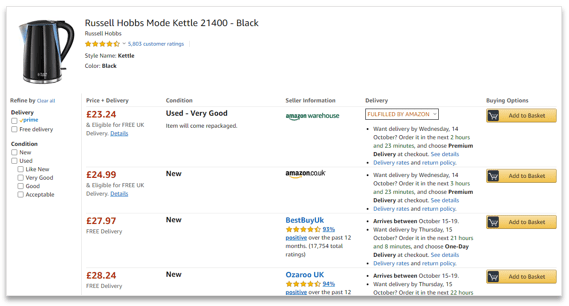 When it comes to placing an order on Amazon, there is only one Add to Basket button on the product details page, known more commonly as the buy box.
Amazon chooses a seller to place in the buy box based on a variety of different factors including seller performance, sales history, and feedback.
To summarise, If you're selling a product that already exists on the Amazon marketplace, you'll need to create an offer on the existing product details page.

Creating an offer on an existing Amazon listing is as simple as setting a selling price and available quantity, you don't even need to add a description or images. However, if you're selling a product that does not already exist on the Amazon marketplace, you'll need to create a new listing. 
In this guide, I'm going to show you how to set up offers on existing Amazon listings as well as how to create new listings. The route you take to list products will depend on the type of products you're selling, more of which will be discussed in the next section.
---
2. Create a business plan
From launching your own brand to selling existing brand products, there are multiple options when it comes to building an Amazon dropshipping business. Creating a plan and deciding on the strategy you want to use is the first step. The most common business models when dropshipping on Amazon include: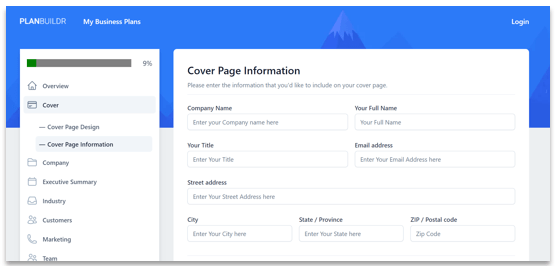 Sell own-brand products
Considered the most effective way to get that edge over the competition when dropshipping on Amazon, selling your own brand products involves finding suppliers of generic, unbranded products and attaching your own brand name to them.
Also known as private label selling, this technique allows you to create your own range of products and unique listings on Amazon. Therefore, you won't find yourself competing with tons of other sellers to win the buy box. You'll also have more control over descriptions, product images, and item specifics.
However, it's important to understand that creating new product listings on Amazon is a long-term strategy that takes more time and effort.
While existing listings typically already have traffic and buyer activity such as sales, questions, and reviews, new listings take more time to gain authority and start generating sales by reaching top spots within the Amazon search results.
Find a supplier of unbranded products and sell them as your own brand
Create new Amazon listings with custom descriptions, titles, and specifics
Drive traffic to your listings to increase authority and buyer activity
Sell existing brands
The most common option sellers take when dropshipping on Amazon is to sell products from established brands.
While you'll most likely have to share the description page with other sellers, it's the quickest way to get offers on Amazon and start generating sales, without having to create custom descriptions, item specifics, or images.
You'll also have the benefit of being able to create offers on existing Amazon listings that already have traffic, sales, and buyer activity.
Find suppliers of branded products from well-known and established companies
Create offers on existing Amazon listings with existing traffic, reviews, and orders
Gain sales, feedback, and performance history to win the buy box
Create a specialist brand
Creating a specialist brand involves selling products in a specific category or niche and tailoring your brand around it. For example, becoming a specialist brand of pet suppliers or women's fashion accessories.
Typically, specialist brands sell a range of own-brand and third-party brand products, with the goal of becoming an industry leader in one specific niche.

Focus on one specific product type or niche
Sell both own-brand and third-party brand products
Create new listings and offers on existing listings
Create a general brand
A general brand is a company that does not focus on one specific category or niche but instead sells a mixed range and broad variety of products in multiple different categories or industries.
For example, a brand that sells mobile phone accessories also sells clothing and toys. One of the benefits of dropshipping is being able to sell as many products as you want without being limited by cash flow or storage space.
Therefore, creating a generalist brand is a great way to increase your potential and tap into several different areas of the market.
Sell a mixed range of products in multiple categories or niches
Focus on creating a lot of Amazon listings quickly
Sell both third-party brand or own-brand products
To summarize, when it comes to creating a business plan, think about the type of company you want to build and where you see it going in 5 or 10 years from now.
While some people prefer to build their own private label or specialist brand, others opt to become general retailers, selling a mixed variety of products. Each selling strategy has its own pros and cons, the one you should implement comes down to your own personal preferences and future goals.
---
3. Establish a brand name
Whether you're planning on selling private label products or a mixture of existing brand products, establishing a catchy, memorable, and unique brand name is essential. Start by brainstorming some ideas and create a shortlist of potential options.
Remember, your brand name is a representation of your business. Therefore, you should take your time to choose a winner. A few hints and tips to consider when coming up with a brand name include: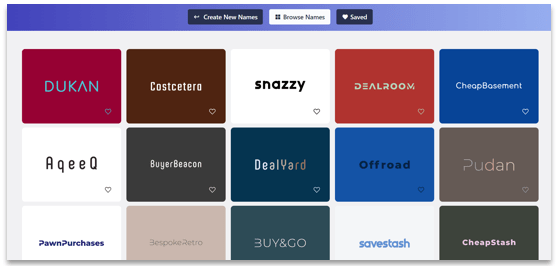 Use keyword tools such as Google Keyword Planner or WordStream

Keep it short and catchy, as well as relevant to your niche or category

Make sure the name is unique and not trademarked by another company

Check if the domain name is available by doing a search on GoDaddy
---
4. Find dropshipping suppliers
Now that you have a better understanding of how Amazon works, a clear business plan to follow, and a catchy brand name, it's time to start finding suitable dropshipping suppliers to source products from.
Whether you want to sell existing (third-party) brand products or create your own private label brand, the following techniques will help you to quickly locate reputable and trusted suppliers of branded and unbranded products.
Browse our other articles
Here at SourceLow, we have tons of free guides on the best dropshipping suppliers in the US, UK, Europe, and China. We recommend starting with our guide on the best dropshipping suppliers for Amazon. sellers.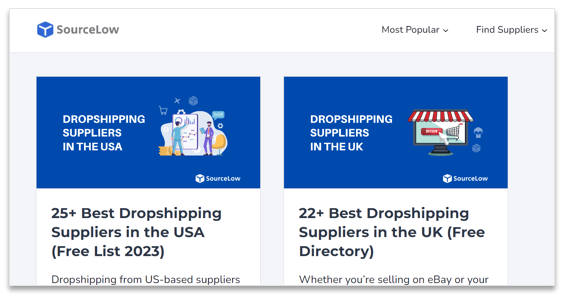 Search on Google
Manually searching for suppliers on Google is still one of the most effective ways to find dropshipping suppliers. Learning how to do an advanced Google search is the quickest to narrow down the results and locate suitable companies.
Alternatively, using long-tail keywords while doing a standard Google search will help you to eliminate irrelevant results.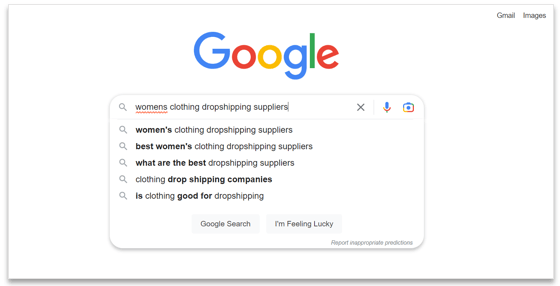 For example, instead of searching for clothing dropshippers, try using specific terms such as women's clothing dropshipping suppliers in the USA.
Try performing an advanced Google search for tailored results
Avoid using generic search terms such as 'dropshipping suppliers'
Use long-tail keywords e.g. camping accessories dropshipping UK
Look beyond the first page of Google and study multiple options
Join online forums
Joining online forums is another effective way to find dropshipping suppliers. Essentially online communities where like-minded individuals can share, discuss and debate topics or ideas, forums tend to contain honest, reliable, and unbiased information.
From the latest blockbuster movies to pet care or crafts, there is a forum for just about any topic or niche including dropshipping.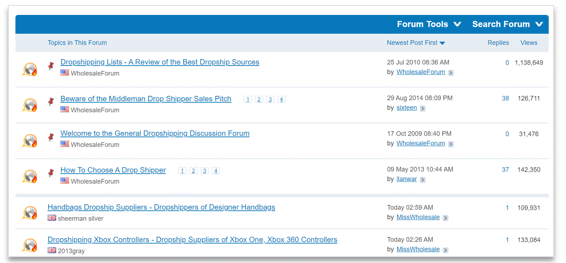 One quick Google search will pull up a list of forums related to the wholesale, dropshipping, or product-sourcing industry, many of which contain invaluable recommendations or advice on where to source products.
Here's a short list of the best online forums for finding dropshipping suppliers, to point you in the right direction:
Warrior Forum – The largest digital marketing forum with hundreds of topics on dropshipping and finding suppliers
UK Business Forums – A highly popular UK business forum with a dedicated section on ecommerce and dropshipping
Digital Point – A well-established digital and internet marketing forum with an exclusive ecommerce discussion section
Try automation software
Another option to consider when it comes to finding dropshipping suppliers is to invest in automation software. Often providing an all-in-one solution for finding suppliers and creating listings on popular selling platforms including Amazon, using automated software has become common practice in the world of dropshipping.
Using software eliminates the need to manually find suppliers as most are compatible with a predetermined selection of the best dropshippers.
---
5. Open an Amazon seller account
As it stands, Amazon has 14 global sites in some of the largest ecommerce markets in the world including the US, UK, Canada, and Australia.
The first step towards opening an Amazon seller account is to decide on where you want to sell. For example, if you reside in the UK, you can sell on amazon.co.uk, whereas if you live in the US, amazon.com is the primary site.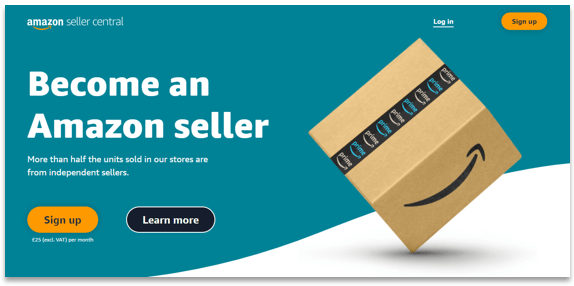 One of the biggest benefits of dropshipping is being able to sell in any country you like without having to be physically located there.
However, it's important to note that you may be required to go through a verification process (details below) before being able to sell on Amazon.
Therefore, choosing the right site to sell on is vital. Please refer to Amazon's article on International Sites for the full list of local websites. Once you've decided on which site you want to sell on, creating an Amazon seller account is fairly straightforward.
Simply head over to Amazon Seller Central, the dedicated website for selling on Amazon, making sure you're on the correct international website. Click the Sign-Up button and follow the onscreen instructions to proceed.
Tip: In most countries, you'll have the option to open a professional seller account for a monthly fee. Professional accounts come with a range of benefits including no per-item fees and more flexibility over your business policies.
Seller verification
Before you can start selling on Amazon, you'll be required to complete a verification process which includes uploading various documents such as ID or bank statements.
The exact verification process will vary depending on which Amazon site (UK/US) you're selling on. For more information, please refer to the following Amazon documentation on seller verification:
---
6. Calculate selling fees
Before you can start creating offers or listings on Amazon, it's important to establish a firm understanding of how the selling fees work, as well as how to calculate your profit margins.
Amazon has 2 different types of selling fees which apply to those who are dropshipping, including a per-item fee and a referral fee, also known as a closing fee. Let's take a closer look at each.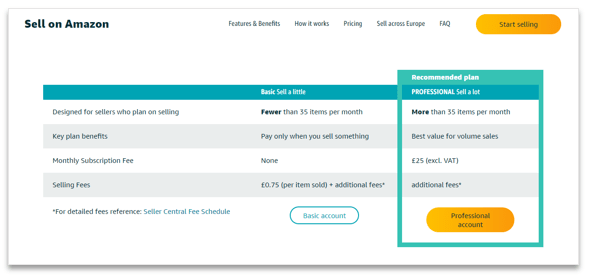 Quick Tip: It's highly recommended to open a professional seller account to avoid paying per-item selling fees. Professional seller accounts also come with a range of additional benefits including more control and flexibility over your selling policies.
Per-item selling fee
Only for sellers who don't have a professional Amazon seller account, the per-item fee is a fixed-cost fee that is applied to every successful sale on Amazon, regardless of the selling price. The per-item fee varies depending on which Amazon site (UK/US) you're selling on but is typically around $0.99 per unit sold.
Referral fees
The referral fee is a percentage-based fee that is calculated based on the item's selling price including shipping costs. The referral fee will vary depending on the category but is typically around 15% or less. For example, if you sell an item for $10.00 the referral fee will be (15% / $10) $1.50 approx.
Calculating fees
The quickest way to calculate your selling fees is to simply deduct 15% from the final selling price. For example, if you list a product for $20.00, the fee will be (15% / $20) $3.00 plus the per-item fee if you don't have a professional account. If you prefer to calculate the exact selling fees, the following Amazon fee calculators make it easy: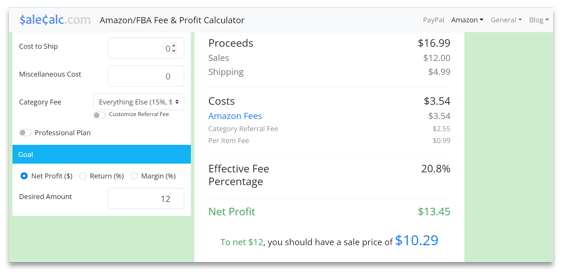 Paying selling fees
Selling fees are automatically deducted from the total selling price (including shipping) after a sale has been generated. The remaining balance (selling price – selling fee) is credited to your Amazon seller account. Amazon will pay earnings directly into your bank account on a regular schedule, more of which will be discussed later.
---
7. Choose winning products
Once you have a business plan, a supplier to source products from and a catchy brand name, as well as an Amazon seller account, the next step is to start choosing profitable products to sell. In most cases, your supplier will have an extensive range of products to choose from.
Therefore, it's important to select the items which will generate the most sales and profits. A few tips to consider when choosing products to sell include:
Calculate your selling fees and profit margins before listing an item for sale to determine whether you can match or undercut the price of other sellers
Search for the product on Amazon and eBay to find out how popular the item is with buyers. Buyer activity is a good indication of how well an item is selling
Read existing customer reviews to determine if the product has any flaws or imperfections which could lead to a high return rate or performance defects
Use a dropshipping research tool to quickly find winning items with the best profit margins.
---
8. Create offers and listings
You have a business plan and suppliers to source products from, as well as a list of profitable products, it's time to start creating offers or listings on the marketplace.
If you're selling a product that already exists on the Amazon marketplace, you'll need to create an offer on the existing listing.
If you're selling a product that is not already available on Amazon or if you're selling your own private label brand products, you'll need to create a brand new Amazon listing.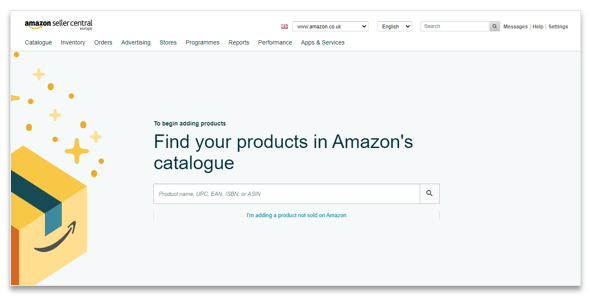 Create offers on existing listings
Creating an offer on an existing Amazon listing is super easy and takes only a few minutes. Log in to your Amazon Seller Central account and Navigate to Inventory > Add a Product.
On the following page, search for the product using relevant keywords, a brand name, or a unique product identifier code. Once you've located the product, select a condition of either new or used and click the Sell this Product button which is located on the right-hand side.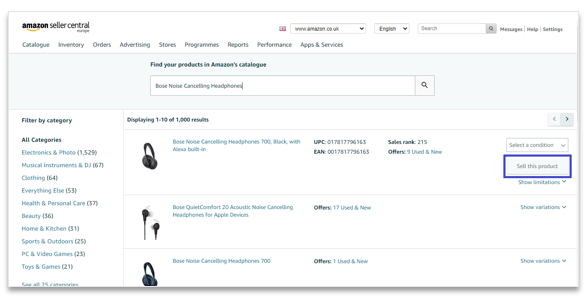 Tip: When creating an offer on an existing listing, you can input your own description and product details. However, Amazon will use the description which it feels is best.
Create new listings on Amazon
Creating a new listing on the Amazon marketplace is fairly easy once you get the hang of it. First, log in to your Amazon Seller Central account and Navigate to Inventory > Add a Product.
However, instead of searching for an existing product using the search bar, click the I'm adding a new product not sold on Amazon link.
On the following page, search for and find the most relevant category. Amazon has literally hundreds of different categories to choose from so take your time to find the most appropriate option.
Once you've found a suitable category, simply click the 'Select Category' button and you'll be redirected to the listing/editing page.
On the listing page, follow each step and make sure you input as many details as possible. Navigate through the various tabs to upload your product images and add a description.
When dropshipping, you're supplier should be able to provide you with all of the information you need, therefore it's as simple as copying and pasting the information. However, a few vital recommendations to consider when it comes to creating a new listing include:
Create a unique, keyword-rich, and eye-catching title, making sure you include as many relevant key phrases (within the title) as possible
Write your own custom descriptions with a brief intro and some short key feature bullet points, as well as a list of specifications or usage instructions
Use the best available image and try to avoid using the same main image as your supplier (if possible) in order to stand out from the crowd
Calculate your exact selling fees and profit margins, then set a price that is low enough to attract maximum views and sales
Understand product identifiers
When creating a new listing on Amazon, most categories require sellers to use a Global Trade Identification Number (GTIN), also known as a product identifier such as UPC, EAN, or ISBN code.
Essentially a barcode for distinguishing each unique product from another, Amazon uses product identifiers to sort and manage its huge selection of products.
In most cases, your supplier will be able to provide you with the UPC or EAN code of the item. However, if you're selling unbranded products, you'll need to purchase your own verifiable barcodes from an official source such as GS1 or a third-party barcode supplier such as SpeedyBarcodes.
For more information, please refer to this comprehensive guide to Amazon barcodes from Amazon SEO Consultant or search on Google for providers of UPC/EAN barcodes.
---
9. Manage inventory and prices
One of the biggest disadvantages of using a dropshipping model is having no control over stock levels and prices. Unfortunately, without a reliable inventory management system in place, it's inevitable to sell products that are no longer available. Naturally, this could lead to an angry customer, performance defect, or negative feedback. 
It's important to establish an efficient method of monitoring stock levels and prices. You can opt to conduct manual stock checks, request regular updates from your suppliers or enlist the help of automation software.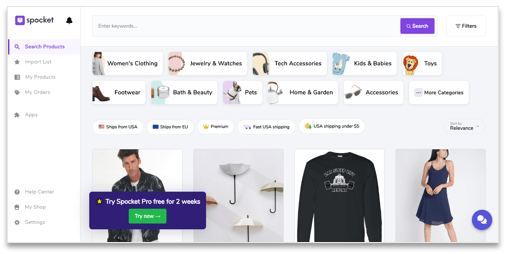 Offering an all-in-one solution for creating listings, as well as automatically managing stock, repricing, and even order processing, automation software solutions are quickly becoming considered essential when running an Amazon dropshipping business.
Thankfully, as dropshipping has become more popular, so have automation software solutions. This means you have a wide range of options to choose from.
For more information, please view our comprehensive list of the best dropshipping software solutions. You'll be sure to find a software program that is compatible with your chosen supplier.
---
10. Review seller performance
Most online marketplaces have some form of selling standards or performance system in place. Designed to ensure only the highest quality of sellers are trading on the platform, the Amazon seller performance system is very simplistic and easy to understand.
Made up of various metrics including customer service performance, policy compliance, and delivery performance, sellers are expected to maintain the targets set by Amazon.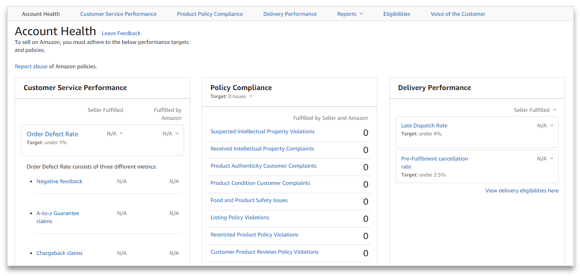 Failure to meet any or all of the set targets could result in strict penalties against your seller account such as temporary suspension or permanent suspension.
Unfortunately, there is no one-size-fits-all when it comes to seller performance, actions can be taken against your account at Amazon's discretion. As a new seller, you may also face random account reviews or check-ups.
Therefore, it's important to meet the targets and adhere to the performance standards, while also avoiding policy violations. Let's take a more detailed look at each section for your consideration.
Customer service performance
Consisting of 3 different metrics including negative feedback, A-Z claims and chargeback requests, the customer service measurement is the most important.
With a current target of less than 1 percent, it's essential to prevent negative feedback and chargebacks by providing excellent customer service.
Communicating with your buyers and tackling order issues in a timely manner is the most effective way to maintain a healthy customer service performance rating.
Policy compliance
Amazon has several different selling policies which need to be followed. Failure to adhere to the policies will result in complaints and strikes against your seller account.
The most common reasons for policy violations include copyright complaints, listing inaccuracies, or counterfeit reports.
Finding a reputable dropshipping supplier is the most effective way to avoid complaints and prevent policy violations. You need to be sure you have permission to sell certain brands and use product images or descriptions.
You should also make sure your Amazon listings contain accurate information before publishing them live.
Delivery performance
Your delivery performance is made up of 2 different metrics including your late dispatch rate and cancellation rate. Maintaining a late dispatch rate of less than 4% is easily achieved by simply marking orders as dispatched within the specified time frame.
However, maintaining a cancellation rate of less than 2.5% means ensuring products are in stock and available at the time of purchase.
Unfortunately, this can be challenging when dropshipping as you lack control over stock levels. However, there is a simple solution to avoiding selling out-of-stock items, more of which will be discussed later in this guide.
---
11. Manage returns and refunds
Accepting returns is an unavoidable part of any ecommerce business, particularly when selling on Amazon where sellers are required to follow the global 30-day Amazon returns policy.
Customers tend to initiate returns on Amazon by either contacting you directly or opening a return request. If the customer opens a return request, you'll be able to manage the return form within the Manage Returns section of your seller central dashboard.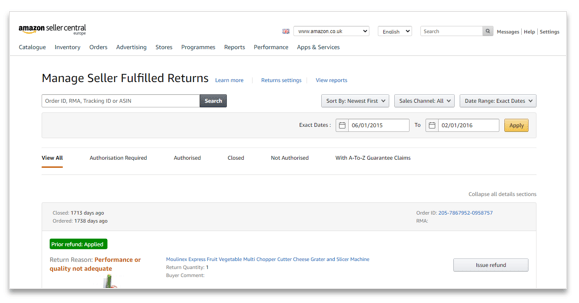 Once a customer requests a return, it's important to contact your supplier as soon as possible to arrange it. In most cases, your supplier should be able to provide you with a return label or return address. Forward the details on how to return the item to your customer.
Once the customer has returned the item, the supplier will refund you and you can then refund the customer. A few tips to consider when dealing with returns include:
Establish a close relationship with your supplier and process returns as soon as possible
Ask the customer to include the order number as a reference code for faster processing
If necessary, refund the customer upfront to avoid any delays and prevent negative feedback
---
12. Process customer orders
Processing orders as quickly as possible is vital when dropshipping on Amazon. The quicker you forward the order to your supplier, the sooner it will be dispatched. Therefore, you should aim to process orders the same day or the next day at the latest.
When a customer places an order, Amazon will send an email notification. To locate the order details including the shipping address, follow these steps:
Login to Amazon Seller Central
Navigate to Orders – Manage Orders
Locate and click the order number
View the Ship To address
Once you have the shipping address, simply forward this to your supplier or place the order with your supplier, making sure you input the customer's shipping address during checkout. Always check the shipping address and fees before placing the order.
Tip: Once your supplier has dispatched the item, make sure you mark the item as dispatched by navigating to Orders > Manage Orders. It's important to mark orders as dispatched and upload tracking information as soon as possible.
---
13. Manage help and support
Customers are the bread and butter of your business. Providing excellent service is the best way to avoid defects such as negative feedback or product reviews.
Good service has also been proven to aid in building a repeat customer base by establishing rapport and trust with your buyers. Treat customers well and they'll continue to come back for more. A few tips to consider when dealing with customers include:
Tackle order issues and negative feedback as quickly as possible

Forward tracking information as soon as it becomes available

Follow-up with customers after the purchase to request feedback

Encourage customers to leave a short product review or rating

Always remain professional even when faced with difficult buyers

Process returns as quickly as possible and issue refunds promptly
---
14. Grow your sales
Creating a few listings or offers on Amazon and expecting an avalanche of sales is not realistic or viable. As a new seller, it will take time and effort to build trust with Amazon and establish yourself as a reliable seller.
In the meantime, learning how to increase your sales as a new seller is vital. The following techniques will help you to quickly boost sales and get the ball rolling.
Create promotions and offers
Running promotions is a great way to generate buzz for new products. From buy-one-get-one-free offers to coupon codes and flash sales, Amazon allows sellers to create various different promotions with a few clicks of the mouse.
Simply log in to your seller account, navigate to Advertising > Promotions, and refer to the Amazon documentation for step-by-step instructions on how to get started with promotions, or check the following YouTube tutorials: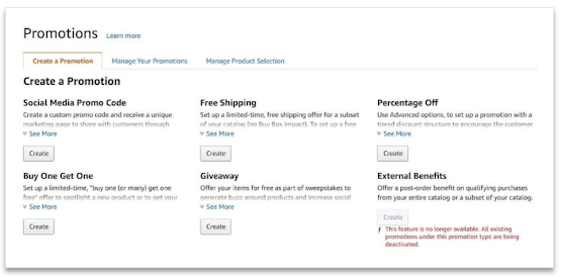 Run sponsored ads
Amazon PPC (pay-per-click) is an internal advertising system on the Amazon marketplace that is available to all sellers. Running PPC ads on Amazon is the quickest way to gain top rankings within the search results and generate fast sales.
Amazon PPC is a complicated and often time-consuming feature to configure. Therefore, learning effective PPC management is critical for increasing profits and streamlining your Amazon campaigns.
To point you in the right direction, the following YouTube videos provide a detailed look at Amazon PPC and how to make it profitable: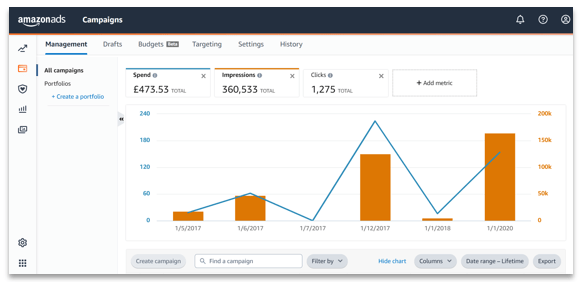 Get customer reviews
Did you know that 79% of customers trust online reviews as much as personal recommendations? A further 73% of consumers say positive reviews allow them to trust a business more. When it comes to Amazon, reviews are the lifeblood of the platform, loved by buyers and sellers alike.
Furthermore, it's a known fact that custom reviews on Amazon can greatly improve your rankings within the search results and ultimately boost sales.
The more positive reviews you have, the higher you will rank on Amazon search and the more customers will trust your product. A few tips to consider when it comes to acquiring reviews include:
Follow up with customers after the initial purchase to request a product review or use the Request a Review button in seller central
Join the Amazon early reviewer program in which Amazon will encourage reviews by providing customers with a gift card
---
Frequently Asked Questions (FAQs)
The following frequently asked questions cover everything related to dropshipping on Amazon. If you have any additional questions which are not covered here, feel free to browse our other guides and articles.
What is dropshipping?
Originally gaining popularity in 2006, dropshipping has become a primary ecommerce business strategy for thousands of retailers and online sellers across the globe, including some major brands such as Wayfair.
Unlike the traditional method of running an ecommerce business, which typically involves sourcing products in bulk and reselling them individually, dropshipping does not require you to purchase products upfront or hold any physical inventory.
No purchasing stock upfront
No holding any physical inventory

Postage and packaging is done for you

Very little start-up costs and ongoing expenses
Dropshipping eliminates the most time-consuming and costly aspects of running an ecommerce business including having to dispatch orders and process returns. Instead, products are sourced directly from the supplier and delivered straight to the end consumer.
The supplier handles everything from picking and packaging to postage and delivery. It's similar to having your own warehouse and team of staff members, without having to pay anything for them.
---
Why dropship on Amazon?
As previously mentioned, Amazon has hundreds of millions of buyers from across the globe, many of which are exclusive to the platform. Much larger than eBay, Amazon boasted sales of more than $300 billion in 2019, compared to eBay's smaller but modest $10 billion.
Furthermore, Amazon has a much larger market share, accounting for over 13% of all global ecommerce sales, including a staggering 50% of the US marketplace. Amazon also has more customers to reach and fewer sellers to compete with.
Quite simply, not dropshipping on Amazon means missing out on a ton of additional customers and sales. If you want to build a sustainable and long-lasting dropshipping business that will generate profits for years to come, selling on multiple platforms including Amazon is essential. You should never put all of your eggs in one basket by selling exclusively on one platform.
---
What are the pros and cons of Amazon dropshipping?
While dropshipping on Amazon can be extremely profitable and lucrative, it does have its fair share of disadvantages that need to be carefully considered. To help you decide whether it's the right selling platform for you, here's a list of the most pros and cons for your review.
Pros
Millions of global buyers

No listing fees or selling limits

Easy to create offers & listings

Fewer sellers and competition

Bigger profit margins

Dedicated

 seller support

Simple performance standards

Reasonable selling fees

Minimal start-up costs
Cons
Stricter selling policies and rules

Slower (non-instant) seller payouts

Share the same product details page

Less control over listings & descriptions

Mandatory s

eller verification process

Random and frequent account reviews
Is dropshipping allowed on Amazon?
As stated in Amazon's dropshipping policy, using a dropshipping model to process orders is allowed. However, in order to dropship on Amazon, you must follow the guidelines outlined in the policy which means sourcing products from a genuine wholesaler, manufacturer, or trade-only dropshipping supplier.
Selling products on Amazon and then purchasing them from another retailer or marketplace is not allowed. As a dropshipper, you're also responsible for the safe delivery of items, as well as accepting and processing returns. Please refer to the policy for full details.
Can anyone dropship on Amazon?
One of the biggest advantages of using the dropshipping model is being able to sell in any country you want, without having to be physically located there. It's also free to create an Amazon account and start selling.
Therefore, anyone can start dropshipping on Amazon. However, it's important to understand that you'll be required to complete a verification process before being able to sell on Amazon, more details can be found above.
How much money do I need to start dropshipping on Amazon?
Starting an Amazon dropshipping business requires no upfront investment as it's free to sign up and start selling on the platform.
Furthermore, you won't need to purchase stock upfront or invest in storage space or order processing. However, as Amazon does not provide instant payments to sellers, you will need to fund the orders upfront.
How much do Amazon dropshippers make?
While it's impossible to give an exact figure, it's safe to say Amazon dropshippers make anything from extra cash to full-time income or significant life-changing income.
Your success as an Amazon dropshippers depends on a wide variety of factors including your business model, selling strategy, and advertising campaigns, as well as your ability to efficiently run the business.