5 Simple Ways to Sell Dropship Products (Top Methods)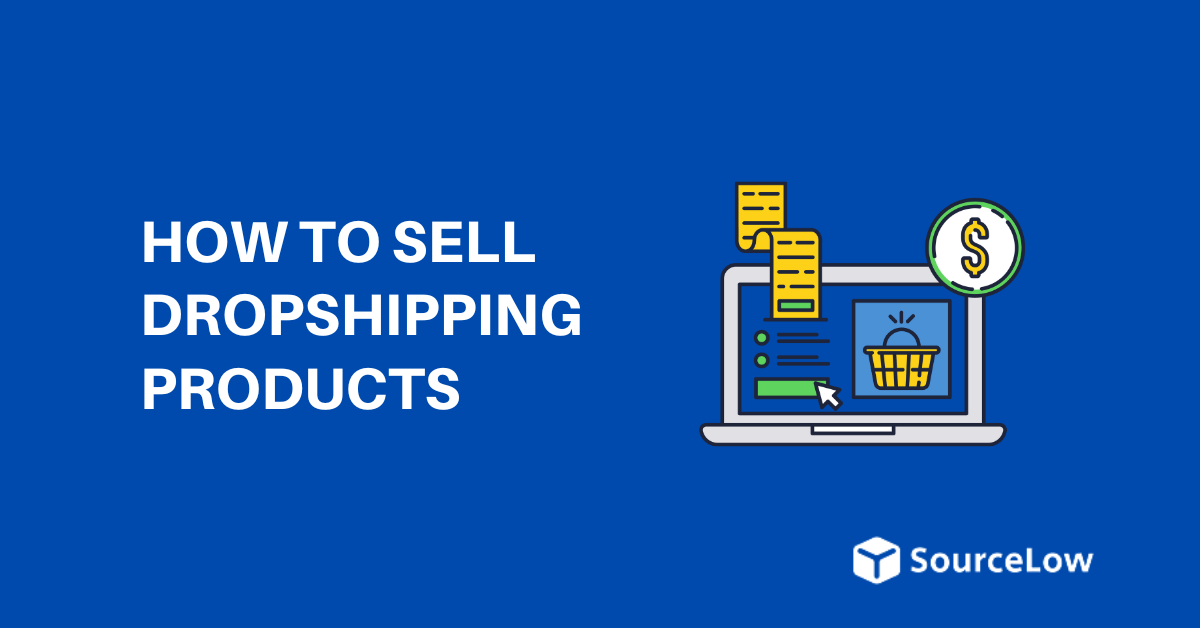 Disclosure: We may earn a commission or fee from some of the links in our content. However, this does not affect our recommendations. Learn more.
Sales are the lifeblood of any business. Without sales, no business can thrive or survive. When it comes to ecommerce and selling dropshipping products, the internet is your ally.
From selling on eBay to building your own ecommerce website or creating a Facebook store, there are a number of ways to reach buyers.
In this guide, you'll uncover 5 of the best ways to start selling dropshipping products, without a large upfront investment.
---
1. Sell on eBay
With over 160M users, eBay is the one of most popular ecommerce websites on the planet. Thousands of sellers, including some well-established brands successfully dropship on eBay, with a large percentage of all orders coming from dropshippers.
The business model is quickly becoming common practice, particularly amongst newbie eBay sellers with limited cash flow.

One of the biggest benefits to selling on eBay is that literally anyone can create an account and start listing, without having to learn complicated coding skills.
From creating listings to processing orders, as well as communicating with customers and managing returns, it's all done through the eBay seller hub.
Order payments are instant which makes it particularly suitable for dropshipping, as it allows for seamless ordering of products from suppliers for direct dispatch to customers.
One of the biggest issues with dropshipping on eBay is products running out of stock or changing in price. Cancelling orders on eBay for being out of stock will result in performance defects on your seller account. The best way to avoid such issues is through the use of automation software.
From creating listings to automatically repricing products and monitoring stock levels, as well as processing orders and uploading tracking info, automation software will handle it all.
View our list of the best eBay dropshipping software solutions for more information.
---
2. Sell On Amazon
While certainly a well-established giant in ecommerce industry, eBay is not the only major player. Often a forgotten alternative to selling on eBay, Amazon is the world's largest online retailer with over 190 million monthly users and annual sales of more than $250 billion.
Dominating a market share which totals more than it's 3 main competitors combined, including eBay and Walmart, Amazon is becoming an increasingly popular choice for dropshipping.


With no listing fees or limits, Amazon sellers can list an unlimited number of products without paying a single cent, while an (optional) upgrade to a professional account allows for lower fees on sold items.
More customers, less sellers and fairer policies are some of the biggest reasons why so many eBay sellers are switching their focus to Amazon.
Listing a product for sale on Amazon is significantly less time-consuming or complex when compared to eBay. While listings are created individually on eBay, Amazon sellers often share the same details page if the product already exists in the Amazon catalogue.
Therefore, in some cases, creating a new listing will not require you to write a description or upload product images.
Quite simply, if you're not selling on Amazon then you're missing out on a ton of potential sales and the opportunity to build your own brand.
While dropshipping on Amazon is good starting point, venturing into Amazon FBA should be your ultimate goal, as it comes with many of the same benefits of dropshipping.
Much like with eBay, items running out of stock or raising in price is a common problem for Amazon dropshippers, particularity as they begin to scale and create hundreds of listings.
Using software to automate price/stock management is a sure-fire way to eliminate the issue. Refer to our list of the best Amazon dropshipping software programs to learn more.
---
3. Build Your Own Store
Building your own store is by far the most viable way to create a long-term income with dropshipping.
Marketplaces such as eBay and Amazon are great for bringing in quick sales, but the platform itself retains full control over your business, while policy changes can happen at any given time, even to the determent of sellers.
eBay is particularity notorious for constantly changing policies, as well as introducing new policies such as seller metrics and managed payments. Horror stories of marketplaces suspending sellers without good reason frequently litter the internet.
Even one policy change, at the discretion of the marketplace could result in you going from a top rated seller to below standard literally overnight.


With your own store however, you're in full control and never need to worry about policies, listing limits, negative feedback or possible suspensions.
You'll also gain the flexibility to aim for higher profit margins due to having less competition and no selling fees to pay. You can grow your dropshipping business at a rapid rate without restrictions or interruptions.
Building an ecommerce store used to require a huge amount of time, money and effort, rendering it unachievable for the average Joe.
Thankfully, the rise of simple to use online store builders make it easy for anyone to quickly launch a store, without needing to know coding. In most cases, online store builders offer an all-in-one solution for accepting orders, processing payments and managing returns.
Please see our comprehensive list of the best online store builders for more information.
While building your own website is not something that's recommended when first starting out, as you begin to scale and earn profits, it's wise to invest them into creating your own website.
The extra time and effort spent on creating a website will be worth it in the long haul, particularly as you begin to watch the site grow and generate sales.
Another advantage to creating you own website is having an extensive collection of automation software solutions to choose from, most of which seamlessly integrate with the top store building platforms, including Shopify and WooCommerce.
Using software will allow you to automate the most tedious tasks of running a dropship business including creating listings, managing inventory and processing orders, as well as uploading tracking information.
Please see our list of the best dropshipping software solutions for more information.
---
4. Create a Facebook Shop
With billions of monthly users, Facebook is one of the most popular websites in the world, second only to Google and YouTube. Millions of businesses use Facebook to connect with new customers and increase brand awareness.
Whether it's through the use of a page, group or paid advertisement, Facebook can be an extremely powerful marketing tool.

One of the more useful options for ecommerce business owners is the ability to create a Facebook Shop. While a relatively new concept, Facebook Shops are predicted to become a game-changer in the ecommerce industry, directly competing with marketplaces like eBay and Amazon.
Features of a Facebook shop include the ability to create product collections (aka categories) and communicate with potential buyers through chat, while functions to accept orders directly through your shop are in the works.
To learn more, please refer to Facebook's article on creating a shop.
---
5. Try Other Selling Platforms
To maximise sales, selling on other popular ecommerce channels such as Etsy, Ebid and Bonanza is recommended. Although not as popular as eBay and Amazon, these little-known marketplaces attract millions of global buyers and have much less sellers to compete with.
Free listings, lower selling fees and less strict selling policies make them an ideal alternative to eBay, particularly for dropshipping.
If nothing else, it's worth listing your products on each platform to see how well they perform. Even a few extra sales each week means more profits and exposure for your brand.

While Etsy is specifically designed for selling handmade or vintage items, Ebid and Bonanza are more traditional marketplaces.
Both Ebid and Bonanza have tools will allow you to quickly import existing eBay listings in bulk, as well as your established feedback score.
Therefore, you won't need to go through the hassle of creating individual listings on each platform or start with a 0 feedback score. With no listing fees, you have nothing to loose by importing your products.
---
Final Word
In conclusion, these 5 simple ways to start selling dropship products are easy to implement but highly effective. Avoid putting all of your eggs in one basket by selling exclusively on one platform. Branch out to maximise sales.
List on both eBay and Amazon, then look into other selling platforms such as eBid and Bonanza. Setup a Facebook shop and share your products on social media.
Lastly, consider putting in the time to build your own website. If you're serious about turning your dropshipping business into a full time income, you need to be willing to go that extra mile.