Overall Rating:
---
Spocket is a revolutionary, fast-growing and highly popular dropshipping marketplace and automation solution featuring hundreds of US/EU shipped products, real-time stock/price updating and 1-click ordering, as well as seamless integration with multiple top online store builders including Shopify, BigCommerce and WooCommerce. Attracting tens of thousands of global users, Spocket has solidified its reputation as a viable, reliable and proven dropshipping platform, perfect for those looking to source EU/UK & US direct products to build a fully scalable and sustainable dropshipping business.
---
Compatibility: Shopify, WooCommerce, BigCommerce, Wix, AliScraper
Suppliers: 700 (USA), 50 (CA), 50 (UK) +10 more (EU)
Price: From $19 / per month (14 day FREE trial)
---
Key Features:
All-in-one marketplace, sourcing platform and automation solution
Thousands of low-cost products shipped from EU/US & UK
Automatic price, stock and inventory updating
Import and push products to your online store in minutes
Compatible with multiple top online store builders
---
What is Spocket?
---
Spocket is an innovative, all-in-one dropshipping solution for sourcing, listing and auto managing dropship products on your ecommerce store. Compatible with 5 of the most popular online store builders including Shopify, BigCommerce and WooCommerce, Spocket is considered a game-changer in the dropshipping industry, trusted by over 60,000 entrepreneurs from across the globe and growing consistently each day.
Unlike standard dropshipping software solutions which usually work independently from suppliers, Spocket connects with suppliers in a much more direct way, allowing them to sign up and list their products for sale through the Spocket platform. Much like eBay but exclusively for business to business trading on a dropship basis, Spocket is revolutionising the ecommerce industry with its forward thinking and clear mission to become the original and best dropshipping marketplace.
Streamlining the connection between buyers and suppliers, Spocket enables users to effortlessly source products from multiple different dropshipping suppliers using one central location, while also providing stock, repricing and fulfilment automation solutions.
Pros & Cons
---
We've established that Spocket excels in features and usability, but that doesn't mean it's flawless. In fact, Spocket has some very real disadvantages which render it unsuitable for everyone, particularly those who like to maintain full control over certain parts pf their business. Here's a detailed breakdown of both the pros and cons of using Spocket for your consideration.
Compatible Suppliers
---
As it stands, Spocket has hundreds of leading dropshipping suppliers signed up to its platform, most of which are based in the US with a growing collection of EU/CA and UK suppliers. Furthermore, Spocket is growing at a super-fast rate with more suppliers being constantly added. Therefore, you can be sure to find suitable products in just about any category or niche. One of the biggest benefits to using Spocket is that many of the suppliers are China based companies with global distribution warehouses. Therefore, the products are often very low-cost with high profit margins to be made.
| Location | Supplier Count |
| --- | --- |
| United States | 700 |
| Canada | 50 |
| UK | 50 |
| EU | 10+ |
Compatible Selling Platforms
---
Spocket is compatible with some of the biggest ecommerce store building platforms on the net, including Shopify, WooCommerce, BigCommerce and Wix. Therefore, users have ample choice and flexibility when it comes to selecting the right software to build a store. The only disadvantage is that Spocket is not currently compatible with online marketplaces such as eBay or Amazon. However, with the use of an additional third-party plugin or app such as multi-channel selling software, your store products can be quickly pushed to eBay and Amazon in the few clicks of a mouse.
Usage & Settings
---
Spocket is a completely independent app, allowing you to manage your entire dropshipping business from one central platform. Whether your using Shopify, WooCommerce or BigCommerce, connecting your store to Spocket is as simple as installing a plugin or app. You can then browse the extensive range of products and push them to your online store in a few clicks. A modern and simplistic user dashboard allows for quick changing or enabling of important settings and features such as auto updating, pricing rules, payment options or stock management.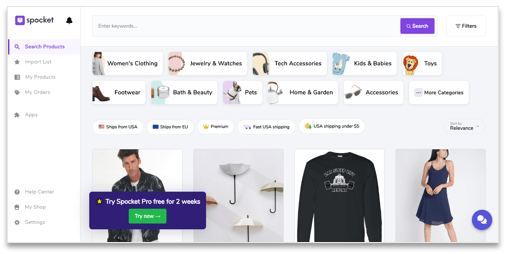 All-in-one dashboard for importing products, managing listings and processing orders
Connect to your preferred online selling platform in minutes using simple plugin or app
Quick filters to find products shipped from a specific location e.g. UK/EU/US
Import products individually or in bulk and push them to your online store in one click
Set fixed, multiplier or percentage-based pricing rules with advanced tiered options available
Process orders in a few clicks with automated address and billing info input
Keep track of orders, performance and traffic from within the admin area
Pricing & Billing
---
From the $19 per month starter plan to the $300 unicorn plan, Spocket's pricing is primary based on the total number of products you wish to list. Customers can opt to pay a monthly subscription or lock in huge savings of more than 50% by paying yearly. Currently, subscription fees can be paid by credit card, PayPal or Shopify, while order payments are processing via credit card only. Spocket offers a no-nonsense 14-day free trial period to test the platform and decide whether it's for you.
Important Note: We regularly monitor reviews to maintain up-to-date prices. However, prices are subject to change at any given time at the providers discretion. Please visit the Spocket website for more current prices.
| Listings | Price |
| --- | --- |
| Unlimited | 14-day trial |
| 25 | $19 / month |
| 250 | $49 / month |
| 10,000 | $99 / month |
Pricing Overview: While the price for 25 products stands at $19 per month, the $99 empire plan allows for a massive 10,000 products as well as 10,000 premium products, making it the best choice in terms of value and potential. Thankfully, the 14-day free trial offers plenty of time to determine which plan would be most viable for your needs.
Final Conclusion
---
If you're looking to offer fast and reliable shipping to your customers while still maintaining healthy profit margins, Spocket is the ultimate dropshipping solution. Designed specifically for EU/UK & US based suppliers, Spocket allows for the complete management of your dropshipping store from one central location, even when sourcing from multiple suppliers at a time.
The main disadvantage to using Spocket is not having direct communication with suppliers in order to quickly resolve order issues, arrange returns or forward complaints. All communication with suppliers needs to go through the Spocket support team first which takes additional time and effort. This can often make the process of dealing with simple issues more difficult or stressful. The introduction of an internal mailing system between buyers and suppliers would be a welcomed enhancement which would make the life of dropshippers much easier.
On the plus side, the advantage of being able to source from multiple suppliers using one platform is priceless. You won't find yourself jumping from website to website or dealing with multiple different companies. Therefore, you can focus your efforts on what matters more – growing your product range and generating sales.
Spocket FAQs
---
Check out the following Frequent Asked Questions about Spocket. If you have any questions which are not covered, please visit the Spocket website and contact them directly.