SkuGrid Review: Features, Pricing & Settings (Pros & Cons)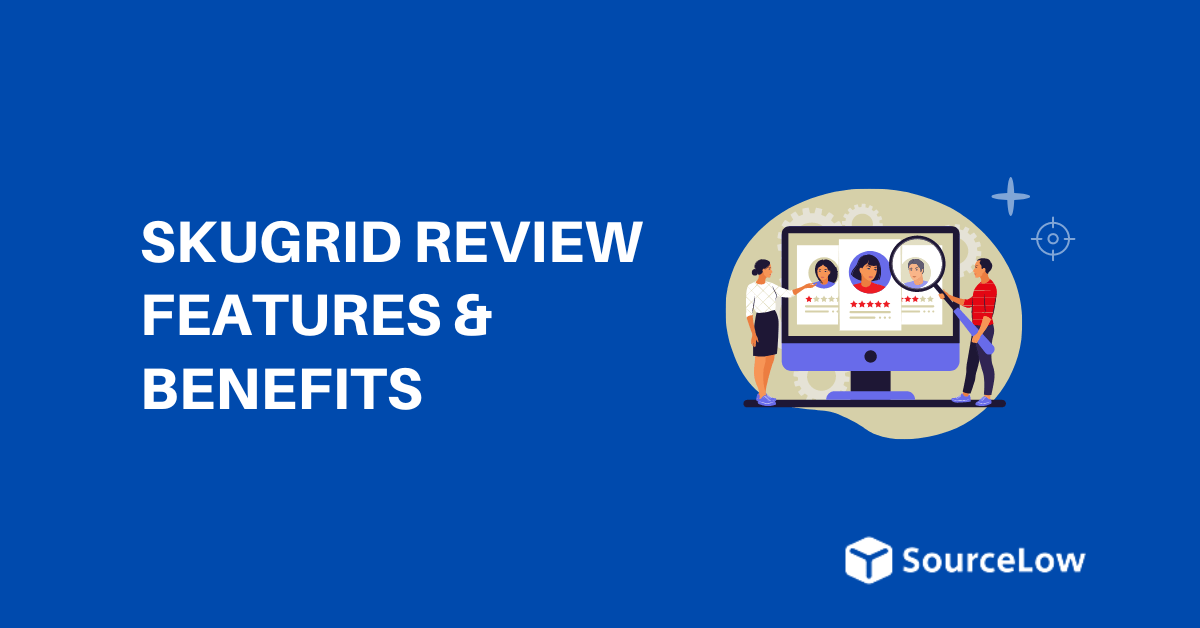 Disclosure: We may earn a commission or fee from some of the links in our content. However, this does not affect our recommendations. Learn more.
Before you can start a dropshipping business, you need to find a reliable software to manage inventory and prices. The alternative would be to manage stock and price changes manually which can be time-consuming and inefficient, particularly as you begin to scale your business.
SkuGrid is one such software for automating repricing for your dropshipping business. In this guide, I will be giving you an extensive review of the SkuGrid platform and all of it's features.
---
Review Summary
Overall Rating: 4.7 stars • Great ⭐✅
SkuGrid is one of the original and most reliable dropshipping automation solutions, with over 800 compatible suppliers, it's unbeatable in terms of product range and features.
Designed for use with eBay and Amazon, as well as Shopify and WooCommerce, SkuGrid provides members with ample choice when it comes to selling platforms, offering a true all-in-one listing and repricing solution. SkuGrid is also compatible with Facebook and Wish.
Perfect for newbies, SkuGrid offers low-cost memberships starting at just $14.99/month. This includes monitoring and repricing up to 200 items.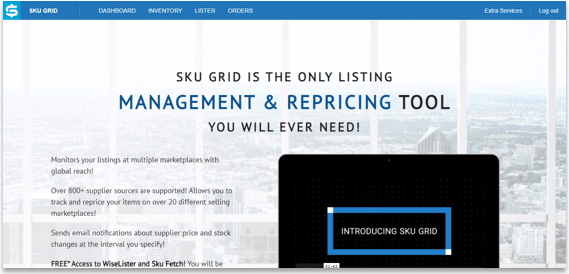 Top Features
Over 800+ compatible dropshipping and wholesale suppliers
Free access to Sku Fetch for creating professional listings quickly
Automated inventory monitoring and repricing every 60 minutes
Optional stock/price change email notifications every hour/daily
Non-API version for compliant automation of eBay inventory
Innovative Chrome extension with auto file exchange updates
---
What is SkuGrid?
Founded in 2015, SkuGrid is one of the original and most advanced dropshipping automation solutions on the net. The software is compatible with more than 800 suppliers and over 10 selling channels including eBay, Amazon, Shopify, WooCommerce and Etsy. It's widely considered the most flexible and scalable dropshipping software on the market.
In fact, SkuGrid is trusted by more than 10,000 global users and counting. The software further integrates with a variety of multi-channel selling tools including Selro and Ecomdash.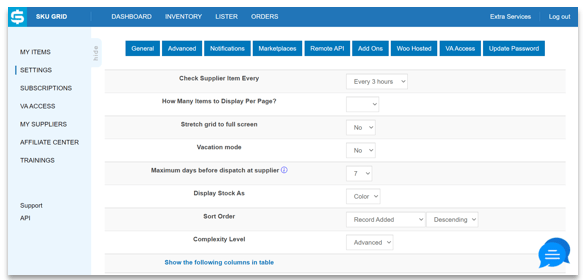 SkuGrid is also an extremely low-cost dropshipping software with the newbie plan starting at only $14.99/month for monitoring and tracking up to 200 items, as well as access to the flagship Sku Fetch product listing tool.
Alternatively, users can choose to pay for credits which can then be allocated to certain tasks such as repricing items. Therefore, it's the perfect option for newbie dropshippers who lack the funds needed to invest in high-end automation software.
---
Features & Benefits
From automated inventory management to bulk listing, single listing and reliable price/stock notifications, as well as 800+ compatible suppliers and 10+ online selling channels, SkuGrid is packed full of essential features. Whether you want to start dropshipping on eBay or through your own online store, SkuGrid is the perfect solution.
Membership also includes free access to Sku Fetch, a powerful and highly flexible product listing tool which automatically imports full product data including images, description and key features. Create new listings and instantly push them to your online selling channel in just a few clicks.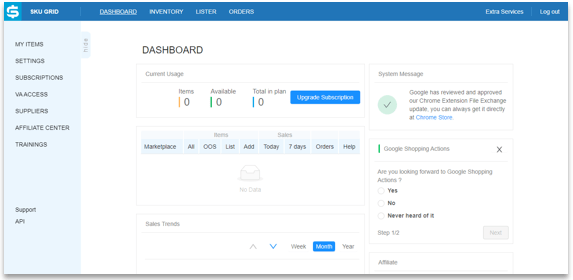 Over 800 dropshipping suppliers from the US/UK/EU

10 compatible selling channels including eBay/Amazon

Fully automated inventory management and repricing

User-friendly dashboard with simple settings and rules

Optional stock and price change notification emails

Powerful tool for creating product listings in minutes

Lost-cost monthly plans with 14-day free trial period
Non-API solution with free WooCommerce store

Chrome browse extension with variations support
---
Pros & Cons
From seamless integration with more than 10 selling platforms to advanced pricing formulas and reliable stock management settings, SkuGrid has a long list of exclusive features and benefits.
However, it also has a few disadvantages which need to be carefully considered. To help you decide whether or not it's the right software for you, here's a side-by-side comparison of the both pros and the cons of using SkuGrid to manage your dropshipping business.
Pros
800+ US/UK/EU suppliers
Affordable monthly plans
Reliable US based servers
Flexible repricing rules
Quick integration options
Non-API eBay solution
Simplistic user settings
Frequently updated
Cons
No automatic ordering

No built-in product lister

Limited payment options

Lots of retail suppliers

Lack of genuine wholesalers

Mostly US/UK dropshippers
---
Compatible Suppliers
SkuGrid is compatible with over 800 dropshipping suppliers from multiple locations across the globe including the US, UK, EU and China. Whether you want to sell electronics, clothing or kids toys, you can be sure to find a supplier with SkuGrid.
Furthermore, new suppliers are added regularly and members can submit requests for specific suppliers to be included. If a worthwhile dropshipping supplier becomes available, you can be sure it will be added to SkuGrid.
United States (520+)
United Kingdom (190+)
Australia (30+)
Germany (25+)
---
Selling Platforms
From marketplaces such as eBay and Amazon to popular online store builders including Shopify and WooCommerce, SkuGrid is compatible with more than 10 selling channels.
Therefore, whether you're looking to sell on eBay or through your own online store, SkuGrid is the perfect solution. Another advantage to using SkuGrid is being able to sell on multiple different platforms using only one main software solution for managing inventory.
eBay (All Sites)

Amazon (All Sites)

Etsy Marketplace

Wish

Shopify

WooCommerce

BigCommerce

Google Shopping

Facebook Stores

Walmart

Bonanza

Mercado Libre
---
Usage & Settings
The SkuGrid dashboard is very easy to navigate, with the essential settings all in one place. Once you have connected your online store or marketplace, you can immediately start adding listings or creating new listings using Sku Fetch.
Once added to your SkuGrid account, your listings will be automatically checked every 60 minutes for price or stock changes. If changes are detected, SkuGrid will immediately make the necessary revisions to your marketplace or online store listings.

To help you get up and running quickly, an extensive collection of getting starting guides and tutorials can be found within the SkuGrid dashboard.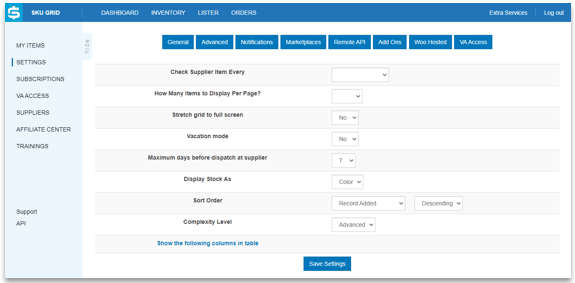 Easy to navigate user dashboard with essential and basic settings all in one central location
Simple pricing formulas and stock settings with automatic calculation of shipping costs
Innovative non-API eBay solution using Chrome Extension and manual file exchange
Detailed listing information including supplier quantity and estimated profit margins
Automatically set available quantity to 0 or raise the price for out of stock items
Receive daily, hourly or twice daily stock and price change email notifications
Grant limited access to virtual assistants to help you grow your business
---
Pricing & Billing
When it comes to pricing, SkuGrid is one of the most affordable dropshipping software solutions on the net, starting at just $14.99/month for the newbie plan which includes monitoring and repricing of up to 200 items, as well as unlimited access to Sku Fetch.
Pricing for more than 200 items is also very low-cost with the most popular (Intermediate) plan coming in at just $59.99/month for up to 1800 items.
The low pricing allows users to maximise their profit margins, without having to spend a fortune on inventory management software. SkuGrid offers a 7-day free trial which includes full access to the software. If you're unhappy with SkuGrid, simply cancel within 7-days.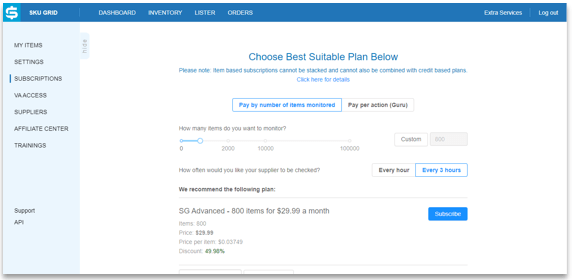 200 Listings – $14.99/month
800 Listings – $29.99/month
1800 Listings – $59.99/month
3000 Listings – $89.99/month
---
Final Conclusion
SkuGrid is a reliable, flexible and highly affordable dropshipping software with a massive collection of compatible suppliers and selling platforms.
From automated inventory management to bulk listing, product importing and price/stock notifications, SkuGrid has everything you need to build a fully streamlined, scalable and lucrative dropshipping business.
Furthermore, with pricing starting at less than $15/month, SkuGrid is also one of the most competitively priced dropshipping solutions, trusted by tens of thousands of users from across the globe.
---
Getting Started
To get started, simply visit the SkuGrid website and sign up for the 7-day free trial. Once you have signed up, it's recommended to visit the 'Trainings' section within your user dashboard where you will find a large collection of guides and tutorials tailored towards your selling channel of choice.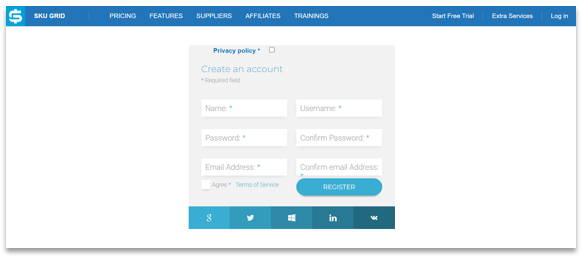 From there, you will learn how to enable formulas for automatic repricing, configure essential stock settings and start creating new listings using Sku Fetch or manually. If you have any questions or concerns, the dedicated SkuGrid support team is only an email away.
---
Can I list new products with SkuGrid?
SkuGrid membership includes access to Sku Fetch, a third party tool which allows you to create new listings on various sales channels, while automatically importing them to your SkuGrid account. When using Sku Fetch, all product data including images, description and key features will be automatically imported.
Does SkuGrid monitor stock and prices?
Yes. SkuGrid monitors and checks stock and prices every 60 minutes. If changes are detected, SkuGrid automatically makes any necessary changes to your marketplace or online store listings.
For example, if your supplier runs out of stock, SkuGrid will automatically place your own listing out of stock. If the price of an item increases, SkuGrid will automatically change your price based on simple pricing formulas enabled within the settings.
Does SkuGrid offer a free trial?
Yes, SkuGrid currently offers a 7-day free trial. Therefore, you can access the software and all the innovative features for a full week before making any commitments. If you find that SkuGrid is not a match for your needs, simply cancel your subscription before the trial period ends and it won't cost you a penny.
How much does SkuGrid cost?
SkuGrid offers a range of affordable monthly plans. The newbie plan starts at just $14.99/month for monitoring and repricing up to 200 items, while the higher plans allow for monitoring and tracking of more items. The most popular plan is the Intermediate plan which includes monitoring and repricing of up to 1800 items for only $59.99/month.
Alternatively, users can opt to pay per action which a fixed amount of credits will be awarded to the account and available to allocate to certain features. However, the fixed monthly plans are the most common for newbies or those just starting out with dropshipping.
Is it safe to use SkuGrid for dropshipping?
SkuGrid is completely safe to use, even on third party marketplaces such as eBay or Amazon due to the unique repricing options which do not use eBay's API. Therefore, you can use SkuGrid to manage your eBay listings without worrying about breaking any compliance rules.
In fact, SkuGrid does not even need to link to your eBay account in order to manage your eBay listings. More details on the non-API eBay options can be found on the SkuGrid website.
Can I import existing listing?
Yes, if you have existing listings on a third party marketplace or online store, you can quickly import them to your SkuGrid account for automatic monitoring and repricing. However, you will need to manually add the supplier URLs to each listing individually for SkuGrid to accurately monitor them.
How do the email notifications work?
When email notifications are enabled, SkuGrid will automatically send you an email notification when an item has ran out of stock or changed in price.
Email notifications are handy for those who want to retain some control over selling prices and stock levels by making manual changes to their listings, rather than relying on SkuGrid to make automatic changes based on pricing formulas. The email notifications can be received hourly, daily or twice daily depending on your personal preferences.
Is SkuGrid a reliable software?
Founded in 2015, SkuGrid is one of the original dropshipping automation solutions and is often considered the most reliable and cost-effective.
While many new software programs have launched in recent years, SkuGrid is still one of the most popular in the industry, leading the way in terms of non-API eBay solutions and cutting-edge features.
Furthermore, SkuGrid uses powerful and advanced USA-based web servers to scrape hundreds of thousands of products every month. It's an extremely well-established and fine-tuned software with significant experience, as well as a clear understanding of the needs of its users.