10+ Best Places to Buy Liquidation & Return Pallets (2023)
Did you know that millions of products are returned to retailers every year? In fact, the average retail store accepts more than $160 million in returns for every $1 billion in sales. That's a massive number by anyone's standards.
While most customer returns end up in landfill, many retailers choose to offload the goods to liquidation companies. Often unused or slightly defective, the returned products are then resold to smaller businesses for a fraction of the retail price.
If you're a retailer or have an online store, purchasing liquidation and return pallets can be very profitable. In this article, you will find a list of the 10+ best places to buy returned goods from major retailers such as Amazon and Walmart.
---
Direct Liquidation (US)
Founded in 2014, Direct Liquidation is one of the most well-known and trusted websites for sourcing liquidation and return pallets from major US-based retailers including Walmart, Amazon, Sam's Club, and Signature Hardware.
At any given time, Direct Liquidation has hundreds of products available to purchase in wholesale lots through online auctions using a real-time bidding system. Most products and mixed wholesale lots or customer returns. These can be purchased for up to 90% off the standard retail price.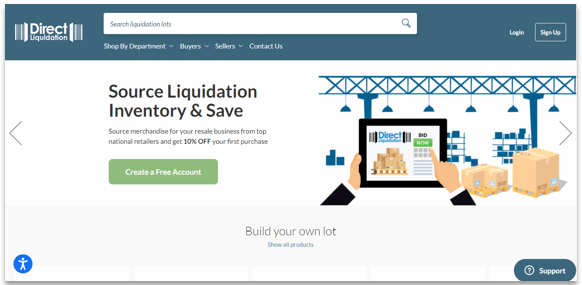 Features
Most well-known website for purchasing return pallets
Hundreds of products in more than 80 major categories
Sourced directly from US retailers including Walmart
Purchase for up to 90% off the standard retail price
No membership fees with real-time shipping quotes
---
GEM Wholesale (UK)
If you're looking to purchase liquidation and return pallets in the UK, GEM Wholesale is the market leader. GEM Wholesale has more than 40 years of experience and deals directly with some of the largest retailers in the UK.
From homeware and kitchen appliances to electronics, toys, tools, and pet supplies, GEM Wholesale has a huge variety of products to choose from. Typically, the goods are sold in mixed wholesale lots and pallets for a fraction of the retail price. This includes custom returns and liquidation merchandise.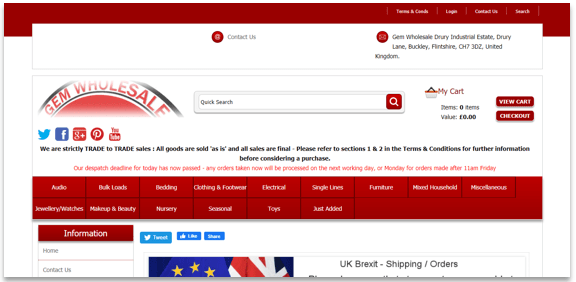 Features
Most well-established supplier of return pallets in the UK
Purchase in wholesale lots and pallets with fixed pricing
Sourced from some of the UK's largest high-street retailers
Includes homeware, appliances, tools, toys, and electronics
Low minimum order with new stocks added to the site daily
---
Worldwide Brands (US/UK)
When it comes to finding liquidation and return pallets, Worldwide Brands is one of the best websites to use. Worldwide Brands is essentially the largest and most experienced online trade directory of certified wholesalers and manufacturers.
The directory contains thousands of suppliers and millions of wholesale products including return pallets, clearance stock, and liquidation goods. As a BBB-accredited business that was founded more than 20 years ago, you can be sure that Worldwide Brands is a proven and reliable platform for quickly locating genuine trade suppliers.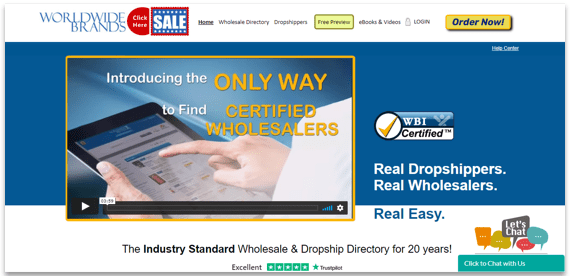 Features
The largest online directory of certified wholesale suppliers
Thousands of trade companies and millions of products
Includes liquidation and return pallets from top retailers
Effortlessly find suppliers located in the US, UK, and more
BBB accredited company with over 20 years of experience
---
B-Stock (US/EU)
Featured in a number of online magazines including Wired and Bloomberg, B-Stock is another prominent website for sourcing liquidation and return pallets from some of the world's biggest retailers including Amazon, Target, Walmart, Best Buy, and Wayfair.
The platform is very easy to use and you can source most of the goods in pallets or truckloads. This makes B-Stock suitable for businesses of all sizes including small online sellers and start-up ecommerce stores. One of the most unique features of B-Stock is that you are purchasing the goods directly from the retailers, thus avoiding additional fees.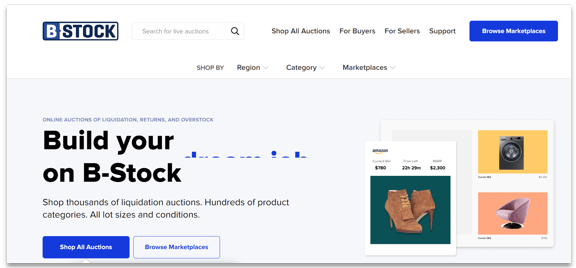 Features
Trusted website for sourcing liquidation and return pallets
Featured in Wired Magazine, Bloomberg, and USA Today
Purchase directly from premium retailers including Amazon
Used by over 5000 members with $200 billion in sales
Includes pallets and truckloads from sellers in the US/EU
---
Marthill International (UK)
Based in Nottingham, Marthill International is a well-established and reputable supplier of liquidation, surplus, and returned customer goods. In fact, the company has a combined selling experience of more than 40 years in the wholesale and clearance stock market.
Whether you're looking to source toys, homewares, electronics, or tools, Marthill International has thousands of products in dozens of categories, all of which were sourced from the UK's biggest high street suppliers. Most of the items are customer returns or excess inventory that is sold in pallets, often for below wholesale prices.
Features
Leading supplier of liquidation and customer returns pallets
More than 40 years of combined experience in the industry
Suitable for small retailers, eBay sellers, and market traders
Find products in every top category including toys and tools
Order directly through the website with fast UK shipping
---
SaleHoo (US/UK)
With more than 8000 suppliers and 2.5 million products, SaleHoo is a leading online directory of wholesalers, manufacturers, and importers.
SaleHoo allows you to quickly locate verified trade companies in virtually any category or niche including suppliers that deal in liquidation and return pallets. All of the suppliers are manually reviewed and verified to ensure you always receive professional customer support and the best wholesale prices.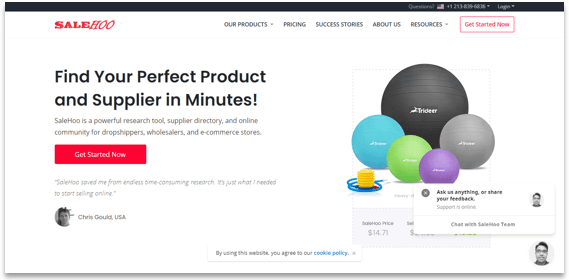 Features
Online wholesale directory of verified suppliers since 2005
8000 trade companies in multiple locations across the globe
Includes verified suppliers of liquidation and return pallets
Easy to use and regularly updated with new trade suppliers
Hundreds of positive ratings on review sites like Trustpilot
---
BULQ (US)
Established in 2015, BULQ is another popular website for sourcing liquidation and return pallets in the US. In fact, the company has more than 1.2 million customers and over 200,000 positive ratings, cementing its position as a leader in the industry.
Unlike other liquidation and wholesale websites, BULQ allows you to purchase return pallets for a fixed price. You don't need to bid on auctions and you can buy the goods immediately. This includes electronics, toys, homeware, and clothing from large retailers such as Target and Groupon.
Features
Reliable and fast-growing liquidation company since 2015
Buy return pallets sourced from retailers including Target
Fixed price listings with a full list of inventory in each pallet
Used by more than 1.2 million customers with top ratings
Fast and easy to browse platform with secure checkout
---
Jobalots (UK)
As seen on the Channel 4 show Bidding Wars, Jobalots is an online supplier of wholesale lots, liquidation stock, and customer returns.
The company deals in returned goods and clearance products sourced from reputable high-street retailers in the UK. The products range from homeware to electronics, tools, pet supplies, and clothing mostly sold in mixed lots. You can bid on the lots through online auctions and secure the goods with no overall minimum order requirement.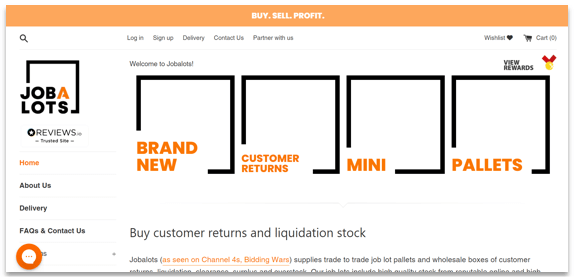 Features
UK-based wholesale company dealing in clearance stock
Mostly mixed lots of customer returns and clearance items
Bid on auctions to secure the goods for below-trade prices
Featured on Bidding Wars, the popular television show
More than 100 'excellent' customer reviews on Trustpilot
---
Liquidation.com (US)
Liquidation.com is one of the largest online marketplaces in North America for buying and selling liquidation and returned goods in small lots, pallets, and truckloads.
The website has thousands of auctions to choose from including listings from the likes of Amazon, Target, and Wayfair. As most of the products are customer returns or unwanted goods, they can be purchased for 70-90% off the standard retail price. You can review a full list of the items included in the pallet or lot.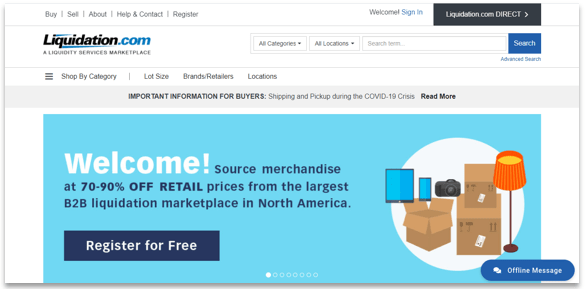 Features
Largest B2B marketplace for buying or selling liquidation stock
Thousands of auctions from the likes of Amazon and Target
Massive discounts of 70-90% off the standard retail prices
Includes a variety of small lots, mixed lots, and pallet deals
Comprehensive item descriptions with high-quality images
---
Wholesale Clearance (UK)
With more than 15 years of experience and hundreds of positive reviews on Trustpilot. Wholesale Clearance is the UK's go-to online B2B marketplace.
While the company focuses on liquidation stock and small wholesale lots, you can often find a range of exclusive return pallet deals on the site. Plus, you don't need to open a trade account or meet a minimum order requirement. This makes Wholesale Clearance great for small businesses such as eBay sellers, Amazon sellers, and ecommerce sites.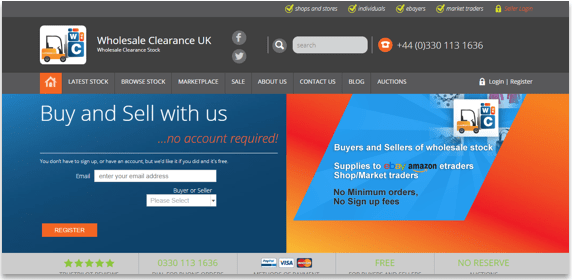 Features
The ultimate B2B marketplace for sourcing liquidation stock
Great for small sellers, start-ups, and ecommerce websites
Includes exclusive wholesale lots and return pallet offers
No need to open a trade account or reach a minimum order
15 years of experience and hundreds of excellent reviews
---
BlueLots (US)
Designed specifically for small online sellers including eBay and Amazon traders, BlueLots is another fast-growing B2B marketplace based in the USA.
Some of the largest retailers in the world sell their goods in wholesale auctions on BlueLots. Typically, most of the goods are liquidation stock, excess goods, and customer returns. Each listing includes a full description of the items included with the lot, as well as multiple images and details on quantities and retail prices.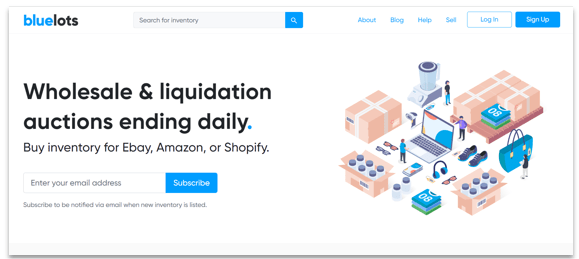 Features
B2B marketplace for liquidation and return lots in the US
Designed for small ecommerce stores and eBay sellers
Each lot includes a full description and multiple images
Used by some of the world's largest retailers and stores
Includes fixed price listings and auctions with bidding
---
BritDeals (UK)
With record-breaking sales since its launch in 2015, BritDeals is quickly becoming a top-tier liquidation and surplus inventory sourcing platform in the UK.
BritDeals has thousands of products in over 30 categories including electronics, clothing, homeware, and toys. The products are a mixture of brand-new liquidation or excess stock, as well as unwanted customer returns. One of the most unique features of BritDeals is the ability to pick individual items to create your own exclusive lot or pallet.
Features
Premier liquidation and surplus inventory sourcing website
Thousands of products in more than 30 different categories
Supplies to small businesses including eBay/Amazon sellers
Option to negotiate prices on every item or each mixed lot
Pick individual items and create your own exclusive lots
---
Frequently Asked Questions (FAQs)
What are customer return pallets?
Return pallets are bundles of goods that have been returned to retailers such as Amazon, Walmart, and Target. Typically, these goods are sold to other businesses in assorted lots, pallets, or truckloads at hugely discounted prices.
Return pallets can include a mixture of unwanted returns, slightly defective items, or uninspected returns. They are usually sold in assorted lots or as a collection of goods in the same category such as clothing, toys, electronics, homeware, or tools.
How much do return pallets cost?
In general, return pallets can cost anywhere between $100 to $2000 or more depending on the number of items in the pallet, as well as the condition and retail value of the goods. In most cases, you will be able to purchase return pallets for up to 90% off the retail price.
Why buy customer return pallets?
Buying customer return pallets will allow you to source high-quality products from leading brands for a fraction of the retail price, thus providing you with potentially huge resale profits. In fact, the goods in returned pallets can often be purchased for lower prices than sourcing in bulk directly from the manufacturer of the products.
Where can I sell customer return pallets?
You can purchase return pallets and resell the goods individually on platforms like eBay and Amazon, as well as your own website or social media sites like Facebook and Instagram. Classified ad websites such as Craigslist and Gumtree are also great places to sell return goods, particularly large items like furniture and appliances.
Alternatively, you can sell returned products offline through your own physical retail store or at local markets, yard sales, and car boot sales. You can even buy return pallets and resell them to other businesses in bulk.
Where can I find more places to buy return pallets?
If you want to find more suppliers of liquidation and return pallets, make sure you browse our additional articles. We have a ton of content on the best suppliers, manufacturers, and dropshippers. We also regularly add new content, guides, and resources.
Another option is to search on Google using targeted keywords such as 'Amazon customer returns in the US' or 'customer return pallets in the UK'. You can also use sites like eBay to quickly find deals on return pallets from small or local sellers.