12 Easy Ways to Find Dropshipping Suppliers (Top Methods)
You're fresh on the scene, pumped up and ready to kick-start your new career as a dropshipper.
Whether you want to sell on eBay, Amazon or your own ecommerce website, the first step is to find a trusted supplier to source products from.
Here you will find a list of 12 easy ways to quickly find reputable dropshipping suppliers for your business. The following techniques will allow you to locate suppliers in any category or niche.
---
1. Use a Wholesale Directory
Using a wholesale directory is the quickest way to find dropshippers for your business. Essentially a list or database of suppliers, wholesale directories can save you a huge amount of time and effort, allowing you to quickly locate the best dropshippers using one central platform.
While some wholesale directories charge membership fees, many free to use alternatives work just as well, often containing the very same suppliers as the paid versions.

In fact, here at SourceLow, we have a ton of free articles and curated lists of the best dropshipping suppliers in the US, UK and China. Furthermore, we regularly post new content on the best dropshippers for various platforms such as eBay and Amazon Please refer to our dropshipping suppliers category to browse our guides.
---
2. Try Dropshipping Software
Dropshipping software programs typically offer an all-one-solution for finding, listing and monitoring dropship products on popular selling channels such as eBay and Amazon.
Most integrate directly with multiple dropshipping suppliers, meaning manually finding products to source is not necessary. You can get instant access to a ton of suppliers and immediately start selling on your platform of choice.
From creating listings to repricing products and managing stock, as well as automatically fulfilling customer orders, the software handles it all.
Please refer to our comprehensive list of the best dropshipping software solutions for more information. If nothing else, you'll be able to view the collection of suppliers each software is compatible with and start sourcing from them directly, with or without the aid of the software.
---
3. Join a Dropship Marketplace
While dropshipping software has become popular, so has the rise of dropshipping marketplaces. Unlike software programs, marketplaces integrate with dropshipping suppliers in a more direct way by allowing them to list their products on the platform.
The resellers (aka dropshippers) then choose which products to sell and list them on popular channels such as eBay or Amazon.

The biggest benefit of using a marketplace is being able to source products from multiple different suppliers using one central location.
Creating listings, processing orders and managing returns is all done from within the platform, whereas automation software requires dealing with multiple different companies individually.
The most popular dropshipping marketplaces include Spocket and Avasam. While each is compatible with different selling channels and offer widely different products, both are free to join or offer trial periods.
---
4. Search on Google
As the largest search engine on the planet, Google is one of the most effective tools for finding any type of company or organisation, but only when used correctly.
Instead of searching for generic keywords which are likely to return irrelevant results, try searching using long-tail keywords.
For example, instead of searching for 'uk dropshippers' use more specific terms such as 'womens clothing dropshippers uk' or 'fashion jewelry dropshippers usa' and so forth.
Venture beyond the first page and don't be afraid to really dive into the results.
Granted, finding a suitable supplier using Google takes time, but it's worth the extra effort. Many small dropshipping companies don't bother with directories or lack the funds to run an effective marketing campaign.
Therefore, the only way to find such suppliers is by manually searching for them.
Thankfully, companies which are harder to find tend to have less competition, giving you a better opportunity to earn bigger profit margins and build a sustainable business.
---
5. Attend Trade Shows
Trade shows, also known as trade exhibitions or wholesale fairs, are one of the best places to find dropshipping suppliers.
There's no better way to establish relationships and build rapport than by meeting face-to-face with the people behind the organisation.
Attending a trade show also gives you the opportunity to test products first-hand, negotiate deals and work out logistics, as well as bargain exclusive discounts, spot future trends and connect with like-minded individuals.

Several trade shows are held in various locations across the globe each year. A quick Google search will return a list of trade shows happening in or around your area in the near future.
Each trade show is generally targeted towards a specific niche or category such as furniture or toys. Therefore, it's important to do your research before attending.
---
6. Contact Wholesalers Directly
In recent years, dropshipping has become increasingly common, particularly for eBay and Amazon sellers. As a result, more and more wholesale companies are beginning to allow single-piece purchases to facilitate dropshipping.
However, as the core of any wholesale business is to sell in bulk quantities, it may not be obvious that they allow dropshipping.

Therefore, instead of searching for companies that specialise in dropshipping specifically, reach out to general wholesalers directly.
Ask if they allow dropshipping and provide details on how you plan to sell their products, as well as details of your expected sales volume.
Make it clear that you're interested in building a long-term relationship which would be mutually beneficial for all parties.
---
7. Join Online Forums
Online forums are a great place for not only finding dropshipping suppliers, but also researching and discussing them. People tend to share their honest opinions in forums.
There's no better way to separate the good from the bad than by hearing from those who have been there and done it.
Many forums specialise in dropshipping, ecommerce and wholesale buying, most of which are free to use. A quick Google search will pull up a list of the most popular dropship forums in your particular country. Here's a few suggestions to point you in the right direction: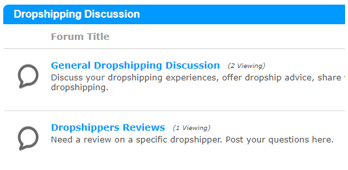 ---
8. Use Facebook
With over 2 billion monthly users, Facebook is one of the most popular websites in the world. Not just for personal use, many businesses use Facebook to attract new customers and generate sales. Try searching for dropshipping or ecommerce pages or groups on Facebook.
You'll be surprised as to how many Facebook pages are geared towards the topic of dropshipping, with literally thousands of like-minded members discussing suppliers and how to find them.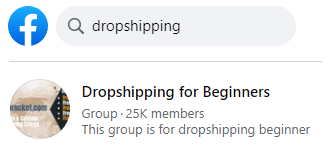 ---
9. Try Q&A Sites
Question and answer websites are incredibly useful for finding information on just about any topic, including tips on how to find dropshipping suppliers, as well as specific recommendations.
With millions of global users and over 5,000 new questions posted every day, Quora is by far the most popular Q&A website.
It's completely free to use and very easy to search through existing questions, specifically targeting those on the topic of dropshipping.

If you're unable to find any useful answers, try posting your own question. Be as specific as possible, directly asking for recommendations in your particular country and niche e.g. What are some good UK based dropshippers of women's clothing?
You'll be surprised as to how quickly you will obtain insightful answers. Here's some popular existing questions on Quora related the topic of dropshipping to point you in the right direction:
---
10. Use Business Directories
Although slightly less tailored towards dropshipping specifically, business directories can be another powerful tool for finding suppliers, particularity companies based in your local area.
Yell and Yelp are two of the most popular online business directories, each containing a large selection of wholesalers and manufacturers, specialising in various different products.

While using a directory which is specifically targeted towards wholesalers is more effective, general business directories are definitely worth checking out as an alternative option. Other popular directories include 192 Business and UK Businesses.
---
11. Search B2B Marketplaces
Business-to-business marketplaces such as Alibaba, DHgate and Global Sources, as well as AliExpress and Made-in-China are great places to find dropshipping suppliers based in China.
While most of these marketplaces are geared towards bulk buying, many of the 3rd party sellers offer dropshipping services across the globe.
To find the ones that dropship, simply search for relevant keywords and add 'dropship' to the end of your input term.

You can opt to dropship directly through the marketplace or contact the seller to ask if they have a website.
Many dropshipping automation solutions integrate exclusively with AliExpress or other B2B marketplaces, allowing you to quickly locate products with no minimum order values and free worldwide shipping.
---
12. Study Competitors
Literally thousands of people dropship on eBay, Amazon or their own website. In fact, you've probably purchased a dropship product from a marketplace before without even knowing.
The only thing preventing you from doing the same is not having access to the supplier. Finding sellers who use a dropship model is actually very simple.
First, copy and paste the listings title or description into Google or do an Image Search.
More often that not, sellers who dropship use the same image and descriptions as their supplier. Therefore, the company should appear at the top of results.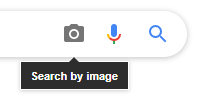 Alternatively, if you're confident the seller is dropshipping, place an order for a cheap item. Once the product arrives, ask about how to return it. If you're instructed to send the item back to a return address, Google the company name, postcode or address.
Most dropshippers will ask customers to return items directly to the supplier, leading you straight to their front door. Also be sure to study any paperwork that arrived with the item, looking for a brand or company name.
---
Final Word
These 12 simple ways to find dropshipping suppliers each have their own pros and cons. If you're looking to find a supplier quickly, try a supplier directory or automation software.
If you want to avoiding paying any membership fees, simply get out there and search for yourself using Google, Facebook, forums or Q&A sites like Quora.
Either way, choose a method, stick with it and you'll find your perfect supplier in no time.