Finding a profitable niche is the key to success with dropshipping. In fact, specialising in a narrow category is the most effective way to break into the market and build a go-to brand. Furthermore, focusing on one particular niche will allow you to establish a competitive advantage over other generalist sellers. In this guide, I'm going to reveal 27 profitable dropshipping niche ideas.
---
1. Home Decor
From animal ornaments to gothic figurines, brightening up the home with decorative items has become an obsession for global consumers. In fact, the home decor market is estimated to reach a value of more than $800 billion by 2027, putting it one step closer to becoming a trillion dollar industry. One of the biggest attractions to the home decor niche as a dropshipper is the huge selection of unique and unusual items to sell. Whether it's skull ornaments or fairy figurines, standing out from the competition within the home decor market is more than achievable.
Niche Ideas: Wall art, animal ornaments, gothic figurines, soft furnishings, water features, wall hangings, clocks, string lights, photo canvases
Search Volume: 10k – 100k / month (home decor)
Market Size: $600+ billion (estimated)
---
2. Backpacks
With the global backpack market estimated to be worth more than $17 billion in 2019, the backpacks industry is booming. From college students to nursery kids, 9-5 workers and sports enthusiasts, millions of people use backpacks every single day. Tapping into a smaller segment of the backpacks market such as laptop backpacks or cooling backpacks provides you with less competition and more opportunity to become a specialist brand.
Niche Ideas: Laptop backpacks, cooling backpacks, USB backpacks, kids backpacks, camping backpacks, gym backpacks, animal backpacks
Search Volume: 100k – 1M / month (backpack)
Market Size: $17+ billion (estimated)
---
3. Pet Accessories
Did you know that a massive 57% of people own pets across the globe? That's more than half the world's population. As a planet of pet lovers, the pet supplies industry is growing at a rapid rate. In fact, the global pet food market alone was valued at more than $83 billion in 2018 and is expected to grow by more than 4% each year until 2025. Therefore, there has never been a better time to start selling pet supplies, particularly trending accessories and toys.
Niche Ideas: Pet toys, pet clothing, pet grooming accessories, pet coats, pet travel accessories, pet food, pet bedding, pet cages, personalised collars
Search Volume: 100k – 1M / month (pet supplies)
Market Size: $200+ billion (estimated)
---
4. Smart Gadgets
With more than 3 billion smartphone owners and the rapid rise of innovative smart home devices such as wireless speakers, video doorbells and IP cameras, the market for smart gadgets and accessories is predicted to explode in the coming years. Whether it's a Bluetooth speaker or wireless earbuds, people love to acquire the latest tech trends and innovations. Therefore, dropshipping smart gadgets has huge potential, particularly if you're a technology enthusiast.
Niche Ideas: Wireless speakers, video doorbells, IP cameras, smart plugs, wireless chargers, power banks, earbuds, projector alarm clocks
Search Volume: 10k – 100k / month (smart gadgets)
Market Size: $50+ billion (estimated)
---
5. Solar Products
Driven by an increase in environmental pollution and government incentives, the solar energy market is experiencing exponential growth. In fact, the global solar panels market alone was valued at more than $100 billion in 2019. Aside from being environmentally friendly, solar energy also provides a more convenient way to power common consumer products such as lights, ornaments and water features, as well as portable gadgets including torches, fans and power banks. 
Niche Ideas: Solar garden lights, solar garden ornaments, solar power banks, solar torches, solar fans, solar security cameras
Search Volume: 10k – 100k / month (solar lights)
Market Size: $100+ billion (estimated)
---
6. Camping Accessories
In 2018, more than 25 million Americans went camping while some 4 million families camped for the first time. Therefore, not only is the camping industry extremely popular but it's growing rapidly. It's also a highly profitable industry for camping retailers with an estimated 47% of campers spending at least $50 on camping gear in 2014. From survival tools to outdoor clothing and portable cookware, the range of niche opportunities within the camping industry is virtually unlimited.
Niche Ideas: Camping furniture, outdoor sleeping accessories, portable cookware, outdoor clothing, survival tools, portable heaters, wireless gadgets
Search Volume: 10k – 100k / month (camping accessories)
Market Size: $5+ billion (estimated)
---
7. Home Security
According to the FBI, a burglary occurs every 25 seconds or twice each minute in the United States. With the average loss from a burglary totalling more than $2500, more and more people are investing in home security products such as CCTV cameras, video doorbells and wireless alarm systems. In fact, consumer spending for smart home security cameras reached a record $7 billion in 2018 while the overall home security market is valued at more than $62 billion.
Niche Ideas: Smart security cameras, video doorbells, alarm systems, door locks, smart locks, motion sensors, car alarms, safes, wireless monitors
Search Volume: 10k – 100k / month (security camera)
Market Size: $62+ billion (estimated)
---
8. Garden Decor
With most countries experiencing some form of summer weather each year, garden decor is another profitable dropshipping niche to target. In fact, the garden furniture market alone was valued at more than $18 billion in 2019, making it a sizable and lucrative industry. From wall lights to solar ornaments, flower planters and firepits, as well as clocks and windchimes, there are thousands of unique outdoor items which appeal to garden loves globally.
Niche Ideas: Garden furniture, solar ornaments, outdoor lighting, wall hangings, fence decorations, water features, artificial plants
Search Volume: 10k – 100k / month (garden decor)
Market Size: $100+ billion (estimated)
---
9. Sports Accessories
According to FIFA, more than 250 million people play football around the world while an estimated 60 million regularly play golf. Sporting goods is a massive market worth billions of dollars and growing. From fishing accessories to kayaking equipment and hunting supplies, there is an almost endless list of niche opportunities when it comes to dropshipping sporting goods. Whether you follow sports or not, there are definitely big profits to be made.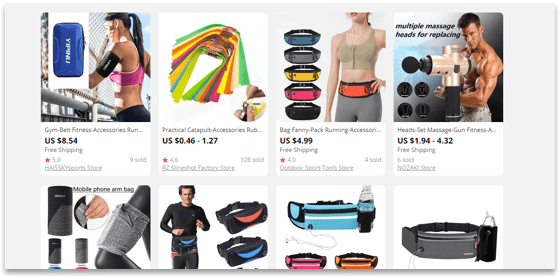 Niche Ideas: Fishing accessories, cycling accessories, kayaking equipment, hunting supplies, hiking equipment, golf accessories, boxing equipment
Search Volume: 1k – 10k / month (sports equipment)
Market Size: $66+ billion (estimated)
---
10. Fashion Jewellery
Fashion jewellery, also known as costume jewellery had a market size of more than $25 billion in 2018. As close to the real thing as it gets, fashion jewellery has become an extremely popular industry over the last few decades, particularly favoured by women and young teens. The introduction of modern jewellery trends such as body jewellery, anklets and mis-matched earrings means fashion jewellery is an ideal niche for dropshipping.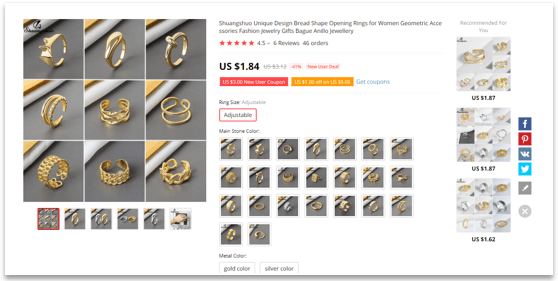 Niche Ideas: Women's fashion jewellery, body jewellery, handmade jewellery, DIY jewellery making supplies, silver jewellery
Search Volume: 1k – 10k / month (fashion jewellery)
Market Size: $25+ billion (estimated)
---
11. Car Accessories
With more than 1.4 billion cars in the word and over 2 million new cars purchased every year in the UK alone, car accessories is another highly profitable dropshipping niche. From car phone holders to air purifiers, chargers and LED cup holders, as well as exterior accessories such as stickers and dust caps, there are thousands of unique and unusual products within the car accessories industry, making it an ideal niche for dropshippers.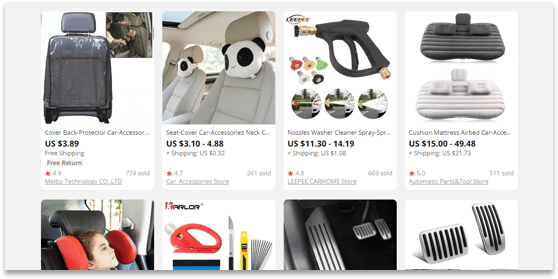 Niche Ideas: Interior accessories, car maintenance tools, car cleaning products, car phone accessories, wireless car accessories, car electronics
Search Volume: 10k – 100k / month (car accessories)
Market Size: $400+ billion (estimated)
---
12. Kitchen Tools
According to a survey by Houzz, the average person spends around 12% of their life in the kitchen or approximately 2.8 hours per day. When it comes to cooking, 29% of people say they cook 3-4 times per week while around 12% cook once or twice. Therefore, kitchen tools and cookware are considered everyday essentials with a global market value of more than $56 billion. Dropshipping kitchen tools can be extremely lucrative considering the many micro-niche opportunities.
Niche Ideas: Kitchen utensils, cookware, drinkware, glassware, tableware, kitchen appliances, kitchen gadgets, kitchen electronics, 
Search Volume: 1k – 10k / month (kitchen tools)
Market Size: $56+ billion (estimated)
---
13. Gym Accessories
With an annual growth rate of around 4% for the last ten years, the fitness industry is booming. More than 40 million adults have a gym membership in the United States while an estimated 4.5 million UK adults are gym members. The multi-billion dollar gym equipment and accessories industry is predicted to continue to accelerate over the next 10 years, making it an ideal dropshipping niche. From water bottles to weight lifting gloves, protein mixers and ankle straps, as well as fitness trackers and towels, there are hundreds of unique products to choose from within the fitness industry.
Niche Ideas: Gym clothing, home gym equipment, water bottles, resistance bands, weight lifting accessories, fitness trackers, gym bags
Search Volume: 10k – 100k / month (gym equipment)
Market Size: $11+ billion (estimated)
---
14. Beauty Tools
In 2018, the value of the global cosmetics market exceeded more than $500 billion, with the overall beauty industry projected to reach over $850 billion by 2024. Every 15 seconds, an Avon lipstick is sold in the US, while the typical American woman spends more than $300 per month on their appearance. From nail dryers to facial toners, massagers and cleansing brushes, consumers are obsessed with the latest beauty trends and innovative beauty gadgets.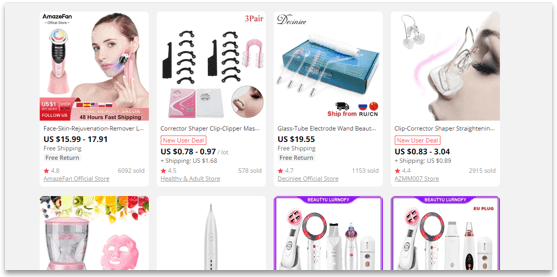 Niche Ideas: Skin care tools, makeup tools, electric massagers, hair removal tools, hair care tools, face toning devices, facial cleansers
Search Volume: 10k – 100k / month (beauty)
Market Size: $500+ billion (estimated)
---
15. Travel Accessories
The trillion dollar travel industry is growing faster than ever before thanks to budget airlines and low-cost package holiday websites. According to the World Tourism Organisation, a record 1.4 billion people went on vacation last year.  That's approximately 18% of the world's population and with every vacation comes the need to acquire essential travel accessories such as luggage bags, plug adaptors, neck pillows, sleep masks, passport covers and money wallets.
Niche Ideas: Travel bags, luggage accessories, travel adaptors, backpacks, airplane accessories, travel safety gear
Search Volume: 10k – 100k / month (travel bags)
Market Size: $2+ trillion (estimated)
---
16. Personalised Gifts
From engraved jewellery to printed t-shirts and customised photo frames, the personalised gifts industry is booming. Whether for Christmas or valentines day, giftware items are purchased all year round. One of the biggest advantages to dropshipping personalised gifts is the virtually unlimited choice of unique and usual niche opportunities. From wine bottles to doormats, socks, pillows and confectionery, almost everything can be personalised in some shape or form.
Niche Ideas: Personalised cards, engraved jewellery, printed t-shirts, personalised mugs, personalised confectionery, custom photo frames
Search Volume: 100k – 1M / month (personalised gifts)
Market Size: $30+ billion (estimated)
---
17. Gaming Accessories
When the PS5 was released in 2020, the console sold out in minutes and left a shortage of supply that lasted months. Even when restocked, the console sold out again in less than 2 minutes on Amazon. It's therefore no secret that gaming is a massive industry with an estimated 2.5 billion gamers around the world and growing. From gaming keyboards to joysticks, wireless headsets and charging cables, there are a number of profitable micro-niches within the gaming market.
Niche Ideas: Gaming keyboards, joysticks, games console cases, wireless headsets, mobile gaming accessories, gaming lights, console remotes
Search Volume: 10k – 100k / month (xbox headset)
Market Size: $3+ billion (estimated)
---
18. RC Toys & Drones
With an estimated 274,000 commercial drones sold in 2018 and millions of RC toys sold in the US alone, there has never been a better opportunity to start dropshipping RC toys and drones. From cars and tanks to planes and helicopters, as well as camera drones and motion controlled drones, there is an extensive selection to choose from. Furthermore, as drones have become more affordable and simplistic, the market for drones for kids or toddlers is on a steady rise.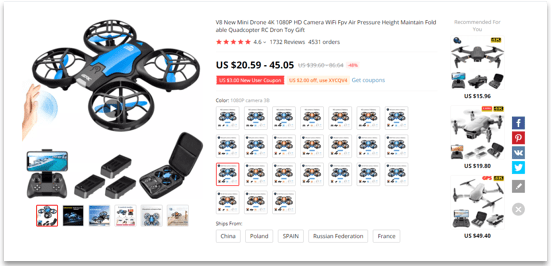 Niche Ideas: RC cars, RC boats, RC tanks, RC helicopters, RC planes, drones for kids, portable drones, mini drones, camera drones
Search Volume: 10k – 100k / month (remote control car)
Market Size: $10+ billion (estimated)
---
19. Home Furniture
The global home furniture market was valued at more than $400 billion in 2017 and is expected to consistently grow over the next few years. In the UK, the number of furniture manufacturers has increased to more than 6300 while the US has some of the largest furniture manufacturers in the world. Dropshipping furniture can be highly lucrative and profitable, particularly when focussing on a micro-niche such as kids furniture or wooden furniture.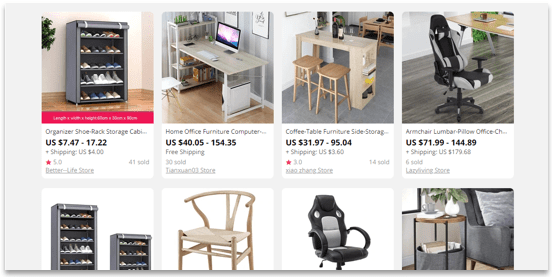 Niche Ideas: Kids furniture, wooden furniture, kitchen furniture, storage furniture, bathroom furniture, nursery furniture, shed furniture
Search Volume: 100k – 10M / month (remote control car)
Market Size: $400+ billion (estimated)
---
20. Nursery Accessories
On average, more than 250 babies are born every minute across the globe, making the nursery accessories market a growing and sustainable industry. In fact, the baby care market alone is worth an estimated $150 billion, while spending on nursery accessories has considerably risen in recent years as more young couples are buying homes. From nursery furniture to crib accessories and baby bedding, parents are always shopping for practical nursery accessories and essentials.
Niche Ideas: Nursery furniture, nursery decor, baby bedding, crib accessories, nursery safety products, nursery storage, night lights, projector lamps
Search Volume: 1k – 10k / month (nursery accessories)
Market Size: $150+ billion (estimated)
---
21. Pest Control
Whether it's mice, spiders or bed bugs, pest infestations can be extremely costly. In the United States, termites cause $5 billion worth of damage every year while the amount of food consumed by rodents is enough to feed more than 200 million people. That's why the pest control industry reached a record $18.23 billion in 2017. From ultrasonic pest repellers to innovative rodent traps, a growing number of shoppers are purchasing pest control products from online retailers.
Niche Ideas: Pest repellers, rodent traps, insect deterrents, garden pest control, indoor pest control, travel pest deterrents, bird protection
Search Volume: 1k – 10k / month (pest repeller)
Market Size: $18+ billion (estimated)
---
22. LED Lights
With a higher brightness level and exceptional colour range, as well as a long life and low energy output, LED lights have taken the world by storm in recent years. Expected to reach a record $98 billion in value by 2023, the LED Lights market has huge potential as a dropshipping niche. From string lights to night lights, motion sensor lights and garden fence lights, LED lights come in all shapes and sizes providing ample opportunity to find an untapped segment within the industry.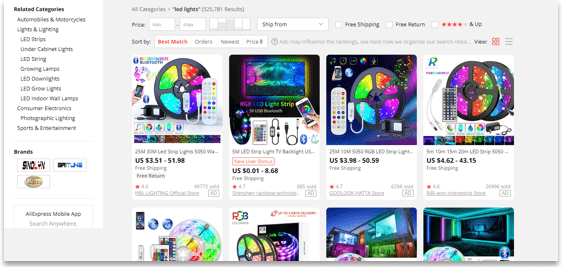 Niche Ideas: Outdoor LED lights, LED security lights, LED motion sensor lights, indoor LED lights, LED night lights, decorative LED lights
Search Volume: 100k – 10M / month (led light)
Market Size: $50+ billion (estimated)
---
23. Fashion Accessories
From sunglasses and hats to scarves and gloves, the fashion accessories market reached record numbers in 2019. In fact, according to the Daily Mail, women own an average of 14 bags and buy more than 190 bags in their shopping lifetime, thus making it an extremely lucrative industry for retailers. Whether you want to specialise in handbags or sell a broader range of goods, fashion accessories is a perfect dropshipping niche with big opportunity.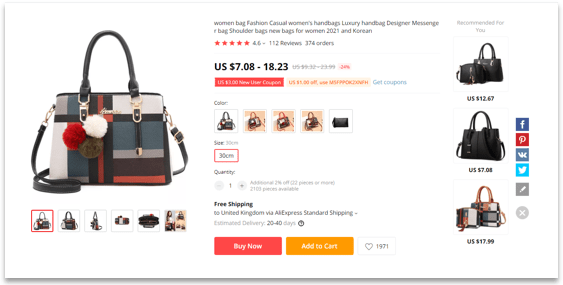 Niche Ideas: Fashion bags, handbags, hair accessories, fashion jewellery, sunglasses, watches, scarves, hats, gloves, body jewellery, wallets
Search Volume: 10k – 100k / month (scarves)
Market Size: $50+ billion (estimated)
---
24. Custom Clothing
Dropshipping custom clothing is the most effective way to stand out from the crowd and build your own unique brand. From logo embroidery to screen printing and vinyl transfer, there are several options when it comes to print-on-demand clothing. Whether you want to add your own logo or a funny quote, custom clothing dropshippers such as Printful and Inkthreadable make it easy for anyone to create their own unique clothing designs.
Niche Ideas: Private label clothing, printed clothing, custom t-shirts, kids character clothing, quote t-shirts, printed hoodies, custom fashion accessories
Search Volume: 10k – 100k / month (custom tshirts)
Market Size: $20+ billion (estimated)
---
25. Home Storage
In the United States, the home organisation and storage market reached record highs of more than $10 billion in 2019 with bins, baskets and totes accounting for the largest share. Furthermore, the introduction of innovative and modern space-saving solutions such as vacuum seal bags, slide out shelves and folding shoe organisers has created fresh buzz within the home organisation market, thus making it an ideal niche for dropshipping.
Niche Ideas: Wardrobe organisers, shoe organisers, kitchen organisers, drawer organisers, vacuum storage bags, bathroom storage solutions
Search Volume: 10k – 100k / month (drawer organiser)
Market Size: $30+ billion (estimated)
---
26. BBQ Accessories
Often referred to as grills or roasts, BBQs are popular all over the world. In fact, more than $1 billion dollars worth of barbecues were sold in the United States in 2019. While certainly a more seasonal niche, dropshipping BBQ accessories can be hugely profitable in the summer months when families enjoy the occasional garden party. One of the additional benefits to targeting the BBQ industry is being able to sell other garden products such as outdoor lighting.
Niche Ideas: BBQ cooking sets, protective grill covers, reusable utensils, grill cleaning tools, stainless steel accessories, digital food thermometers
Search Volume: 10k – 100k / month (bbq cover)
Market Size: $5+ billion (estimated
---
27. Outdoor Toys
Despite endless technology innovations such as the internet and social media, the billion dollar outdoor toys market is proof that kids still love the outdoors. From trampolines and climbing frames to swing sets, paddling pools and water fountains, outdoor toys is a fanastic niche for dropshipping. Furthermore, with so many high-ticket products within the outdoor toys market, the profit margins are often much more significant.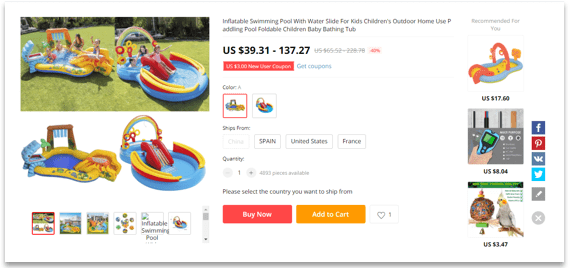 Niche Ideas: Climbing frames, swing sets, trampolines, paddling pools, sports toys, playhouses, slides, bouncy castles, ride on toys, water sports
Search Volume: 10k – 100k / month (outdoor toys)
Market Size: $2+ billion (estimated)
---
Final Word
The first step towards building a successful dropshipping business is to find a profitable niche to target. The more specific your niche is, the easier it will be to break into the market and build a specialist brand. For example, selling personalised dog collars or dog coats rather than pet supplies in general. Hopefully the list of options outlined in this guide will point you in the right direction and inspire some unique niche ideas of your own.