22+ Best Dropshipping Suppliers of Gifts & Giftware (2023)
Dropshipping giftware can be a very profitable and lucrative business. In fact, the gifts market is a multi-billion dollar industry and growing.
From gothic figurines to animal ornaments, scented candles, and rustic wall art, there is a huge variety when it comes to giftware.
Here you will find a list of the 22+ best dropshipping suppliers of gifts and giftware in the US, UK, Europe, and China.
---
Puckator Dropship (UK)
Puckator Dropship is a leading UK-based giftware wholesaler and one of the first companies to introduce a free dropshipping service with no minimum order value, fast shipping across the UK, and a range of more than 500 best-selling products.
From gothic ornaments to unicorn dreamcatchers, novelty mugs, and fantasy candle holders, Puckator Dropship has something for all types of sellers including eBay/Amazon traders.
Features
Leading UK-based giftware wholesaler and dropshipper
Huge range of more than 500 unique and unusual gifts
No minimum order with fast shipping throughout the UK
Suitable for ecommerce stores and eBay/Amazon sellers
---
CWI Gifts (US)
Established more than 40 years ago, CWI Gifts is a family-owned wholesale company with a focus on gifts, home decor, and textiles.
Operating from a 200,000-square-foot warehouse, CWI Gifts provides fast shipping across the US with a dedicated dropshipping service for brick-and-mortar retailers, as well as ecommerce websites, marketplace sellers, and discount stores.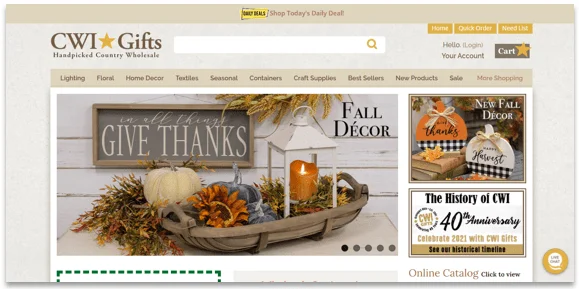 Features
Family-owned wholesaler of gifts and homeware
Established in 1981 with 40 years of experience
Hundreds of handpicked and unique products
Dropshipping service with no minimum order
---
Syncee (US/UK/EU)
Syncee is a professional dropshipping marketplace and automation solution that features millions of products from thousands of suppliers in the US, UK, and EU.
The way it works is simple. Join Syncee for free and connect your online store, After connecting your store, you can then import any of the products in a few clicks. Syncee has a huge range to choose from including more than 4500 items in the gifts category such as ornaments figurines, wall art, greeting cards, mugs, kitchenware, and more.
Features
Dropshipping marketplace and product sourcing platform
Millions of products from thousands of US/UK/EU sources
Includes more than 4500 products in the giftware category
Connects directly to multiple leading ecommerce platforms
---
SaleYee (China/US/UK/EU)
Since its launch in 2012, SaleYee has quickly become one of the most popular China-based dropshipping platforms on the market. SaleYee has more than 30,000 low-cost Chinese products available for dropshipping directly from local US, UK, and EU warehouses.
SaleYee also has a number of unique features and benefits including exclusive dropshipping discounts, automated order synching, and one-click product data downloads.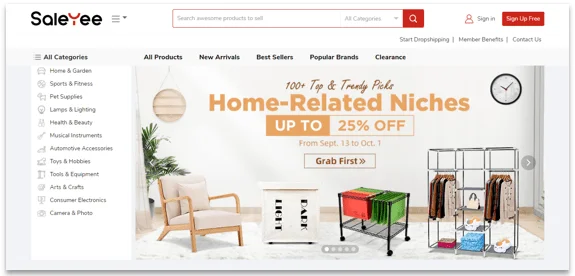 Features
Popular dropshipping sourcing platform and marketplace
More than 30,000 products including gifts and giftware
The lowest trade prices from top China-based suppliers
Fast shipping from local US, UK, and EU warehouses
---
SaleHoo (US/UK/EU/China)
SaleHoo is a global online wholesale directory that connects B2B buyers with verified manufacturers, wholesalers, and dropshipping suppliers.
The company features more than 8000 suppliers and 2.5 million products including thousands of gifts and giftware items. Better still, you can find suppliers in just about any location including the US, UK, Europe, and China.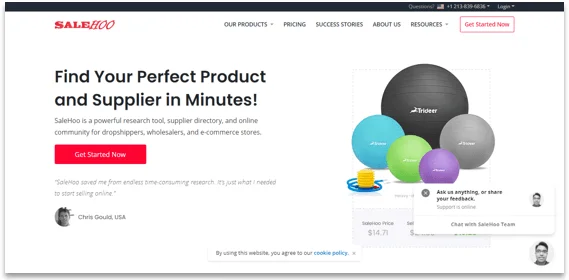 Features
Global directory of wholesalers and dropshippers
More than 8000 suppliers and 2.5 million items
Includes thousands of dropshippers of giftware
Trusted company with excellent buyer reviews
---
AW Dropship (UK)
AW Dropship is a well-established wholesaler, manufacturer, and dropshipping supplier of unique giftware, bathroom, and aromatherapy products since 1995.
Whether you're a large online retailer or a small eBay seller, AW Dropship caters to businesses of all sizes with a range of more than 5000 premium quality products including a vast collection of handcrafted ornaments, figurines, wall art, and decor.
Features
Well-established wholesaler and dropshipper of gifts
Over 5000 products including ornaments and decor
No membership fees and no minimum order value
Based in Sheffield with fast shipping across the UK
---
Wholesale2b (US/UK)
Wholesale2b is the ultimate business-to-business trading platform for finding trusted US and UK-based dropshipping suppliers.
In fact, Wholesale2b has more than 1.5 million products in every category. This includes over 5000 products in the gifts and giftware category. It's free to join as a buyer and browse the products. However, a paid membership is required to import products to your selling channel and automate inventory management.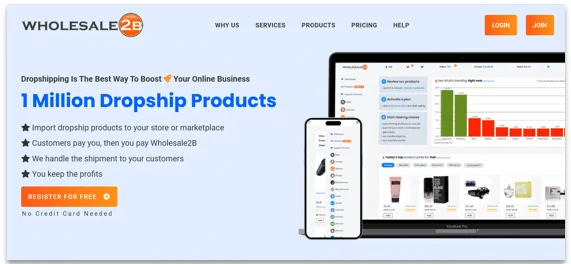 Features
Ultimate product sourcing platform for online dropshippers
Over 1.5 million products including more than 5000 gifts
Free to access the huge database of products and suppliers
Low-cost plans to import products to any selling channel
---
Worldwide Brands (US/UK/EU/China)
Worldwide Brands is another top-tier wholesale directory that features thousands of certified dropshipping suppliers in the US, UK, EU, and China, This includes a huge network of giftware dropshippers and products to sell.
The company has been around for more than 20 years and is used by some of the most successful dropshippers in the industry.

Features
One of the best online directories for trade buyers
Thousands of suppliers in the US, UK, and Europe
Includes a huge database of giftware dropshippers
Over 20 years of experience with great reputation
---
Eprolo (China)
Eprolo is the ultimate free dropshipping platform for selling low-cost Chinese products on multiple ecommerce channels including eBay, Amazon, WooCommerce, and Shopify.
Simply join the Eprolo platform for free and connect your online selling channel in just a few clicks. Once connected, you can instantly start importing unlimited products from a selection of more than 1 million top-selling items including a massive range of giftware and gifts.
Features
All-in-one dropshipping supplier and automation platform
Over 1 million products including thousands of unique gifts
Integrates directly with multiple top ecommerce channels
Automated order processing and tracking info uploads
---
Spocket (US/EU)
Spocket is a popular dropshipping marketplace and B2B platform that features millions of wholesale products from leading suppliers in the USA and Europe.
You can use Spocket to build a fully scalable and automated dropshipping business using a single platform. Simply connect your online store and import products in a few clicks. Spocket has millions of items including thousands of fast-selling giftware products.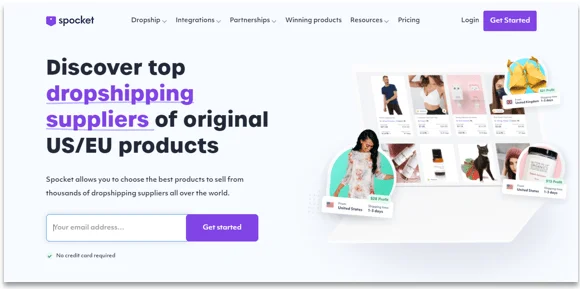 Features
Modern dropshipping marketplace and automation tool
Thousands of top suppliers mostly in the USA and EU
Huge range of gifts including home decor and figurines
Quickly import products to your online store with ease
---
Aspire Home Accents (US)
Aspire Home Accents is one of the most popular US-based suppliers for dropshipping high-end gifts and homeware products directly to online customers.
Featuring hundreds of luxury homeware products that would make the perfect gift, as well as ultra-fast shipping and secure order processing, Aspire Home Accents is the ideal wholesale provider for eBay sellers, Amazon sellers, ecommerce stores, interior designers, and gift retailers.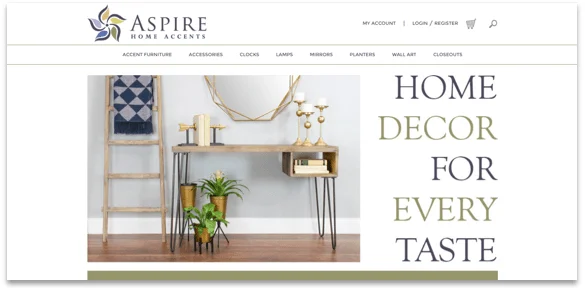 Features
Leading US-based dropshipper of homeware and gifts
High-end merchandise with professional images
No minimum order value with fast shipping in the US
Suitable for selling on marketplaces including eBay
---
Banggood (China/US/UK/EU)
Banggood is another well-established dropshipping supplier based in China with multiple distribution centers across the globe including in the UK, US, and EU.
From home decor and garden accessories to wall art, furnishings, textiles, and kitchenware, as well as beauty tools, bags, and cosmetics, Banggood has more than 50,000 products to choose from including gifts for any occasion.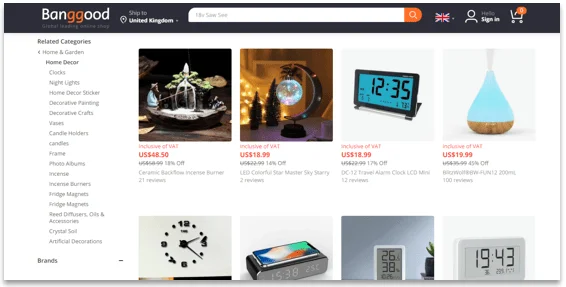 Features
Well-established dropshipping supplier based in China
Free dropshipping program with exclusive discounts
Thousands of gifts including home decor and textiles
Multiple warehouses in the US, UK, Europe, and China
---
Something Different (UK)
Established in 1999, Something Different is one of the largest wholesalers of gifts and giftware with more than 25,000 customers across the UK, EU, and globally.
Something Different has a dedicated dropshipping website that includes thousands of high-quality giftware products, no minimum order requirements, and same-day dispatch on orders placed before 1 pm, as well as downloadable product images and product data files.
Features
20 years of experience in the wholesale gifts market
Dedicated dropshipping website with no minimum
Thousands of high-quality gifts and giftware items
Includes downloadable product images and data files
---
Source of Goods (US)
With millions of brand-name products and over 15 years of experience, Source of Goods is a revolutionary dropshipping platform that features fast shipping from US-based warehouses and direct integration with multiple ecommerce channels.
From home decor to toys, collectibles, party supplies, and decorations, Source of Goods has an unmatched range of high-quality products including thousands of gifts and giftware.
Features
Innovative dropshipping sourcing and automation platform
Millions of brand-name products including unique giftware
Direct integration with multiple platforms including eBay
Trusted by renowned brands including Groupon and Quill
---
TVC Mall (China)
With more than 1 million global users, 100,000 products, and over a decade of experience, TVC Mall is China's largest online wholesaler and a trusted dropshipping supplier.
TVC Mall focuses on electronics and accessories. However, they also have thousands of gifts available for dropshipping including home decor, textiles, soft furnishing, ornaments, garden accessories, gadgets, and kitchenware, as well as toys and hobbies.
Features
Mega-wholesale and dropshipper based in China
More than 100,000 products including giftware
Fast dropshipping service to global customers
Established company with 1.5 million users
---
Geko Products (UK)
Geko Products is an independent, family-run wholesale and dropshipping company with a large variety of giftware, homeware, artificial plants, and decorative accessories.
For a small £30 yearly fee, the dropshipping program includes access to hundreds of best-selling giftware products with no minimum order value, fast UK delivery, and bulk order processing, as well as daily stock updates and downloadable product images.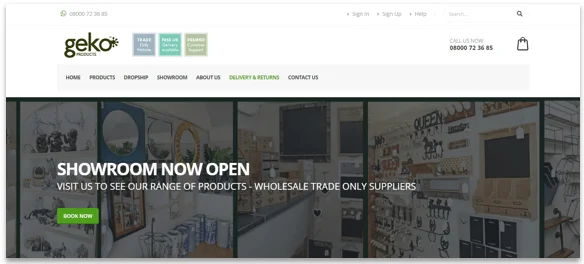 Features
Family-run wholesaler and dropshipper of giftware
Low-cost dropshipping program with no minimum
Huge range of products for the lowest trade prices
Daily inventory updates with bulk order processing
---
JDS Marketing (US)
JDS Marketing is a reputable US-based wholesaler and dropshipping supplier of personal gifts and homeware.
Whether you're a start-up eBay seller or a large online retailer, JDS Marketing welcomes businesses of all sizes with no minimum order value and free dropshipping services. Plus, JDS Marketing allows you to custom-design any of the products at no additional cost.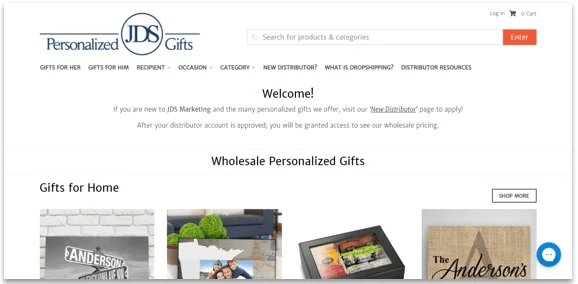 Features
Reputable online wholesaler of custom giftware
Free dropshipping service with no minimum order
Add a custom name or quote to any of the items
Suitable for marketplace and social media sellers
---
Sunsky Online (China/US/UK/EU)
Operating for more than 15 years, Sunsky Online has quickly established itself as a go-to wholesale and dropshipping company with multiple warehouses in the US, UK, Europe, and China.
From home accessories to clothing, fashion accessories, and toys, as well as ornaments, textiles, and soft furnishings, TVC Mall has thousands of products in almost every category. All of the products are available for dropshipping from local warehouses.
Features
Trusted online wholesale and dropshipping company
Multiple warehouses in US/EU for fast local shipping
Huge range of gifts including homeware and decor
Integrates directly with Shopify for full automation
---
UKSM Trade (UK)
UKSM Trade is a reputable online wholesaler and dropshipper of more than 6000 products including giftware, party supplies, florist sundries, and occasional products.
With no minimum order requirements and a blind dropshipping service, UKSM Trade is perfect for ecommerce websites, internet retailers, eBay sellers, and Amazon sellers. UKSM Trade is also the ideal supplier for dropshipping on social media platforms such as Facebook.
Features
Online giftware wholesaler with dropshipping service
More than 6000 products and no minimum order value
High-resolution images with professional descriptions
Trade-only supplier with guaranteed wholesale prices
---
AE Wholesale (US)
With more than 1300 products and no membership fees, AE Wholesale is quickly becoming one of the most trusted giftware dropshippers in the USA.
In fact, since its launch in 2004, AE Wholesale has sold more than $5 million worth of goods to a variety of retailers, online sellers, and marketplace traders. From ornaments and figurines to water features and oil warmers, AE Wholesale has something for everyone.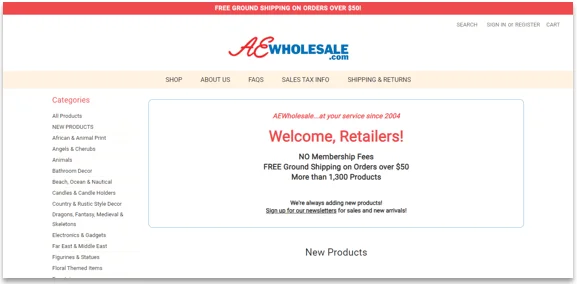 Features
Established wholesaler with over 1300 giftware products
No membership fees and no minimum order requirements
Free shipping on orders over $50 from the US warehouse
Simple and easy-to-use website with secure checkout
---
Signature Gifts (UK)
With more than 10,000 positive reviews and 18 years of experience, as well as multiple awards and hundreds of well-established clients, Signature Gifts is the UK's most trusted manufacturer and dropshipper of custom gifts and giftware.
From books and stationery to ceramics, glassware, wall art, and textiles, as well as an exclusive collection of licensed gifts from major brands including Disney, Marvel, and Nickelodeon, Signature Gifts is the ultimate custom giftware company.
Features
Award-winning dropshipping supplier of custom gifts
18 years of experience and 10,000 positive reviews
Huge range of licensed gifts from Disney and Marvel
Hundreds of well-established clients including NEXT
---
Sellvia (US)
Sellvia is a fast-growing dropshipping platform that features more than 1000 best-selling products in every major category including gifts and giftware.
All products are shipped directly from a California-based warehouse and include professional descriptions, high-quality images, unique videos, and real customer reviews, as well as proven ad copy and ready-to-go promo campaigns for use on Facebook or Instagram.
Features
A certified dropshipping supplier with US warehouse
More than 1000 best-selling products including gifts
Unique descriptions, images, and promo campaigns
Prices are lower than AliExpress with no minimums
---
Oh So Cherished (UK)
Founded in 2006, Oh So Cherished has quickly grown to become the UK's most popular dropshipping supplier of custom gifts and giftware.
Designed and handmade in England, Oh So Cherished has more than 500 products from engraved necklaces to printed cushions and customised wine bottles. Simply select a product, add your own unique logo, design, or quote and Oh So Cherished will handle the rest.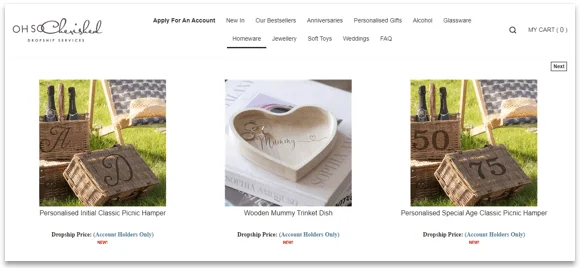 Features
The UK's most popular dropshipper of custom giftware
Over 500 products including ornaments and homeware
Exclusive designs handmade by experts in England
No membership fees or dropshipping handling fees
---
CTW Home (US)
CTW Home is a premium designer, importer, and wholesaler of expertly crafted homeware and gifts with a dedicated dropshipping program and fast US-direct shipping.
From vintage home decor to retro furniture and farmhouse ornaments, CTW has a stunning range of unique and original products. If you're looking to offer your customers a wide variety of handpicked giftware items, CTW Home is the perfect supplier.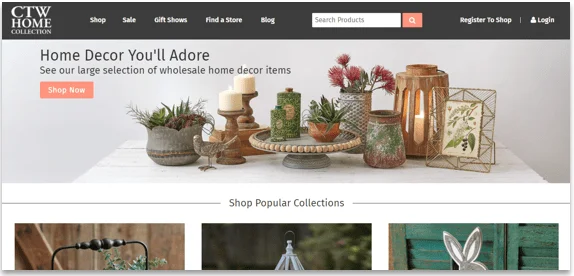 Features
Premium designer and importer of unique giftware
Family-owned company with decades of experience
Dropshipping service with fast shipping in the US
Dedicated phone and email customer support
---
Treat Republic (UK)
Treat Republic is a British designer, manufacturer, and trade supplier of custom gifts with more than 40 years of experience and 3000 expertly crafted products.
Focusing on providing a streamlined dropshipping service to ecommerce websites and discount stores, Treat Republic has firmly established itself as a leader in the custom gifts industry, winning awards as a trusted, bespoke giftware supplier.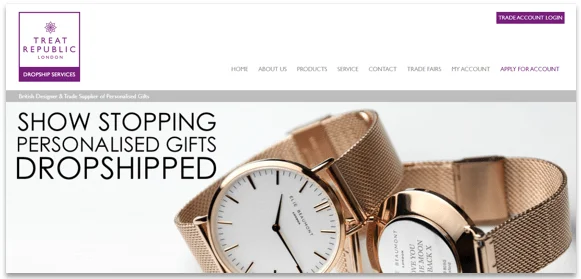 Features
Family-run designer and dropshipper of custom giftware
More than 3000 products in a variety of niche categories
Professional descriptions and high-quality product images
Suitable for ecommerce websites and discount stores
---
Frequently Asked Questions (FAQs)
The following frequently asked questions cover everything related to finding and sourcing giftware dropshippers. Make sure you visit our blog where you will find a ton of additional articles and posts on the best dropshipping suppliers.
Why should I dropship gifts or giftware?
Whether it's for a special occasion or a one-off event, millions of consumers purchase gifts each year. In fact, the giftware industry is worth billions of dollars and growing. As the global population continues to increase, the giftware market is extremely stable and reliable.
When it comes to dropshipping, giftware is the perfect category to target as you have access to a huge variety of specialist suppliers and niche opportunities. You also have more flexibility to stand out from the crowd and be unique, particularly when selling custom gifts.
What is the best type of giftware to dropship?
From gothic ornaments to angel figurines and custom mugs, there is an endless selection of giftware products to start dropshipping. The type of giftware you should start selling will largely depend on your supplier, selling platform, and competition.
It's recommended to target a specific niche or small area within the giftware industry, particularly if you're new to the ecommerce or online marketing world. For example, you could build a giftware brand that focuses on rustic home decor or solar-powered gifts.
When it comes to choosing products within your niche, research is essential. Make sure you review current sales on eBay and Amazon, as well as customer reviews and competitors. Alternatively, there are a number of dropshipping research tools that allow you to quickly find winning products in almost any category or niche including the giftware industry.
Where can I dropship gifts or giftware?
There are multiple options when it comes to dropshipping gifts or giftware. Marketplaces such as eBay or Amazon are the best platforms for newbie dropshippers as they have millions of global buyers. You can also quickly start dropshipping products on eBay or Amazon, without having to learn coding, web design, marketing, or advertising.
Alternatively, you can use one of the many low-cost online store builders to quickly launch your own ecommerce website. Shopify and WooCommerce are the most popular ecommerce platforms for building a professional dropshipping store, even if you have no experience.
How do I start dropshipping giftware?
After finding a suitable giftware dropshipper and deciding on a selling channel, the next step is to start creating listings. Whether you're selling on eBay or your own website, creating unique product descriptions is the most effective way to stand out from the competition.
It's also important to price your listings correctly by researching the competition and calculating selling fees. Keep your prices low to attract the most buyers and try to use the best available images. Always add item specifics and descriptive titles when selling on marketplaces.
If you're serious about building a profitable and long-lasting dropshipping business, it's highly recommended to consider using dropshipping automation software. From creating listings to managing inventory, repricing listings, and processing orders, most dropshipping automation solutions allow you to completely streamline your entire ecommerce business.
How do I find more giftware dropshippers?
To find more giftware dropshipping suppliers, be sure to browse our dropshipping suppliers category. We have dozens of articles on the best suppliers in the US, UK, and China. You may also want to browse our other blog posts and guides where you will find more articles on the best dropshipping suppliers.
Another option is to search on Google using long-tail keywords such as 'giftware dropshippers uk' or 'gifts dropshippers USA' and so forth. You could also try browsing Q&A websites like Quora where you will find an almost endless collection of recommendations from other users.