With a market value of more than $162 billion in 2019, dropshipping has quickly become an unstoppable phenomenon. In fact, thousands of retailers are turning to the dropship model as a means to increase profits and minimise overheads.  With the sudden boom in popularity followed an influx of various dropshipping websites and platforms. In this article, I'm going to reveal the 18 best dropshipping websites for finding low-cost suppliers to source products from.
---
Quick View:
---
1. SourceLow
Naturally, we have to include our own website in this list. SourceLow is a free to use global supplier directory of manufacturers, wholesalers and dropshipping suppliers, as well as an online learning platform and resources comparison website. We have hundreds of reputable and reliable dropshipping suppliers from multiple locations across the globe including the UK, US and China. Finding a supplier that specialises in the type of products you want to sell is as easy as doing a quick search. We also have an ever-growing collection of free ecommerce guides and tutorials for leaning how to build a profitable dropship business.
Free to use with no restrictions or membership fees

Huge network of wholesale and dropshipping suppliers

Global directory with suppliers from UK/US/China and more

Fast-growing and frequently updated with new suppliers

Extensive collection of free guides, training and resources

Easy to use with modern and simplistic user interface

Quick search bar with handy location filters

Direct trading to lock in the lowest prices
---
2. SaleHoo
Founded in 2005, SaleHoo is one of the original and most popular wholesale trade directories, featuring over 8000 pre-vetted suppliers including thousands of leading dropshippers from all over the globe. A low (one-time) membership fee grants full access to the directory, as well as an innovative market research lab for finding winning products and profitable niches. More recently, SaleHoo launched a powerful dropship automation tool for finding and listing trending AliExpress products on a Shopify powered store. Additional features include a popular forum, modern training hub and exclusive support.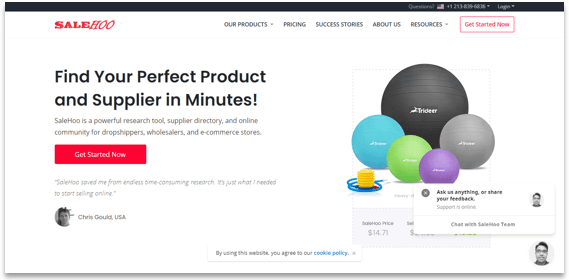 Over 8000 pre-vetted and approved suppliers from multiple locations

Innovative product research lab for finding hot products and niches

Low-cost, one-time membership fee for full unrestricted access

Useful and popular community forum and dedicated support

Extensive seller training hub with free guides and tutorials

Unique Shopify dropshipping automation and listing tool
---
3. Worldwide Brands
Founded in 1999, Worldwide Brands is one of the very first online directories of certified wholesalers, manufacturers and dropshipping suppliers. In fact, Worldwide Brands was created long before dropshipping even became popular, making it a true industry standard with over 20 years of valuable experience. Boasting thousands of leading suppliers and more than 16M wholesale products, Worldwide Brands is perfect for online sellers as well as physical retail store owners. Direct access to leading suppliers guarantees the lowest possible prices on millions of high-quality and name-brand products.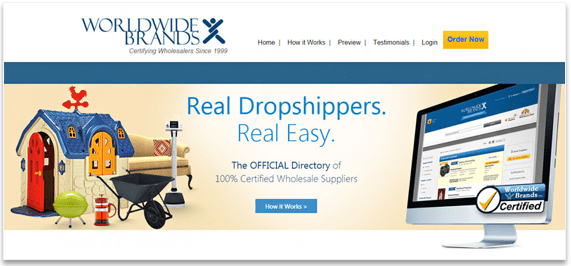 Thousands of certified trade suppliers from across the globe

More than 16M wholesale products in every major category

One-time membership fee for lifetime access without limits

Modern, easy to use and professional website

Free preview (no credit card required)

Direct access to suppliers (no middlemen)

Free eBooks and video tutorials
---
4. The Wholesaler UK
Founded in 1999, The Wholesaler is one of the UK's most popular and well-established free to use wholesale directories. Featuring hundreds of verified UK-based suppliers and an ever-growing collection of unique categories, finding a suitable dropshipping company takes only a few clicks. The Wholesaler also includes a frequently updated list of upcoming UK trade shows, as well as a collection of important retail news and ecommerce guides. While the list of suppliers is fairly limited, The Wholesaler excels in quality, only ever listing genuine UK based wholesale and dropship companies.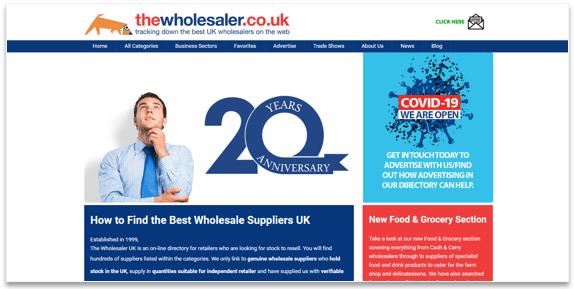 Free to use with no membership fees or limits

Verified and approved UK based suppliers

Huge range of unique categories to browse

List of upcoming trade shows and exhibitions

Latest retail news, information and updates

Easy to use and professional website
---
5. Wholesale Central
Wholesale Central is one of the original and most trusted online directories for finding US based wholesale and dropshipping suppliers. With more than 1000 leading companies and over 400,000 products, Wholesale Central has something for everyone including marketplace sellers and online retailers. Simply browse through relevant categories and find a reliable US based dropshipper in minutes. Wholesale Central also has a fast-growing collection of exclusive closeout and liquidation deals or offers available to purchase through their partner website – Closeout Central.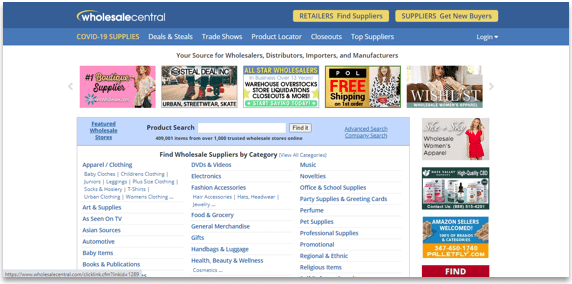 Free to use with no membership fees

Simplistic and easy to use website

Thousands of US based suppliers

Hundreds of well-structured categories

Over 400,000 wholesale products

List of trade shows and exhibitions

Exclusive closeout deals and offers

Post buying requests for suppliers
---
6. eSources
eSources is one of the largest and most well-established wholesale directories with over 140k vetted suppliers including thousands of UK dropshipping companies, as well as a growing selection of international sources. eSources has a free membership option which includes limited access to the directory with a premium membership for unrestricted access starting at just £20 per month. A range of exclusive features such as the ability to post buying requests or bulk message suppliers is what makes eSources one of the most popular choices for finding UK based dropshipping companies.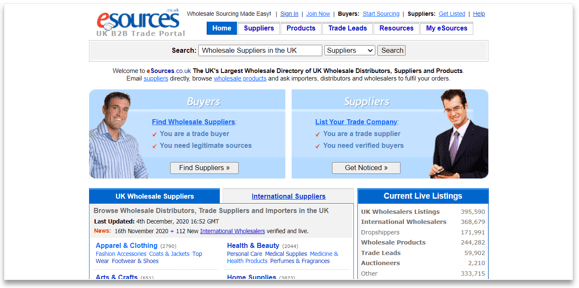 Over 140k leading UK based and international suppliers

Free limited access and low-cost premium membership

Contact suppliers directly or in bulk using buy requests

Unique TradePass program for identifying trusted sources

Free eBay selling handbook and market research reports

Professional website with frequent updates and new features
---
7. TopTenWholesale
Founded in 2005, TopTenWholesale is an innovative wholesale directory and product sourcing platform featuring thousands of US-based manufacturers, importers, distributors and wholesalers, as well as a huge selection of US dropshippers. With millions of quality products and exclusive wholesale deals, as well as the ability to post buying requests or enlist the help of a custom sourcing service, finding a suitable supplier using TopTenWholesale is quick, easy and effective. Furthermore, with a unique supplier verification program, you can be sure you're dealing with legitimate and reliable companies.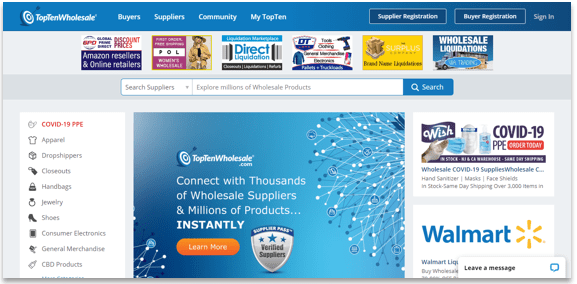 Free to use for buyers (no membership options)

Thousands of US based trading companies

Submit product request and receive alerts

Modern, easy to use and simplistic website 

List of trade shows for international companies

Custom sourcing and broker services

B2B newsrooms and community forum
---
8. Inventory Source
Inventory Source is a powerful dropshipping automation software and integrated supplier directory featuring over 4000 leading dropshipping companies and millions top quality products. Access to the comprehensive directory of global suppliers is completely free while pricing for inventory automation features (currently available for 200+ pre-integrated suppliers) starts at less than $100 per month. Additional features include a network of more than 200,000 US-direct products, integration with over 25 selling channels and fixed-cost (full) automation options.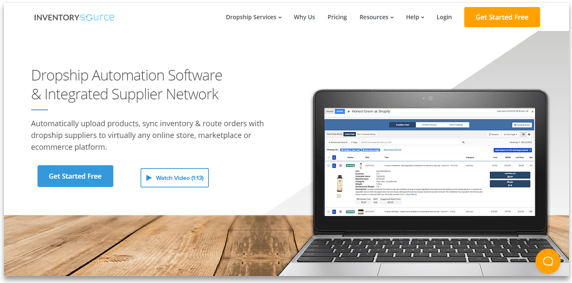 Free access to a directory of over 4000 leading suppliers

Full supplier data including fees, policies and contact info

Millions of quality products in any category or niche

Advanced filtering, sorting and searching options

200+ pre-integrated suppliers with automation options

Delated product information including images

Premium membership options with automation
---
9. Spocket
Founded in 2017, Spocket has quickly grown to become one of the most popular websites for sourcing low-cost, US and EU based dropshipping products. Featuring thousands of products in more than 10 main categories, as well as direct integration with multiple online selling platforms including Shopify, WooCommerce and BigCommerce, Spocket is revolutionising the dropship industry. Additional features include seamless product importing, automated inventory syncing and one-click order fulfillment, as well as sample product ordering, unbranded packaging and custom shipping invoices.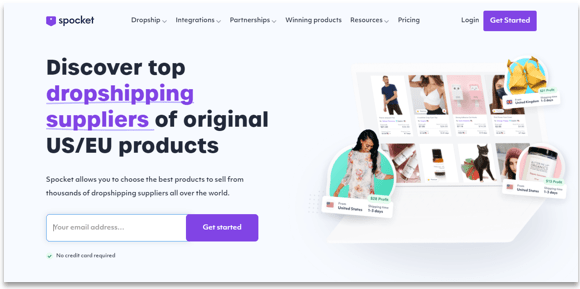 Thousands of leading suppliers and high-quality products

Fast shipping options from local US/UK/EU warehouses

Direct integration with multiple top online selling platforms

Automated inventory management and stock updates

Seamless listing creation and one-click ordering

Order product samples for testing in a few clicks

Unbranded packaging with custom invoices

Free version with low-cost membership options
---
10. Avasam
Avasam is an innovative, all-in-one dropshipping website, sourcing platform and automation software designed specifically for selling products from verified UK-based suppliers. With direct integration with more than 40 selling channels including eBay, Amazon and Shopify, as well as seamless automation of inventory management and order processing, Avasam is quickly becoming the most popular dropshipping solution for UK-based sellers. From electronics to homeware, clothing, gifts and jewellery, Avasam has thousands of trending products to choose from.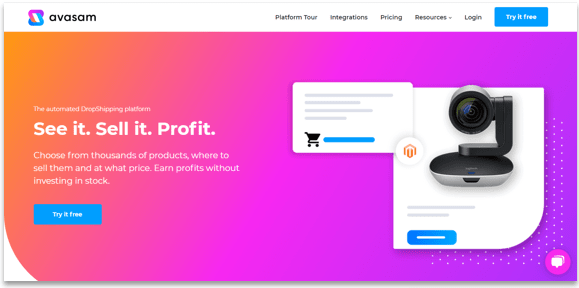 Thousands of UK-based dropshipping suppliers and quality products

Integrates directly with 40+ channels including eBay and Amazon

Fully automated inventory and order management solution

Intuitive and user-friendly interface for quick setup and use

Dropshipper friendly returns policy with quick processing

Start selling in minutes with no previous experience

Free version with low-cost paid membership levels
---
11. Wholesale2b
With more than 1M products and 90 leading US-based suppliers, Wholesale2b is one of the largest product sourcing and dropship automation platforms on the net, trusted by over 150k customers across the globe. Free membership grants you instant access to the comprehensive database of products and suppliers, while optional paid accounts include full integration and automation solutions. Whether you're looking to build an automated dropship business or simply seeking to find reputable suppliers, Wholesale2b is one of the best places to start.
Over 1M products and 90+ leading dropshipping suppliers

Free to join and browse the database of products or suppliers

Full supplier information including location and contact details

Low-cost membership options with inventory automation

Integrates with more than 5 selling channels including eBay

Seamless auto order fulfillment service with all plans

Over 150k members and 15 years of experience
---
12. Tradeeasy
Tradeeasy is a leading online directory of China based manufacturers, wholesalers and dropshipping suppliers, as well as an extensive database of trending products. While primarily designed for finding manufacturers, Tradeeasy has a growing selection of dropshipping companies. One quick search for the term 'dropship' returns an instant list of leading China based and international dropshipping suppliers. One of the biggest advantages with Tradeeasy is that it's completely free to use and trading with suppliers is done directly, meaning lower prices and bigger profits for sellers.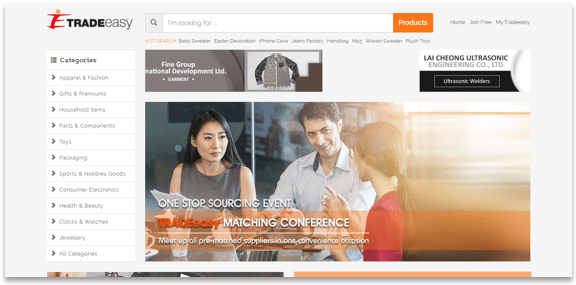 Leading directory of China based wholesalers and dropshippers

Search a huge network of suppliers or products in seconds

Contact suppliers directly and negotiate the best prices

Growing network of international dropshippers

Free to use with no membership fees
---
13. Alibaba
Founded in 1999, Alibaba is one the largest and oldest online trade directories with millions of manufacturers, wholesalers and dropshipping suppliers. While primarily designed to connect international sellers with China based manufacturing companies, Alibaba is also a fantastic resource for finding dropshipping suppliers. Simply head over to the Alibaba website and search for a product or supplier using the additional keywords 'dropship' or 'dropshipper' and you'll instantly uncover an extensive list of leading dropship companies from China and beyond.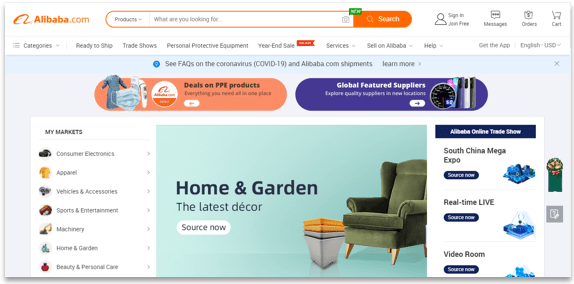 The oldest and biggest online trade directory

Millions of suppliers and products to browse

Find dropshippers in one quick search

Free to use with no restrictions

Lowest possible trade prices

Bulk discounts and offers
---
14. Wholesale Scout
Wholesale Scout is a leading online wholesale directory and product sourcing platform with over 1000 reputable trading companies from all over the globe, including a large collection of dropshipping suppliers. Featuring a simplistic and easy to use interface, as well as a low-cost monthly membership fee, Wholesale Scout is perfect for small business owners and marketplace traders who are looking for reputable suppliers to build long-term partnerships with. Additional features include regular case studies and monthly profitable product reports to help you discover winning products to sell.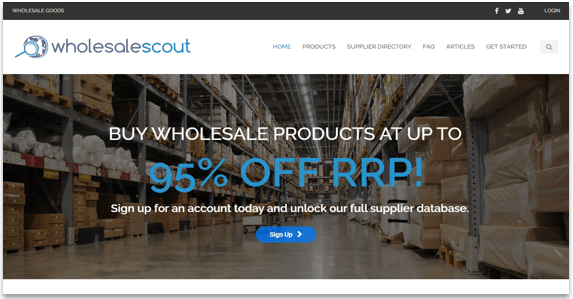 Over 1000 leading wholesale and dropship companies

Low-cost monthly membership for unrestricted access

Exclusive case studies and profitable product alerts

Huge database of wholesale products to browse

Regularly updated blog and wholesale news

Full supplier details including contact info
---
15. Dropshipping One
Dropshipping One is a premium online supplier directory featuring over 700 leading dropshipping companies. The free version unlocks access to a restricted number of suppliers while premium membership grants full access without limits. Dropshipping One has hundreds of international dropshipping companies in more than 11 categories …visit website.
---
16. SkuGrid
SkuGrid is a leading dropshipping automation software compatible with more than 700 dropshipping suppliers from over 8 different countries including the UK, US, EU and beyond. Access to the full list of leading dropshipping companies is completely free while membership options for the automation services start at less than $15/month …visit website.
---
17. Doba
Founded in 2002, Doba is one of the original dropshipping marketplaces and product sourcing platforms featuring over 1M dropship products from hundreds of vetted dropshipping suppliers. Membership starts from less than $20/month and includes seamless integration with the most popular ecommerce platforms such as eBay and Amazon …visit website.
---
18. Modalyst
With more than 10M products and hundreds of vetted US and international suppliers, Modalyst is one of the largest dropshipping marketplaces and automation solutions on the net, featuring direct integration with multiple top ecommerce platforms, as well as one-click product importing and real-time inventory updates …visit website.
---
Final Word
Finding a reliable dropshipping supplier is essential if you want to build a successful and profitable ecommerce business. The collection of websites listed above will help you to quickly locate reputable and trusted dropshipping companies with high-quality products and low (trade-only) prices. Whether you're selling on eBay, Amazon or your own website, you can be sure to find a company to suit your budget and needs. However, always make sure you do your research and due diligence before trading with any specific company, particularly on a dropship basis.