Best Dropshipping Websites & Platforms in 2023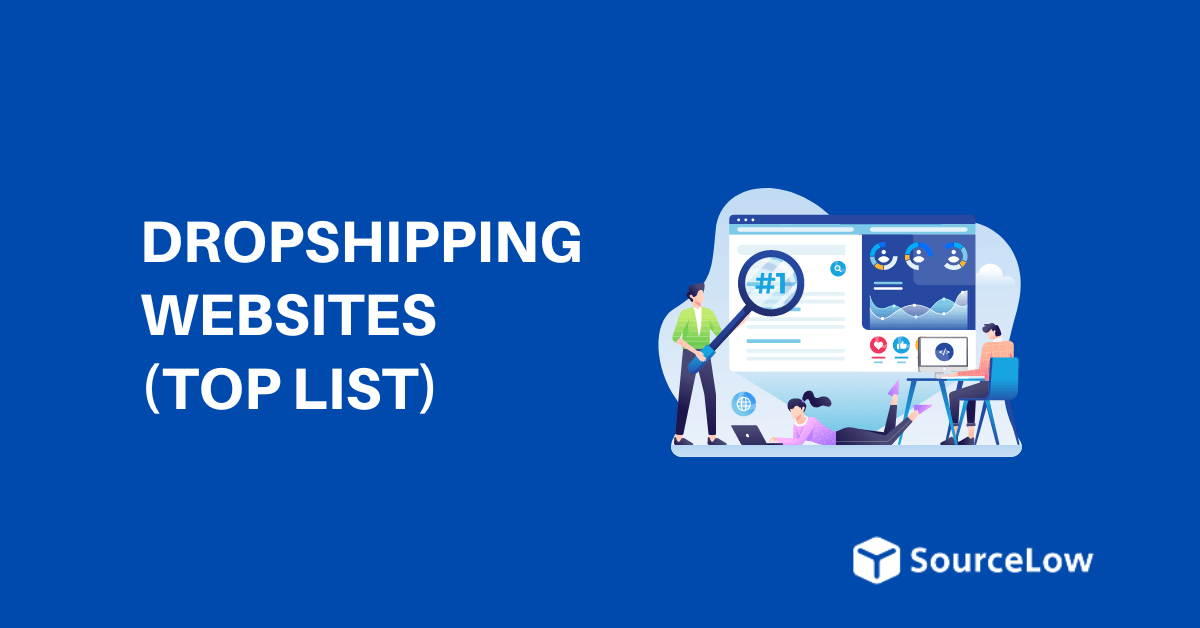 Disclosure: We may earn a commission or fee from some of the links in our content. However, this does not affect our recommendations. Learn more.
With a market value of more than $162 billion in 2019, dropshipping has quickly become an unstoppable phenomenon. In fact, thousands of retailers are turning to the dropshipping model as a means to increase profit margins and minimise overhead costs.
With the sudden rise in popularity followed an increase in various dropshipping websites, as well as automation platforms for finding suppliers and creating listings.
Here you will find a database of the best dropshipping websites for finding suppliers, automating inventory management, building a store, researching products and more.
---
Quick Nav
---
SaleHoo
Founded in 2005, SaleHoo is one of the largest and most popular wholesale directories on the market. SaleHoo features more than 8000 vetted suppliers including thousands of leading dropshippers from all over the globe including the UK, US, Europe and China.
A low (one-time) membership fee provides full access to the directory, as well as an innovative market research lab for finding winning products and profitable niche ideas.
More recently, SaleHoo launched a powerful dropship automation tool for finding and listing trending AliExpress products on Shopify. Additional features include a community forum, modern training hub and dedicated member support.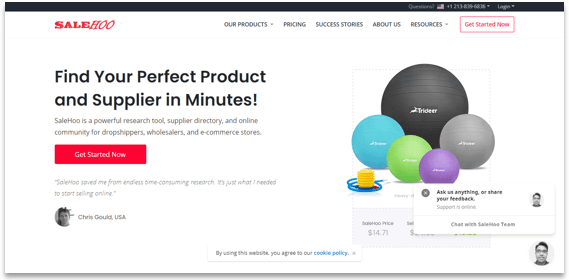 Features
Over 8000 vetted and approved suppliers from multiple locations

Innovative product research lab for finding hot products and niches

Low-cost, one-time membership fee for full unrestricted access

Useful and popular community forum and dedicated support

Extensive seller training hub with free guides and tutorials

Unique Shopify dropshipping automation and listing tool
---
Worldwide Brands
Since 1991, Worldwide Brands has been an industry-leading directory of certified wholesalers, manufacturers and dropshipping suppliers. In fact, Worldwide Brands has hundreds of positive reviews on TrustPilot, as well as top ratings on the Better Business Bureau.
Perfect for online sellers and ecommerce stores, Worldwide Brands has thousands of trusted suppliers in every top category or niche. Furthermore, no middlemen fees means the lowest trade prices on more than 16 million high-quality and brand-name products.
Simply browse the directory and use the various filters to quickly locate the perfect dropshipping supplier for your business. Keep in mind, Worldwide Brands has top suppliers from almost every location including the US, UK, Europe and Asia.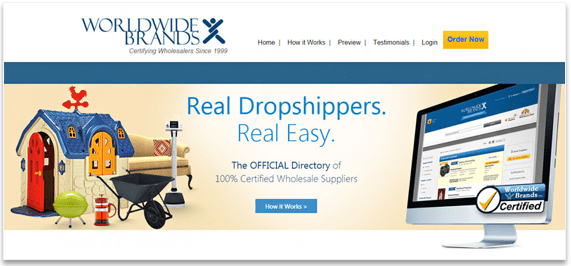 Features
Thousands of certified trade suppliers from across the globe

More than 16M wholesale products in every major category

One-time membership fee for lifetime access without limits

Modern and easy to use website with free preview available

Direct access to suppliers for the lowest wholesale prices

Free guides and tutorials on building a dropship business
---
The Wholesaler UK
Established in 1999, The Wholesaler is the UK's best free online wholesale directory. It features hundreds of verified UK-based wholesale suppliers and an ever-growing database of trusted dropshipping companies in multiple categories.
The Wholesaler also includes a frequently updated list of upcoming UK trade shows, as well as a collection of important retail news and ecommerce guides.
While the list of trade suppliers is small, The Wholesaler excels in quality and reliability. Only genuine UK-based wholesale and dropshipping companies are listed on the site.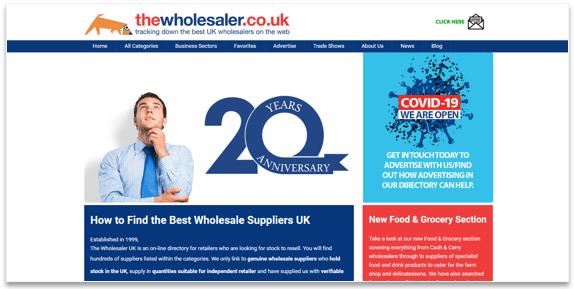 Features
Free to use supplier directory with no membership fees

Verified and approved UK-based dropshipping suppliers

Simple website with huge range of categories to browse

List of upcoming trade shows and exhibitions in your area

Suitable for ecommerce retailers, as well as physical stores

Latest retail news, information and guides on ecommerce
---
Wholesale Central
Wholesale Central is one of the original and most trusted online directories for finding US-based wholesale and dropshipping suppliers.

With more than 1000 leading companies and over 400,000 products, Wholesale Central has something for everyone including marketplace sellers and online retailers.
Simply browse the network of categories to find a reliable US-based dropshipper in minutes. Wholesale Central also has a fast-growing collection of exclusive closeout and liquidation offers available to purchase through their partner website – Closeout Central.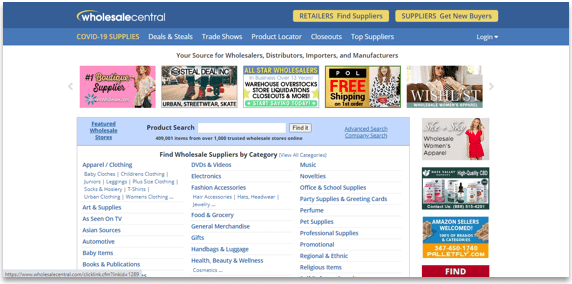 Features
Free to use wholesale directory with no membership fees

Thousands of leading US-based dropshipping suppliers

Simple website with categories and handy search feature

Over 400,000 wholesale products from top companies

Post buying requests to quickly find suitable suppliers

List of trade shows and exclusive closeout deals and offers
---
eSources
eSources is another well-established wholesale directory with over 140,000 approved suppliers including thousands of UK-based dropshipping companies, as well as a growing selection of international wholesalers and manufacturers.
Innovative features such as the ability to post buying requests and bulk message suppliers is what makes eSources one of the most popular choices for finding UK-based dropshipping companies. It's also becoming a great platform for online sellers looking for global suppliers.
eSources has a free membership option which includes limited access to the directory and suppliers. Premium membership for unrestricted access starts at just £20 per month.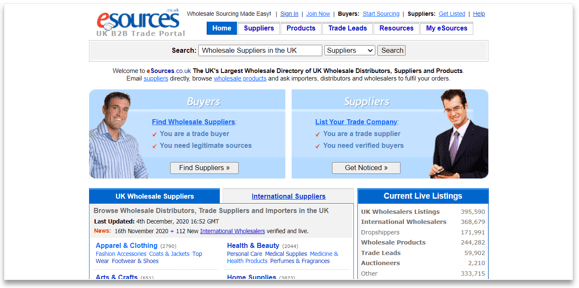 Features
Over 140k leading UK-based and international suppliers

Free (limited) access and low-cost premium membership

Contact suppliers directly or in bulk using buyer requests

Unique TradePass program for identifying trusted sources

Free eBay selling handbook and market research reports

Professional website that is often updated with features
---
TopTenWholesale
Founded in 2005, TopTenWholesale is an innovative wholesale directory and product sourcing platform that features thousands of US-based manufacturers, importers, distributors and wholesalers, as well as a huge selection of US dropshipping suppliers.
With millions of high-quality products and exclusive wholesale deals, as well as the ability to post buying requests or enlist the help of a custom sourcing service, finding a suitable supplier using TopTenWholesale is quick, easy and effective.
Furthermore, the unique supplier verification program ensures that all of the companies on TopTenWholesale are legitimate and reliable sources.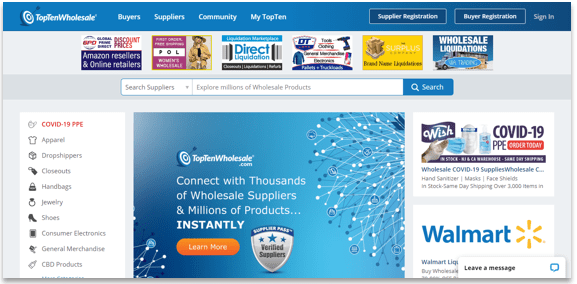 Features
Free to use for trade buyers with no membership fees

Thousands of dropshipping suppliers based in the US

Exclusive category for finding dropshipping companies
Post buying requests to find suppliers for any product
Well-maintained website that is fast and easy to use

B2B newsrooms with community forum for support
---
Tradeeasy
Tradeeasy is a leading online directory of China-based manufacturers, wholesalers and dropshipping suppliers, as well as an extensive database of trending products.
While mainly designed for finding manufacturers or distributors, Tradeeasy has an increasing number of dropshipping companies on the platform. One quick search for the term 'dropship' will instantly return a list of China-based dropshipping suppliers.
One of the biggest advantages with Tradeeasy is that it's completely free to use and all trading with suppliers is done directly, meaning lower prices and bigger profits for sellers.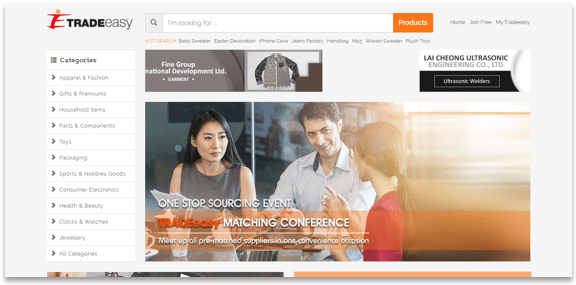 Features
Leading directory of China-based wholesalers and dropshippers

Search a huge network of suppliers or products in seconds

Filter results to find companies that suit your requirements

Contact suppliers directly and negotiate the best trade prices

Growing network of international dropshipping suppliers

Free to use with no membership fees and direct trading
---
Alibaba
Founded in 1999, Alibaba is one the largest and best online trade directories with millions of manufacturers, wholesalers and dropshipping suppliers in China.

Although designed to connect international buyers with Chinese manufacturers and bulk wholesalers, Alibaba is becoming increasingly popular for finding dropshippers.
Simply head to the Alibaba website and search for a product or supplier using keywords such as 'dropship' or 'dropshipper'.  You will instantly uncover an extensive list of leading dropshipping companies from China, many of which have local warehouses in the US and Europe.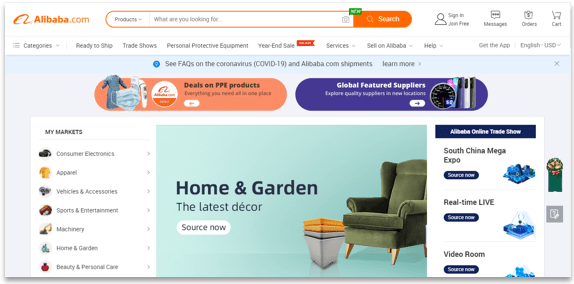 Features
The largest B2B directory of wholesalers and dropshippers

Millions of products from leading China-based suppliers

Find dropshippers for any product in one quick search

Thousands of positive reviews on sites like TrustPilot

Free to use with no limits and the lowest trade prices

Bulk discounts and exclusive offers on hot products
---
Wholesale Scout
Wholesale Scout is a professional online wholesale directory and product sourcing platform with over 1000 reputable trading companies from all over the globe, including a vast selection of dropshipping suppliers.
Featuring a simple and easy to use interface, as well as a low-cost monthly membership fee, Wholesale Scout is perfect for small business owners and marketplace traders who are looking for reputable suppliers to build long-term partnerships with.
Additional features include exclusive case studies and monthly reports on the most profitable products to help you kick-start your ecommerce business.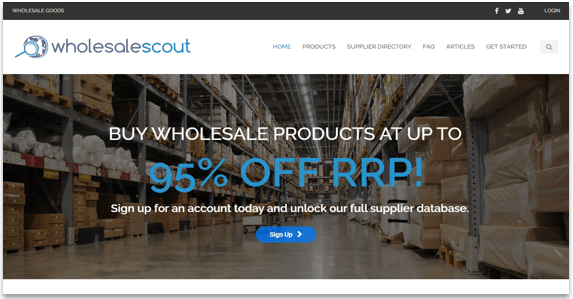 Features
Over 1000 leading wholesale and dropshipping companies

Low-cost monthly membership fee for unrestricted access

Exclusive case studies and profitable product notifications

Huge database of wholesale and dropshipping products

Regularly updated blog with ecommerce tips and guides

Full supplier details including contact info and website link
---
Wholesale2b
With more than 1 million products and 90 leading US-based suppliers, Wholesale2b is one of the largest product sourcing and dropshipping automation platforms on the net, trusted by over 150,000 customers including some major ecommerce stores.
Free membership grants you instant access to the comprehensive database of products and suppliers, while the premium plans include direct integration with virtually any selling channel and full inventory automation.
Whether you're looking to build a scalable dropshipping business or simply need to find reputable suppliers, Wholesale2b is one of the best places to start.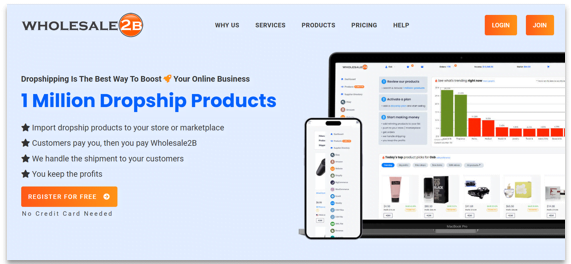 Features
Over 1M products and 90+ leading dropshipping suppliers

Free to join and browse the database of products or suppliers

Full supplier information including location and contact details

Low-cost membership options with inventory automation

Integrates with more than 5 selling channels including eBay

Seamless auto order fulfillment service with all paid plans
---
Syncee
Founded in 2015, Syncee is widely considered the best dropshipping websites for finding top-selling products and fully automating inventory management.
Syncee is essentially a dropshipping marketplace that features millions of products from thousands of trusted suppliers in the US, UK, Europe and globally.
You can integrate Syncee directly with your online store and quickly import products from the marketplace in just one-click. Syncee also features automated inventory updates and order fulfillment. With the starter plan, you can import 25 products to your store for free.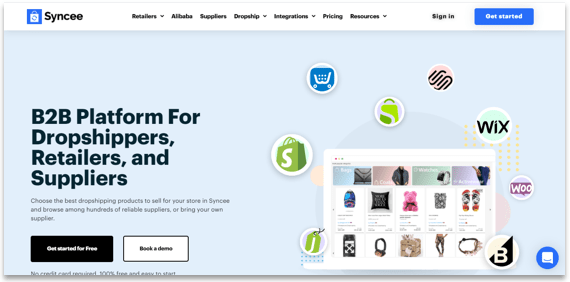 Features
Best dropshipping website for complete inventory automation
Millions of products from thousands of top dropship suppliers
Integrates directly with multiple online store building solutions
Add best-selling dropship products to your store in just one-click
Fully automated daily inventory updates and auto order fulfillment
Trusted by more than 100,000 global dropshippers and retailers
---
Hustle Got Real
Hustle Got Real is another highly popular dropshipping website for sourcing products from more than 100 major suppliers in the UK, US, Europe and China.
Using the powerful Chrome browser extension or web application, you can effortlessly import products from any of the compatible suppliers to Shopify, eBay or Amazon. Once imported, Hustle Got Real will automatically monitor inventory and adjust prices and stock when necessary.
Hustle Got Real also supports auto ordering for many of the suppliers. Therefore, you will save a huge amount of time and effort by not having to manually fulfill customer orders. Additional features include a unique title builder, as well as a low-cost listing creation service.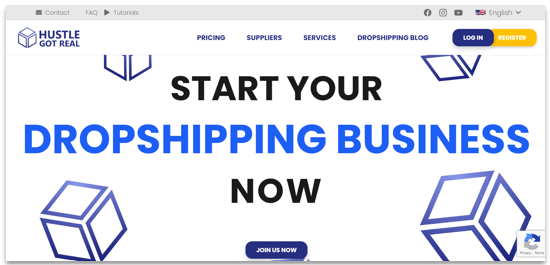 Features
Fully automated inventory management and ordering solution
Compatible with more than 100 suppliers in the UK, US and EU
Powerful Chrome extension for importing items in a few clicks
Includes catalog of best-selling items with the biggest profits
Unique range of additional features such as title optimiser
Free plan for importing 10 products with full automation
---
Spocket
Launched in 2017, Spocket has quickly grown to become the number one website for sourcing low-cost products for US and EU-based dropshipping suppliers.
Featuring thousands of products in more than 10 main categories, as well as direct integration with multiple online selling platforms including Shopify, WooCommerce and BigCommerce, Spocket is revolutionising the dropshipping industry.
Additional features include seamless product importing, automated inventory syncing and one-click order fulfillment, as well as sample ordering, unbranded packaging and custom shipping invoices. Syncee also has an exceptional customer support team that is available 24/7 on live chat.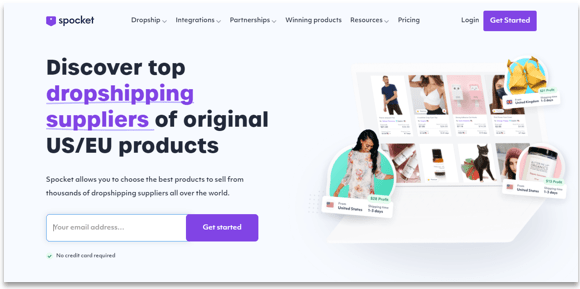 Features
Thousands of leading suppliers and high-quality products

Fast shipping options from local US/UK/EU warehouses

Direct integration with multiple online selling platforms

Automated inventory management and stock updates

Seamless product importing and one-click auto ordering

Free version with low-cost paid membership options
---
DSM Tool
DSM Tool is an innovative dropshipping website and automation solution that allows you to source products from dozens of top suppliers in the US and Europe.
Compatible with eBay and Shopify, you can quickly integrate your store or marketplace and import products in bulk or individually. DSM Tool will automatically monitor your listings and update prices and stock to ensure you always generate maximum profit.
With the free plan, you can import up to 25 products from AliExpress with full inventory automation. The premium plans start from less than $25/month and allow you to import more products from any of the compatible suppliers.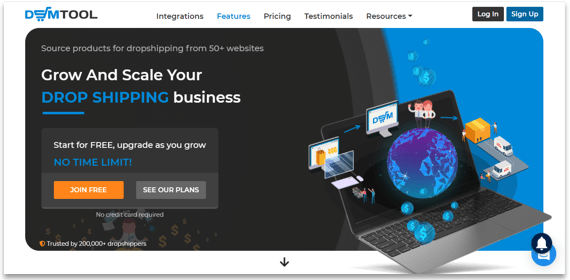 Features
All-in-one dropshipping website for sourcing high-quality items
Integrates directly with eBay and Amazon for quick importing
Dozens of innovative and exclusive features to boost profits
Includes inventory automation to keep your listings updated
Free version for importing up to 25 products from AliExpress
Money-back guarantee on all premium membership plans
---
Inventory Source
Inventory Source is a powerful dropshipping automation software and integrated supplier directory featuring over 4000 leading dropshipping companies and millions top quality products.
Access to the comprehensive directory of global suppliers is completely free, whereas pricing for the automation solutions including stock/price updating starts at less than $100 per month.
Additional features include a network of more than 200,000 US-direct products, as well as integration with over 25 selling channels. These include ecommerce website builders such as Shopify and WooCommerce, as well as online marketplaces.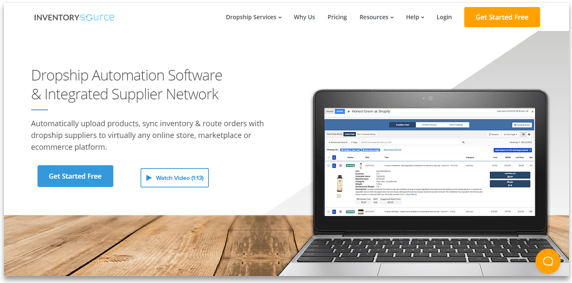 Features
Free access to a directory of over 4000 leading suppliers

Full supplier data including fees, policies and contact info

Millions of top-quality products in any category or niche

Advanced filtering, sorting and item searching options

200+ pre-integrated suppliers from multiple locations

Premium membership plans for complete automation
---
Avasam
Avasam is an innovative, all-in-one dropshipping website and automation software designed specifically for selling products from verified UK-based suppliers.
Featuring direct integration with more than 40 selling channels including eBay, Amazon and Shopify, as well as seamless automation of inventory management and order processing, Avasam is quickly becoming the most popular dropshipping solution for UK-based sellers.
From electronics and phone accessories to homeware, clothing, gifts and jewellery, Avasam has thousands of trending products to choose from.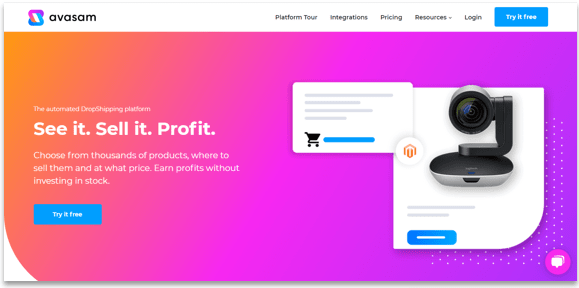 Features
Thousands of UK-based dropshipping suppliers and quality products

Integrates directly with 40+ channels including eBay and Amazon

Completely automated inventory and order management solution

Intuitive and user-friendly dashboard for quick setup and usage

Dropshipper friendly returns policy with fast refund processing

100% free version with low-cost paid membership options
---
SkuGrid
SkuGrid is a leading dropshipping automation software that is compatible with more than 800 dropshipping suppliers from over 8 countries including the UK, US, EU and beyond.
In fact, SkuGrid was one of the first dropshipping repricing solutions on the internet. It's highly reliable and loaded with features including a powerful listing creator, bulk product importer and stock/price change notifications.
Whether you want to sell on your own store or a third party marketplace, SkuGrid integrates with 10 selling platforms including eBay, Amazon, Shopify and WooCommerce.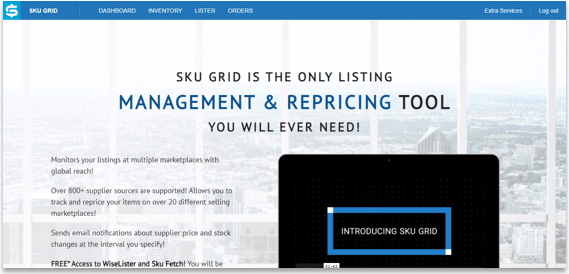 Features
One of the first dropshipping automation solutions on the internet
Loaded with powerful features including full inventory automation
Compatible with more than 800 dropshipping suppliers globally
Designed for selling on eBay, Amazon, Shopify, Etsy and more
Several ways to import products from the 800+ top suppliers
14-day free trial on all plans with no need to input card details
---
Shopify
When it comes to building your own dropshipping store, Shopify is the most popular platform on the market. Shopify has millions of users and billions in annual revenue, making it a market leader in the world of online store builders.
Shopify has everything you need to create a unique dropshipping store including a simple user-interface, professional themes and built-in payment processors. It's also very low-cost with pricing from only $29/month which includes an SSL certificate and web hosting.
One of the reasons why Shopify is the best ecommerce website builder for dropshipping is because it's compatible with dozens of powerful third party apps. These apps allow you to find suppliers, import products and automate a number of tasks.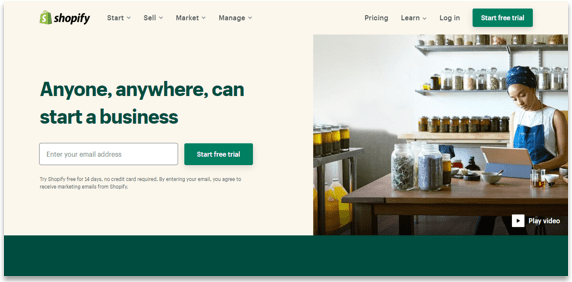 Features
Best ecommerce website builder for dropshipping businesses
Features everything you need to quickly launch a unique store
Simple drag-and-drop editor with no coding experience needed
Huge selection of third party dropshipping apps and solutions
Affordable software with pricing starting from only $29/month
---
WooCommerce
WooCommerce is a free plugin that allows you to transform any WordPress website into a fully functional ecommerce store. It's another highly popular choice for dropshippers as it's extremely flexible and packed full of essential features.
From creating listings to accepting payments and managing orders, WooCommerce provides a true all-in-one solution. You won't need any other plugins or software to manage your store.
Keep in mind though, you will need to purchase a domain name and hosting separately to create a WooCommerce store. These typically cost round $10-$20/month depending on the provider.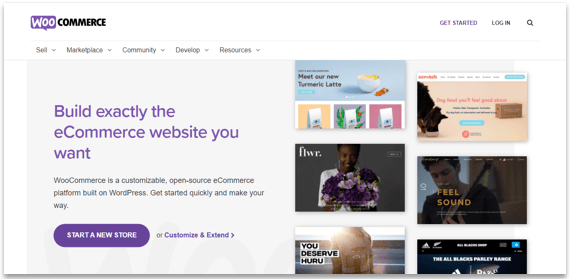 Features
Best free plugin for building a WordPress dropshipping store
Feature-packed with everything you need to start selling
Very customisable and flexible with no experience needed
Compatible with a huge number of third party plugins
Quickly set up your business policies and create listings
Free solution with no need for any other plugins or apps
---
BigCommerce
Powering some of the world's biggest brands including Sony and Toyota, BigCommerce is a well-established ecommerce platform that is quickly becoming the go-to solution for dropshippers.
In fact, anyone can create a professional dropshipping store using BigCommerce. It's very user-friendly and loaded with cutting-edge features for selling online. BigCommerce also has no transaction fees and you can build a store with an unlimited number of products.
As the company is growing increasing popular for dropshipping, it's also compatible with a huge number of third party apps for adding products and automating price/stock management.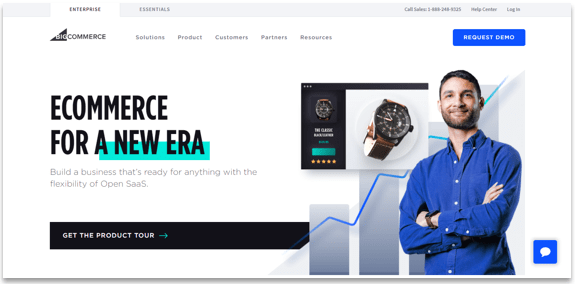 Features
Well-established website builder and dropshipping solution
Trusted by top brands including Sony, Toyota and Superdry
Professional reports to track your sales and store profits
Unique features including single-page checkout and more
Low-cost with plans starting from only $29.95 per month
No transaction fees with unlimited products and orders
---
Brandafy
Brandafy is a leading provider of turnkey Shopify dropshipping websites fully loaded with winning products from trusted suppliers in the US and globally.
Simply choose your niche and Brandafy will take care of the rest, building you a stunning dropshipping store with a unique theme and optimised design. All of the stores include a professional logo, winning products, essential apps and original graphics.
Whether you want to sell clothing, electronics or pet supplies, Brandafy can build incredible dropshipping stores in any niche or category.
Features
Leading provider of complete Shopify dropshipping websites
Includes premium theme with professional logo and branding
All stores fully loaded with products from trusted suppliers
Delivered in 24 hours or less with full ownership transfer
One-time fee with lifetime technical support and guidance
---
Dropbuild
Dropbuild is another top-rated provider of premium Shopify dropshipping stores with dozens of positive reviews on websites like TrustPilot and Google. The company provides high-quality dropshipping stores that are ready-to-use and allow you to launch your business in record time.
In fact, the stores provided by Dropbuild include a premium Shopify theme, custom branding, professional graphics and essential pages. The stores also include winning dropshipping products with engaging video ads, targeting suggestions and expert ad copy.
Basically, everything you need to start advertising your store on social media is right at your fingertips. You will have full ownership of the site and can instantly start generating sales and revenue. It's a true end-to-end service for those who want to get stared with dropshipping quickly.
Features
Top-rated provider of premium Shopify dropshipping websites
Mobile-responsive design with integrated payment processors
Includes premium theme, professional graphics and branding
Loaded with best-selling products from reputable suppliers
Engaging video ads with targeting suggestions and ad copy
---
Store Studio
With hundreds of satisfied clients and excellent reviews on various sites, Store Studio is a well-established provider of premade Shopify dropshipping stores with winning products.
From clothing and fashion accessories to beauty supplies, toys and tech gadgets, Store Studio has professional stores in every major niche. Simply browse the website and view the demo stores to find one that suits your budget and needs, prior to placing an order.
Most of the stores start from only $99 one-time and include a premium theme, modern design and full ownership transfer. Furthermore, the stores also come integrated with third-party dropshipping software so you can quickly import more products and automate inventory management.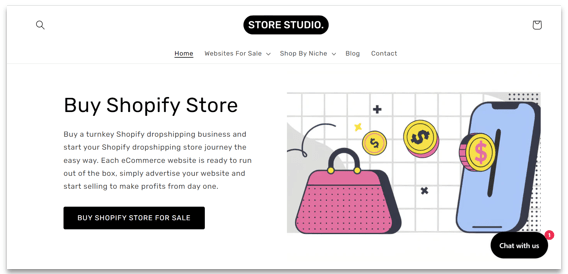 Features
Well-experienced provider of premade Shopify dropship stores
Professional stores in every category including niche websites
Includes mobile-responsive design and premium Shopify theme
All stores are delivered in 48 hours or less with lifetime support
Pricing from only $99 one-time with lifetime after-sales support
---
Flippa
Flippa is a global online marketplace for buying and selling online businesses and websites. Since it's launch, more than $400 million worth of businesses have been sold on the platform.
At any given time, Flippa typically has hundreds of listings featuring dropshipping websites for sale. This includes start-up dropshipping websites, as well as established stores that are already generating traffic, revenue and profit.
Simply search the marketplace or browse via categories to quickly find dropshipping stores to purchase. In most cases, the websites are sold through auctions.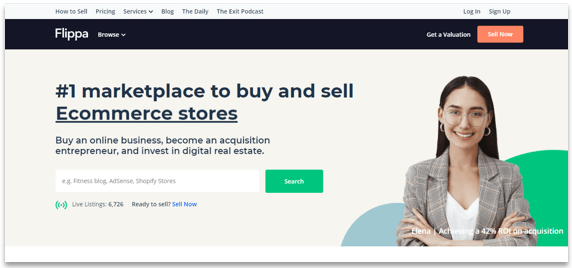 Features
The number one marketplace for buying and selling websites
Hundreds of dropshipping stores for sale at any given time
Includes start-up stores and established sites with revenue
Quickly browse the marketplace via categories or search
Filter by price, website age, traffic and other statistics
---
FindNiche
When it comes to finding winning products for your dropshipping website, FindNiche is the ultimate research platform and ecommerce analysis software.
FindNiche has a suite of powerful tools for locating top-selling dropshipping products that are already earning huge profits for other sellers. The tools include a database of more than 80 million AliExpress products with detailed analytics on total orders, growth rate and sales trends.
FindNiche also has a massive database of winning dropshipping products discovered on successful Shopify dropshipping stores, as well as a handpicked list of daily updated niche products.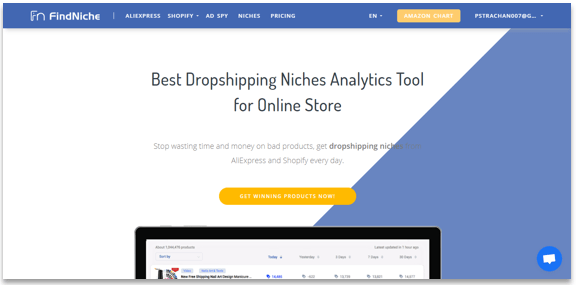 Features
The best dropshipping website for finding winning products
Suite of powerful tools including a database of top-sellers
Quickly find items that are already generating huge profits
Free to access to a limited number of products and data
Low-cost premium plans with full access to all products
---
AliInsider
AliInsider is the best dropshipping research tool for finding winning AliExpress products to sell on your online store or marketplace.
Simply install the powerful Chrome extension and you can instantly analyse any product on the AliExpress website. AliInsider provides comprehensive data on total sales, monthly revenue, growth rate and trends, as well as details on top countries.
In addition to providing data on any AliExpress product, AliInsider also features a handpicked database of more than 30,000 top performing dropshipping products.
Features
Powerful dropshipping research tool for finding winning items
Instantly review any AliExpress product in just one-click
Details on average monthly sales, trends and top countries
Handpicked database of more than 30,000 best-sellers
Free version for researching a limited number of products
---
Dropship Spy
Dropship Spy is another popular dropshipping website for finding hot-selling products with the highest profit margins and most sales. It's used by more than 20,000 members including some of the most successful dropshippers in the industry.
Simply sign up for free to gain instant access to the massive database of winning items. This includes more than 2500 top-selling products on social platforms such as Facebook.
You can start selling the products on any platform including Shopify, eBay and Amazon. The database is constantly updated so you can be the first to find the fastest selling dropshipping products on the market.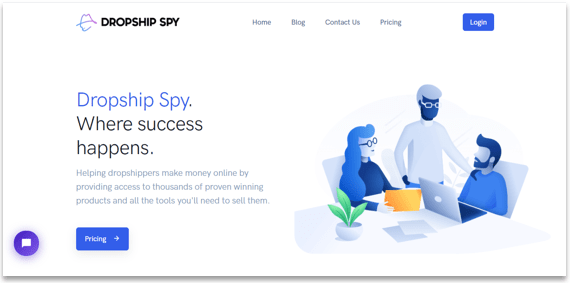 Features
Popular dropshipping website for finding winning products
Massive database of hot-sellers with the biggest profits
Includes over 2500 products from social media websites
Full analytics on total sales, profits and best suppliers
Sell the items on any platform including marketplaces
---
More Dropshipping Websites
As dropshipping is one of the most popular online business ideas for entrepreneurs, there is an endless selection of dropshipping websites on the internet. To complete this article, here's a short list of some additional dropshipping websites and platforms that you may find useful.
---
Final Word
The companies listed above are the best dropshipping websites for finding suppliers, automating inventory management, creating an online store and more.
Whether you're looking for dropshipping suppliers or seeking to buy a turnkey dropshipping store, hopefully you have managed to find what you need.
If not, make sure you browse our other blog posts and guides for more epic content on dropshipping. We regularly add new articles that will help you to fast-track your way to achieving success with ecommerce and dropshipping.