---
Hustle Got Real is a powerful and reliable dropshipping automation solution which is packed full of cutting-edge features including bulk listing, automated repricing and AI title optimisation. Compatible with more than 100 international suppliers and multiple online selling platforms including eBay, Amazon and Shopify, Hustle Got Real is quickly becoming the number one choice for ecommerce sellers.
---
Compatibility: eBay, Amazon, Shopify
Suppliers: 84 (UK), 18 (USA), 2 (Spain), 1 (France), 1 (Australia)
Price: From £19 per month (10 free listings) – Full Pricing
---
100+ compatible dropshipping suppliers from UK, EU & USA
Multiple online selling channels including eBay & Amazon
Lightning-fast Chrome lister extension & bulk lister tool
Frequent 90 minute inventory monitoring and repricing
User-friendly dashboard with simple repricing rules
---
What is Hustle Got Real?
Founded in 2018, Hustle Got Real or HGR for short is a dropshipping automation software designed for listing, monitoring and repricing dropship products on popular selling platforms including eBay, Amazon and Shopify. Compatible with over 100 different dropshipping suppliers from multiple locations, HGR is the ultimate solution for those looking to scale their dropshipping business and streamline the stock/price management process.
The purpose of the software is simple, to monitor and detect changes to your suppliers stock or prices and mirror those changes with the relevant eBay, Amazon or Shopify listings. While no software can completely eliminate the issue of selling a product which has ran out of stock or raised in price, Hustle Got Real is the most reliable solution for significantly minimising the risk. You can grow your dropshipping business quickly and without worrying about items running out of stock or changing significantly in price.
---
Features & Benefits
When it comes to features, Hustle Got Real doesn't disappoint. Users are equipped with everything they need to build a highly scalable and automated dropshipping business. From a lightning-fast Chrome lister extension to automated (90-minute) repricing, one-click importing and a catalogue of best-selling products, as well as an all-in-one dashboard for managing listings, processing orders and creating repricing rules, Hustle Got Real is one of the most feature-rich dropshipping software solutions on the market.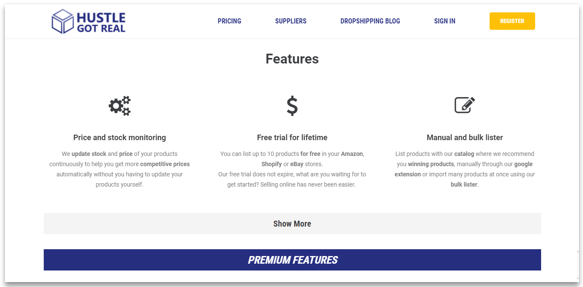 Over 100 compatible dropshipping suppliers in the US/UK/EU/China

Compatible with eBay, Amazon and Shopify with more on the way
Lightening-fast Chrome extension for creating listings in seconds
Innovative product catalogue for finding the most profitable items
User-friendly dashboard with simple settings and monitoring rules
Fully automated (90-minute) inventory management and repricing
Compliant non-API version with no need to keep your PC running
All-in-one dashboard for manging listings and customer orders
---
Pros & Cons
Hustle Got Real is packed full of innovative features and benefits,. However, it also has a small number of disadvantages which need to be considered. From a network of mostly UK-based dropshipping suppliers to no option for selling on WooCommerce, Hustle Got Real is not for everyone. In fact, Hustle Got Real is mostly suited to UK-based sellers who are looking to start dropshipping products from UK-based suppliers on eBay, Amazon or Shopify. Here's a side-by-side comparison of the main pros and cons of Hustle Got Real for your review.
Pros
Reliable and professional software
Over 100 leading dropship suppliers
Lightning-fast Chrome lister extension
Innovative product catalogue feature
Flexible pricing rules & stock settings
Exceptional 24/hour customer support
Regularly updated and maintained
Simple to use and very newbie friendly
Cons
Mostly UK-based dropshipping suppliers/retailers
Automated order fulfilment for Amazon only
Limited payment options for membership plans
Only 10 free listings with no fixed free trial
---
Compatible Suppliers
Hustle Got Real is compatible with over 100 dropshipping suppliers, most of which are based in the UK/EU, while around 20 are located in the United States. Whether you want to sell pet supplies, electronics, kids toys or clothing, Hustle Got Real has a supplier to suit. Furthermore, new suppliers are frequently added and users can ask for specific wholesalers or dropshipping suppliers to be considered.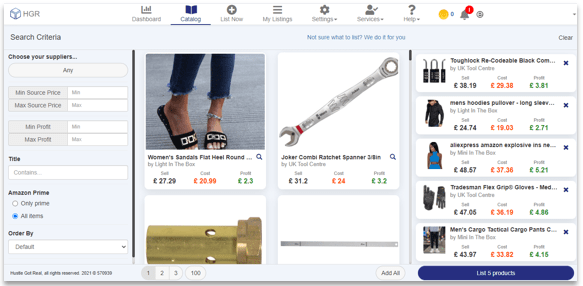 United Kingdom (84)
United States (18)
Spain (2)
France (2)
---
Compatible Selling Platforms
Hustle Got Real is compatible with eBay, Amazon and Shopify, the 3 most popular online selling platforms for dropshipping. Furthermore, with a Non-API solution in the form of a Chrome extension, users are not required to connect an eBay or Amazon account in order to use the repricing features. Hustle Got Real has multiple options when it comes to connecting or repricing products on your preferred selling platform.
---
Usage & Settings
Hustle Got Real's biggest selling point is it's powerful features and ease of use. Creating listings using the Chrome extension or product catalogue is super simple, while managing existing listings is seamless thanks to the user-friendly interface. Simple repricing rules and out of stock settings, as well as the automatic calculation of shipping costs ensure maximum profit on every sale. Even those with limited experience using software programs will quickly learn the ropes thanks to a fine-tuned user-dashboard.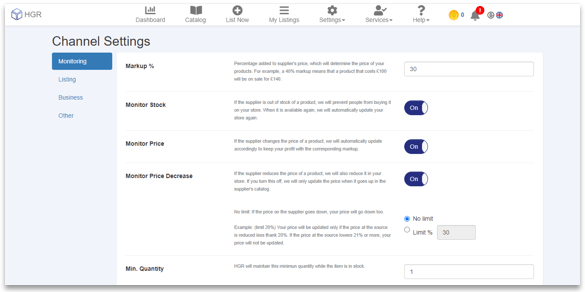 Simple pricing rules and automatic calculation of shipping costs, VAT and other hidden costs
Lightning-fast Chrome lister seamlessly pulls product images, description and item specifics
Cutting-edge product catalogue which allows you to find and list hot products in one-click
Modern dashboard with simple repricing rules and inventory options for individual suppliers
Automatically set available quantity to 0 or increase selling price for out of stock products
Automatically end listings which have been out of stock for a significant period of time
Purchase (optional) low-cost tokens to automatically optimise product titles when listing
---
Pricing & Billing
The Hustle Got Real pricing model is based on the total number of listings being monitored, tracked and automatically repriced. The starter plan is free and includes 10 product listings on any selling channel. Premium plans start at only £19/month for 300 product listings and unlimited sales. There is no limit to the number of listing the software can manage and all subscription payments are processed through PayPal.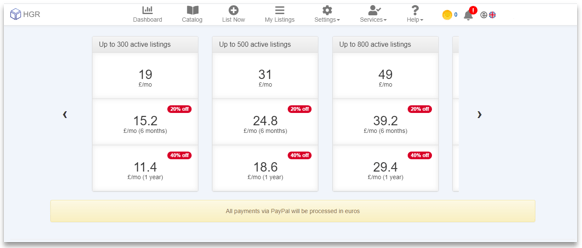 10 Listings – Free
300 Listings – £19/month
500 Listings – £31/month
800 Listings – £49/month
1000 Listings – £59/month
Pricing Overview: While the cost of Hustle Got Real could be considered expensive when compared to alternative dropshipping solutions, the additional features and reliability of the software makes it worth the extra expense. It's also important to note that HRG monitors stock/prices every 90 minutes, whereas other solutions tend to monitor inventory once or twice per day, making them less reliable and effective in preventing overselling.
---
Final Conclusion
Hustle Got Real is a reliable, user-friendly and reasonably priced dropshipping automation software trusted by over 10,000 active users. It's jam packed full of features and very easy to use. While other cheaper solutions have the basic features, HRG goes further, not only helping dropshippers to avoid overselling, but allowing them to maximise profit margins and minimise overhead costs. The only reason this review falls short of the full 5 stars is due to the the relatively small list of compatible suppliers. Other than that, HRG is a winning choice for dropshipping software.
---
Getting Started
It's completely free to join Hustle Got Real and create up to 10 products listings with the Baby Plan. Therefore, you can test the software and it's full features without having to input credit card details or commit to a monthly subscription. Pricing starts at £19/month for the Rookie Plan which includes 300 listings and unlimited orders. To get started, simply visit the Hustle Got Real website and create a free account.
---
What suppliers is HRG compatible with?
HRG is compatible with over 90 different dropshipping suppliers, most of which are based in the UK. However, HRG is constantly adding new suppliers and users also have the option to request new suppliers to be added. A full list of compatible suppliers can be found above in the Compatible Suppliers section.
What selling platforms is HRG compatible with?
Hustle Got Real is compatible with eBay, Amazon and Shopify. However, more selling platforms such as WooCommerce, BigCommerce and Etsy are expected to be added in the near future.
Can I create new listings with HGR?
Yes, you can create professional listings on eBay, Amazon and Shopify using the innovative Chrome lister extension or through the product catalogue. Simply browse the website of your chosen supplier and click the Chrome extension icon on the product details page. Hustle Got Real will automatically import all product data including images and descriptions, allowing you to create a new listing on eBay, Amazon or Shopify. Alternatively, you can browse the product catalogue from within the HRG dashboard and instantly select and list products in one-click.
Does HGR monitor prices and stock?
Yes, Hustle Got Real monitors stock and prices to prevent overselling. If an item runs out of stock, HGR will automatically place your eBay, Amazon or Shopify listing out of stock. If an item changes in price, HRG will automatically adjust your selling price based on simple pricing rules to ensure you always earn a profit on sales.
How often does HRG update listings?
Hustle Got Real monitors and updates listings every 90 minutes. If changes in price or stock are detected, HRG will immediately update your eBay, Amazon or Shopify listings to refelect the new price or stock status.
Does HRG relist out of stock items?
Yes, Hustle Got Real will automatically relist items that come back in stock. You can also set the software to permanently delete listings if the product has been out of stock for a considerable period of time e.g. 90 days. Therefore, you won't need to worry about wasting your listing allowance on discontinued products.