Adsellr Review: Low-Cost & Reliable Ecommerce Agency
Do you run an ecommerce business? Are you looking for a marketing agency to take your business to the next level? If so, Adsellr is a company that you've likely stumbled across during your search.
Here you will find an honest review of Adsellr and it's various marketing services. By the end of this guide, you should have a clear understanding of the features, benefits and cons of Adsellr.
---
Review Summary
Overall Rating: 4.9 stars • Excellent ⭐✅
When it comes to ecommerce marketing agencies, Adsellr is one of the most affordable and reliable on the market. The company has a team of in-house web design and digital marketing experts with years of experience, allowing them to provide high-quality services for competitive prices.
The low prices and excellent customer support makes Adsellr perfect for start-ups and small ecommerce stores. Whether you're looking to acquire a premade Shopify dropshipping store or simply need high-quality video ads for advertising on Facebook or TikTok, Adsellr is an agency worth considering.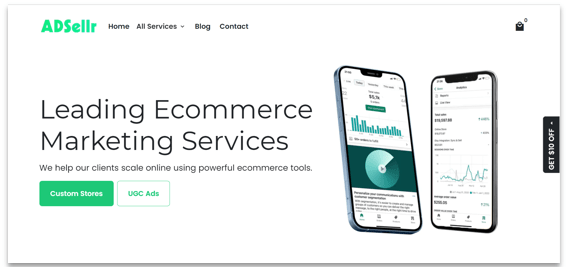 Top Features
Professional ecommerce marketing agency with years of experience
Growing team of in-house web design and digital marketing experts
Range of popular services for competitive prices with fast delivery
Premium Shopify dropshipping stores with best-selling products
Low-cost dropshipping video ads with user generated content
Expert content creation services including custom blog posts
---
What is Adsellr?
Adsellr is a professional ecommerce marketing agency that offers a suite of budget-friendly services including ecommerce video ads, prebuilt dropshipping stores and content writing packages. The company was founded in 2018 and has helped thousands of small ecommerce businesses since it's launch.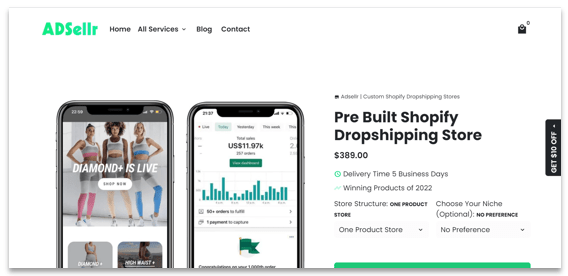 Unlike most digital marketing and ecommerce agencies, Adsellr provides fixed pricing on it's services. Therefore, you will be able to hire the company for specific tasks while knowing exactly what the total cost will be. This makes Adsellr perfect for ecommerce stores with a small marketing budget.
---
Features & Services
Adsellr has a variety of features and services to choose from. Most of the services are designed for ecommerce or dropshipping business owners. This includes start-ups and established online stores. Let's take a closer look at some of the most popular services from Adsellr.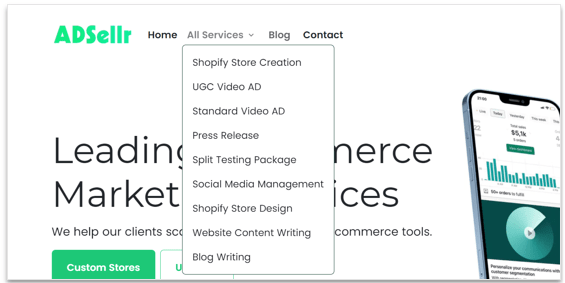 Prebuilt Shopify Dropshipping Stores
If you're looking to get started with dropshipping as soon as possible, Adsellr offers a prebuilt dropshipping store building service. Delivered in around 5 days or less, the Shopify stores include a professional theme, mobile optimised design and high converting products.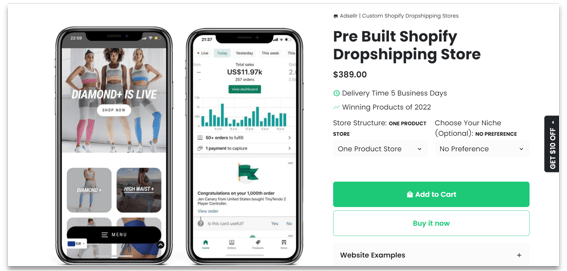 Low-Cost Ecommerce Video Ads
It's no secret that video ads are the best way to generate sales for an ecommerce business. Adsellr offers an inexpensive and streamlined video ads creation service with fast delivery. The company will design and create a highly engaging video ad for use on various social sites including Facebook and TikTok.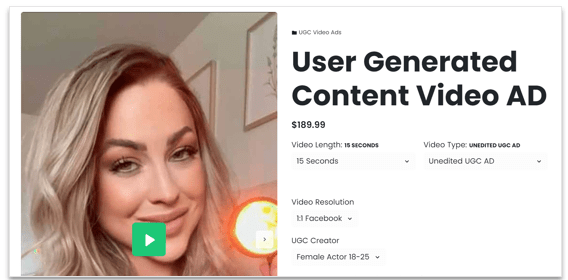 Complete Social Media Management
Building a large following on social media is essential when running an ecommerce business. Adsellr provides a service in which they will manage and grow your Instagram account for 30 days. The package includes 1 post and 3 stories published on Instagram every day with free creatives, images and videos.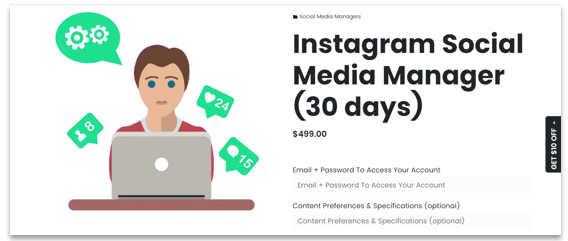 Shopify Store Optimisation
Optimising your Shopify store is the best way to increase your conversion rate and profits. With this service, Adsellr will use multiple proven strategies to improve the design of your ecommerce store. This will drastically boost conversions, reduce bounce rates and improve abandoned cart rates.
Website Content Writing
If you're struggling to create high-quality content for your ecommerce website, Adsellr can harness their team of in-house writers to create engaging, unique and high converting content for your website. Simply sit back and relax while Adsellr crafts expert copy for your site to convey your brand message and authority.
Blog Content Creation
Did you know that blogging can quickly increase sales for your ecommerce store? For a one-time fee, Adsellr will create 10 high-quality and search engine optimised posts for your blog. These posts will be specifically designed to drive laser-targeted traffic to your site for free through search engines.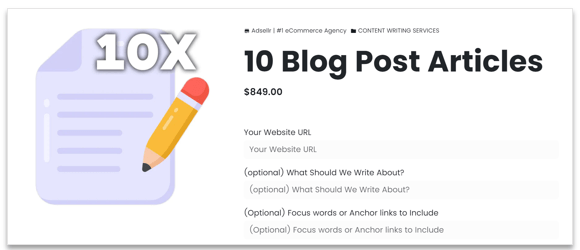 These are just a few of the most popular services from Adsellr. Additional services include press releases for your ecommerce store on major media outlets such as Yahoo, CNN and Fox News. Plus, Adsellr regularly introduces new services for ecommerce brands and dropshippers.
---
Pros & Cons
Adsellr has many advantages as an ecommerce marketing agency. However, as with any company, it does have some disadvantages and cons. Here's a complete breakdown of the pros and cons of Adsellr so you can decide if it's the marketing company you want to move forward with.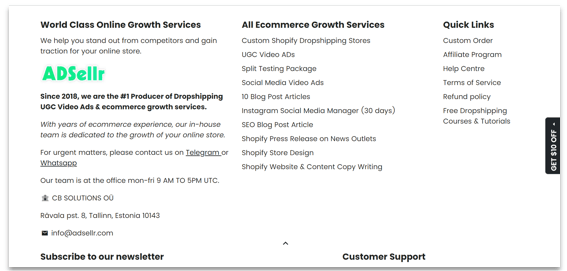 de
Pros
Professional and legitimate ecommerce marketing agency
Well-established with hundreds of satisfied customers
Team of experienced web designers and digital marketers
Dedicated and helpful customer support through email
Budget-friendly and perfect for small ecommerce sellers
Wide variety of services to suit a number of businesses
Specialises in dropshipping and B2B product sourcing
Cons
Turnaround times are slower than other similar services
Very short window to request a cancellation or refund
No live examples of completed Shopify dropship stores
---
Pricing & Billing
With Adsellr, the pricing will vary depending on the service you select, as well as any extras you add. For example, the standard video ad creation service starts from $189.99 and includes a high-quality video ad with a 15 second duration for use on Facebook, TikTok or YouTube.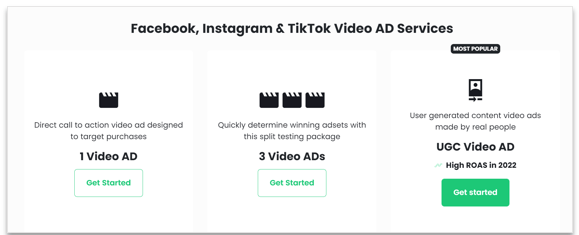 However, you can add extras such as a longer duration, subtitles and video effects. You can also choose the gender and age of the actor, as well as add details about your product, brand and unique selling points. Plus, you can get discounts for purchasing split testing packages with more than 1 ad.
---
Getting Started
To get started, simply visit the Adsellr website and browse the various services on offer. When you find a service of interest, simply click the buy it now button on the description page. Alternatively, you can add the item to your cart if you're looking to purchase multiple services.
Depending on the service, you can select and configure a number of options before placing an order. For example, the premade dropshipping store service allows you to select the niche and number of products you want to be included on the website.
---
Frequently Asked Questions (FAQs)
The frequently asked questions listed below provide quick answers to questions about Adsellr and their services. For more information or additional support, make sure you visit the Adsellr website, You can easily reach their responsive customer support team through email.
What services does Adsellr provide?
Adsellr provides more than 8 different services for ecommerce business owners. This includes a dropshipping store building service and video ads creation service, as well as various content creation and writing services for ecommerce stores.
Whether you're looking to acquire a dropshipping store or simply need help with your product descriptions or blog content, Adsellr has a service to suit. The best part is that all of the services have fixed pricing so you can easily stay within your budget.
Do I need to use a company like Adsellr?
If you're new to ecommerce and dropshipping, using a marketing agency like Adsellr can help you to accelerate your way to success. Instead of trying to figure things out by yourself, you can enlist the help of professionals with years of experience in ecommerce, web design and online marketing.
Adsellr provides a ton of services that you can use to build your ecommerce store in record time. In fact, you can outsource everything from content creation to social media management and blogging to Adsellr. This will allow you to focus on traffic generation, sales and customer service.
What is the most popular service from Adsellr?
The dropshipping store building service is probably the most popular from Adsellr. For a one-time fee, the company will design and create a professional dropshipping store loaded with top-selling items. This service is particularly suited to those who have no previous experienced with web design.
That being said, the video ad creation service is also popular with Adsellr customers. This includes high-converting video ads for use on social media websites like Facebook and TikTok.
What is the turnaround time for dropshipping stores from Adsellr?
Once you place an order for a premade Shopify dropshipping store from Adsellr, the website will be delivered in around 5 days. You can choose the niche and number of products you want to be included with the store. After the store has been transferred, you will have 100% ownership of the website.
Where can I use the video ads from Adsellr?
Adsellr provides video ads for using on the most popular social media platforms including Facebook, TikTok and YouTube. You can select the video resolution to suit a specific platform when placing an order. Keep in mind, you can also use the video ads in product descriptions to increase conversions.
Does Adsellr have a blog writing service?
Yes, Adsellr has a blog writing service that includes 10 unique articles that you can publish to your blog. All of the articles and targeted and SEO optimised to increase visibility and drive free traffic to your store. It's no secret that creating a blog can increase your ecommerce sales.
Can Adsellr manage social media for me?
Yes, Adsellr has a service in which they will manage your Instagram account for 30 days. This includes creating a post and 3 stories every day with creatives such as videos and images. Adsellr has many years of experience with social media marketing and account management.