CJ Dropshipping: The Ultimate Free Guide for Beginners (2023)
With over 100,000 products, 8 international warehouses and built-in automation tools, as well as exclusive print-on demand and white label services, CJ Dropshipping is one the most flexible and reliable dropshipping platforms on the net.
Far exceeding AliExpress in terms of customisation services, automation features and trade-only benefits, CJ Dropshipping is quickly becoming the leading Chinese dropshipping solution.
In this simple guide, I'll teach you everything there is to know about CJ Dropshipping including how to build a dropshipping business with it. From integrating selling platforms to choosing products and creating listings, I'll take you through the whole process step-by-step.
---
Understanding CJ Dropshipping
Unlike AliExpress or other popular marketplaces for dropshipping direct to consumers, CJ Dropshipping is an all-in-one sourcing, automation and fulfillment platform.
Offering true wholesale prices and exclusive trade-only automation tools including direct integration with leading ecommerce platforms, CJ Dropshipping is a unique and flexible alternative.
The way it works is simple. Connect your online store or marketplace to the CJ Dropshipping platform, choose suitable products to sell and create new listings in just a few clicks.
Once the connection with CJ Dropshipping has been established, orders will be automatically imported from your selling platform to your CJ account, while inventory and stock are synced in real-time.
CJ Dropshipping has an extensive range of over 100k products in more than 14 main categories and hundreds of sub-categories.
While some products are sourced directly from third party manufacturers or factories to minimise overheads costs, many are stocked and shipped from a network of over 8 international warehouses in the US, UK and EU for super-fast local delivery.
Aside from automation tools and a massive catalog of products, CJ Dropshipping also has an extensive range of additional services and features.
In fact, CJ Dropshipping provides of print-on-demand, custom white label branding, custom packaging and bulk wholesale services, as well as a fulfillment service in which CJ Dropshipping will stock and ship products on your behalf.
---
CJ Dropshipping Features & Benefits
From a huge range of low-cost products to direct ecommerce integrations, real-time inventory syncing and print-on-demand services, CJ Dropshipping has a number of innovative and unique and features.
Far superior to alternative sourcing options such as AliExpress or SaleYee, CJ Dropshipping is a true all-in-one platform with no need for any additional third party tools or software. Everything you need to build a profitable dropshipping business is included for free.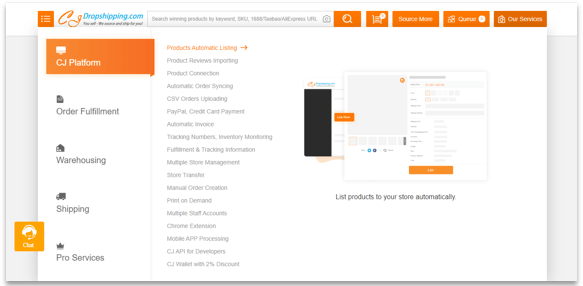 Over 100k low-cost products

US/UK/EU local warehouses

Fast shipping & delivery

E

commerce integrations

Real-time inventory sync

One-click (bulk) ordering

Print-on-demand services

Custom white label services

Logo engraving options

CJ fulfilment service

Custom product photography

No membership fees
---
Joining CJ Dropshipping
Now that you have a clear understanding of how CJ Dropshipping works, it's time to sign up and get started. Simply visit the CJ Dropshipping website and click the Register link located in the top right hand side menu. Follow the onscreen instructions to create an account.
Remember, CJ Dropshipping has no membership fees, even access to the automation tools and services is free. You won't need to pay anything to get started.
---
Integrating Selling Platforms
CJ Dropshipping seamlessly integrates with multiple online selling platforms including eBay, Amazon, Shopify and WooCommerce.
Once connected to your chosen selling channel, you'll be able to list products, manage inventory and process orders using one central dashboard.
CJ Dropshipping can also sync inventory and prices in real-time to prevent over-selling. To connect your CJ Dropshipping account to your online selling channel, follow these simple steps:
Login to your CJ Dropshipping account
Click the Authorization link in the main Menu
Select the relevant selling platform e.g. eBay
Follow the tutorial to complete authorization
Note: You can connect multiple selling platforms to your CJ Dropshipping account e.g. your Shopify store, as well as your eBay and Amazon account. Selling on multiple platforms is the quickest way to maximise your exposure and sales.
---
Finding Winning Products
Finding popular, in-demand and winning products is the key to success with CJ Dropshipping. While every product available to source from CJ dropshipping has been carefully selected based on popularity and sales history, it's always best to conduct your own brief research.
From using a free keyword suggestion tool to researching other sellers and studying online marketplaces, there are several effective ways to find winning dropship products. A few additional tips to consider include: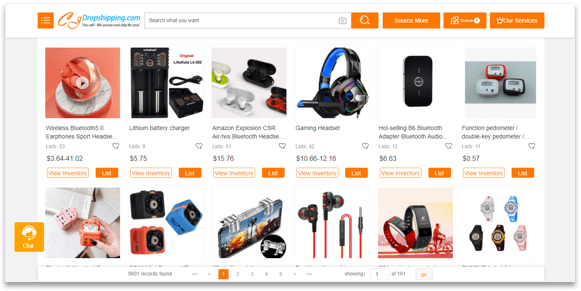 Try a free keyword suggestion tool or trend spotting software
Search CJ Dropshipping trending products or hot selling categories
Check eBay best-sellers or trending and most popular Amazon items
Research other successful dropship stores and marketplace sellers
Try a product research tool or winning dropship products database
Note: CJ Dropshipping has thousands of products in every category or niche, as well as multiple international warehouses in the US, UK & EU. You can filter products by Ships From location to ensure the product is available for fast delivery from a local warehouse.
---
Creating Listings
Creating professional, attractive and keyword optimised listings is the most effective way to stand out from the competition when dropshipping. It's important to create unique and keyword rich titles with custom written descriptions.
You should also set your selling prices low enough to attract maximum sales while still earning a healthy profit margin.
With CJ Dropshipping, creating new listings on your store or online marketplace is easy. Simply browse the CJ Dropshipping website and click the 'List' button on any product description page.
A pop-up wizard will appear, allowing you to edit important details such as selling price, titles and description before pushing the product live to your store or marketplace.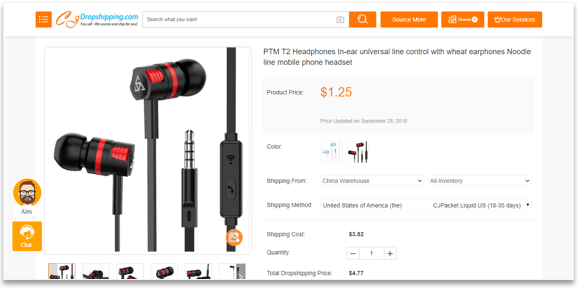 One of the most innovative and unique features with CJ Dropshipping is the product photography and demo video making service. For a low fixed cost, CJ Dropshipping can create entirely unique and professional product photos or videos exclusively for you.
To use this optional service, simply click the 'Photography Request' button on any product description page. Alternatively, you can simply use the existing product images and descriptions.
Create unique and keyword rich titles with custom description
Consider using the CJ Dropshipping product photography service
Set low prices to attract sales and generate healthy profit margins
Sell customised, print-on-demand products with logo engraving
Stick with products shipped from local warehouses with fast shipping
Offer an adequate returns policy and make your shipping terms clear
---
Maximising Sales
Whether you're selling on eBay or your own website, generating consistent sales is essential. The most effective way to stand out from the ocean of competition is by selling your own unique or customised products.
CJ Dropshipping offers several lucrative customisation services including print-on-demand and logo engraving, as well as custom packaging and white label services.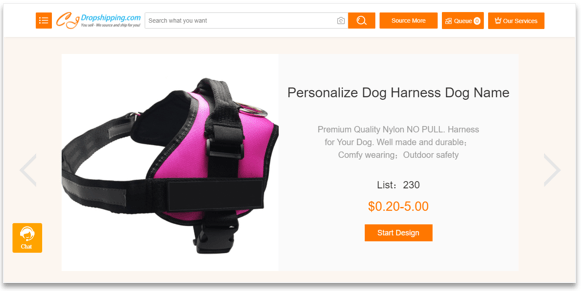 Explore your options and come up with a unique plan to get that edge over the competition. Building a specialist brand with a focus on one particular category or niche is a proven way to generate long-term profits with dropshipping.
Furthermore, selling print-on-demand or white label dropship products is a sure-fire way to gain a massive competitive advantage when dropshipping.
Other techniques for maximising your sales include learning ecommerce SEO to naturally boost your organic search rankings, running paid advertising campaigns and getting active on social media platforms.
YouTube is one of the most powerful platforms for learning how to advertise an ecommerce business. From Facebook Ads to Instagram marketing and reaching out to social influences, YouTube has a comprehensive video tutorial for it all.
---
Processing Orders
Managing orders is seamless when using CJ Dropshipping and the ecommerce integration options. If your store or marketplace is connected to CJ Dropshipping, any orders will be automatically imported to your CJ account for bulk processing.
Simply login and navigate to the Imported Orders section to process open orders in just a few clicks.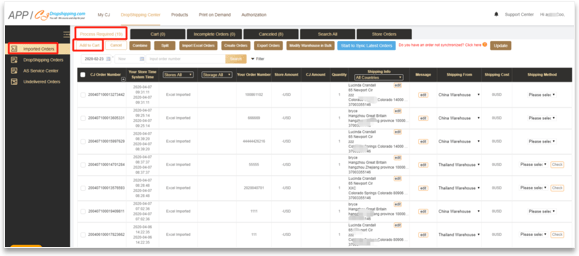 Alternatively, orders can be manually imported to your CJ account or placed directly through the website, making sure you input the customer's shipping address during checkout.
Tracking information will be provided once the order has been dispatched. Make sure you update your customer and forward the tracking information as soon as it becomes available.
---
Managing Returns
CJ Dropshipping provides a no-nonsense 7-day return policy for unwanted goods as well as damaged or defective electronic goods. Therefore, you must contact CJ Dropshipping or open a dispute within 7 days since the date of delivery to qualify for a refund or replacement.
In some cases, your customer may need to return the item or provide photo evidence of any damage. For full terms and conditions, please refer to the CJ Dropshipping returns policy.
As a dropshipper, it's your job to liaison between CJ Dropshipping and the consumer, forwarding any important return information or documents such as a return label.
Once the customer has returned the item, CJ Dropshipping will issue you with a refund. You can then refund your customer or place a new order for a replacement.
Tip: To build trust with your customers, it's recommended to offer an extended 14-30 day return policy, particularly when selling on 3rd party marketplaces such as eBay or Amazon. You should also consider issuing refunds upfront to keep customers happy and prevent negative feedback.
---
Final Word
CJ Dropshipping is quickly becoming a popular alternative to AliExpress dropshipping due to its superior features, fast shipping times and low wholesale prices, as well as it's exclusive print-on-demand and product customisation options.
Designed specifically for B2B trading, CJ Dropshipping excels in reliability and efficiency, providing a suite of essential automation tools and streamlined order processing features.
Quite simply, CJ Dropshipping has everything you need to build a profitable and scalable dropshipping business without the need for a third party tool or software.
---
Is CJ Dropshipping free?
Yes, it's completely free to join CJ Dropshipping and free to use the automation tools, features and fulfillment services. CJ Dropshipping has no membership fees.
Is CJ Dropshipping better than AliExpress?
While AliExpress has more products to choose from, CJ Dropshipping was specifically designed for B2B trading and is far superior in terms of pricing, features and services for trade buyers including it's automation tools, customisation options and print-on-demand service, as well as having multiple international warehouses for fast shipping across the globe.
Which platforms does CJ Dropshipping integrate with?
CJ Dropshipping directly integrates with more than 7 top selling platforms including eBay, Amazon, Shopify and WooCommerce. Additional selling platforms including Etsy can be connected and authorised using the CJ Dropshipping API. Please refer to the CJ Dropshipping documentation for more information.
Does CJ Dropshipping stock products?
CJ Dropshipping holds its own stock and sources products directly from manufacturers and factories, offering true low-cost wholesale prices.
Does CJ Dropshipping update prices/stock?
Yes, once you have connected a selling platform and listed some products for sale, CJ Dropshipping will automatically sync inventory including stock and prices in real-time. Therefore, you won't need to worry about over-selling or selling products which are no longer in stock.
Does CJ Dropshipping have auto ordering?
Yes, any orders will be automatically imported to your CJ Dropshipping account where you can bulk process them in one-click.
How do I list products using CJ Dropshipping?
To list a product on your store or marketplace account, simply click the List button on the product details page. A popup wizard will appear where you can edit the product details including selling price, description and images before publishing it live.
Does CJ Dropshipping have a US warehouse?
Yes, CJ Dropshipping has multiple international warehouses across the globe including in the US, UK, EU and China. However, most products are either shipped from the China or US based warehouse.
How long does shipping take?
Shipping times will vary depending on which warehouse the item is dispatched from. However, you can filter products by the Ships From location to ensure fast (3-7 day) shipping from a local warehouse is available.
Can I use CJ Dropshipping images and descriptions?
Yes, you can use the images and descriptions provided by CJ Dropshipping. However, it's strongly recommended to create your own unique product titles and descriptions in order to stand out from the crow. You should also consider using the custom product photography or video demo creation service provided by CJ Dropshipping once you find a winning, hot sellers.