AliDropship Plugin Review 2023: Features, Benefits & Pricing
Disclosure: We may earn a commission or fee from some of the links in our content. However, this does not affect our recommendations. Learn more.
WooCommerce is one of the best platforms for building a dropshipping website as it's highly flexible and reliable. When it comes to plugins for building a WooCommerce dropshipping business, AliDropship is probably the most well-known.
However, that doesn't mean it's the best. In this extensive review of the AliDropship plugin, you will learn more about how it works and why it's so popular. You will also uncover a breakdown of the pros and cons of the plugin, as well as details on its pricing and settings.
---
Review Summary
Overall Rating: 4.8 stars • Excellent ⭐✅
AliDropship is one of the most popular and reliable WordPress plugins for dropshipping AliExpress products through a WooCommerce-powered store.
Boasting a suite of premium features including bulk importing, auto-ordering, and auto repricing, as well as cashback rewards and review importing, AliDropship is an essential tool for anyone looking to build a profitable dropshipping business using WooCommerce.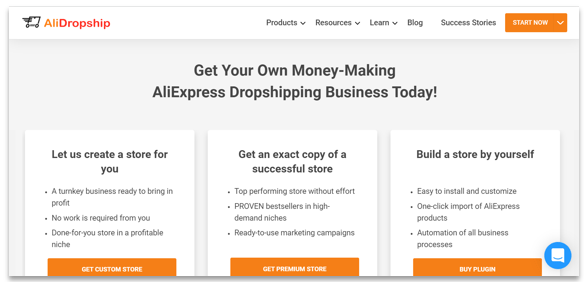 Top Features
Complete automation solution designed for WooCommerce
Millions of low-cost AliExpress products to choose from
One-click product importing and super-fast bulk importing
Fully automated product repricing, updating, and ordering
One-time payment with no ongoing fees or hidden costs
---
What is AliDropship?
Created in 2015 by a team of expert web developers and successful dropshippers, AliDropship is the most popular WordPress plugin for dropshipping AliExpress products through a WooCommerce-powered store.
Described as an all-in-one solution for sourcing, importing, listing, and repricing dropship products, AliDropship has firmly established itself as a leader in the dropship automation industry, trusted by tens of thousands of users from across the globe.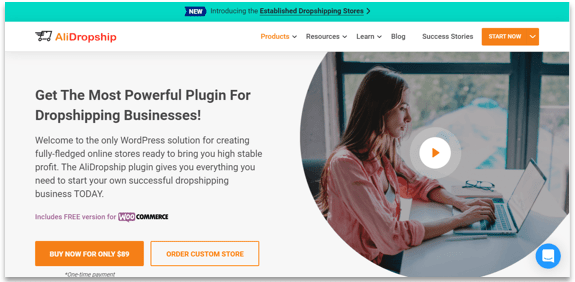 ---
Features & Benefits
From one-click product importing to seamless repricing, ordering, and tracking automation, the AliDropship plugin is bursting with incredible features, including access to an exclusive database of over 50k hot-selling AliExpress products in a variety of different categories.
Designed by dropshippers for dropshippers, the AliDropship plugin does not disappoint when it comes to unique, innovative, and industry-leading features.
Unlimited selection of dropship products in every major category
One-click product importing and automated inventory updates
Advanced repricing formulas to earn the biggest profit margins
Handpicked database of more than 50,000 winning products
Automatically fulfill orders and upload tracking information
Import existing AliExpress reviews to maximize conversions
Built-in themes and exclusive AliExpress cash-back rewards
---
Pros & Cons
The AliDropship plugin has a huge number of features and benefits. However, it also has a few disadvantages which need to be considered.
From only being compatible with AliExpress and WooCommerce to having no option to sell on eBay or Amazon, the AliDropship plugin is mostly suited to those who are looking to start dropshipping products from China through a WooCommerce-powered web store.

Pros
Cost-efficient, reliable and well-established
Millions of low-cost products to choose from
Seamless product importing and listing
Advanced pricing rules with flexible settings
Regularly updated with new features
One-time cost with no ongoing fees
Cons
Compatible with only WooCommerce and AliExpress
No option to sell on marketplaces such as eBay/Amazon
Reliant on AliExpress with slow (4-6 weeks) shipping
---
Compatible Suppliers
The AliDropship plugin was exclusively designed for use with AliExpress, a highly popular China-based ecommerce marketplace with thousands of third-party sellers and millions of low-cost products in every major category or niche.
While most of the sellers on AliExpress are located in China, many have local US/UK/EU-based warehouses allowing them to offer fast and cost-effective shipping to all corners of the globe.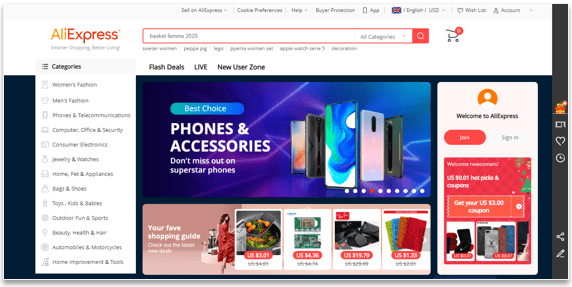 AliExpress (US/UK/EU Warehouses)
---
Compatible Selling Platforms
Currently, the AliDropship plugin works with WooCommerce and WordPress only. Powering over 75 million websites, WordPress is one of the most popular blogging platforms on the net, while WooCommerce is the single most installed ecommerce plugin for turning a WordPress-powered blog into a fully functioning online store.
---
Usage & Settings
Designed to seamlessly blend in with the WordPress admin dashboard, the AliDropship plugin is simplistic and very easy to use, even for those who have limited tech skills.
The settings panel provides quick access to the most important areas for configuring the plugin to suit your specific needs or requirements. From enabling auto-updates to creating pricing rules and processing orders, the all-in-one dashboard is modern, well-structured, and constantly improving.
All-in-one user dashboard for managing products, sales, prices, traffic, settings and orders
Import products directly to your store from AliExpress using the Chrome Lister extension
Simple tiered pricing formulas with rounding options to ensure a profit on every sale
Automated order processing including marking orders as shipped and uploading tracking info
Enable automatic updates for price and stock changes and or receive email notifications
---
Pricing & Billing
The AliDropship plugin costs only $89 (one-time) and includes a lifetime of free updates, feature enhancements, and customer support, as well as access to the handpicked database of more than 50,000 best-selling AliExpress dropshipping products. New users can import up to 50 winning products from the database for free.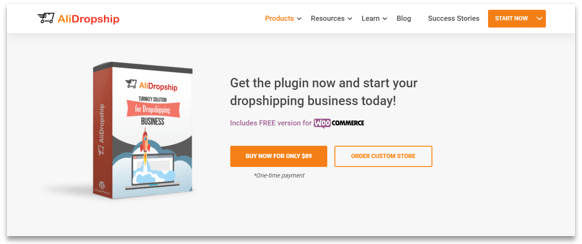 Pricing Overview
Unlike other dropshipping solutions which often charge monthly fees, the AliDropship plugin is a one-time cost that includes a lifetime of free updates, support, and feature enhancements.
Therefore, you won't need to factor recurring fees into your profit margins and can focus on growing your product range and generating sales.

---
Final Conclusion
The AliDropship plugin is one of the most reliable and robust WordPress plugins for building a dropshipping store using WooCommerce.
Boasting a range of innovative features, all wrapped up in a modern and simplistic user dashboard, the AliDropship plugin is perfect for both veteran online sellers and newbie dropshippers.
From one-click product importing to automatic order processing, stock updating, and flexible repricing, as well as lifetime updates and feature improvements, the AliDropship plugin is worth every single penny of the low-cost, one-time fee.
---
Getting Started
To get started, simply visit the AliDropship website and purchase the plugin. Once purchased, download the plugin to your PC and then upload it to your WordPress/WooCommerce-powered store by navigating to Plugins > Add New.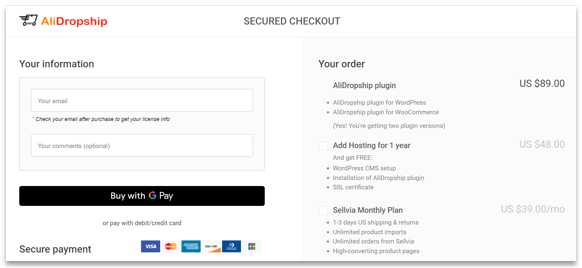 Once installed, be sure to review the AliDropship plugin documentation to learn how to use the plugin efficiently and properly. You may also want to review the various YouTube tutorials on setting up WooCommerce and AliDropship.
---
What suppliers is AliDropship compatible with?
The AliDropship plugin was designed exclusively for sourcing dropship products from AliExpress, a Chinese ecommerce marketplace with thousands of independent sellers, many of which have UK/US and EU-based warehouses.
AliExpress is by far the most popular platform for dropshippers who are looking to source low-cost goods from China.
What selling platforms is AliDropship compatible with?
The AliDropship plugin is compatible with WooCommerce, the most popular ecommerce plugin for selling products through a WordPress-powered store. The plugin was exclusively designed for WordPress. Therefore, you can have full confidence in knowing that it's reliable and efficient.
Can I create new listings with AliDropship?
Yes, the AliDropship plugin comes with an innovative Chrome Lister extension which allows you to import AliExpress products to your WooCommerce store in just a few clicks.
Does AliDropship monitor prices and stock?
Yes, the AliDropship plugin monitors both stock and prices, updating them accordingly when changes are detected on AliExpress. Therefore, you never need to worry about overselling or generating a loss due to price changes.
How often does AliDropship update listings?
You can set the AliDropship plugin to update prices and stock every day, week, or month depending on your preferences. However, it's recommended to allow the plugin to update prices and stock at least once per week.